Zion Red Rock is hands down the most amazing place you can stay in the Zion National Park area. Zion Red Rock is the epitome of luxury but also has affordable smaller options as well.
There are a multitude of options such as staying at one of the nicest rental homes I have ever seen or at the #1 Tripadvisor ranked B&B in Zion and then more options in between! Whether you have a group of 58 or just two of you, Zion Red Rock has accomodations for any type of trip!
While I will go on about the stunning properties themselves, it is also the people and hosts of each property that make your stay extra perfect. All property caretakers are beyond helpful and will make sure you have one of the best vacations you will ever have.
Zion Red Rock has four properties and all are incredible. If you are bringing a family or group to Zion then look no further as these places are where you wanted to stay during your visit. If you are looking to stay at a dream house, looking for a quaint romantic trip or a relaxed affordable place to stay… this is the place!

Where is the best place to get married near Zion National Park? If you are looking for a place to get married, look no further than Zion Red Rock! I am not just saying just the best place in Zion either… I am saying out of anywhere in the USA & the world.
Their properties & location are a perfect place for the most amazing dream wedding you could ever have! Zion alone is a perfect location for a wedding and then when you see these places well… there can't be anywhere else!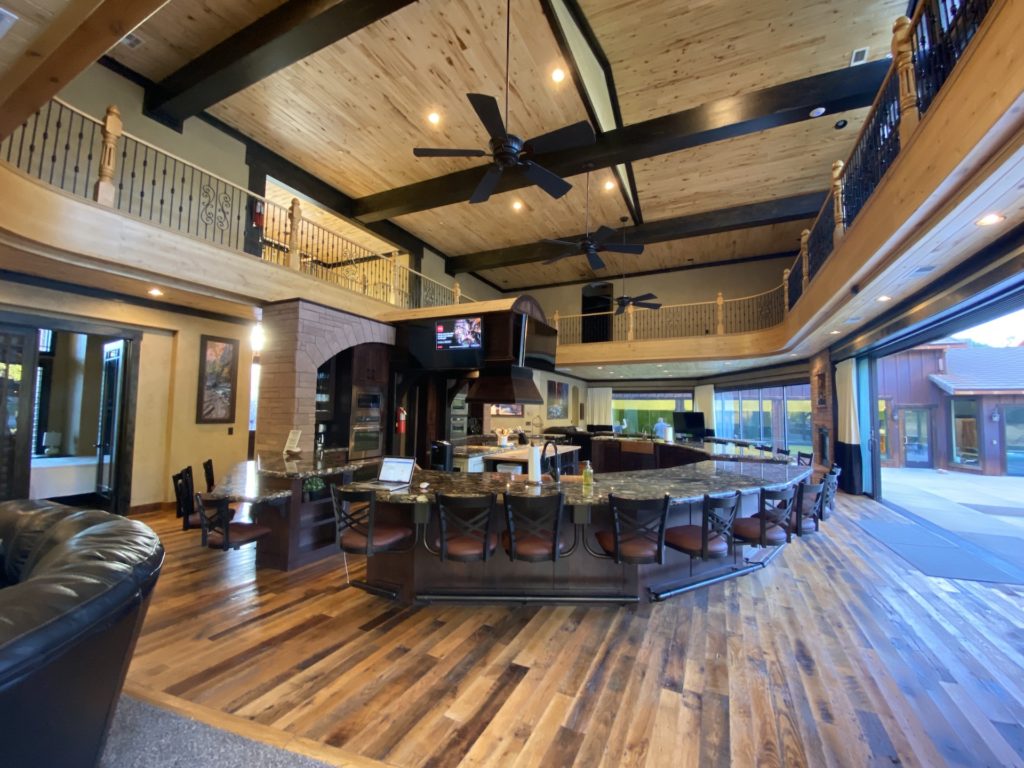 If you are looking for a place to get married then the Red Rock Villa and Red Rock Oasis should be your #1, #2, #3, #4, and #5 options. All of the places book quickly and the Oasis is often booked 2-3 months in advance so definitely get on board quickly and plan your trip!

One of the best parts about all of their large rental homes is that they are tucked away and secluded yet still less than 10 minutes from the heart of downtown Springdale. You can be in your own private enormous property and not see a soul, yet you can hop into town or get to the National Park in no time.
First up to tell you about is the Zion Red Rock Villa and wow, if you want to stay in the most beautiful place you may have ever seen, this is it. The Villa has a mediterranean look and sits on 15 privately owned acres. The place is 12,000 square feet and sleeps 58 people!

The Villa is a legit mansion with everything you would ever want for a destination wedding, family vacation or luxurious get together. On top of that you have two private lakes and private access to the Virgin River! Of course with that you get your own Kayaks, paddleboards and more to take advantage of the water.
Surely there can't be more? Well… other amenities include a swimming pool with slide, a full playground, hot tub, sauna, private home theater, and a game room with all of the games your family or friends could ever need.
If you have ever wanted to rent a true dream home, this is the place you should look at. The Villa is truly out of a mediterranean fairy tale with stunning grounds like you may have never seen before.
If you think the Villa is great… well it is… however you will also love the Oasis, which is my favorite. The Villa and the Oasis are completely different pending your taste but equally as magnificent. The Oasis however was my true dream home as it was an contemporary, hosting, adventure, unreal kitchen, sport friendly and luxurious super-mansion.

I don't know where to start with the Zion Red Rock Oasis, it was only 14,000 sq. ft. with a 3,000 sq. ft. kitchen that has a two-story vaulted ceiling. This kitchen, as you can tell by the pictures, was essentially having your own luxury sports bar with TVs everywhere.
You have a pool with a water slide, giant hot tub, kid playground, a beach with private river access, your own private lake with a trampoline in it and free access to kayaks and paddleboards.

Oh no, it doesn't stop there, I just felt bad for such a long sentence above… you also get a private movie theater with video games setup, a games room, a sauna and your own huge indoor soccer turf court!
Then there are the rooms… I suggest being the person in your group who pays the most so you can get the master bedroom. I have never seen a master bedroom like this, I think it had like 3 TVs and then the bathroom is the size of a condo. The raised island bathtub, the walk around the corner shower… unreal.

One random thing I LOVED was their horse barn stables turned into a creative and amazing dorm room style bunkhouse. Butch's Bunkhouse is home to 11 queen beds and 7 twin beds! I could keep going about this place clearly as it is maybe my favorite home on earth!
There is also the Zion Red Rock Chalet, which sleeps 22 people with 5 bedrooms and 4 bathrooms. If you want an amazing place to stay but also don't need a place that sleeps 58/your own town, you get the beautiful Chalet.

The chalet has a hot tub, multiple game rooms, is two floors, a living room on both floors with TVs, a huge fully stocked kitchen, fire pit and of course the backyard overlooks the red rocks. Truly every single thing you need is in this place for a perfect group or family trip.
If you want a great affordable place for a huge group or family then book the Chalet today! It is full of charm while also beautifully decorated and has every amenity you could ever need.

Now if you are looking for just a standard one bedroom place to stay then surely the best B&B in Zion will do the trick! With rooms starting around $130 you can stay in one of the many cabins at the Zion Red Rock Inn.

The Inn is so quaint and cozy making it the best place for couples. The cabins also are beautifully decorated inside with a contemporary look and some even have luxurious bathrooms! If there are just a couple of you on your trip then you need to come to the Inn!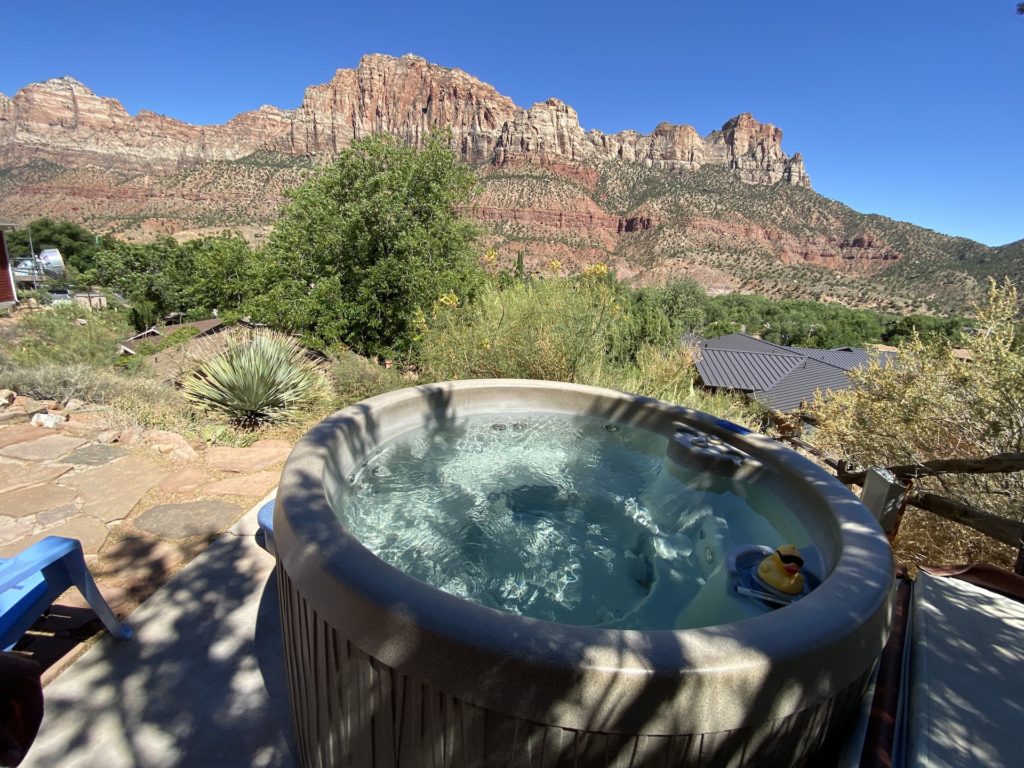 The Inn also has a hot tub up the hill from the property with maybe the best place to look at stars in Springdale. There is also a courtyard and the hosts here are so helpful, as are the hosts at all of their properties.
I hope the fact I wrote over 1,200 words on a place to stay shows you that Zion Red Rock has some of the best rental properties you will ever come across. I don't know if I will ever get married but that Oasis definitely climbed near the top of my list for places to do it!