How do you make an easy espresso martini? It can be overwhelming figuring out how to make an espresso martini as you might wonder if you need to have an espresso machine.
That's the big question that puts people off, do I need an espresso machine to make an espresso martini and the answer is, no, you don't need an espresso machine! It is great if you do but not necessary!

This easy espresso martini recipe and a bloody caesar are tied for the drinks I make this most as both have their necessary functions and both taste incredible. See here for the 6 best shot recipes for hosting as well!
This is a great recipe version because it is dummy proof and really is just a few simple ingredients and you are done. No espresso machines, no icing down hot espresso or coffee… it's much more simple than that.
This has become a go to when hosting or as a pre-drink before heading out to get that extra boost of energy. Everyone absolutely loves this drink, it is extremely simple and provides the best start to your night.
See our article for the 7 Best Easy Craft Cocktails.
I am officially too old for Red Bull vodkas because they give me the worst anxiety the next day and ummm… other things. This will be a game changing energy drink for you, looks nice for hosting people or even use it as a good start before you take off on a date night.

The goal is for your creations to make people happy and with a little espresso you can scientifically stimulate people there right from the jump. Make this your own as well, if you don't like it too sweet than maybe skip the vanilla vodka and just go with straight vodka.
You can make this with just 3 ingredients if you want… really you just need two if you don't have it all and it still comes out great! This recipe is very versatile so have some fun with it.
Maybe add a little chocolate syrup, use Baileys instead of Kahlua or use coffee instead of espresso. Really you can make this as fancy and complex as you want or just stick to the few recipe basics.
The most important rules to making cocktails
When making a drink for people and you want them to love the experience you need to appeal to 4 senses. You must make it taste good of course so follow this recipe and the ideas along with it.

The drink needs to have a pleasant aroma and appeal to the sense of smell. Thus, to do that you need to add a garnish. What makes a craft cocktail is that addition of the herb or spice to make it pop. This is why cocktails from mixologists always have mint or sprigs in them.
A drink should also look beautiful and appeal to site. You eat and drink with your eyes first and no one wants to eat or drink something that looks gross or doesn't look appetizing.
Finally, when people are enjoying their drink you need to give them a nice ambiance and setting. I can help you with the first 3 but the ambiance is on you… music, clean up, give them a shot so they are already getting drunk and everything is fun… up to you :).
One AMAZING way to add to your drink ambiance and appeal to all senses is infuse your liquor. Infusing liquor is the greatest lie in drink creation as what sounds extremely impressive is really just you pouring liquor into a jar and adding 1-2 ingredients then letting it sit for 1-7 days… or even 1 hour! From there just lie to your guests ;)… it's a small fib.
Infused liquor makes you look like some planned, smart super-hero that would do anything when hosting people. It will impress them and has you already 5 steps ahead on appealing to all of the senses.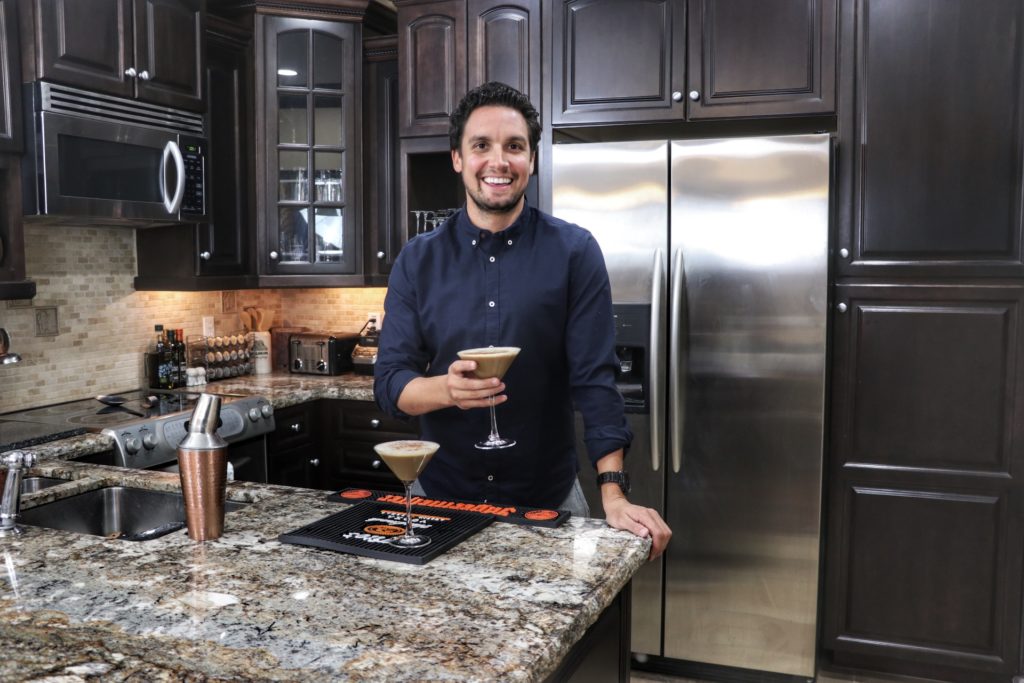 If you are a tequila person this recipe is amazing with Patron XO Cafe. From here you can make a Mexpresso Martini, which is amazing a well! Straight tequila doesn't translate as well but if you get that Patron XO Cafe then you are cooking with dynamite.
I legitimately like the tequila version more and it has a unique flair! That version of Patron is a little harder to find but most alcohol only stores like Total Wine and everywhere will have it. It is tough to find at grocery stores and gas stations etc though. However, it isn't very expensive and is a great option for this recipe.
Is there a shot version of an espresso martini?
I am glad you asked. You can also make this a shot! Essentially the Shaft shot is an espresso martini, except you just put it in a rocks glass, use a straw and suck it down as fast as you can. For the full recipe of the shaft here is the link to the 6 best shots ever.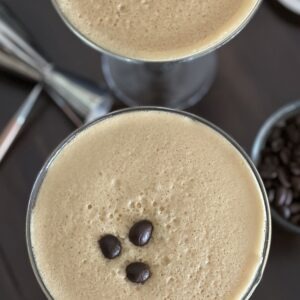 Best Simple Espresso Martini Recipe
Quick and easy espresso martini! How to make the best espresso martini, easily!
Print
Pin
Rate
Ingredients
2

ounces

vanilla vodka or espresso tequila

Espresso Tequila (Patron XO Cafe or Avion Espresso Liqueur). Espresso or Vanilla Vodka (Van Gogh and Smirnoff are options). You could also use regular vodka or tequila

1

shot

Kahlua

Leave out if want a stronger martini. Sub Irish cream liquor if no Kahlua.

2

shots

Chilled espresso

Espresso cold brew or Starbucks small espresso shots work great as well.

3-4

cubes

Ice
Optional
1

shot

Irish cream liqueur

Ground cinnamon sprinkled on top to garnish

Cinnamon stick or coffee beans for garnish

2

oz

chocolate syrup
Instructions
Put all ingredients into a cocktail shaker and shake. Can stir as well if no shaker option.

Garnish with coffee beans, ground cinnamon stick or cinnamon.
Print Recipe