The Narrows Hike Zion National Park Beginners Guide
The Narrows is one of the best hikes in Zion and is arguably the most quintessential hikes you have to do in Zion. It has some of the most unique and incredible views while also walking through water the entire way, which adds to the beauty along the way.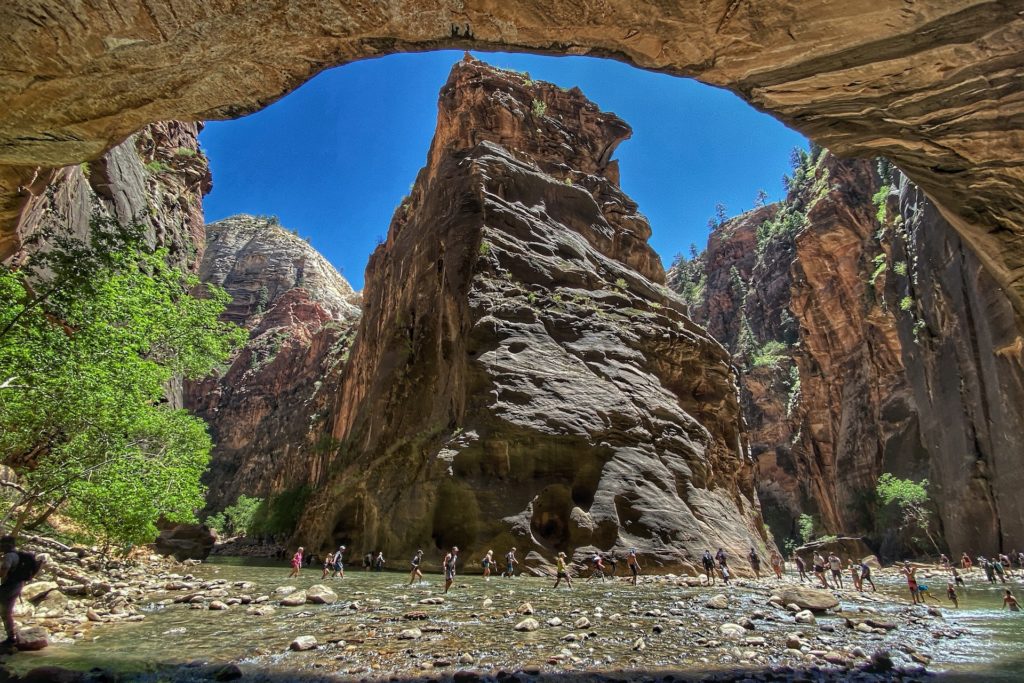 There are three different ways to hike The Narrows whether being overnight from the top, a one day hike from the top or the most common day hike from the bottom.
This article is a guide for people hiking from the bottom who have not done it before. The Narrows is just one of the Ultimate Zion Bucket List | 27 Things You Must Do!
Overall the most efficient hike to see a lot of The Narrows and Orderville Canyon is hiking about 7-8 miles round-trip. This includes a 1.5-2 mile round-trip into Orderville Canyon and the 6-7 miles round-trip to Wall Street in The Narrows, which is a great turnaround point.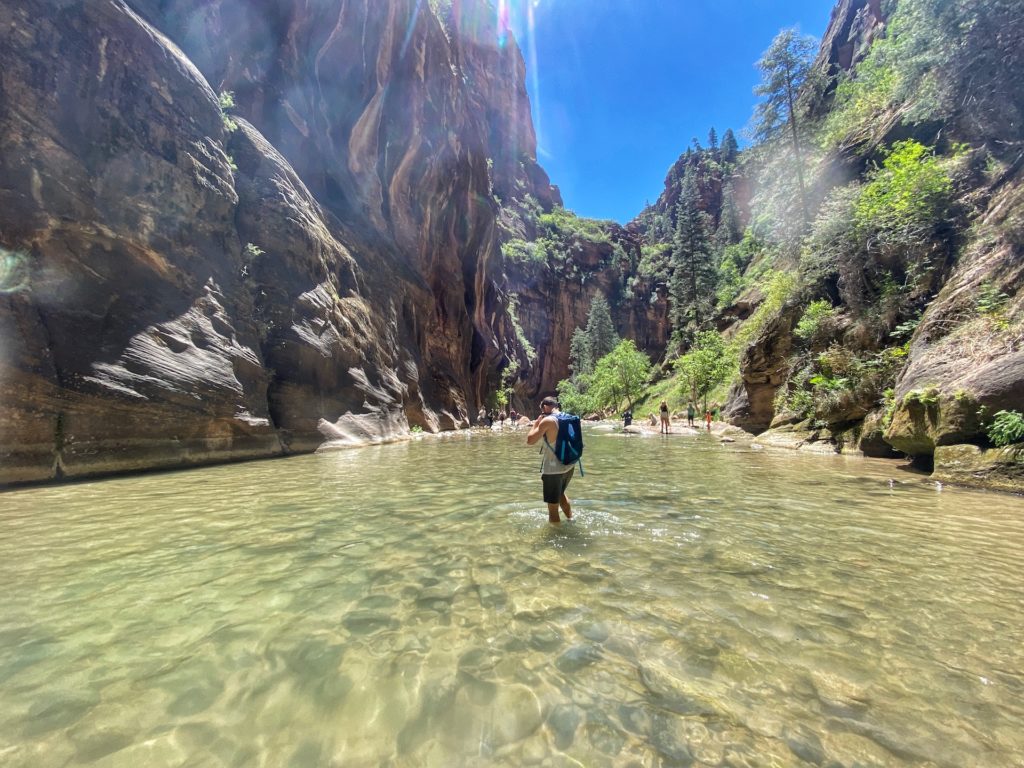 What Time Of Day Is Best To Hike The Narrows?
Early, as early as possible. The hike back in the morning you will see thousands of people and it would make the hike absolutely awful to be around all of those people the entire time. It also offers the best lighting in the morning.
While the herd definitely gets thinned out the deeper you go, it still is literally thousands of people hiking that day and the earlier you go the better chance you go aren't in a swarm of people.
It will be cold to start but you warm up quick once in the water and get moving. The cold morning and water is definitely worth missing all of the people.
As mentioned above the lighting is also so much better vs. when the sun gets higher and kind of washes out the textures and colors some. You get the best of both worlds going early with some moodier lighting and on the way back the sun, which lights up the beautiful water.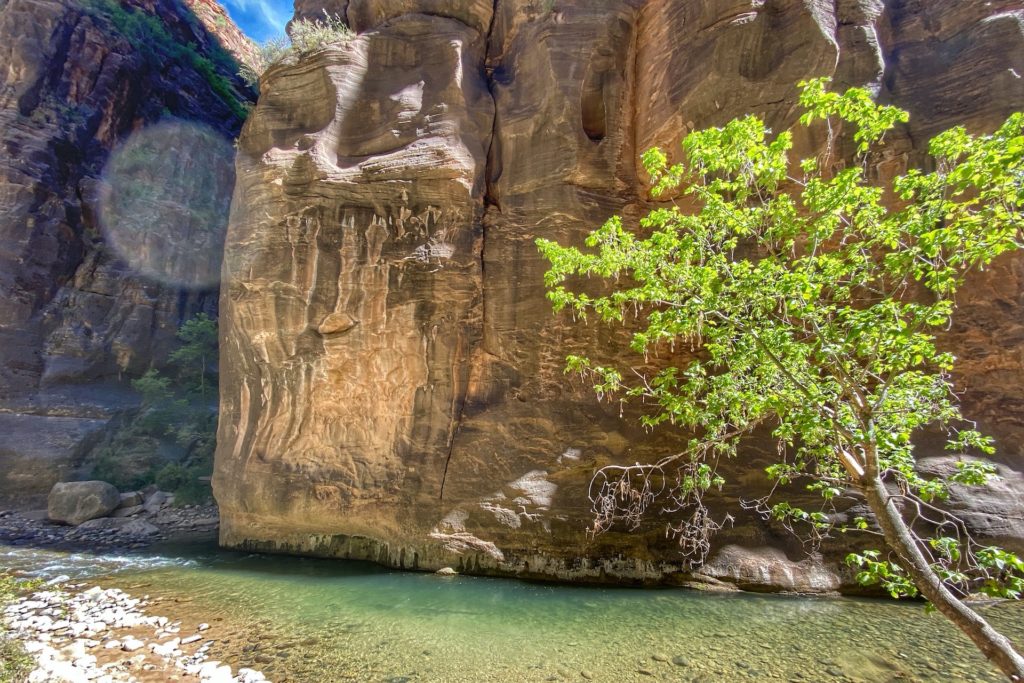 Do You Need A Walking Stick To Hike The Narrows?
No! You do not need a pole to hike The Narrows. With that said, if you are elderly or have weak ankles or knees then it might help take some of the weight from your steps.
With that said, I saw just as many people fall with walking sticks as the people without walking sticks. To me the walking sticks just get in the way and more of an annoyance than helping, especially if trying to take pictures and really just carrying a big stick for 5+ miles isn't ideal.
The rocks typically aren't too bad in terms of being slippery and in most cases they either are pronounced enough to see where to step or it is flat enough to keep from stepping weird. There are a few tricky spots where visibility is tough but just go slow and you will be fine.
What Clothing Do You Wear To Hike The Narrows?
Footwear a sturdy trail running shoe or very light hiking boot is best. You don't want any shoe that is going to take on the water and make you feel like you carrying 10 lbs on each foot.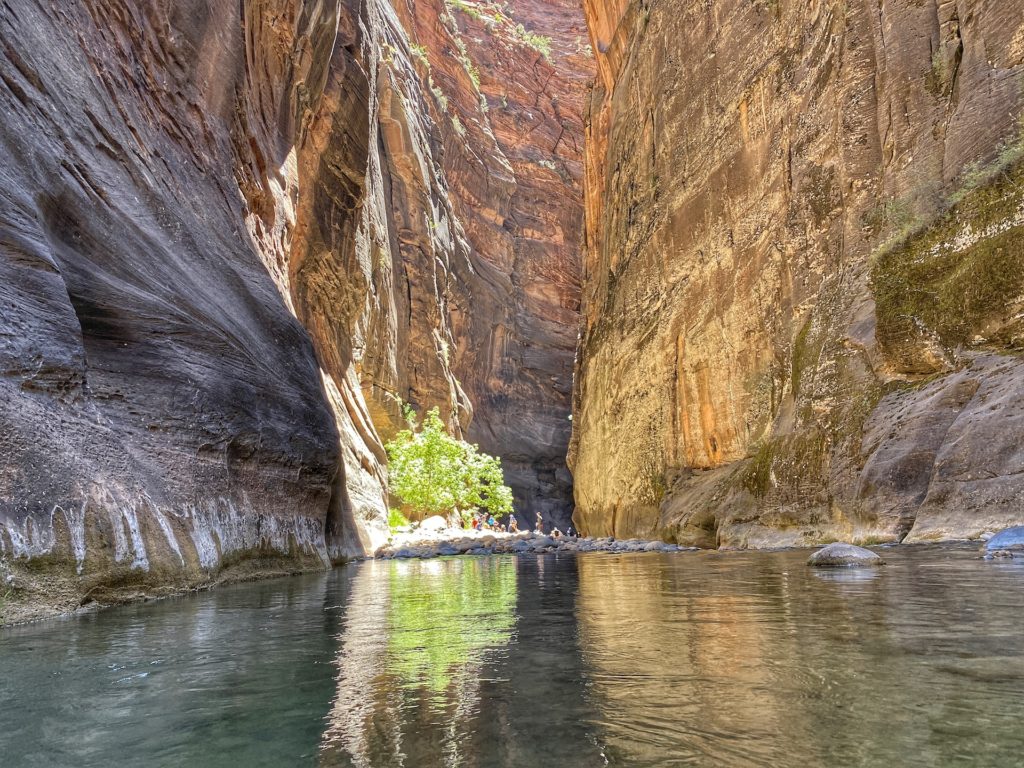 Due to the rocks water sandals or Keenes or Tevas are not good. Also lightweight or quick dry socks are really helpful, I use my nike quick dry socks. Socks will also help from keeping the sand rubbing your feet raw.
In terms of pants are shorts, shorts are ideal but if you have lightweight leggings that don't take on water than those are great if you are cold easy. Overall just know you will often be knee deep in water and sometimes waist deep so quick drying and light is best.
For tops dressing in layers is best as in the morning it could be cold but as the day goes on it could be sweltering hot. A lightweight t-shirt covered by a light jacket or warmer jacket depending on the year would work.
If you are coming in the winter then you will definitely need to be more strategic and buy more expensive protective clothing with neoprene and things to stay warmer.
Remember to purchase a dry bag in advance. I have a Geckobrands waterproof backpack that I use for tons of hikes. There are more extreme, more waterproof and expensive dry bags but this one is light and does the trick.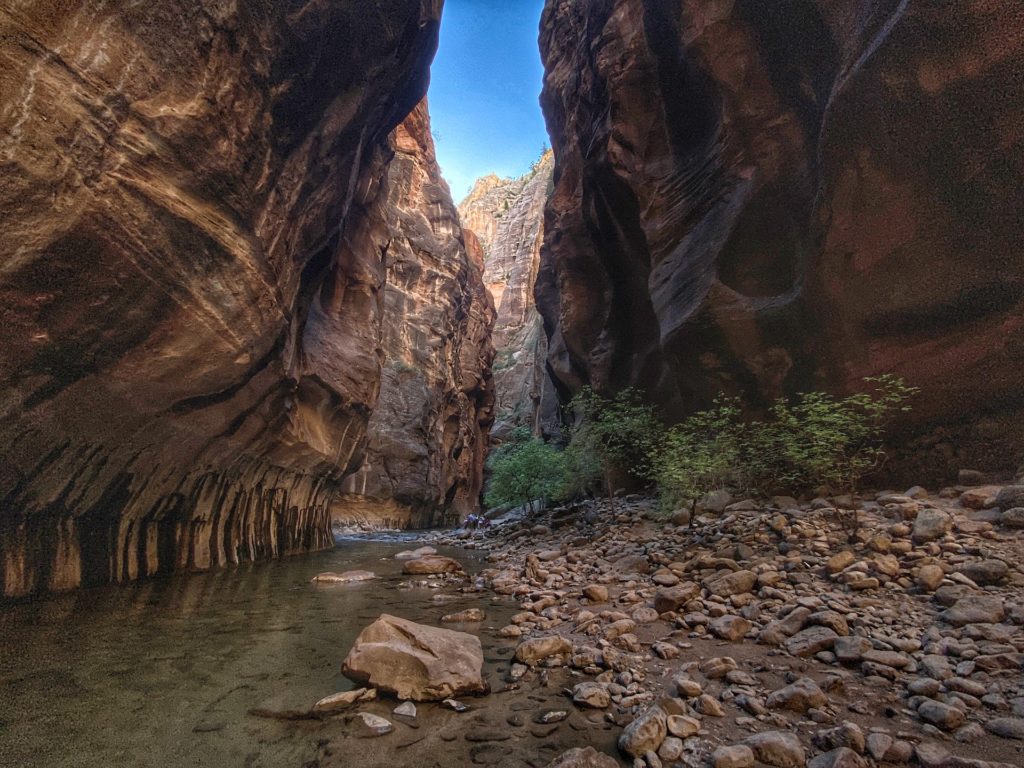 When Is The Best Time To Hike The Narrows?
The summer from mid-May to mid-September is the best time to hike The Narrows. It is the perfect summer hike with how hot Utah is and here is a great place to stay sheltered from the heat and also be in and out of the water.
The Fall is the second best time to hike The Narrows and after that the Winter but for the winter you will need to dress more strategically and have much better clothing. The Spring is not good for hiking The Narrows due to the snowmelt as well as it being the season with the most rain.
How Long Is The Narrows?
The Narrows is up to 16 miles round-trip but of course you can turn around whenever you have had your fill. Really an amazing spot to try and get to is Wall Street. Wall Street is about 3-3.5 miles in where most of the best pictures you see are.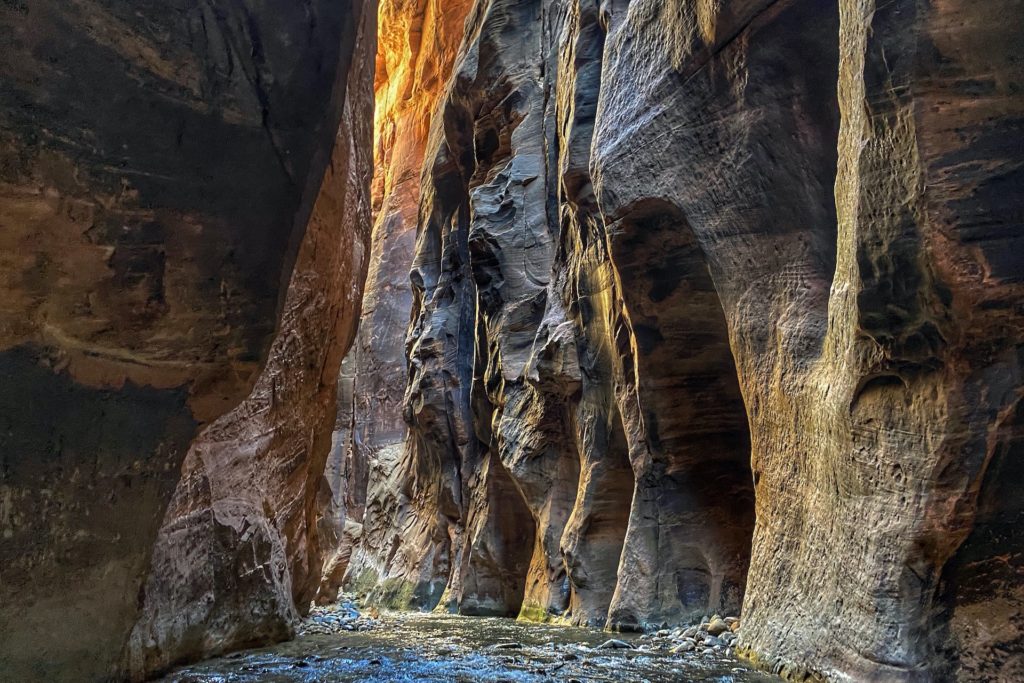 You will know the spot when you see it and this is the area picture aboved. After that point, there isn't a ton more majestic than that to see. It is probably the most picturesque part of the entire hike. After this, you can feel free to turn back around if you have had your fill.
Is a Permit Required To Hike The Narrows From The Bottom?
There is no permit needed to hike The Narrows from the bottom. If you want to hike from the top then permits are needed. The bottom of the narrows is the most common way to see The Narrows.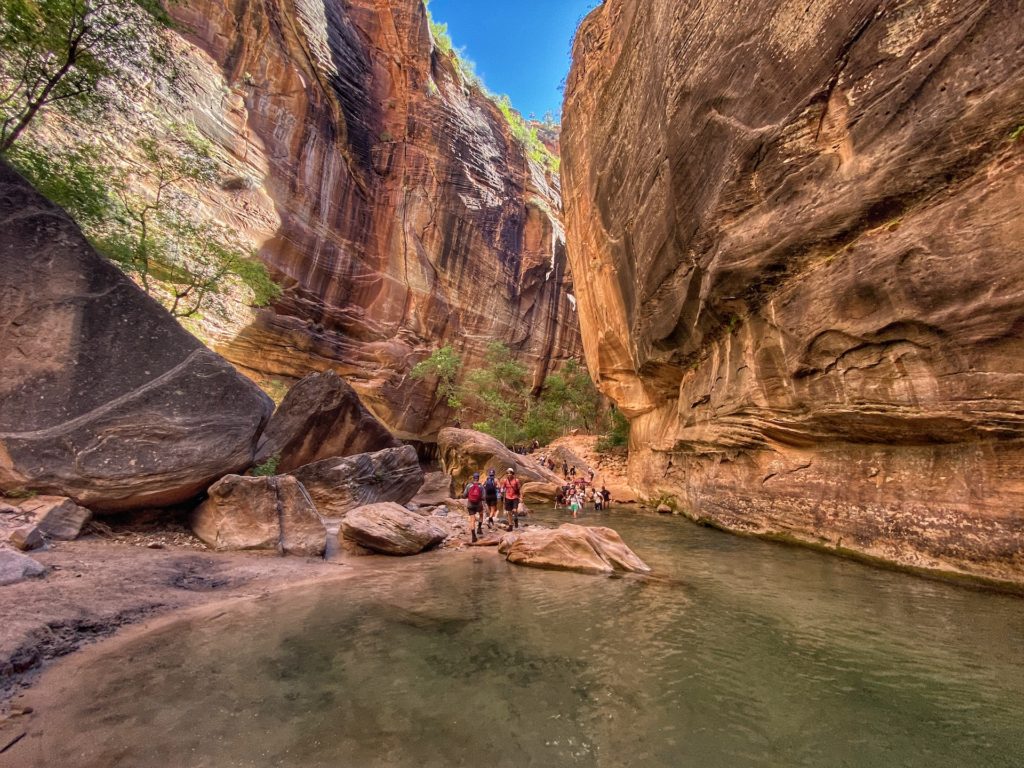 How Do You Get To The Narrows
The Narrows is accessed via the last shuttle stop at the Temple of Sinawava, which is stop 9.
You can bike to the Riverside Walk Trailhead, which is where you start the Narrows, however a shuttle is recommended if you plan on hiking a lot of the Narrows or The Narrows + another hike. Biking seems like a fun idea until you have hiked 20 miles in a day and it's 90+ degrees out.
You will first walk the Riverside Walk, which is the gateway to The Narrows, and that is 2-miles round-trip. Riverside Walk is very family friendly and has some great swimming holes near the end if you wanted an easy hike for the family.
How Do You See Orderville Canyon?
Orderville Canyon is accessed from The Narrows and is at a fork in the road about 1.5 miles in from the beginning of The Narrows hike.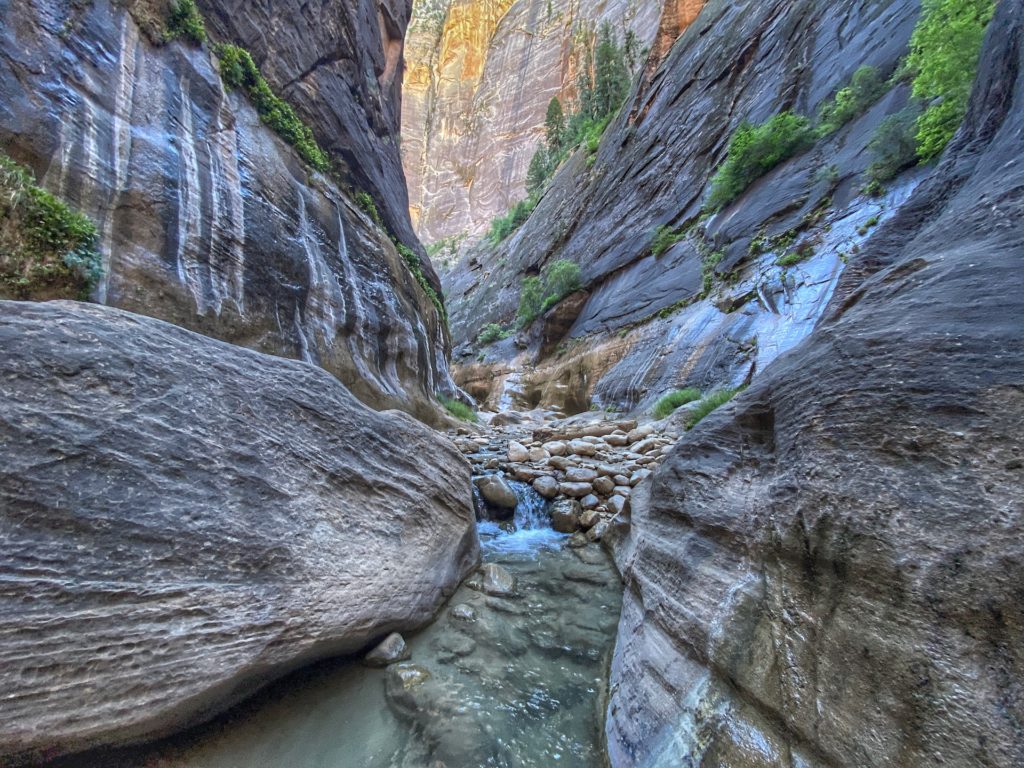 Orderville Canyon is definitely worth a side trip as right away you are submersed in a canyon with a striking resemblance to Antelope Canyon. From there you can go a mile or two or so as there are a ton of unique views and pretty things to see.
You can go as long as you want but it is a lot of the same after a mile or so unless you are willing to go for miles. It is worth checking out due to a ton of different views initially.
Go right away when you see it as often people skip it until after so you can have the canyon to yourself! You can do a mile or so of it and still make it back to the Narrows with tons of time to head to Wall Street.
Where Is The Best Place To Stay In Zion?
Maybe the best place to stay I have ever seen is one of the properties at Zion Red Rock. If you have a large group then look no further than Zion Red Rock and their three huge properties.
If it is just one or two of you then their Zion Red Rock Inn is also a great place to stay with their one bedroom/studio spots. All are incredible properties and something to check out.
If you need something more affordable than I also really liked The Bumbleberry Inn, which is one of the most affordable places to stay in Zion yet has everything you want in a hotel room!
What Are The Best Restaurants in Zion?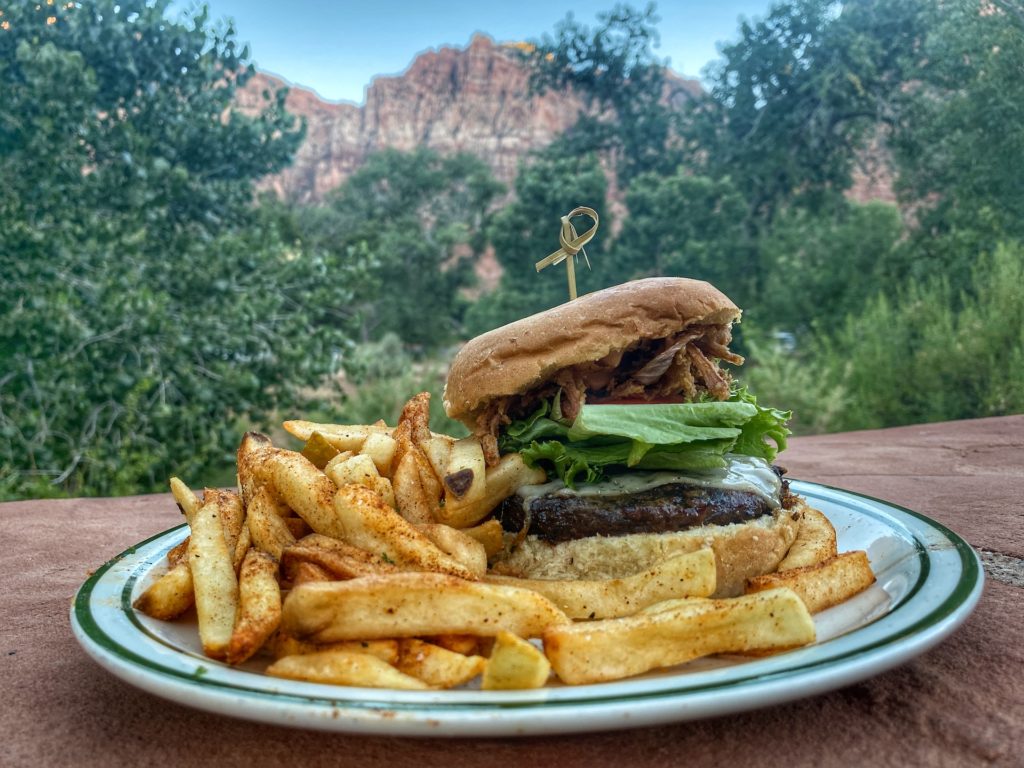 There are a ton of great places to eat in Zion and a ton offer amazing views. There truly isn't a bad place to eat as long as you have a view of the red rock canyon! However, see here for a few of the best restaurants in Zion including the best breakfast and best dessert!
If you are in need of a private shuttle to the trailheads or if you want to do some incredible tours then you definitely have to use Zion Jeep Tours! They offer a ton of different tour options and are so easy to work with!
Beginner Guide To Hiking The Narrows From the Bottom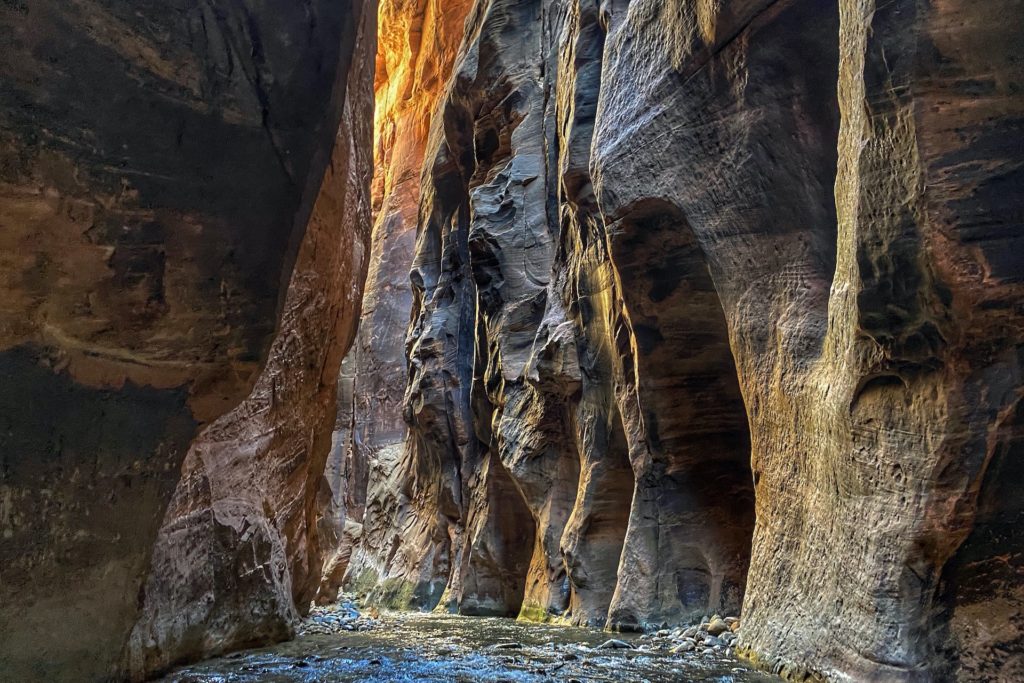 Difficulty:
Easy to Strenuous
Length:
2-10 miles round-trip | Out & Back
Starting at The Temple of Sinawava you will start hiking along the Riverside Walk, which is a paved nice flat walk that goes for a mile.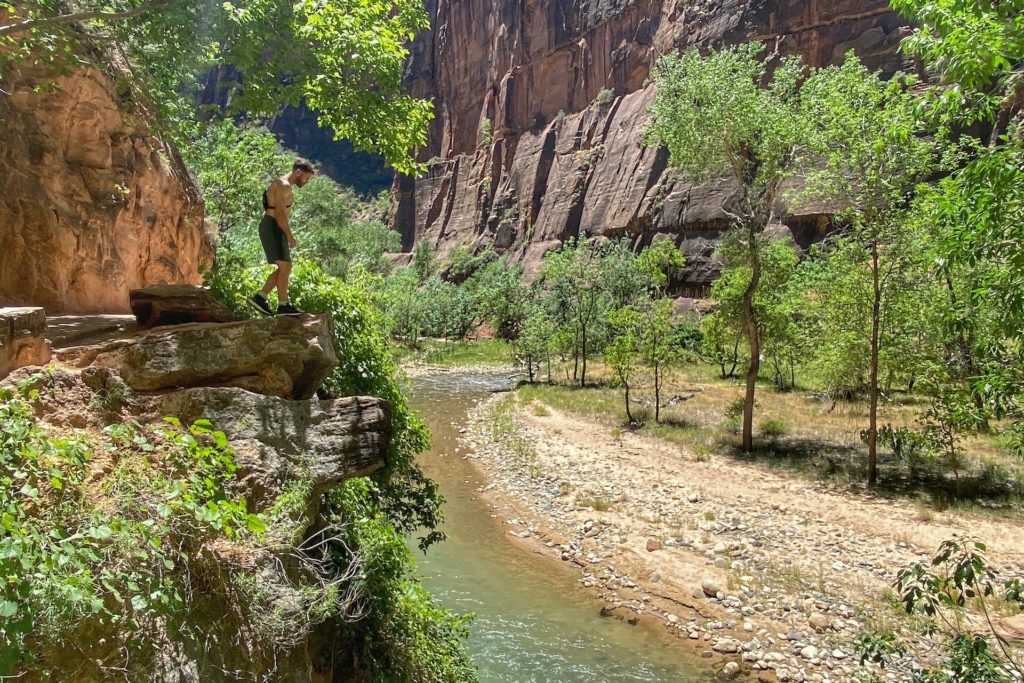 The Riverside Walk itself has some great vantage points, pretty views and meanders along the Virgin River. There are also some great little swimming holes at the end of The Riverside Walk.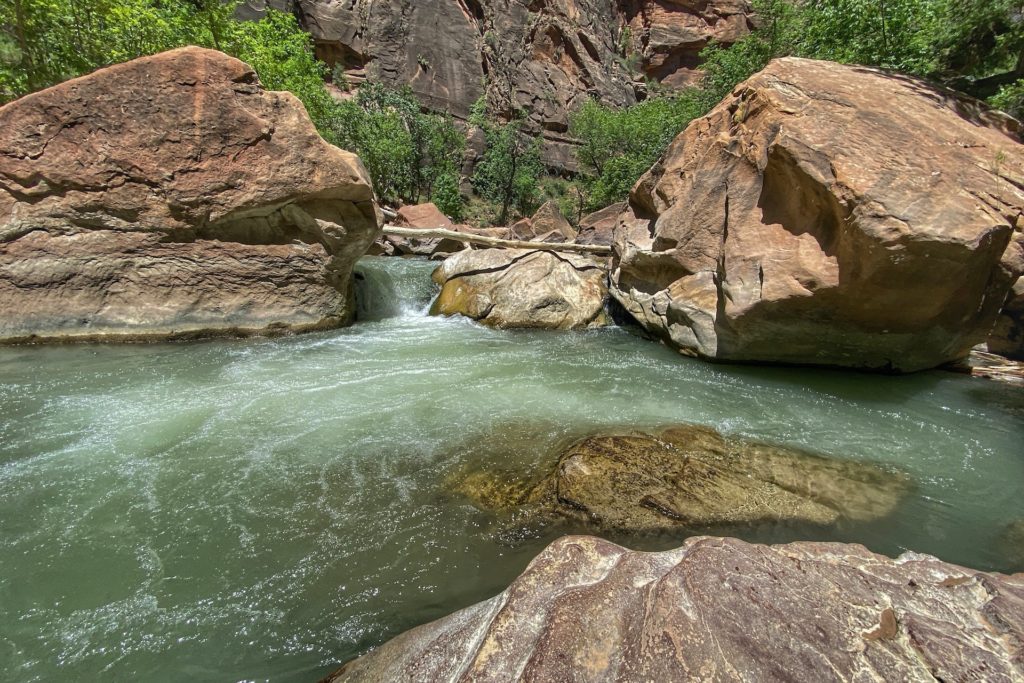 Once you get to the end of the Riverside Walk, all games are off and it is time to dive into the water. Don't avoid it, get in there cause it will be like that for the next 2-6 hours of your day.
The Narrows Hike is amazing with never ending scenic views and I highly suggest going to all angles of the canyon, under overhangs and really explore vs. just head down heading to the end.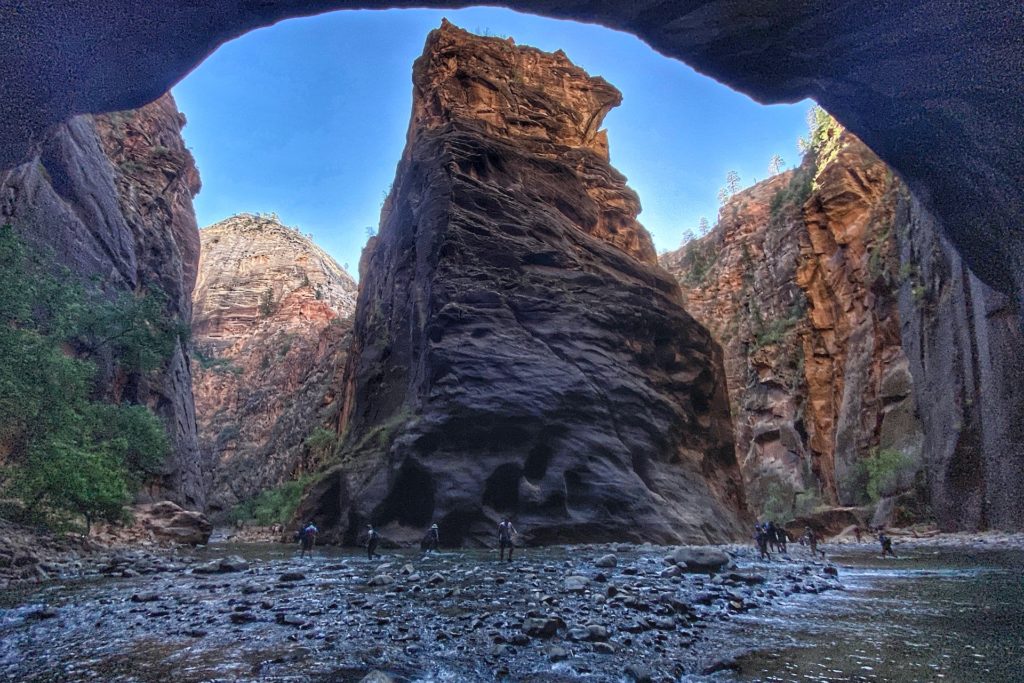 There are some really cool vantage points and stunning views as you keep going through The Narrows.
1.5 miles in on The Narrows hike you will come to Orderville Canyon and it is definitely worth going into it for 0.5-1 mile.
Do it right away vs. waiting until later as you might have it all to yourself or very little people in there. Instantly in Orderville there is a stunning canyon area that has a kind of similar look to Antelope Canyon.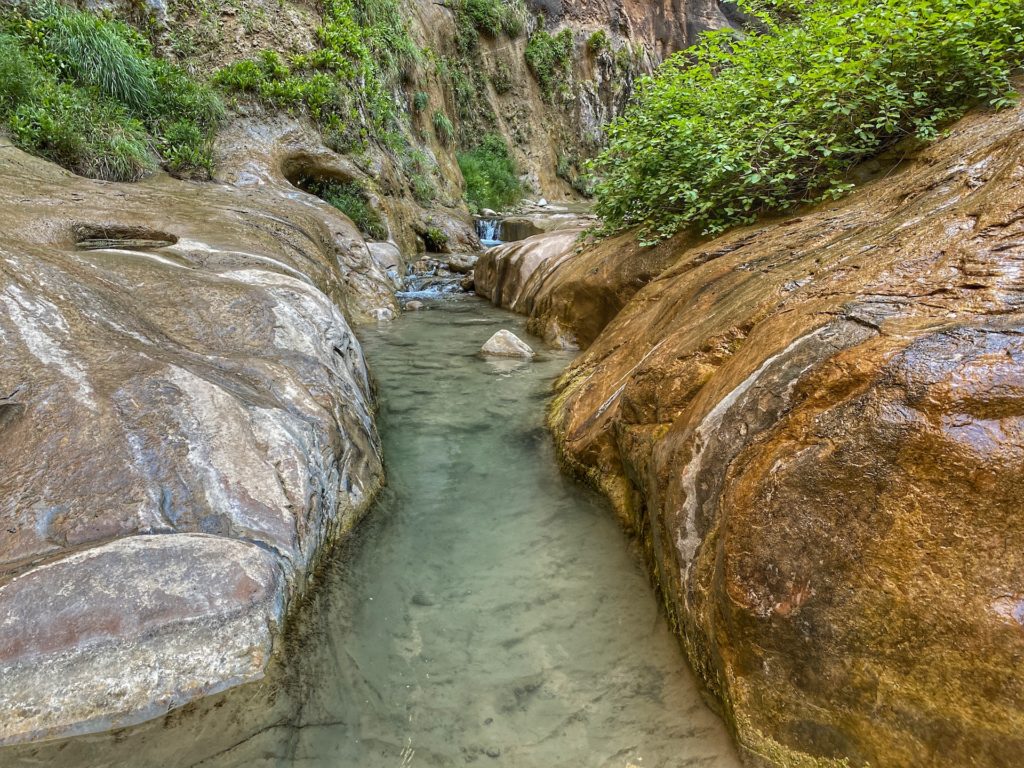 Go back into Orderville Canyon as long as you would like but really you can get your fill in a mile or less. However, there are unique views and cool sights similar to The Narrows throughout.
After getting back to The Narrows it is about 0.5-1 more miles more to Wall Street, which really is a place you should try to make it to before turning around.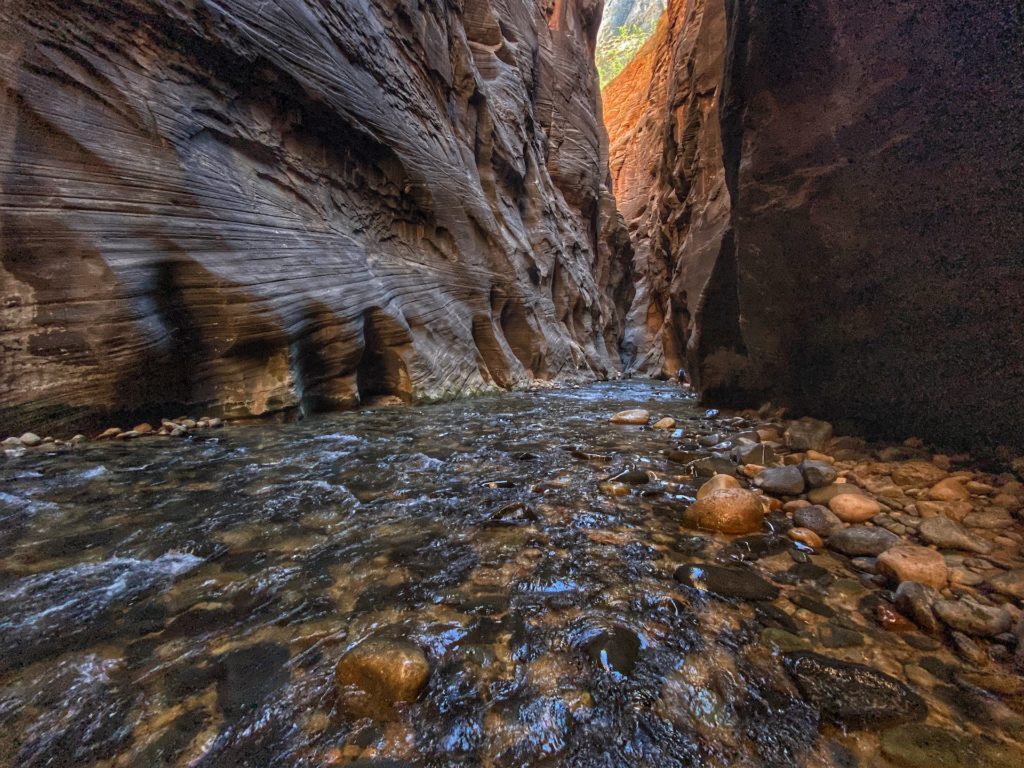 You can continue going back past Wall Street but really it is a little more of the same and Wall Street is a good spot to turn around unless you are really gung-ho on going all the way to the end of the canyon at Big Springs, which is another 4 miles round-trip or so.
Pros
One of the most unique hikes in the country
Great hike for the summer to keep cool and out of the sun
Some of the prettiest pictures in the USA
Choose your own length
Swimming holes when you come back where Riverside Walk & The Narrows meet
Cons
Gets extremely busy after 9/10am
Sometimes tough walking with the rocks and in the water
Not great for people with bad ankles or knees
Tips
Go as early as possible
A pole isn't really needed
Dress in two layers on the top of your body
Go see at least .5-1 mile of Orderville Canyon
Bring a waterproof backpack and phone case
---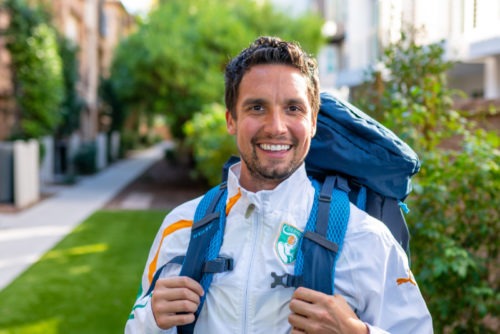 Hey I'm Fraser. My site is dedicated to the 22nd century person with a lust for travel and adventure, need for time efficient recipe ideas as well as anyone in need of self-help or a pick-me up! Thanks for visiting Inspire Travel Eat!