Siem Reap is a city that encompasses why you travel. There are only 7 places in the world with one of the New World Wonders and that might not even be the coolest thing you will do there! If it had a beach it would have everything you could ever want in a destination but then even more unique options that you can only do there!
Siem Reap is one of my top 2 favorite cities on earth if you can't tell already. It is an epicenter for culture, is quintessential Asia, it made me feel like I was in National geographic multiple times and adds some craziness along the way!

If you want one of the best adventures, to travel back in history as well as some exercise ending with relaxation and a few drinks… well just keep on reading. Due to only having 2.5 days in Siem Reap I packed in the busiest day possible and saw so much in one day for one of my favorite days ever!
How many days do you need for Angkor Archaeological Park? Is one day enough for Angkor Wat? The answer is yes. You can see everything you need to in one day and really after 8-12 hours you might be "ruined" out anyways unless you are an extreme history buff and want to know every single part of each ruin.

How much are Angkor Archaeological Park Passes? As of the writing of this article one-day passes are $37 USD.
Mode Of Transportation
This is where you set yourself apart from what kind of day it will be. You can take a Tuk Tuk around, which is well and fine… or you can bike around the entire Angkor Archaeological Preserve, which I recommend.
If you are able you should bike vs. taxi or tuk tuk… as you are more likely to stop at some really cool things on the way, it is more peaceful and you will come across some gems you may not see while sitting & talking in a Tuk Tuk or taxi.
I am a little crazy and I love to walk/bike everywhere I go as you just see so much more! I ended up biking 50 miles on my day but… you can bike significantly less than that. Furthermore, if you get tired you can throw your bike in a Tuk Tuk to get back to wherever you want. If you do rent a bike, pay $5 for the Mountain Bike vs. the $2 white bikes as it is significantly faster and more comfortable for your trip so you can see and do more.

When to go to Angkor Wat? Sunrise is magical and the earlier the less crowds. However for photographs, after 2pm is the best lighting thus on your way back you can always try to get an afternoon picture as well as your morning ones.
Morning
When does Angkor Archaeological park open? It opens at 5am and is open until 6pm. I am far from an early riser but you need to get an early start for a few reasons. 1. If you are super early then the sunrise there is majestic. 2. you need as much daylight as possible to see as much as you can. 3. The earlier you get to Angkor the less crowds. I don't know if 5am is necessary but try to get there before 7/8am.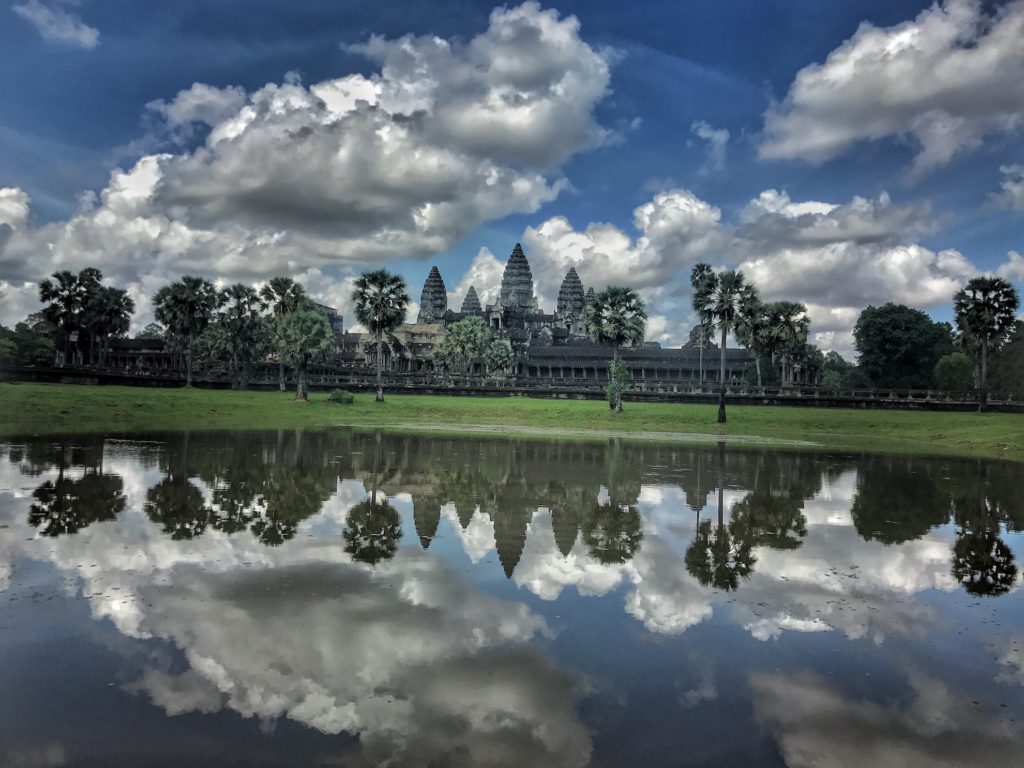 There are the big 3 ruins, Angkor Wat, Anghor Thom and Ta Prohm, which you have to see and then there is time to see a few other unique ones along the way. Be sure to have a large water bottle in your holder before you start your journey as it is going to be a doozy of a day!
I started my journey biking from my hotel in Siem Reap grabbing a smoothie and water along the way. I had bought tickets after 5pm the day before but you can also purchase the morning of from the ticket office on the way.
Once arriving to Angkor Was you clearly are blown away by one of the most amazing structures on earth, which is also the largest religious monument in the world. If you ever liked history then clearly you will be giddy when you see this incredible place.

Lock up your bike and stroll around the grounds making sure to try and take a peek into all the rooms and hallways as they are incredible. Make sure you take the quintessential picture in front of the water so you can get the beautiful shadow shot. As mentioned try to take a picture after 2pm if you can but sunrise is even better.
Bucket-list time: when you go inside Angkor Wat you need to be blessed by a Buddhist monk. You will go to them, sit on their mat and they will chant while sprinkling water on you and tie their red string bracelet on your wrist. You aren't supposed to ever take it off as it is supposed to fall off. Be sure to take off your shoes and donate to them.

After being blessed and seeing most of Angkor Wat I would tell you to take your time and walk around but once you have seen most of it, time to get back on the bikes to see more! Get out your map and head on down to Angkor Thom and Bayon.
However, on the way to Bayon there are some very important stops! First, is the moat that surrounds Angkor Wat. Just before you get to the end of it on the way to Bayon there is a rope swing where you may see lots of kids swinging in! Surely you are hot so might as well take a dip! I had an extra pair of sunglasses and other trinkets to give the kids who had a great time pushing me on the swing.

After playing with the locals and cooling off it's back on the bikes and keep your eyes open to the left for Phnom Bakheng. If you want to add more exercise then park the bikes and walk up to this nice temple of which you can have incredible views of the jungle and city from the top. It isn't too long, about 20-30 minutes to the top… but when will you be back again!

You saw the views at Phnom Bakheng, maybe an elephant and things are only about to get better. As you go to Angkor Thom you are welcomed by one of the coolest entrances ever. Imagine crossing a bridge, a moat on either side with statues welcoming you to the prettiest gate I have ever seen. Hop off the bike, take some pictures and marvel at this incredible architecture and art.

Now you go through the gate and maybe the best part of the park… MONKEYS! They will be everywhere along the side of the road and you could literally just stop and watch them forever. Most are nice and just want your snacks, which they will steal, however some are aggressive so be very careful before getting too close. One stole my smoothie but was nice enough to take a picture with me and I let it go.

Angkor Thom has a 12 sites within it with the crown jewel being Bayon. I biked around and made my own adventure as some of the temples are off the beaten path into the trees where literally no one else was around. I would definitely spend a little extra time biking and walking around to see the lesser known smaller places as they are just as cool and 10x less the people, if anyone there at all. Bayon is of course the crown jewel in Angkor Thom but there is so much to see, you could literally spend all day there.

I recommend stopping at one of the pop-up food vendors for lunch to get some street meat and a smoothie, some fruit and a beer. The stuffed frog honestly is one of the best things you will ever taste. I have heard not to eat fruit you don'ts see peeled and I now follow this rule religiously… what was worse is I didn't follow it and I ended up here… i've seen a lot of bathroom setups but the water tub with a bowl was a unique setup of which I still am confused about…

After seeing as much of you can of Angkor Thom be sure you have enough time to get to Ta Prohm, which is also infamous for the filming of Tomb Raider. Ta Prohm is stunning in its own right with its jungle setting and trees growing out of the ruins making it maybe the most photogenic and unique ruin of them all.

Aside from the busy areas by the main trees I found it extremely empty and managed to walk around the entire area, which is equally as eerie as it is beautiful. There were times I would find myself completely alone with sounds of the jungle all around you, open windows of all of the ruins surrounding you and then your mind starts thinking… try not to think ha! It is an incredible temple and if you love to take pictures it is spectacular.

It is getting dark and time to turn back! If you can make it back to Angkor Wat for more pictures in front of the water with different light, definitely try to, unless you already have the perfect picture. You will loop around south to pass Banteay Kdei.
Unfortunately I got off course and well… I only have been scared 3x traveling and this was one of those times… I somehow was like 20 miles from Siem Reap and the sun was going down. I am literally nowhere near another tourist and was starting to get pretty worried… it was pitch black, I had biked 50 miles and I had no idea where I was. Thankfully I came across this street meat spot on the side of the road and there was a Tuk Tuk, we loaded my bike up and headed back to town.
Nighttime
Not only do you feel so accomplished getting such a great workout but you also just saw one of the most amazing cultural areas on earth! As you can imagine… you will be tired and sore… so what do you do? Shower, grab a tuk tuk and go to heaven in the form of a 90 minute 4-handed massage for like $20. I honestly wish I didn't do this as now it has ruined regular massages for me. Needless to say it was incredible.
Massage is done and it's time to eat and drink off the soreness. Luckily the town has everything you could need to make that happen. There are a ton of places to eat and more places to drink. Try to stick to the authentic street food but I don't blame you for plopping down in a restaurant and relaxing after the long day.
BUT WAIT! THERE'S MORE!
The day can't be done until you walk around and eat your worst nightmares… Siem Reap, the only place I have seen where you can eat tarantula, scorpion, snake, grasshoppers and more for $1! I'm not going to lie to you, it's awful… but when are you ever gonna be able to do this again? Not to mention who else do you know who has eaten scorpion or snake! In all honesty the larvae is the grossest thing…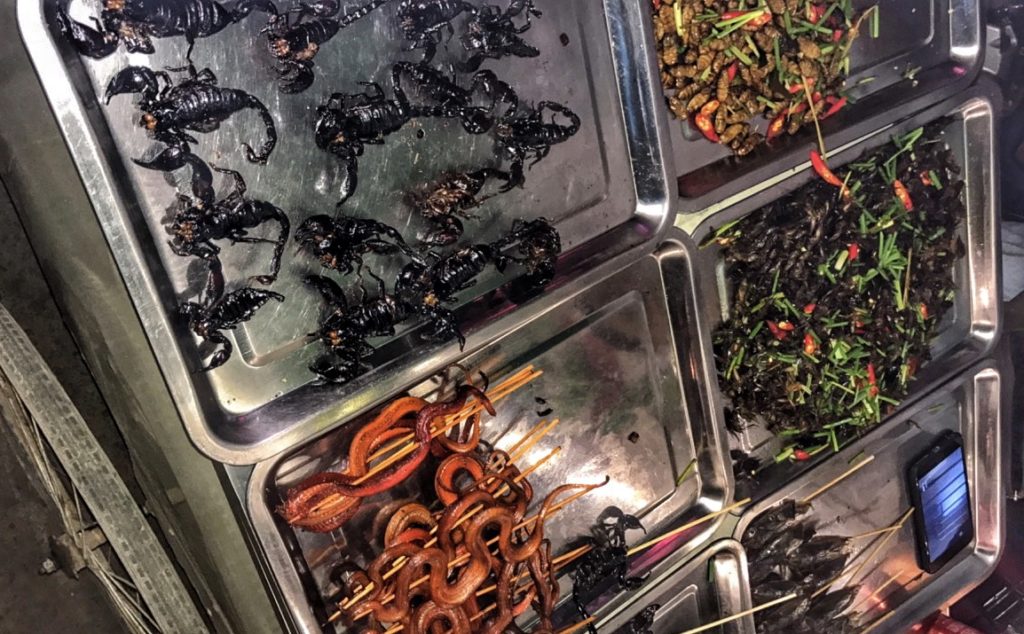 What a day… I would say it was over but I'm a bit of a lunatic and I only had a couple days here so… I went and got another 30 minute foot and calf massage while I drank sexy blended drinks and beers… then I signed up for a pub crawl cause "yolo" as the kids say… from there I can't fill you in on the rest but it was a good time.
Needless to say this was one of the better days of my life and I truly had to do it with only a short time in Siem Reap. I am not saying you have to do all of this in one day but damn it was an awesome day. As mentioned you really only need one day of Angkor Archaeological Park unless you are a crazy history and temple lover.
I have a 2 day itinerary as well for you which includes something that has your jaw dropped as if you are in a travel TV show.
Hope you liked these ideas! Please leave a comment if you did or tell me things you would add for version 2.0 :).