Taos is the quintessential ski town but with so much more to offer than you might have ever known!
When I went to Taos I wasn't sure what to expect, and to be honest it didn't look that amazing as I couldn't find a ton of info.
I scoured the internet and Pinterest trying to find must-do things in Taos without much success and nothing that packaged all of the good stuff together.
Truthfully, the lack of what was out there is the main reason why I created this article!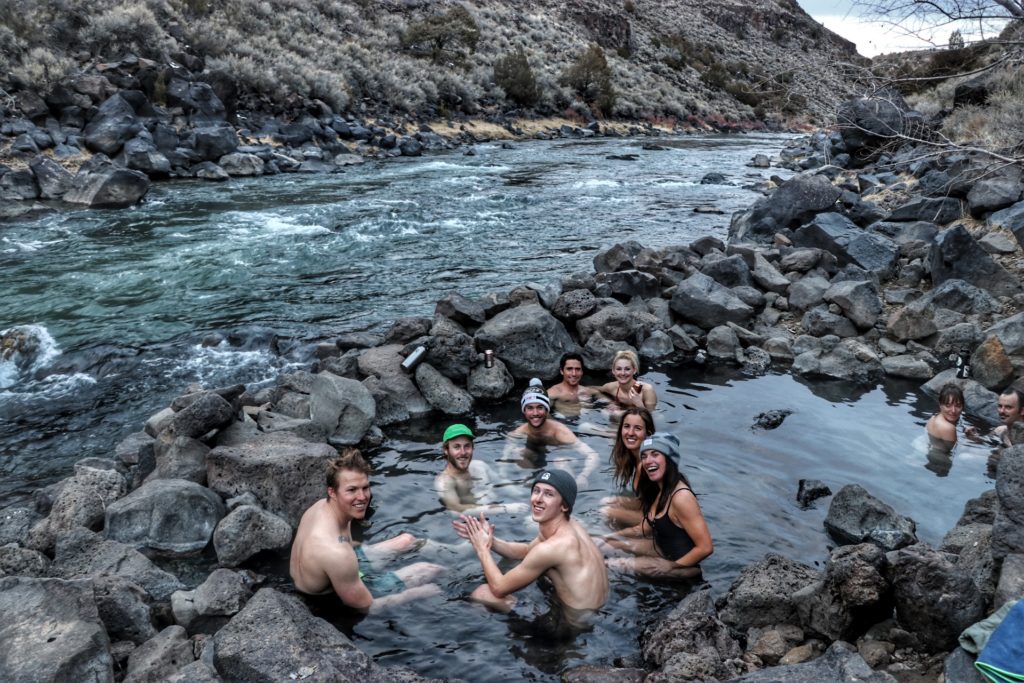 You're in luck as I was able piece together a ton of great stuff to give you the best things to do in Taos! There is so much unique and interesting things to see I didn't even include the little casino they have in town!
Thankfully when I got to Taos and did some exploring on my own I was pleasantly surprised that it had everything I loved when going on vacation and more. If you love the outdoors then this is the place for you.
If you like laid back, places off the beaten track, craft beers and the opposite of big cities then this is for you. I really liked Taos and as you will see below, there is a ton of fill up a weekend or even a week!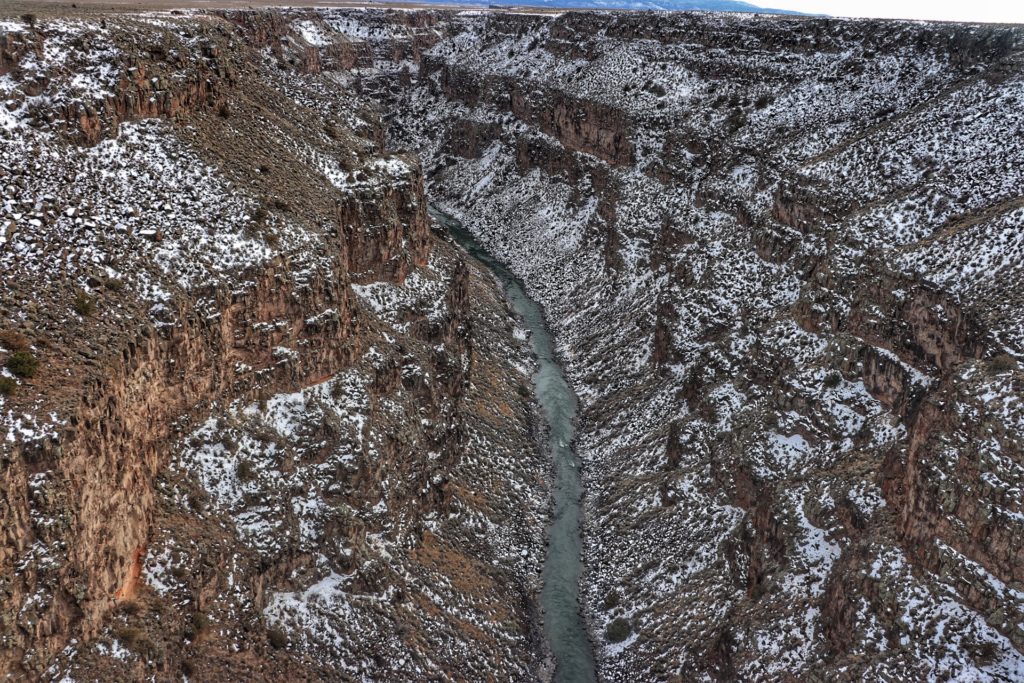 9. Taos Plaza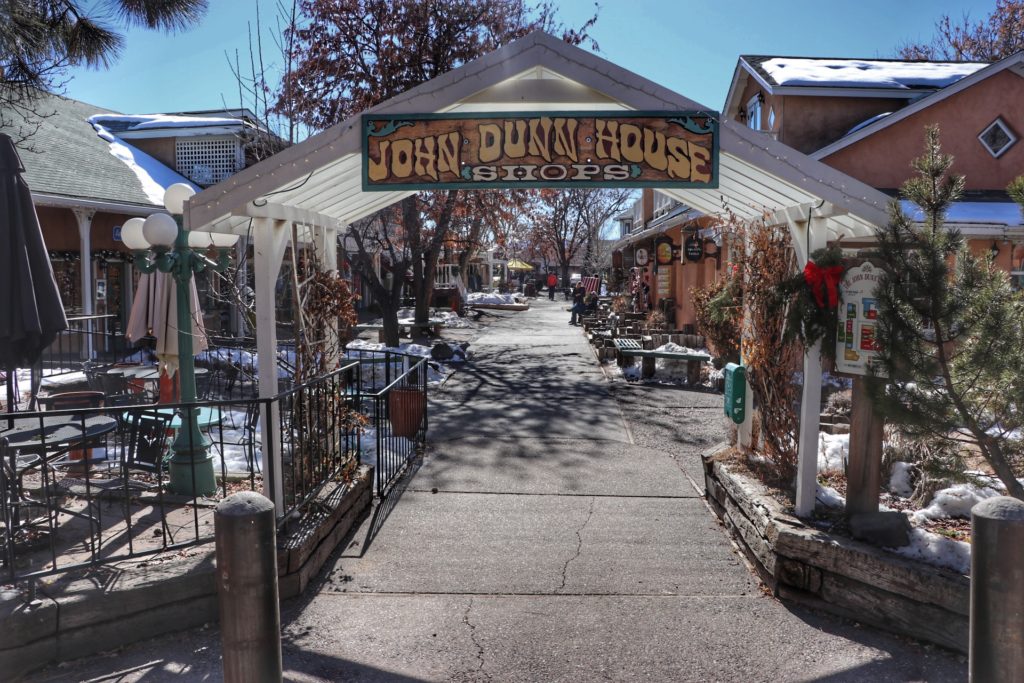 Starting this list off with a n0-brainer and sorry to waste your time here, as you probably knew about it. However, I had to include it because it is definitely something you need to stop by.
It is the quintessential souvenir packed marketplace with some great coffee shops, places to eat and even a brewery and a distillery! I always love the markets in every city I go to and this is a cute little spot to checkout for lunch of coffee and an hour of meandering around.
8. Have Saturday BBQ at The Austing Haus & A Pint At The Bavarian Restaurant in Taos Ski Valley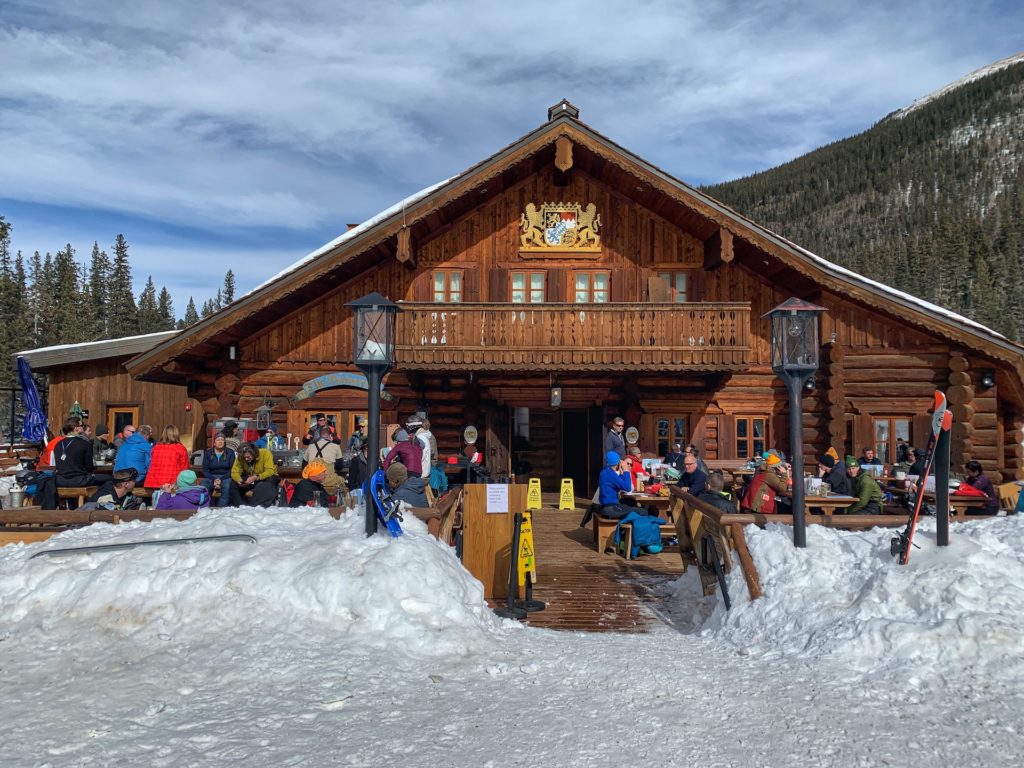 If you love food and drink then these are some unique must dos! A day on the slopes in Taos Ski Valley isn't complete without a giant beer on the patio at The Bavarian Restaurant.
Everyone loves the apres part of skiing and The Bavarian is a perfect fit. If you aren't a big drinker or are with the kids, it is still a great time on the patio and they serve some terrific food with a Bavarian flair.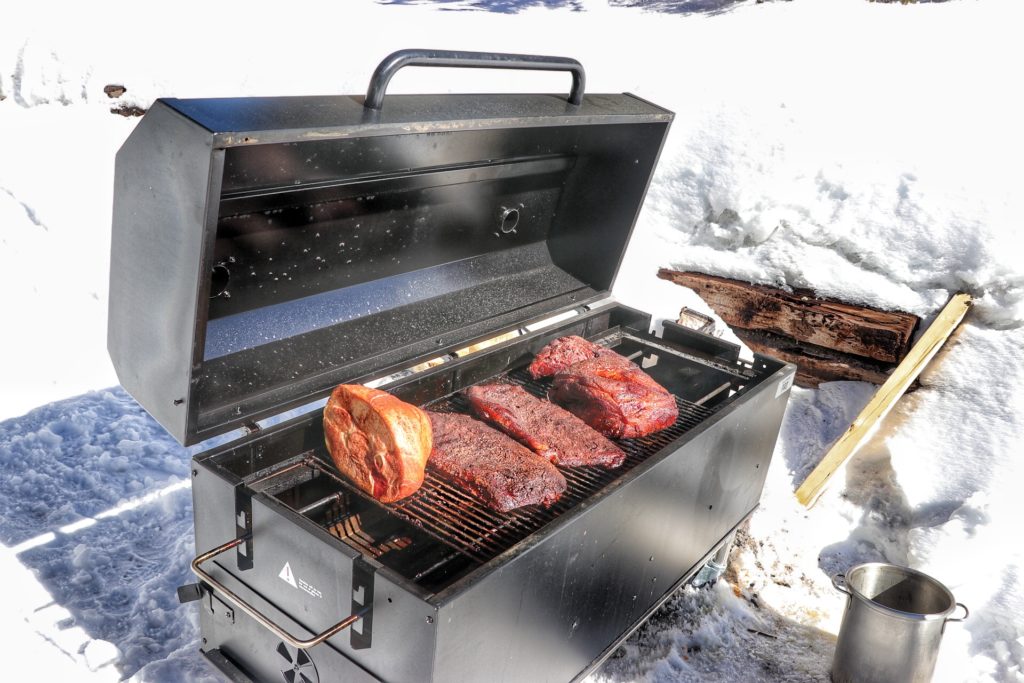 Saturday night buffet dinner HAS to be at the Austing Haus in their restaurant, which is open to everyone. Having lived in Texas and Nashville, I have had good BBQ and this rivals all.
They smoke their meat for 36+ hours and then it is serve buffet style on Saturday nights… there is not much better after a day on the slopes then diving into all-you-can-eat BBQ! Ski/Snowboard, a beer on the Bavarian Patio then down to Austing Haus for dinner = the perfect day.
7. Spot Wildlife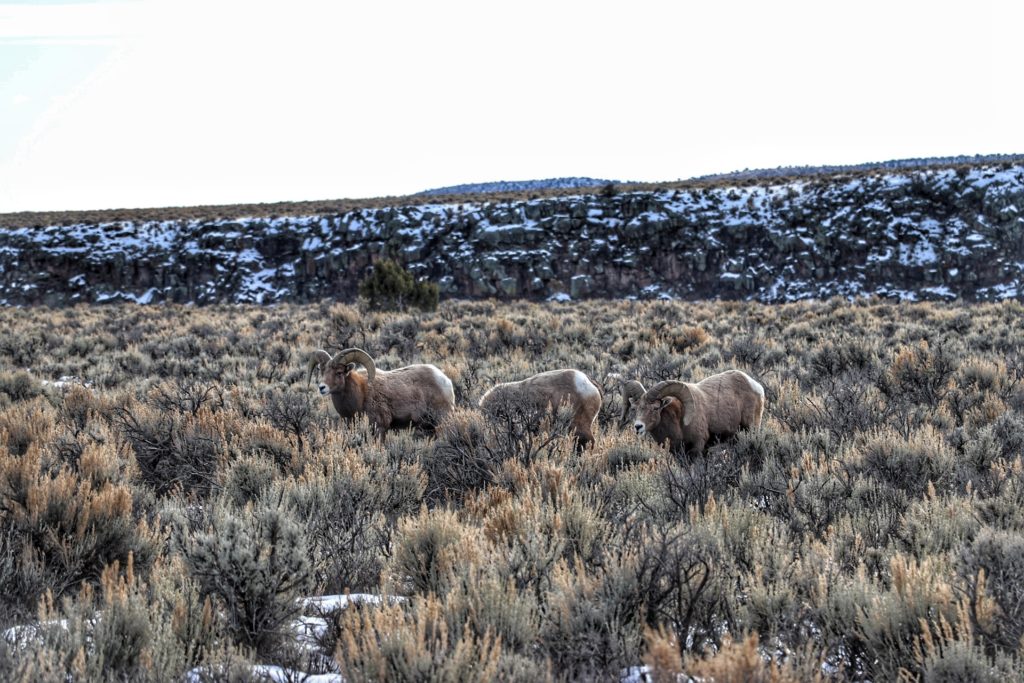 Taos was apparently the epicenter for elk, coyotes, deer and bighorn sheep during our visit. We were lucky enough to be driving carefully at night or else there is a good chance we could have had a run-in.
With that said, drive VERY carefully at night when driving to or around Taos because there are elk everywhere outside of town. We saw 3 different sets of elk one night, for a total of about 15.
We also saw three bighorn sheep near the Rio Grande Gorge Bridge along with coyotes and deer throughout our trip. If you have kids or are just a nature lover, these will add some excitement to the trip!
6. Hike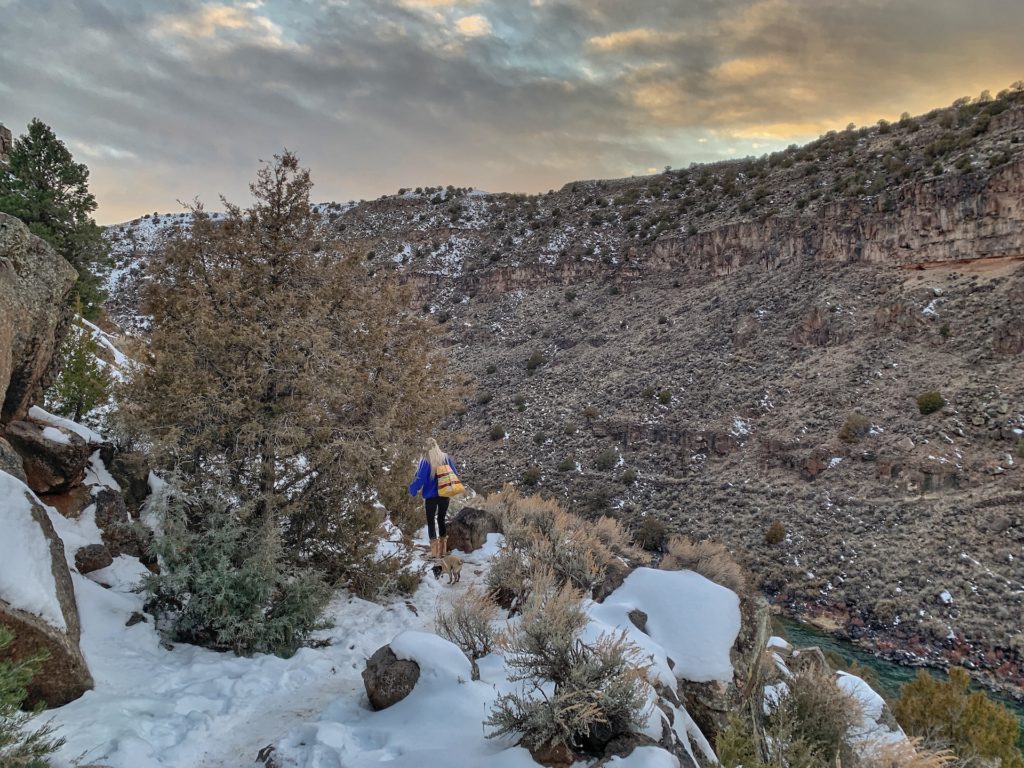 If you are a hiker than Taos is an amazing spot to do it. There are a TON of hikes throughout the area whether you want to hike the Rio Grande Gorge, hike to waterfalls, hike for views, hike along streams, hike beside lakes or even to hot springs!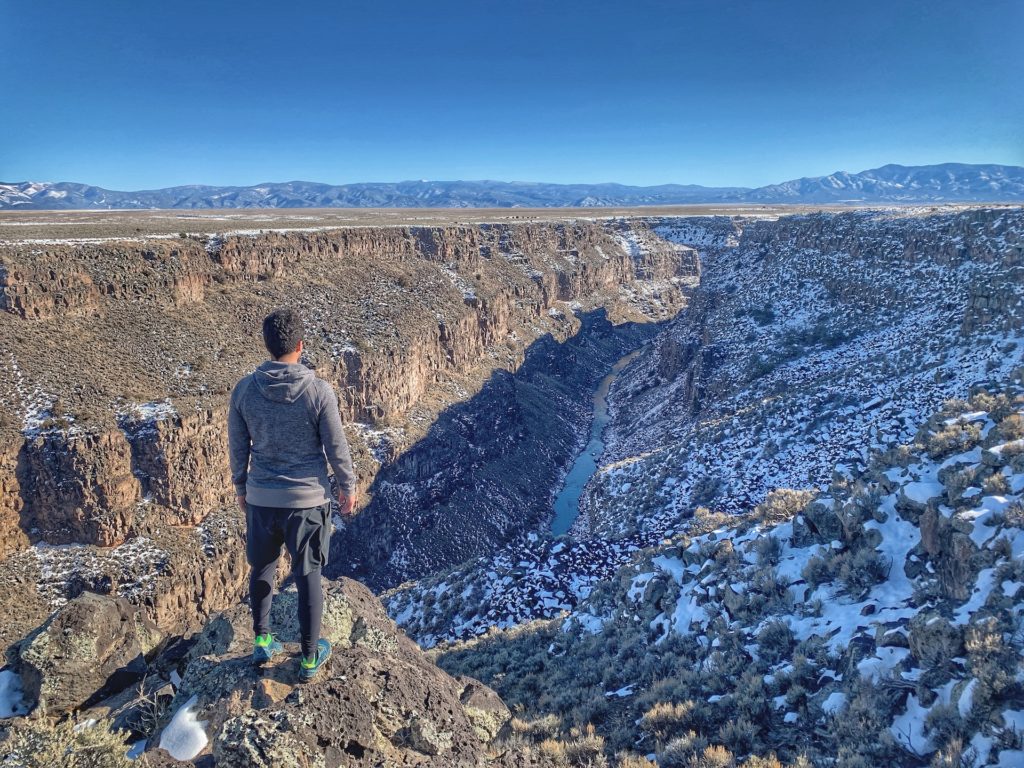 A few of my favorites are the Rio Grande Gorge Trail, Trampas Lakes Trail, El Salto Falls and William Falls. Definitely take a day to explore all of the neature that Taos has to offer! More info below on the hot springs!
5. Taos Pueblo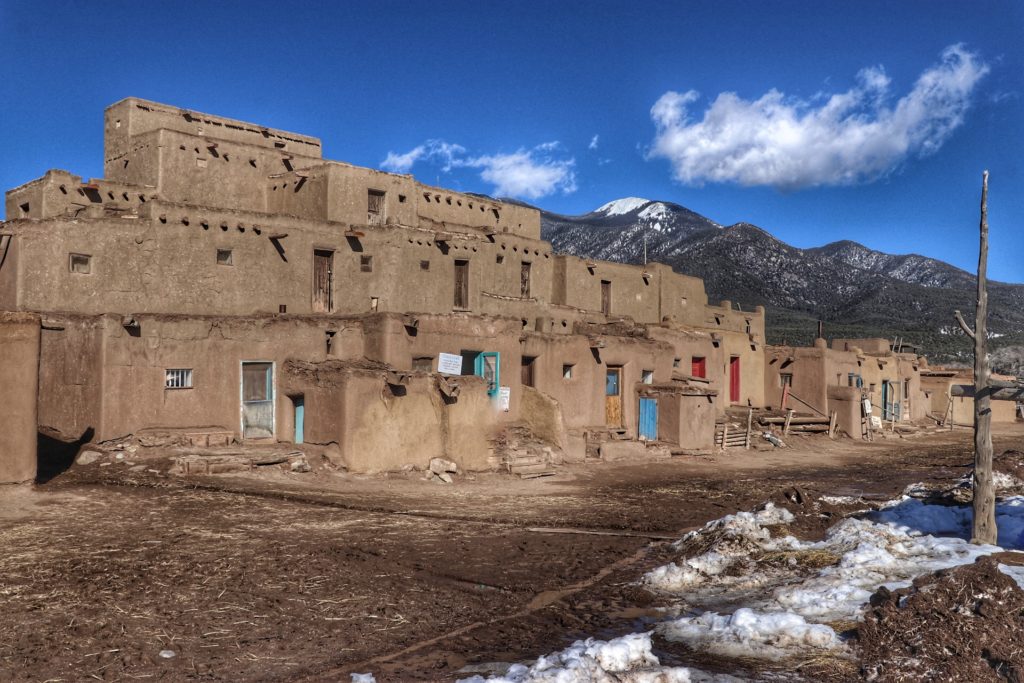 This is truly a cool and unique part of North American history. Taos Pueblo is a Native American community that has been continuously inhabited for over 1,000 years and is the oldest active settlement in the USA.
The buildings were pretty cool and the whole settlement is like something you have never seen before. It is free for kids 10 and under, which is nice as 10 year old me would have looked for 2 minutes, and then went back to whatever game I was holding in my hand.
Present day me almost did the same thing as I get bored easy… and not sure $16 is worth it but like I said, it is a cool piece of history. It is also a unique pretty as you can see from some of these pictures.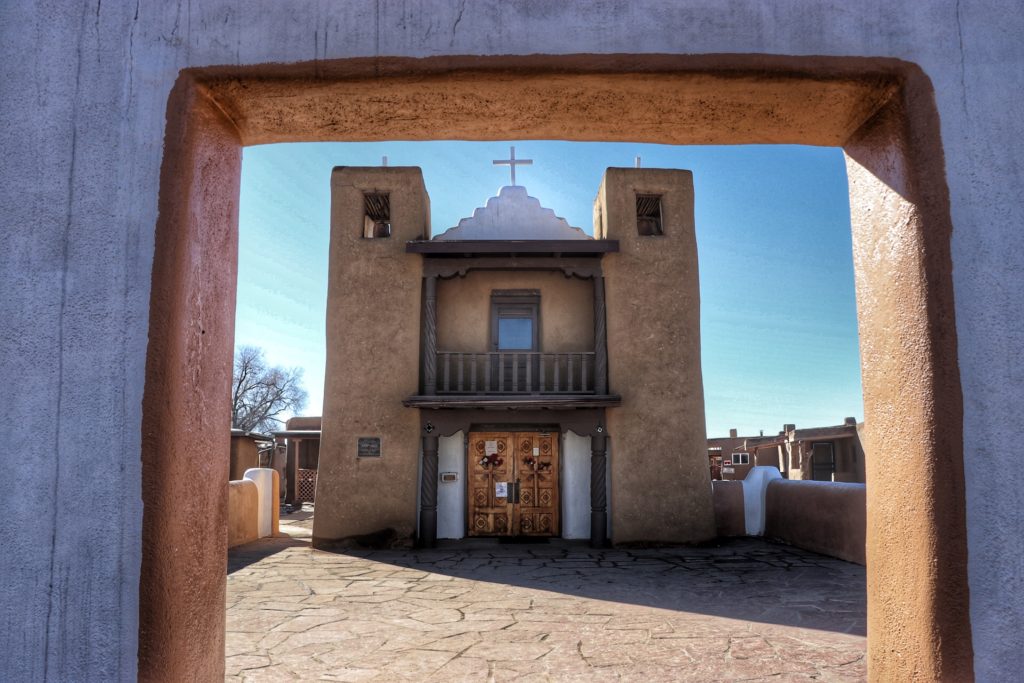 Don't think I am hesitant to fully recommend this place because I get bored easy and don't like history. While it is true that I get bored easily… I do spend tons of time seeking ruins, temples and such whenever I travel… just $32 for 2 people is borderline worth it so take it with a grain of salt whether to go or not.
I am on the fence to tell you to go or not as some of you will be really interested and some people may say "thanks for boring me for $16″… so go with what you're interested in I guess :). If you love history then definitely go.

4. Brewery & Distillery Hop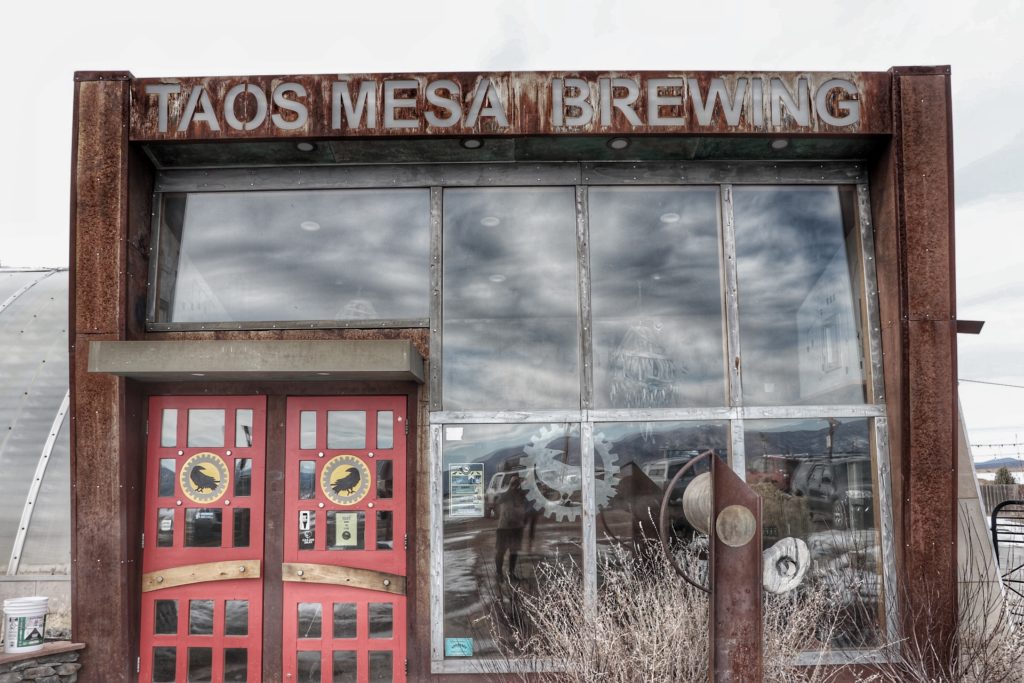 You might be upset and dumbfounded that I put drink-hopping ahead of the oldest known active settlement in the USA but… here we are. Taos is definitely a craft brew hot spot and you'd be remiss by not checking out this bit of local flair.
Taos Mesa Brewing is the crown Jewel, which is 10 miles north of Taos. It is amazingly Taos made with reclaimed materials and is boasts an outdoor amphitheater as well as a legit stage and sound system inside.
TMB is huge with an outdoor beer garden that also has a sculpture garden. They serve incredible craft drinks and had a really good restaurant as well. Be careful to drink responsibly though as police patrol that road quite often. If you can't make it to their main location then definitely checkout their smaller version in town.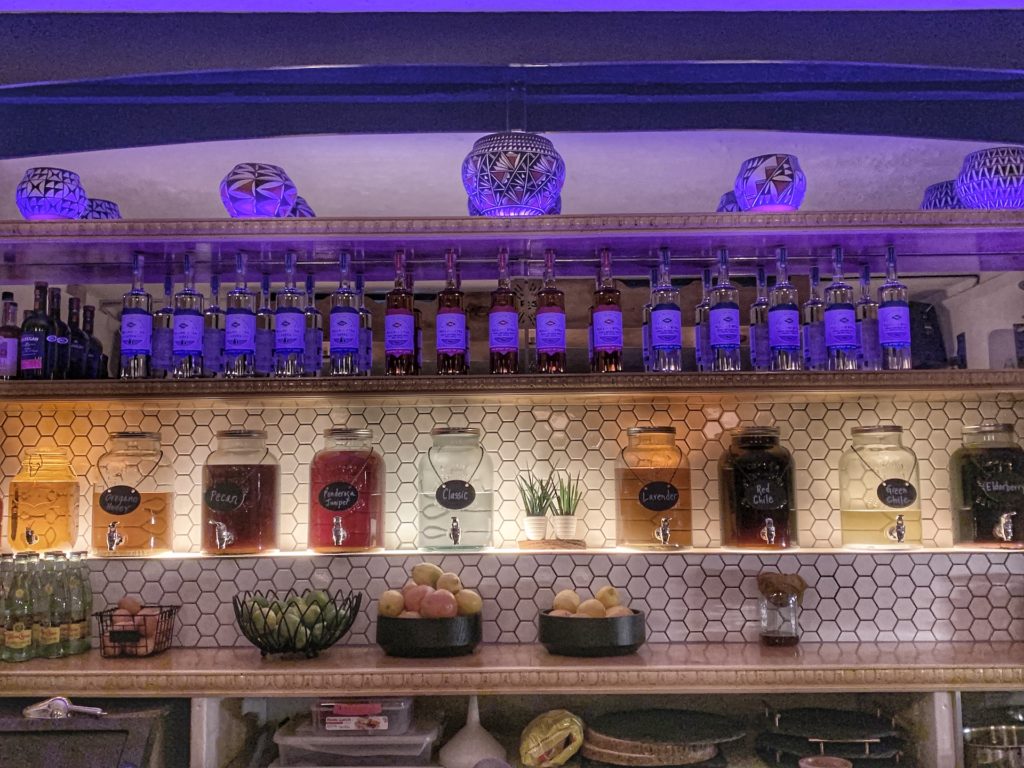 The Lounge By Rolling Still Distillery was my favorite stop out of any of the breweries & distilleries. They had all of these incredible infused liquors and some of the best craft cocktails I have ever had.
The bartenders were awesome too, great conversation and hosts who made you feel at home. It was a perfect small town bar crafting up some big city cocktails. It's located right in the heart of town so it is very easy to go checkout.

The Burger Stand At Taos Ale House is another favorite with incredible food to go along with their craft beers. The burger stand was created by renowned chef and cookbook author, Robert Krause. Burgers are cooked to order with scratch-made condiments, multiple variation of fries including duck fat and even homemade pickles!
Eske's Brew Pub was under renovation when we visited but could be open by the time you visit. We actually ate from their food truck, which is open while they renovate, and it was really good! Definitely a great place to stop by when in town visiting.
3. Taos Ski Valley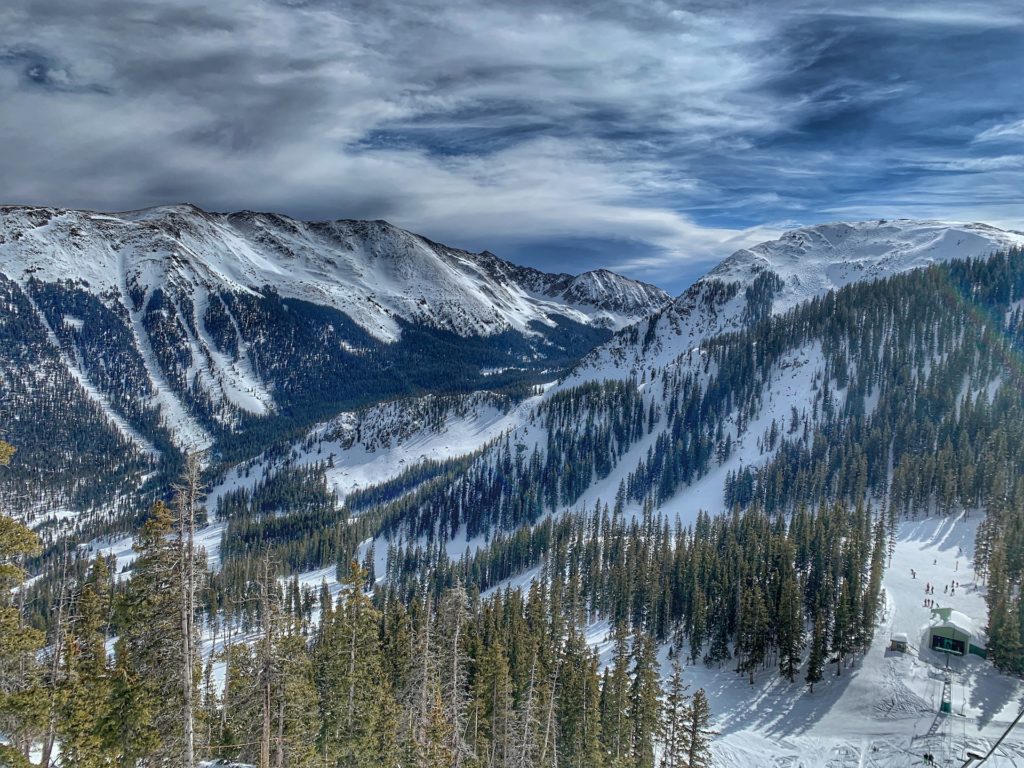 Who know there could be such a great ski hill in New Mexico. It definitely was a pleasant surprise and pending where you look, it has been regarded as one of the top 10 ski resorts in North America.
Their motto is "ski better, not bigger" as while it is not enormous it has a ton of incredible & challenging terrain. If you don't like the Aspen or Vail scene then this is even more so your place to visit.
As a rough simile… If Aspen is Los Angeles then Taos is Austin, TX and everyone loves Austin! They have an average of 305 inches of snow, 1,300 acres of terrain, 113 trails and 14 lifts. One of these lifts takes you to Kachina Peak, pictured below, which accesses one of the more harrowing areas I have ever rode.
It is a stunning place and definitely worth the visit. A little off the beaten path, less commercial and definitely a quieter more craft beer/new-age-hippy vibe.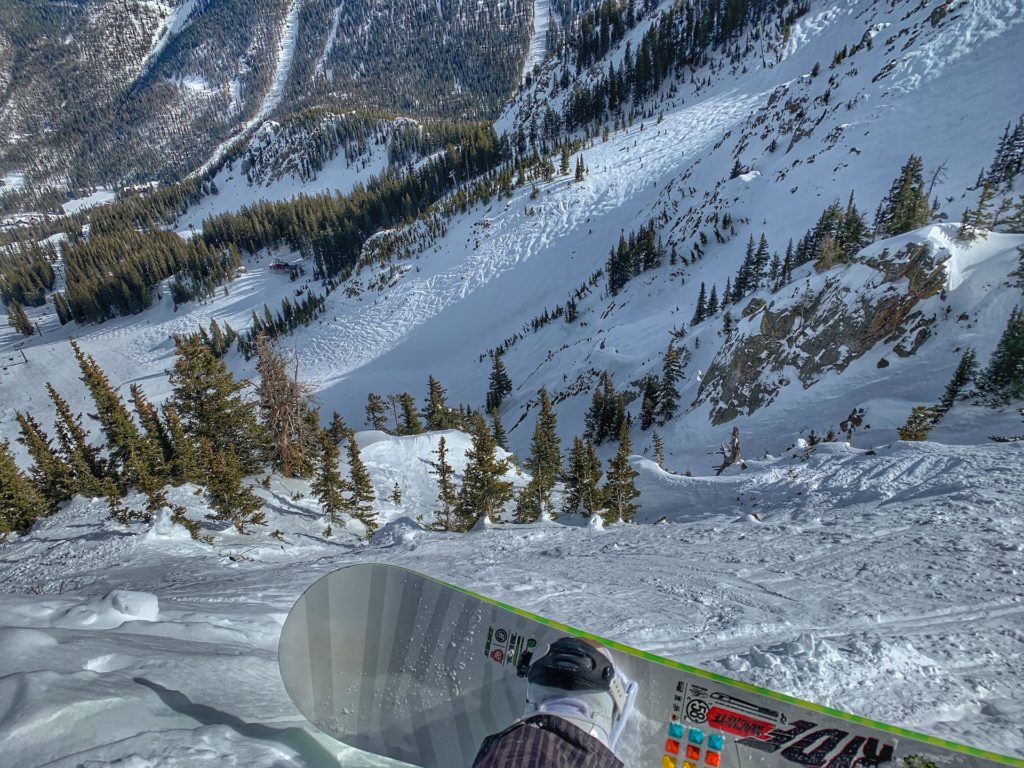 Should you snowboard in Taos Ski Valley?
Short answer: no. I have never seen a hill that was truly not good for both skiing and snowboarding but this hill unfortunately just wasn't fun at all for snowboarders. It felt like 75% of the runs had moguls, including when I went to the double-blacks at the top of the mountain via Kachina Peak.
Unfortunately there just isn't a ton of snowboard friendly runs and if you are just a beginner than this shrinks the hill significantly. It is a top notch ski hill though that's for sure but I wouldn't make it a first stop for snowboarders. This is not to say you can't and shouldn't… I just wouldn't put it at the top of the list.
2. Rio Grande Gorge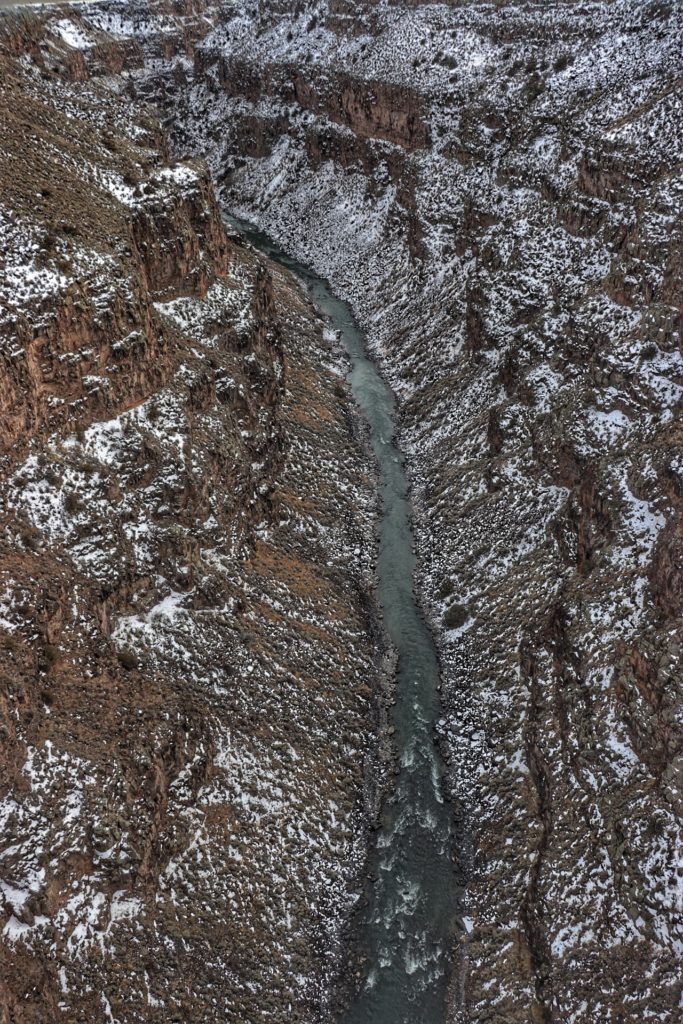 This is extremely obvious as it is always ranked as one of the main things to see in Taos. I will say I think a picture I took from here (above) might oddly be one of the prettiest pictures I have ever taken…
I dunno, see for yourself but for some reason I just look at it in awe all the time. The gorge is great as well because you can go for a long walk all along the side getting unique views of the gorge for miles, it is truly so pretty, especially with the color of the water.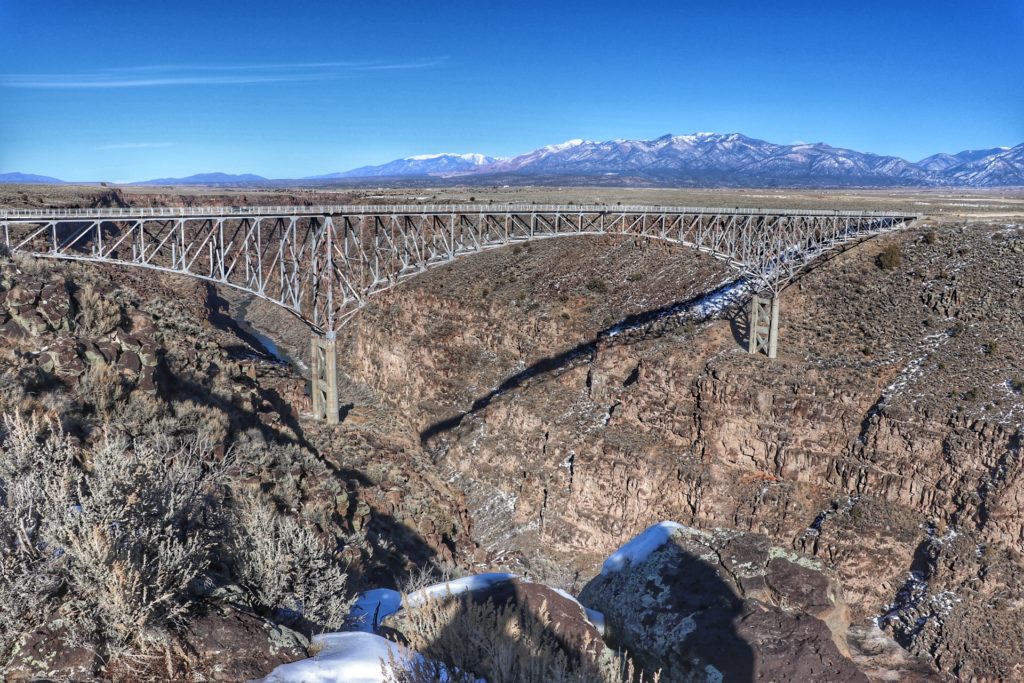 1. Experience a natural hot spring in the wild!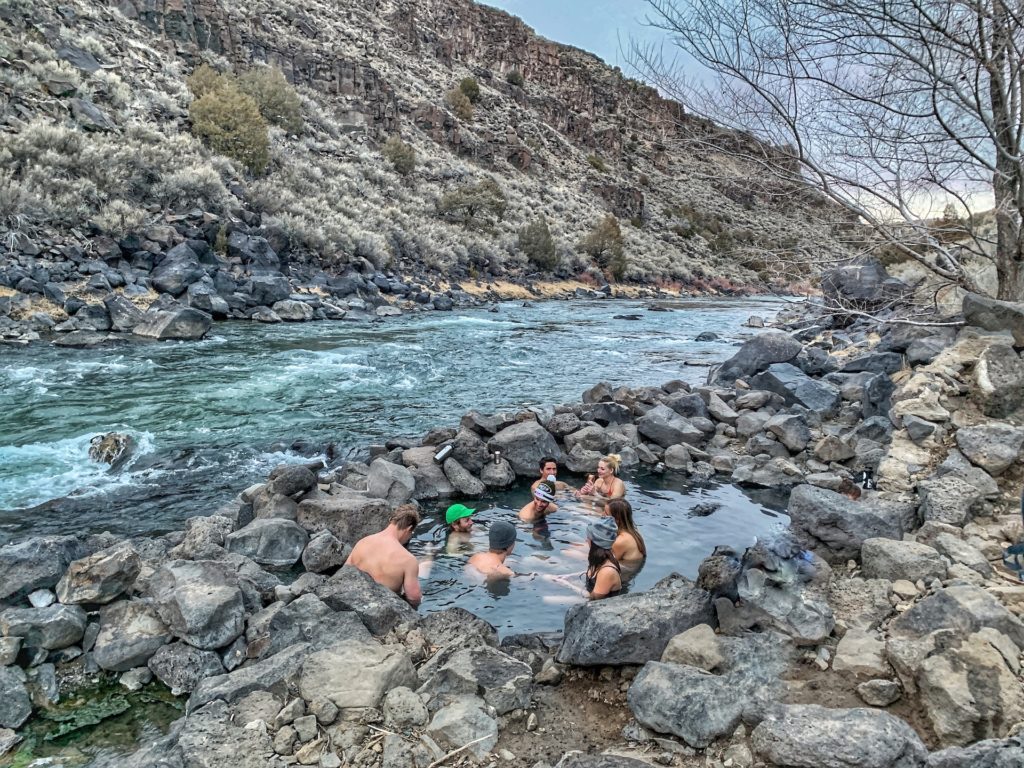 This was my favorite thing as it is something I have never seen or done before. When I say natural hot spring I don't mean like one of those in a resort but one truly out in nature open to the public and off the beaten track.
I have done a couple hot springs out there around the world but the ones in Taos were so unique being right up against the Rio Grande. I have been to a couple in a warm jungle setting but these ones along the cold river in the snow was so incredible. I felt like the macaque snow monkeys in their hot spring in Japan.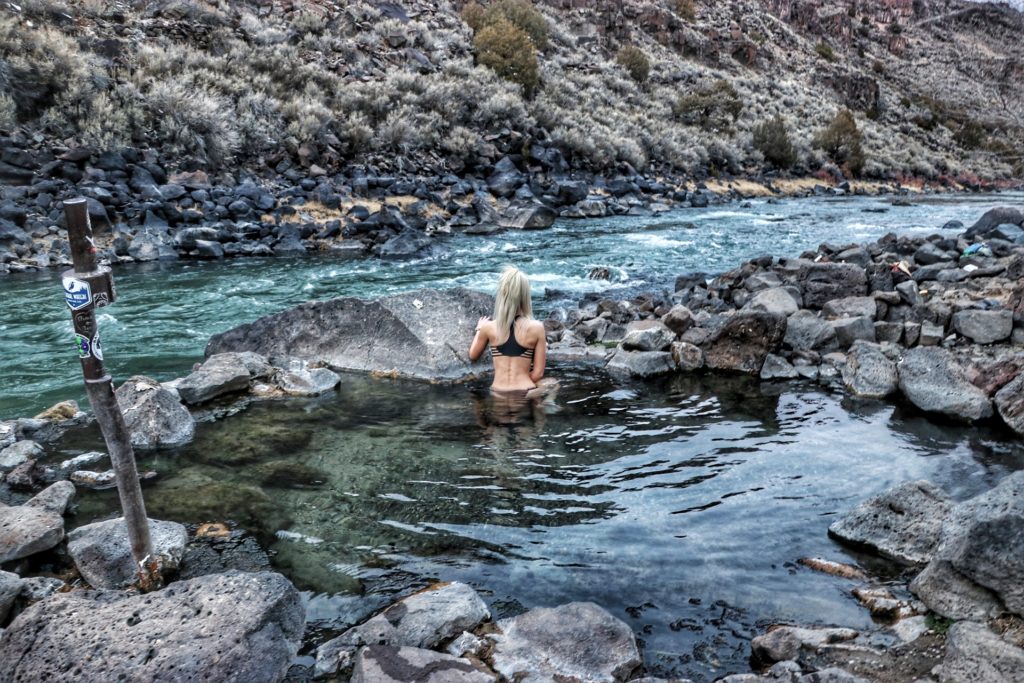 The Rio Grande is actually home to 100 natural springs in the Taos County area, of which many are cold vs. warm. However, there are a couple of prime warm hot springs that are right near town ranging from 90-100 degrees. These hot springs are known as Black Rock Hot Springs & Manby Hot Springs.
Know that there is a good chance you won't have these to yourself, especially if going on the weekend. Furthermore, clothing is optional to these and out of the 10 people we saw in our time half were nude…
Manby Hot Springs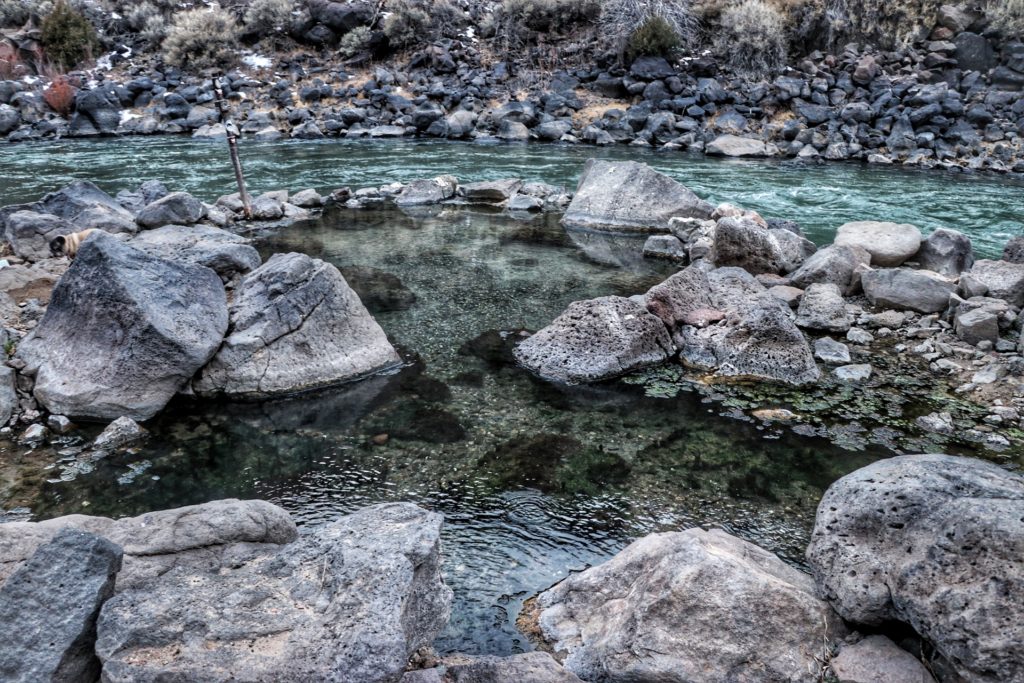 I think these are the better of the two but just slightly. They are also the hardest to get to, which makes it is also nice as they often are the least busy of the two.
The pools are both such a beautiful color and I can't stress enough how cool it is to sit in a hot spring as a freezing cold Rio Grande flows just feet from you. This site is truly one in a million as you lounge in a hot bath in a giant gorge with one of the most well known rivers in the USA meandering by you.
How to get to Manby Hot Springs? Getting here can be rough, especially since residents were able to get the route changed on Google Maps to tell you to go the long and rough way!
There are a few ways to get here, one is often fenced off (Apple Maps might take you this way), one is a mud bog and one is ideal but residents don't want you to go that way and sometimes a ranger can be there stopping people.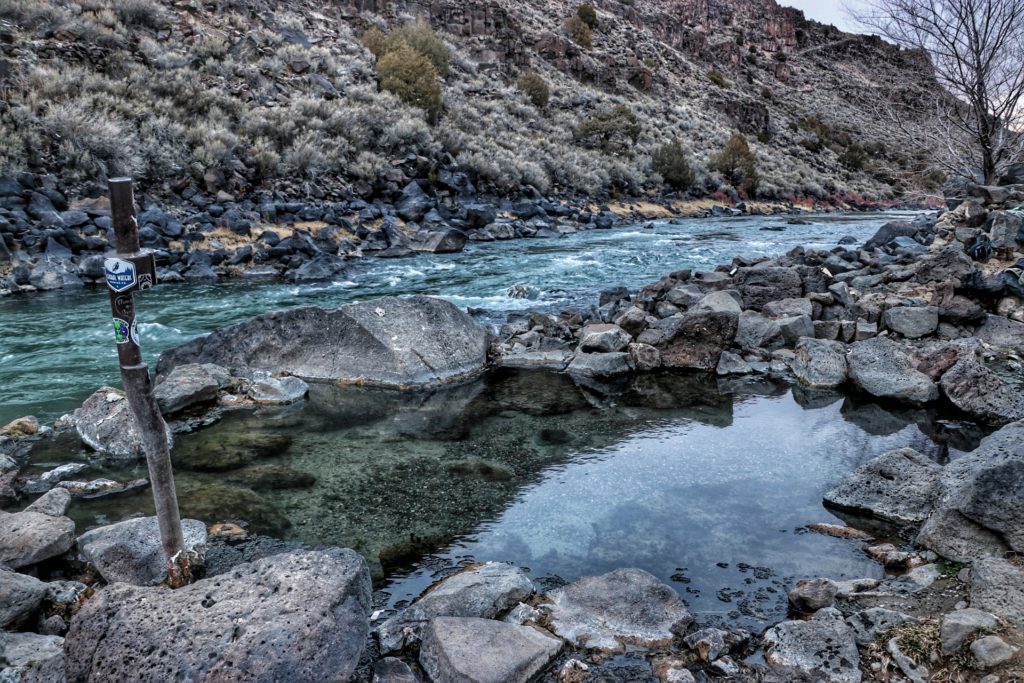 The mud bog way, which Google Maps has for you, is no joke and would only try that way if you have a high clearance 4×4 if you are there on a wet day. The ideal way to get there, which you may get turned around from is through the Stagecoach Hills Neighborhood via Tune Drive.
Residents are against this and I am torn as clearly it is annoying to have tons of tourists driving through your area… yet this is the world many of us live in nowadays.
All I can say is if you do go this way then please drive extremely slow for the residents and don't leave an impact on the environment of course. I wish they made a toll there or a park entrance fee with money going to residents. I think anyone would pay $5-10 a car to check it out and at least helps the cause.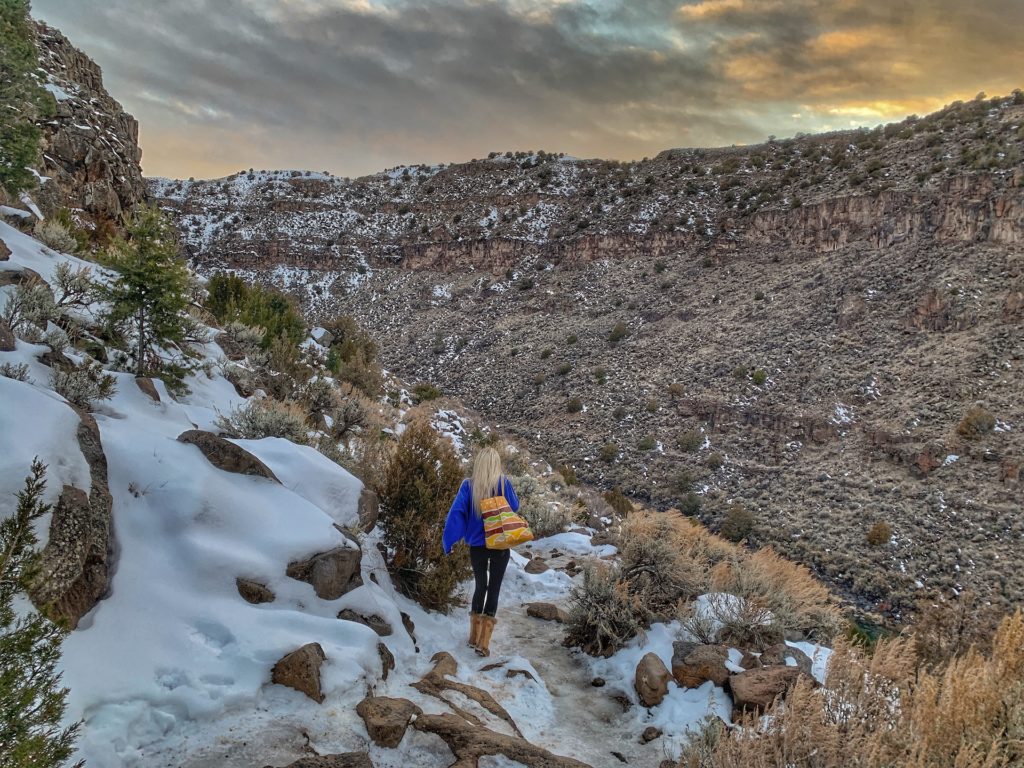 The hike from the parking lot to the springs isn't too bad at all being about a 15-20 minute walk. You will find two pool of which one is significantly warmer than the other, which is often the busier of the two for this reason.
Black Rock Hot Springs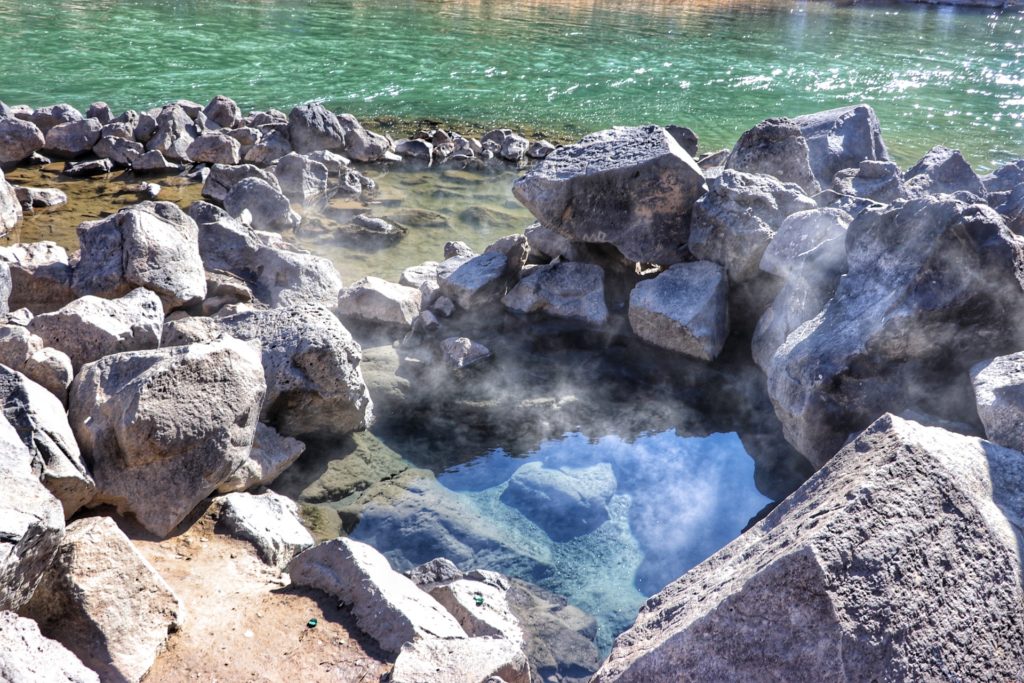 These are the easiest of the two to get to, which in turn can make them the busiest. Both pools aren't as perfectly situated along the river like Manby but still are very cool of course.
If you don't have tons of extra time I would definitely come here as it is much quicker to drive to and just a 10 minute walk. I loved both hot springs and suggest even going during the week to avoid crowds.
How to get to Black Rock Springs? With these ones you can trust Google Maps as it will take you right there. You' turn off of Highway 22 onto County Road B007 and follow the road up until John Dunn Bridge, going over the Rio Grande.
From there you'll go left up a hill for 30 seconds and you'll see the small sign to park there. If you go to switch back to the right you've gone too far.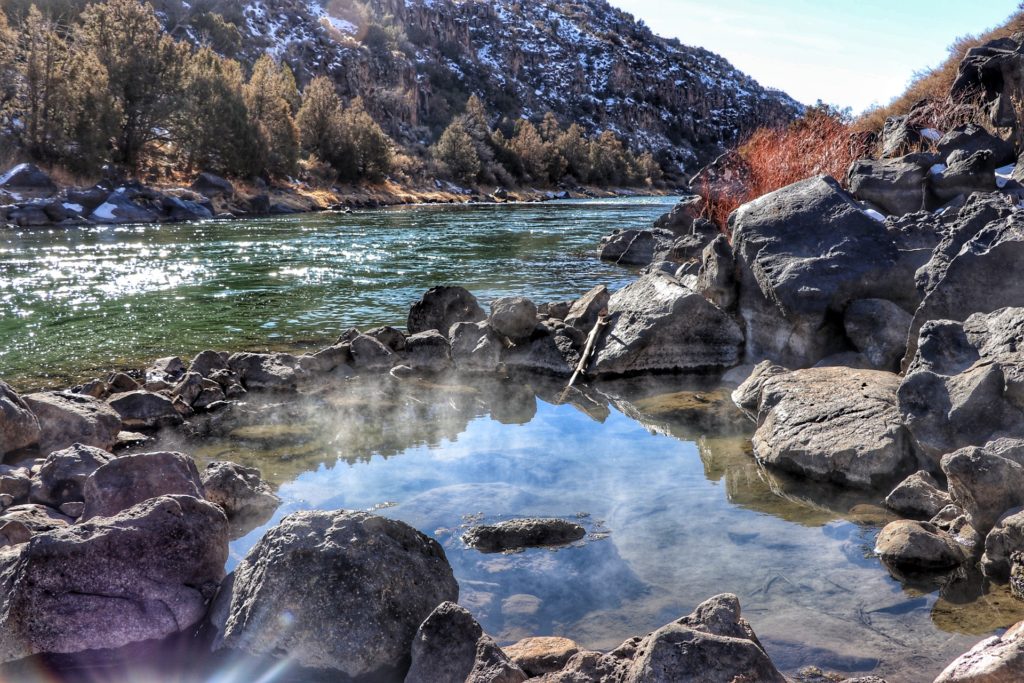 Ojo Caliente Hot Springs
Taos is an epicenter for hot springs whether looking for private or public ones hidden away. If you are more on the posh side, the best private resort style ones are located at Ojo Caliente about 45 minutes from Taos.
Ojo Caliente has 12 pools with temperatures ranging from 80-106. Ojo Caliente touts itself has having the only hot springs in the world with four different types of mineral waters including lithia, iron, soda and arsenic.
Where do the Taos Hot Springs come from? They are from a subterranean volcanic aquifer where geothermal mineral waters have flowed for thousands of years. These aquifers rise through fractures caused by a nearby fault. Hopefully you take your time to get to enjoy these amazing natural wonders.
Where to stay in Taos Ski Valley?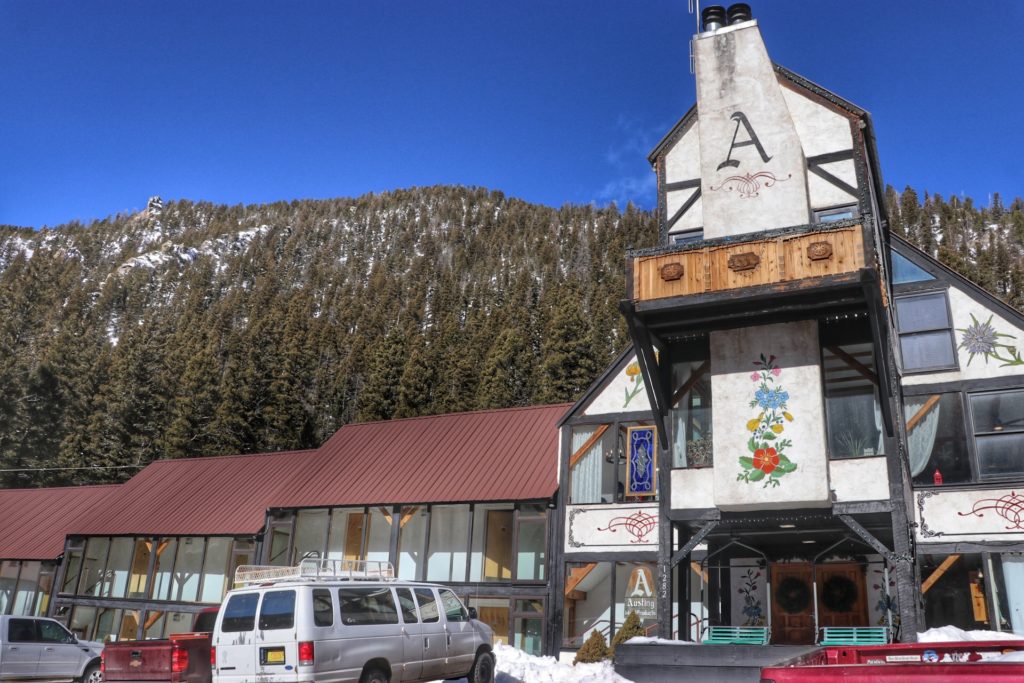 There is slim picking in Taos Ski Valley as most places are outrageously priced. However, I found an affordable gem in The Austing Haus. It truly is everything you could want in a ski hotel.
It serves amazing breakfast & dinner, the hosts are incredible and it is beautiful boutique ski hotel that will add to your experience and the mountain culture. For more in it see my article here on the best place to stay in Taos Ski Valley.
Hope you enjoyed these must-do things in Taos. Please leave me a comment if you think I should add some other things you loved or if you liked my list and tried some of the list!