Phoenix is turning into a little culinary hotspot with a lot of great restaurants popping up as well as some older eateries unique to Phoenix really catching their stride. This list really tries to rank by bang for your buck from food quality to ambiance and beyond.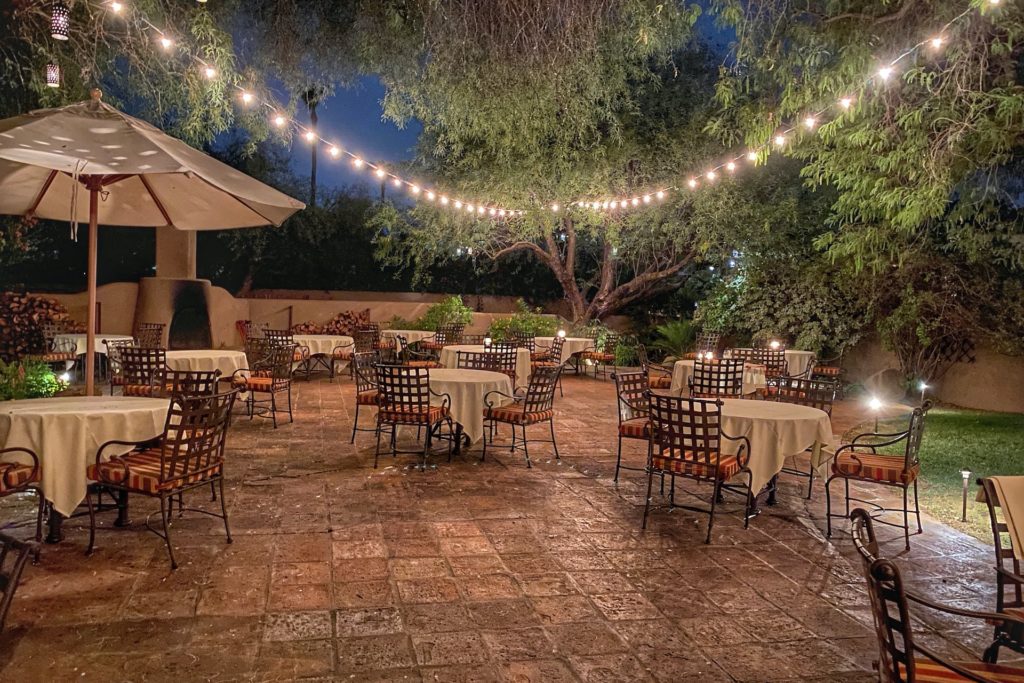 Like any city there are a plethora of restaurants for all tastes thus this list tries to incorporate all tastes and styles. Phoenix is of course home to Southwest dishes and an incredible place for Mexican food due to over 33% of the population being Hispanic.
However, being the 5th largest city and 12th largest DMA in the US you are sure to get great choices across the board for all types of restaurants. See here for the Phoenix Bucket List: 16 Things You Have To Do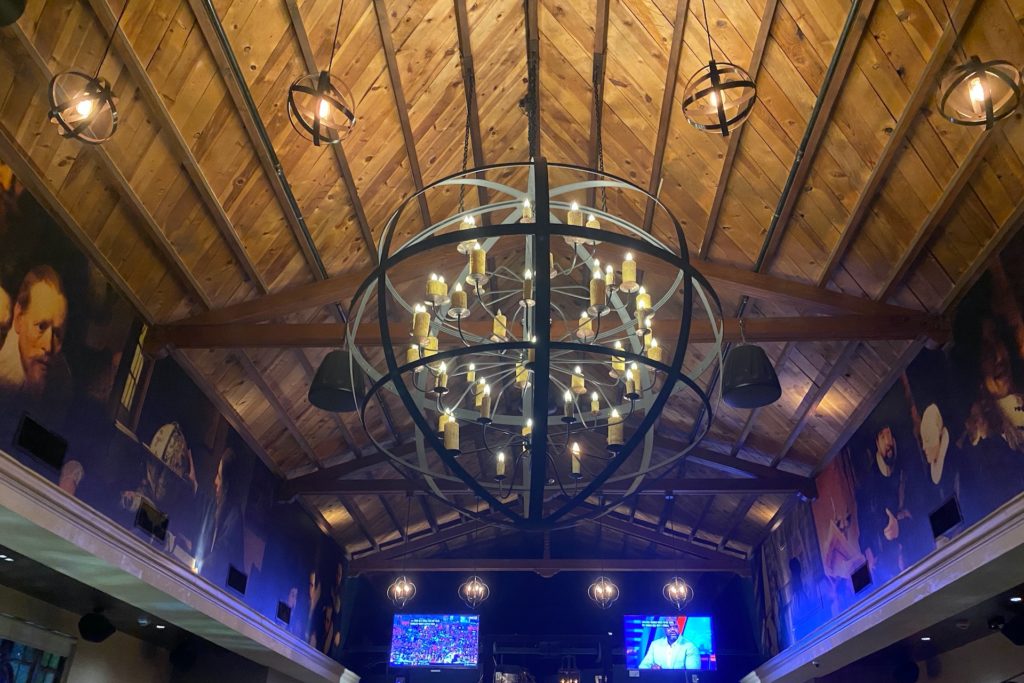 Let me preface this ranked list with the fact that this for best overall experience for the everyday person. This list is not for necessarily the foodie or for most expensive fine dining but it's for truly the best all-around places to eat.
I am talking ambiance, uniqueness, food, cost-to-taste-ratio and overall experience. I could list 6 $$$$$ restaurants but odds are if they are that pricey they are well known or good so don't need the help.
I reiterate this on my site often… I always try to suggest things that are unique or different that you can't do where you're from or don't do every day so this list is also for those visiting to try something new.
With that said, in this blog you will see things that are a bit more centric to the area vs. larger chains. See here for the top bars in Phoenix & Scottsdale.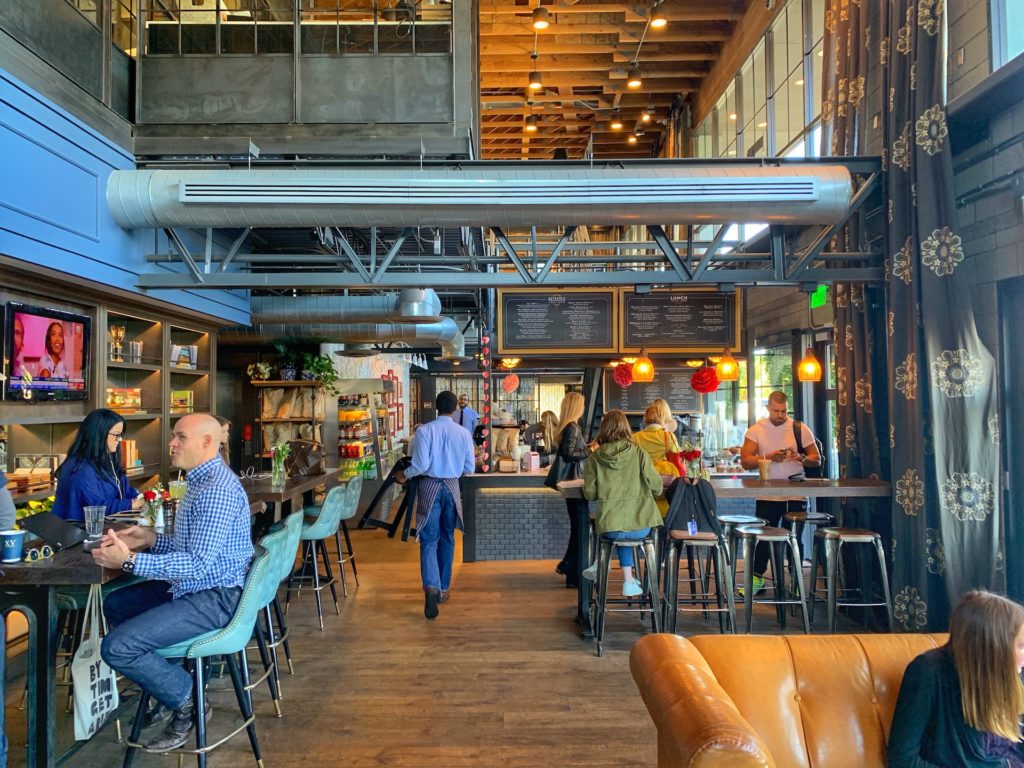 Hopefully you enjoy the list and if not feel free to add places you think should make it for version 2.0! We have added two new restaurants since we originally did this article so it continues to get better and better!
1. Lolo's Chicken & Waffles
Price: $$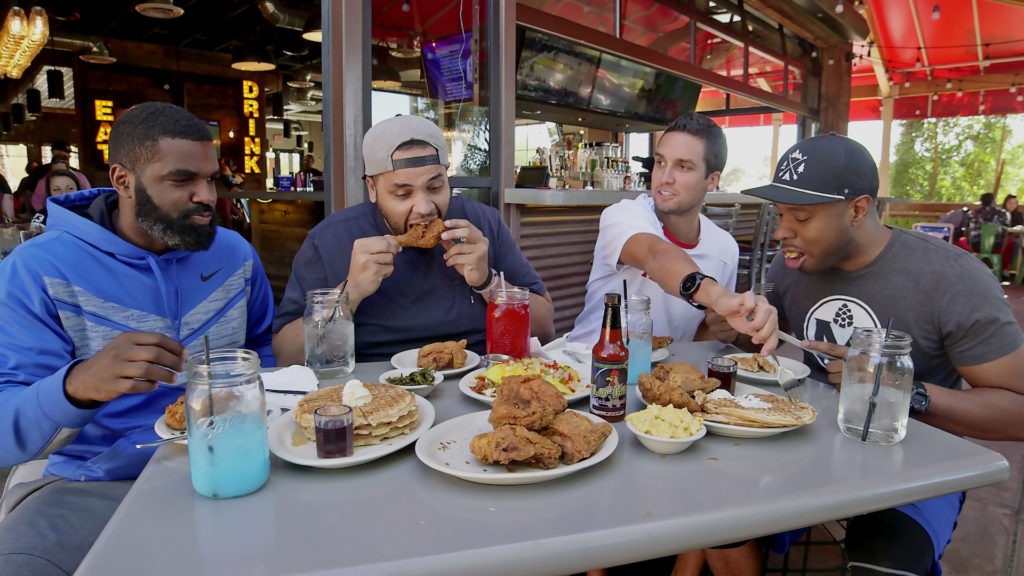 Just stop, don't even try to judge this pick, especially if you haven't been there. It is not even an argument that you get the best service, great atmosphere and the food is incredible. Odds are you are going to be hungover this Scottsdale trip and when you wake up you need to go directly to Lolo's.
You obviously have to get chicken & waffles but also be sure to get stupid fries and some kool-aid on tap. You can't not have a good time here and will leave very content, aside from a touch heavier in the waistline.
With that said if you're looking to lose weight on a top restaurant list of mine than you need to move on. I suggest starting with the Stupid Fries and then moving to a combination of chicken and waffles smothering both in hot sauce and syrup.
2. Ristorante Giuseppe
Price: $$-$$$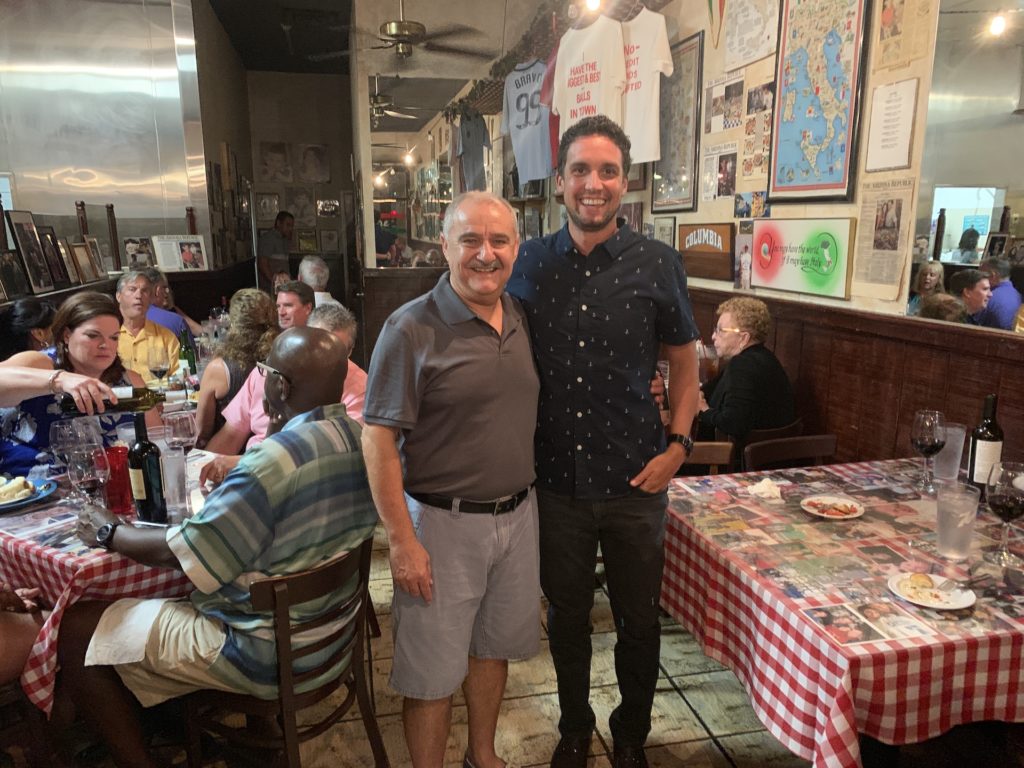 This is the BEST Italian restaurant and arguably the best tasting food in town. It is family owned and operated as well as one of the few grandfathered in locations where you can legally bring in your own alcohol! You heard right, you can bring in wine to the restaurant!
The owner is the best host in all of the Phoenix. He welcomes you, he entertains you, he makes you feel like you are in your own house and he is basically the mayor of Phoenix. If you are on a first date then you 10,000% have to go here.
They will break the ice for you, make you both feel comfortable and keep you both smiling all night long making sure there are no awkward pauses. Beyond that, I cannot express to you how good the food is, best in Phoenix. I highly suggest the Pasta Alex and the Pasta Giuseppe, however you can't go wrong with anything!
It is cash only and does not take reservations so you've been warned but it adds to the cache. All the best places always are cash only anyways! If it is too busy you can always go across the street to #4 on the list.
3. Taco Guild
Price: $$-$$$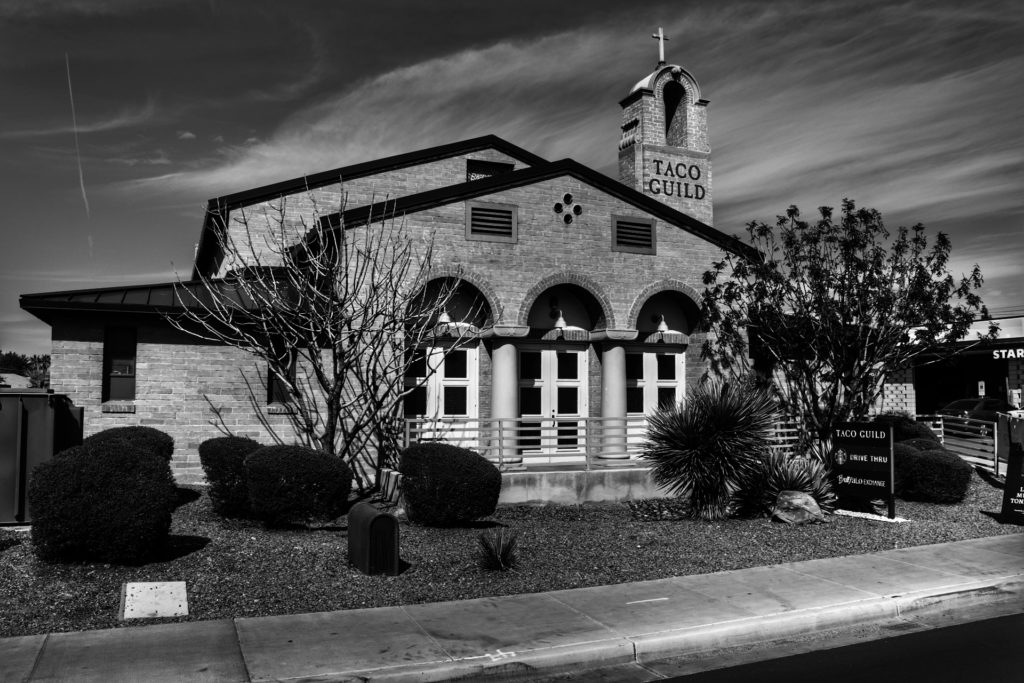 Picking a Mexican restaurant in Phoenix is impossible as really it's a tie between here, The Mission and Barrio Queen. Taco Guild wins because The Mission is a lot more expensive and Barrio Queen doesn't have as unique of a layout and atmosphere. However, you will love any of those three so I just went with the one I liked more.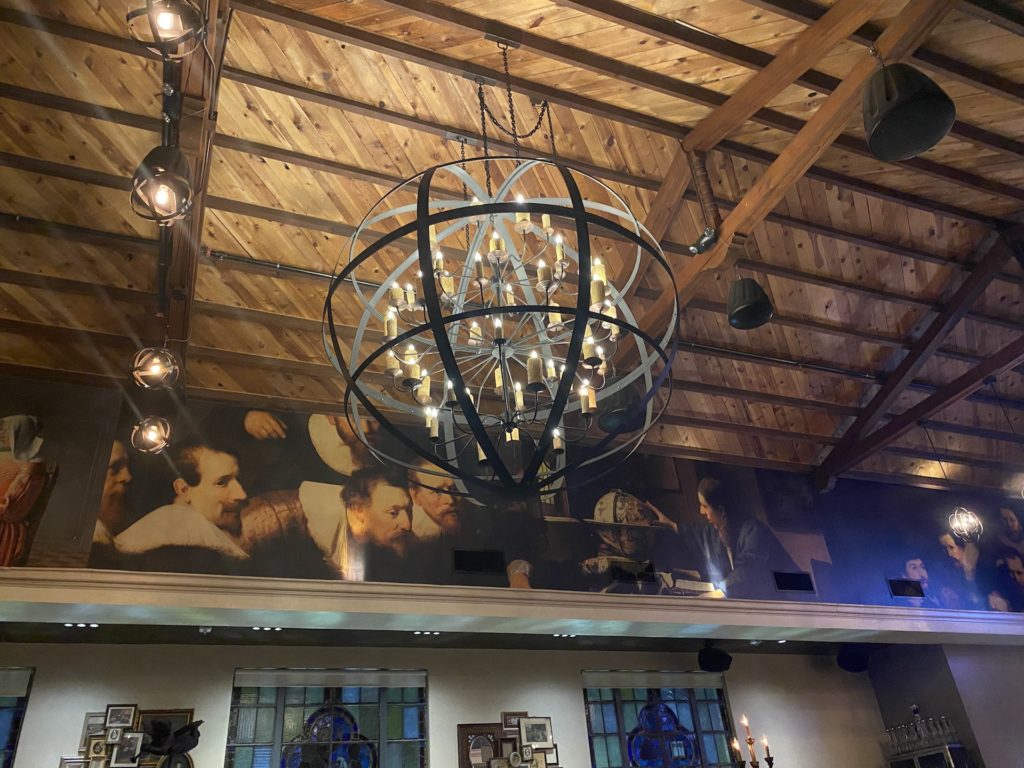 What makes Taco Guild great is the setting in a 125 year-old church which is the oldest standing church in Phoenix… well it's not longer a church but you get it.
I did find it a little odd ordering margaritas in a church pew but I mean it's nothing next to other Catholic Church issues so here we are… oh too soon (I say that as a Catholic, lighten up)?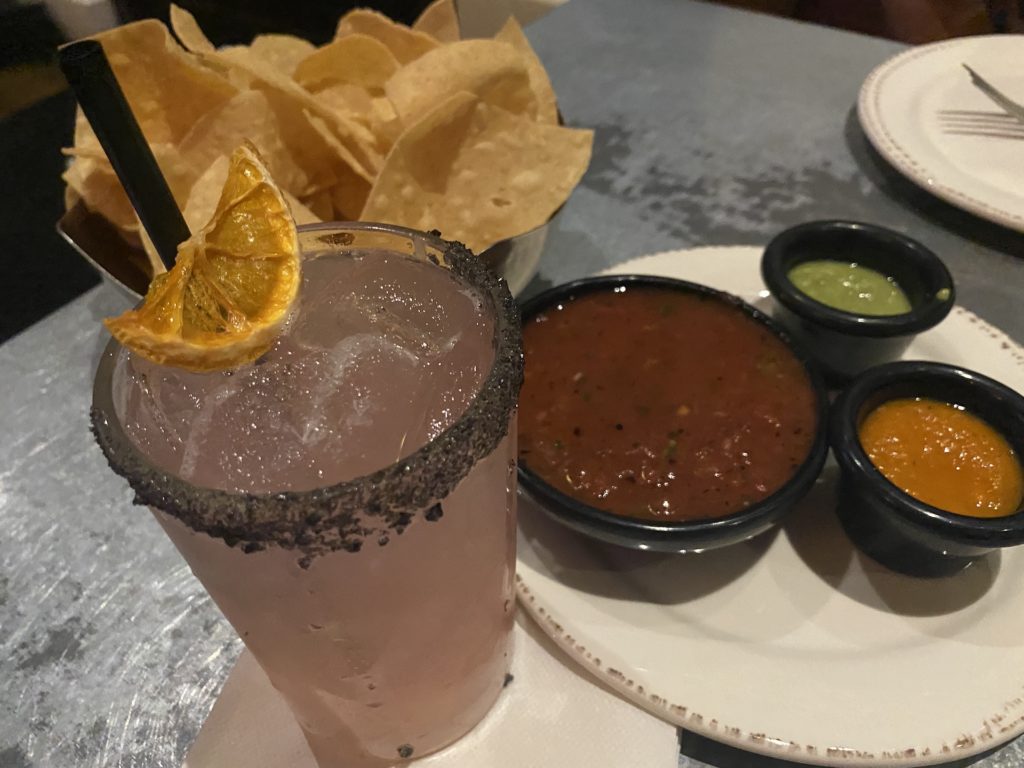 They have amazing craft cocktails as well as a ton of fun taco options. If you are visiting or live here but hosting people in town, this is a win!
4. Kasai Asian Grill
Price: $$-$$$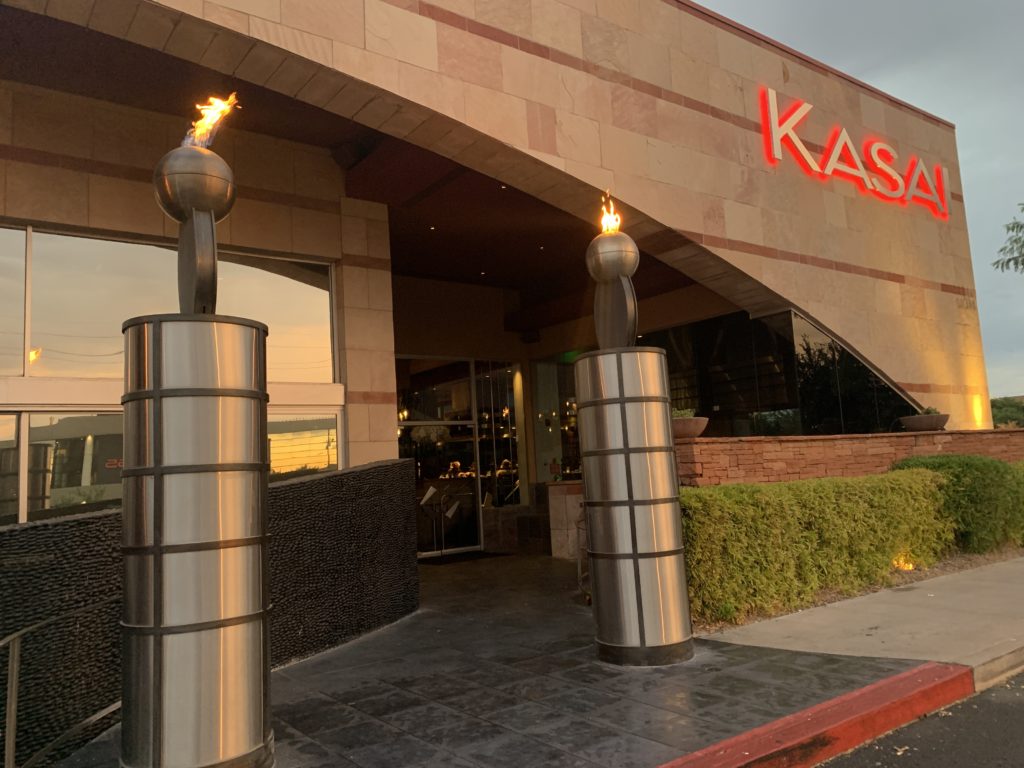 I have had 100 people visit me from out of town and 100 people have loved this place. It is a nicer looking and better atmosphere Benihana with great sushi as well but if you order sushi you are missing the boat as the teppanyaki is where it is at!
Honestly, you come here and can pay $25-30 for a four-course meal with entertainment the whole time. Soup, salad, pick your choice of meat or seafood along with rice and vegetables and then a scoop of gelato for dessert.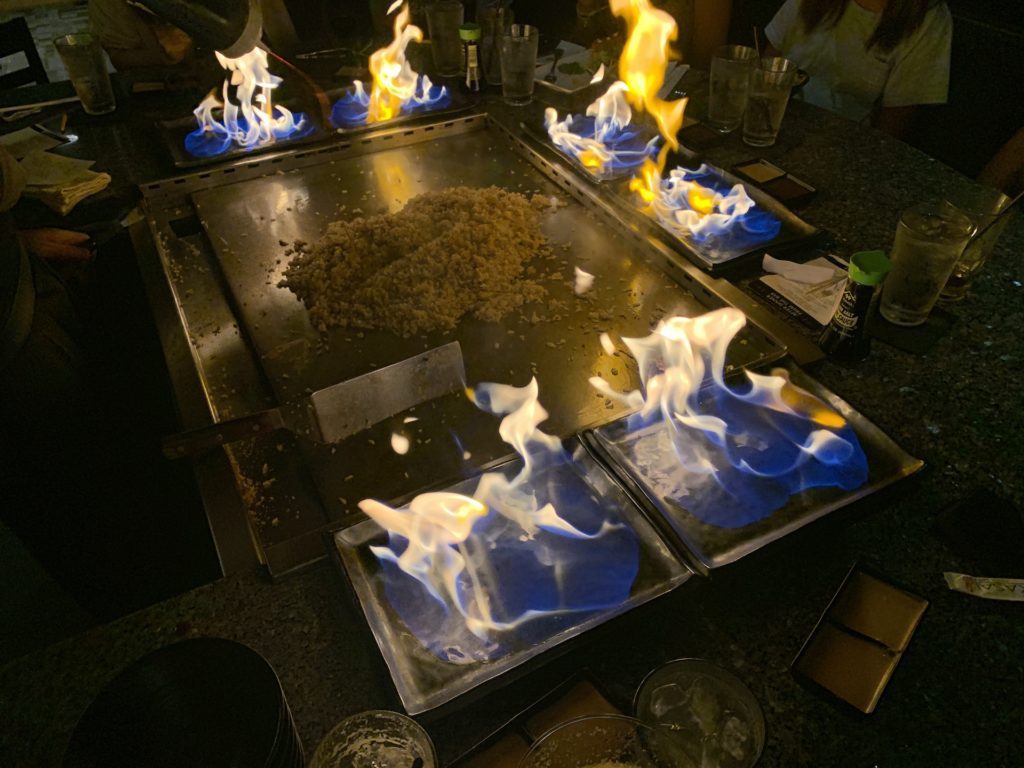 This is the most cost efficient place to eat on the list and a great spot for families, friends or date nights! You of course have to do the Teppanyaki when you visit a 4-course meal for under $30, can't go wrong!
5. El Chorro
Price: $$$$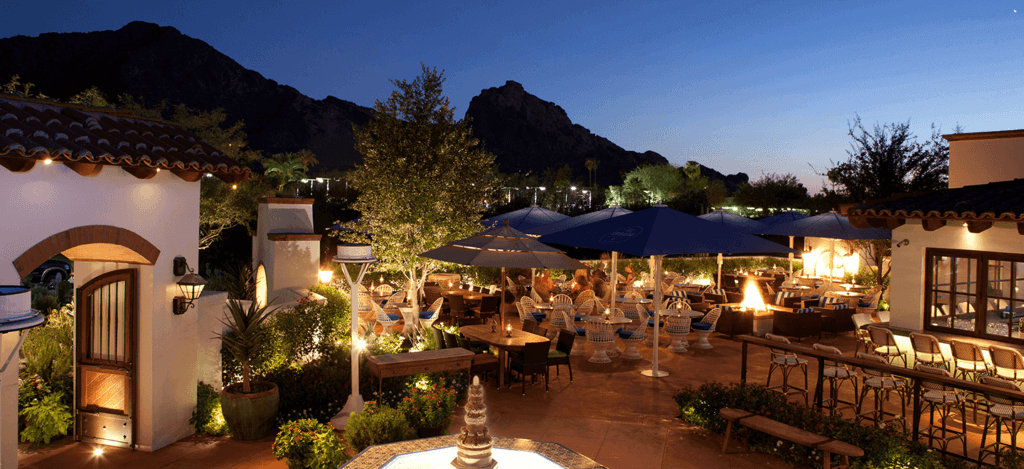 I'm only going to list two fine dining restaurants but both aren't the $$$$$ cost yet have it all. El Chorro is arguably the best fine dining restaurant in town, is a Phoenix staple and is perfect for the cost and ambiance.
The food is exceptional and you have to be on the patio with the silhouette of Camelback as your backdrop. It's definitely a great date night so if you are going to spend money in Phoenix it's one of the best choices.
Some places in town offer a view but the food doesn't matchup, however here the food is just as good as the ambiance making it worth every penny. Can't go wrong with anything on the menu.
6. Duck and Decanter
Price: $$
I am going to throw you off with this one but it counts and is the best sandwich in town. If you want my favorite sandwich in town, go to the family owned and operated Duck and Decanter who sources all of their ingredients locally.
I'm not even one of "those people" who just talks about eating local and non-GMO but it is that too.
They had to close their downtown location by my work due to increasing rent. So a story to vouch for them more than anything… I hadn't eaten there for two years and I came across their main location in midtown Phoenix.
I was so excited I called in a carry-out order… I walk in and the staff goes "wow, I hadn't seen that order in a while"… they remembered my order! Two effing years later! And the owner said "nice seeing you again."
On saturdays they also have live music outside, which is packed! They also have coffee, snacks, cheese, vegetables and more for a true full deli and convenience store experience.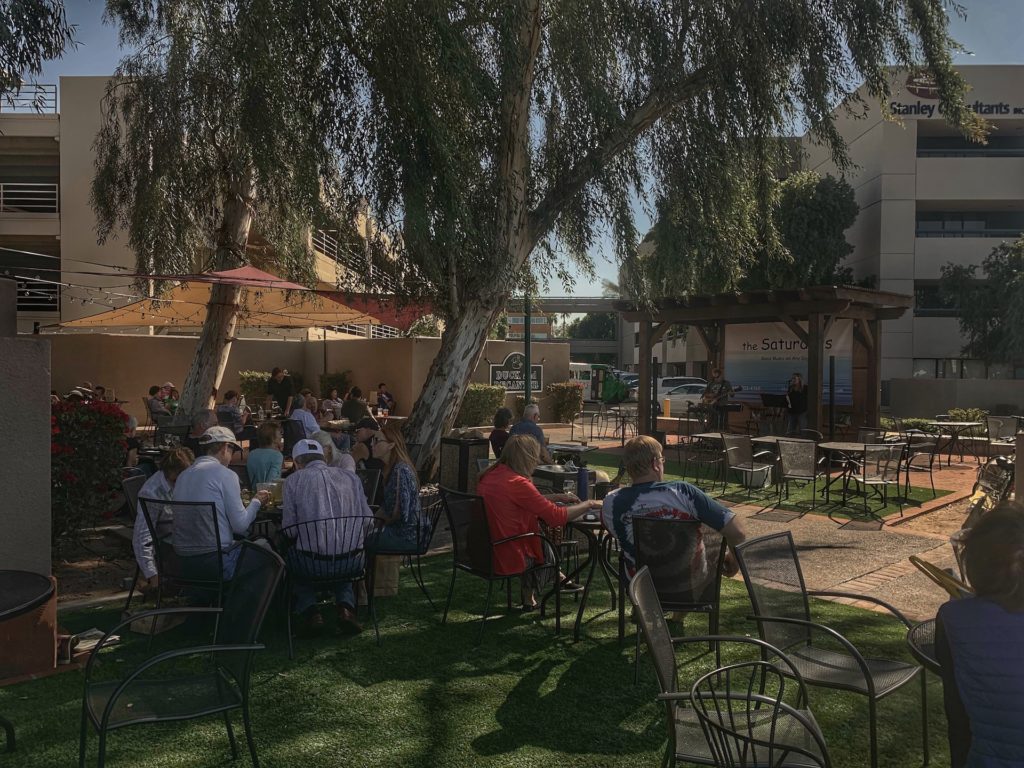 If you need one last sell… well I have it… they give you free taffy and pickles! My favorite food is pickles and they just give you as many as you want, fo free! There are so many must haves on the menu and I always love a basic turkey and ham but on pita bread!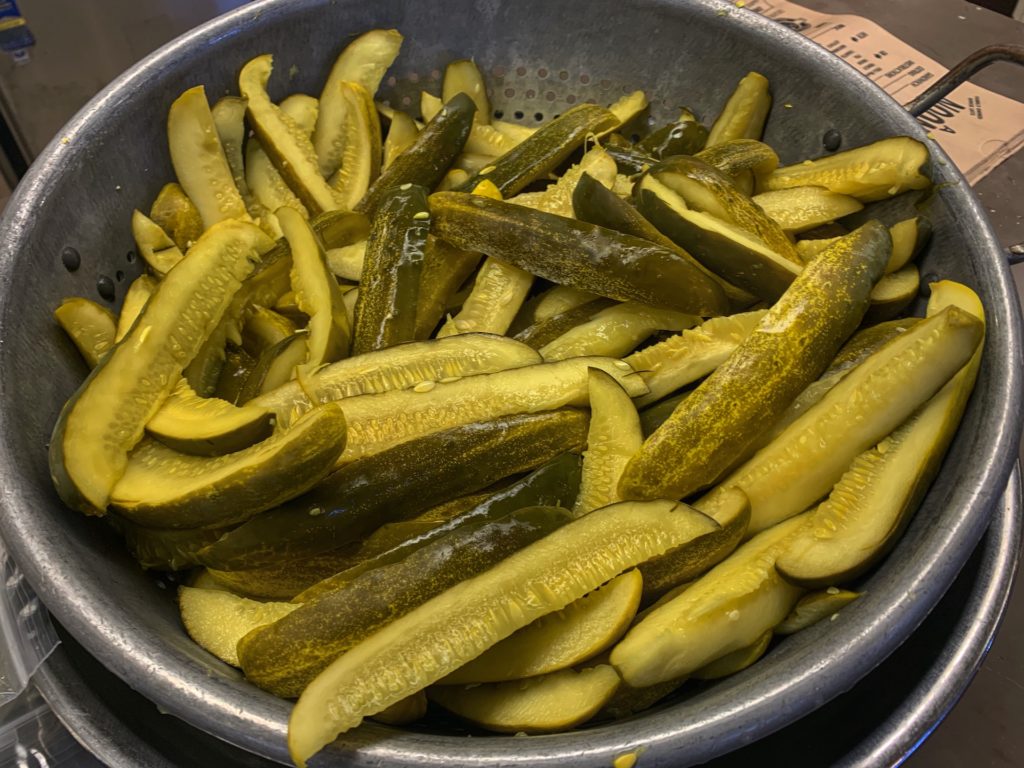 7. Dick's Hideaway
Price: $$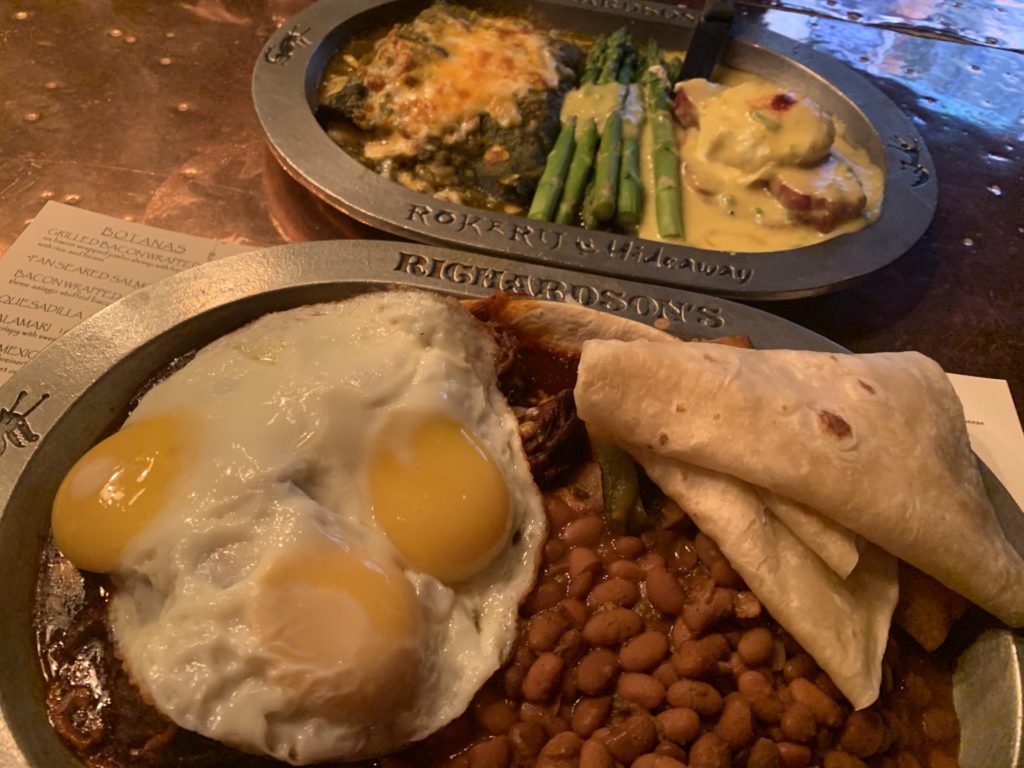 What a great local spot with a perfect story behind it. Dick's hideaway was first where Dick lived as he opened up Richardson's in the same building. Richardson's opened in 1989 and we would go prepare dinner at the restaurant then would go out the back hallways to his place and drink with his friends.
His place would continue to host more friends drinking so he would pull a chef back to make some food for his friends after dinner. From there his "hideaway" became so popular he ended up having a full-time chef back there before he ended up just opening it up to the public as a bar and restaurant.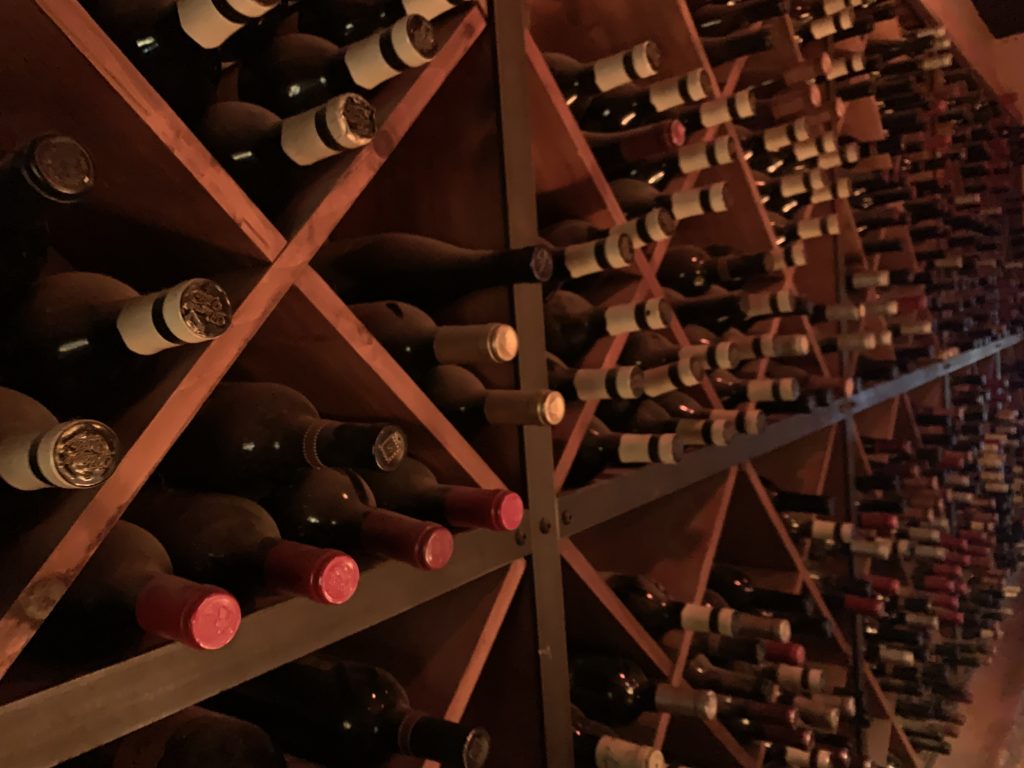 In 1992 Dick's opened up and the rest is history with all food sourced by hand including getting their green chillies from hatch in Mexico. There is some fun decor and there still is his old shower in the bathroom.
True to name Dick's is hard to find in a strip mall with just iron bars and the menu to let you know it exists! You have to try a couple of their signature dishes which are the Carne Adovada & Eggs as well as the Richardson's combo.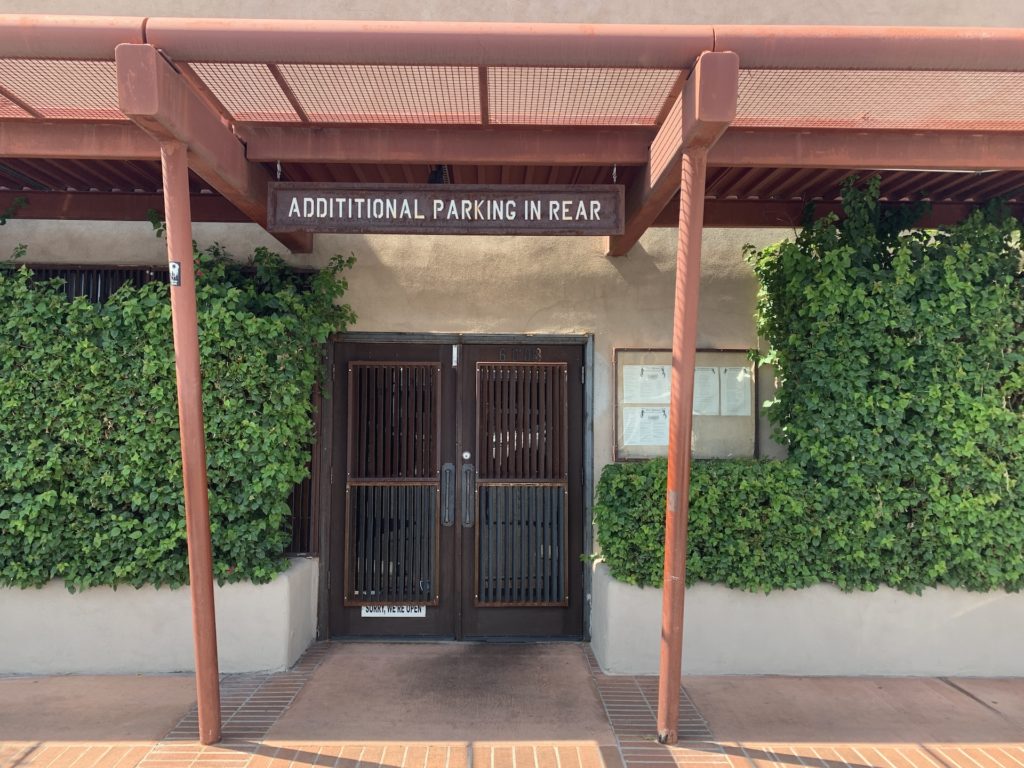 8. SumoMaya
Price: $$$
This is a lot of people's favorite spot and for good reason with great food and a perfect ambiance. It is one of the trendier places in town and a great concept of Mexican-Asian fusion. It is the perfect spot for a dinner or drinks before you go out that night and it has one of the best brunches in town.
I would rate here as well as The Mission higher if the cost to amount of food ratio was better. Females love this place and The Mission but as someone who wants huge portions of food it isn't that. However, it is a great date night, pre-drink place, restaurant to be trendy and "seen" with tons of unique cocktail options.
It also has a tree in the middle of the restaurant to top it off. They are known for all of their interesting takes on guacamole so be sure to stock up on that and then mix and match some asian and mexican dishes.
9. The Mission
Price: $$$$
This is a local favorite, which while not my favorite I got outvoted on this one. It is a great spot though with a great ambiance. It is unique as well as it is somewhat fine dining Mexican food with great dark mood and the table side guacamole is a must have.
This is a perfect place for dates, friends dinner, family in town and really anything. Table side guacamole is a must and always a people pleaser.
10. Lon's At The Hermosa Inn
Price: $$$$
This is might be the most secret gem in all of Phoenix and Scottsdale. Living here 10 years and I don't know many people who know about it. The setting is absolutely stunning as you can see with beautiful grounds.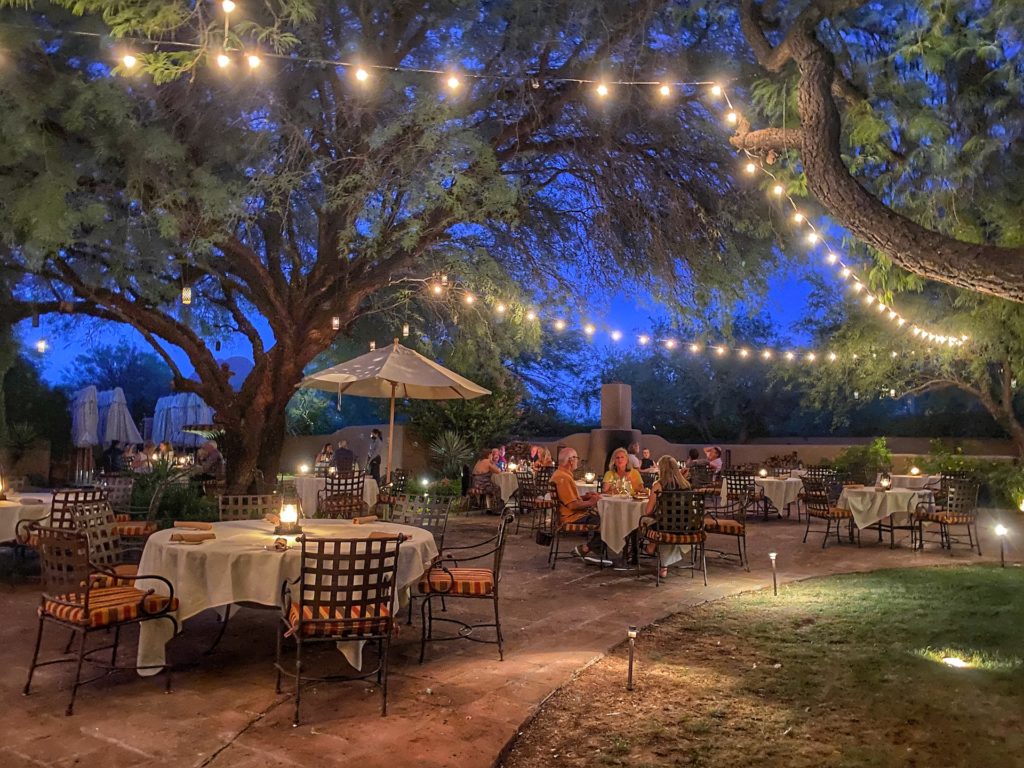 The patio is incredible and is the perfect ambiance for a date night or any time. The food is spectacular and they have a ton of great tequila based craft cocktails. Their wine list is beyond robust so if you are a wine lover than you have to go here.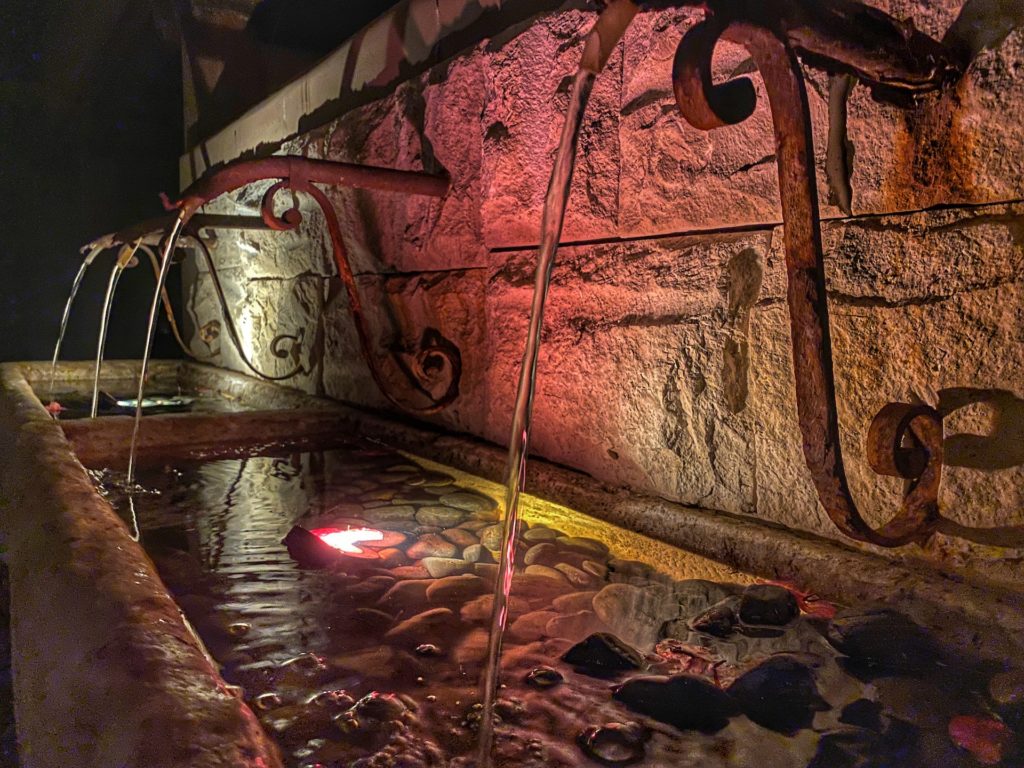 11. Bobby Q On Camelback
Price: $$-$$$
Arguably the best BBQ in town with some great atmosphere and well designed throughout. Sides are good, prices reasonable and everything you could ask for in a BBQ spot.
It is again right on the cusp of fine-dining for a BBQ spot but worth it for the great overall experience and incredible quality of food. The three meat combo is a great way to get a little of everything and be sure to get their mac n cheese.
12. T. Cooks
Price: $$$$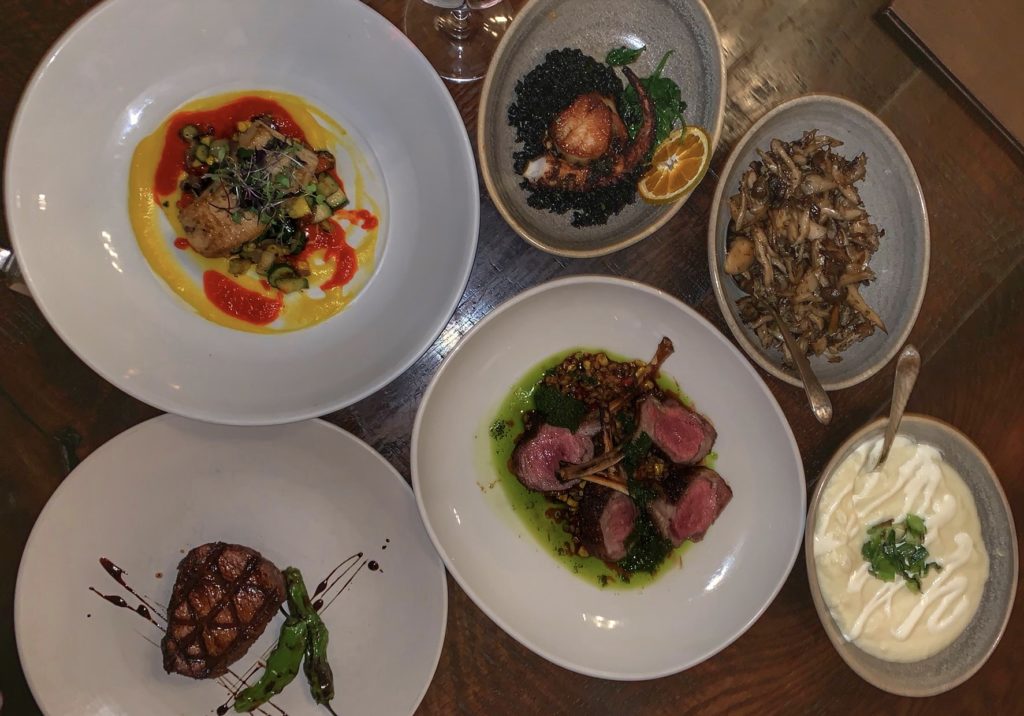 Situated next to Camelback Mountain in the beautiful lush setting of Royal Palms Resort and Spa is another amazing fine dining spot. T. Cooks separates itself with the flair of the Mediterranean and tastes of Italy, Greece and Spain.
Award winning T. Cooks is perfect with high vaulted ceilings, heated patios and also a couple of fireplaces on the grounds. This place is a win whether with the family or a special someone.
It is pricey of course but if going to splurge make sure it is here or somewhere on this list. The menu is ever evolving but be sure to order some things you might not normally get at other upscale restaurants.
13. The Henry
Price: $$$
I'd be remiss if I left out at least one of the Phoenix centric and renowned Fox Concepts restaurants. All Fox Concept restaurants are perfect for any occasion with a trendy environment and quality food.
The Henry is the flagship where HQ is located and is a great spot for dinner, lunch and a hot spot for brunch. The Henry has an eclectic menu so be sure to mix things up and try something new!
14. Gen Korean BBQ House
Price: $$$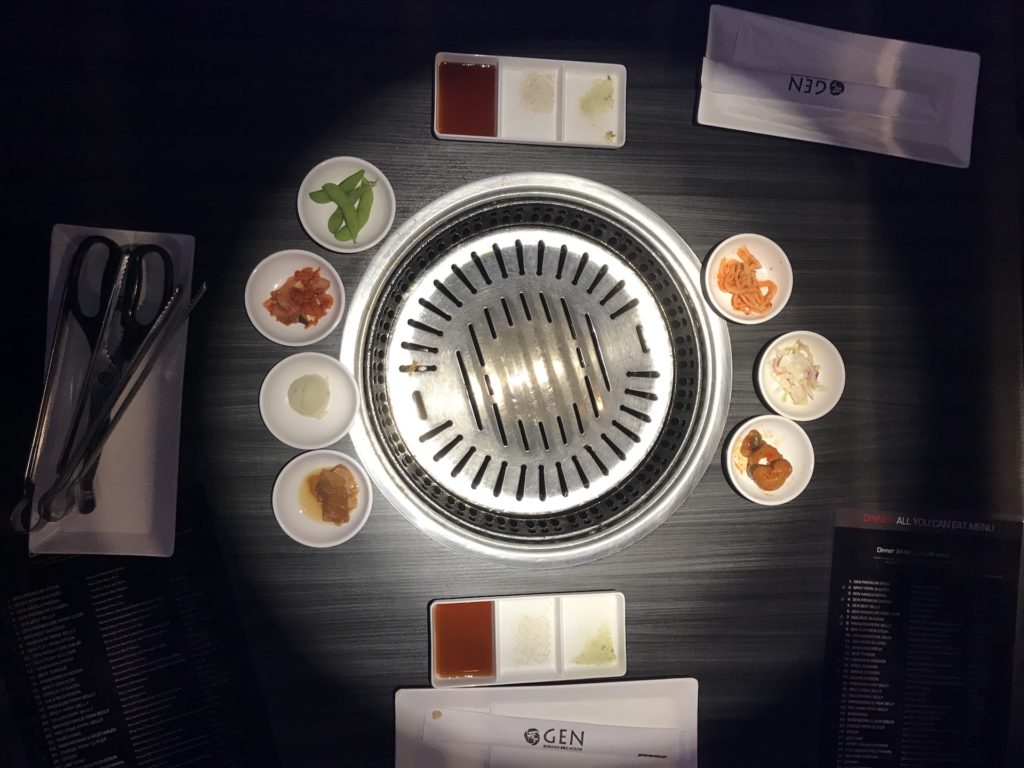 While this is a chain it has to be included because Korean BBQ is the best! If you haven't tried Korean BBQ you are absolutely missing out! If you love asian food then this is a must as it is all-you-can-eat and the only rule is you have to eat all of what you order!
Sounds almost too good to be true right? It is like teppanyaki/hibachi but you do it yourself.
Gen is a ton of fun and you get absolutely stuffed here with the tastiest food. If this place didn't have such absurd wait times it would move up higher on the list. Order as much as you can and try all the different things on the menu to get all the bang for your buck!
15. Tonto Bar & Grill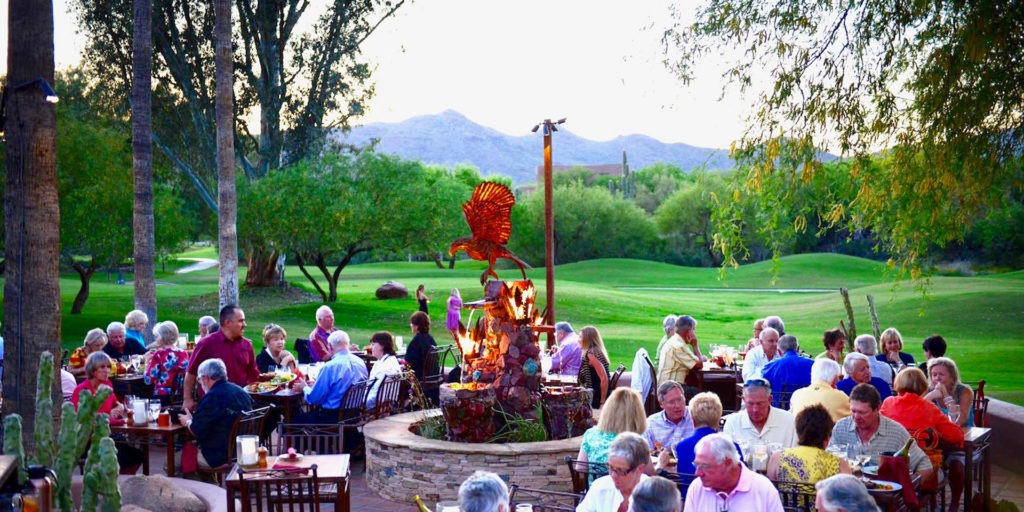 Tonto Bar & Grill, located in Cave Creek, offers one of the best sunset views in Phoenix, incredible food and the most relaxing restaurant on this list. Set along the golf course you can watch rabbits hop around, eat some of the best food in Phoenix and be in the chill area of Cave Creek. If you want dessert head down the road to Buffalo Chip Saloon & Steakhouse for some s'mores.
16. The Churchill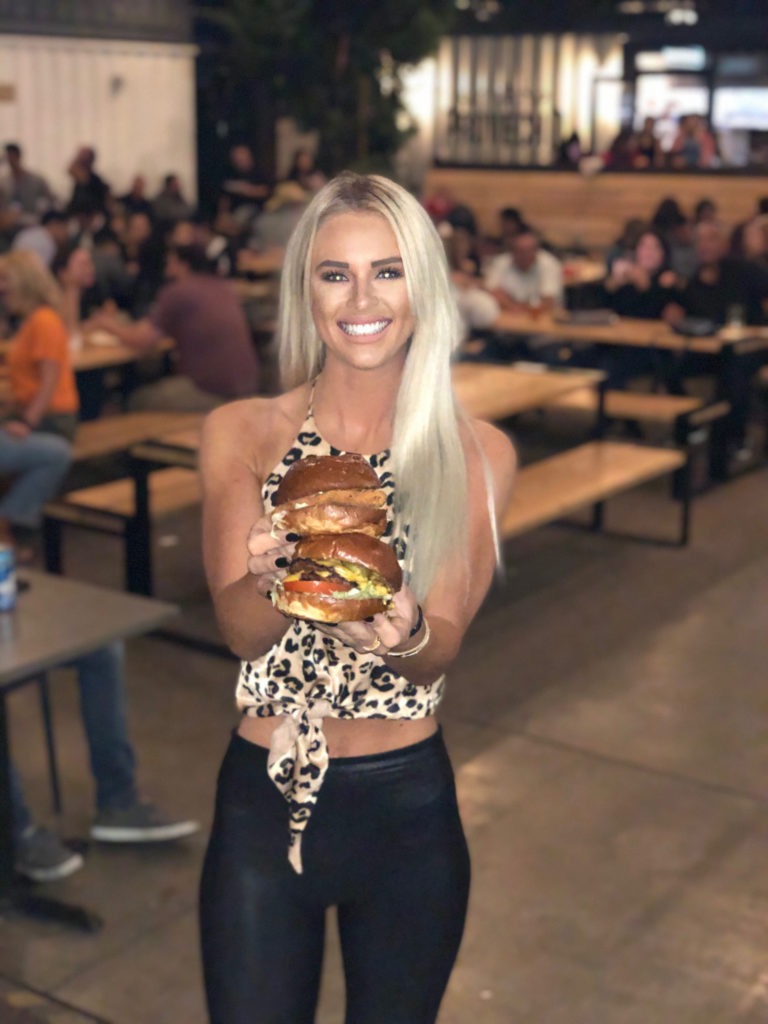 This is a new addition to the list as it is just such a unique place and being open-air makes it absolutely perfect for Arizona. The food is not anything crazy but it is great bar food and the atmosphere just puts it over the top.
If you love Arizona's Famous Chopped Salad… surprise, you can also get that here! Right when you walk up you already love the ambiance with the container-architecture concept and being situated in an area of amazing gentrification in downtown Phoenix.
Inside you will find multiple bars and different restaurants all serving their own unique fare. What is even better is this is a great spot to begin the night, eat some food and then round the corner to Cobra!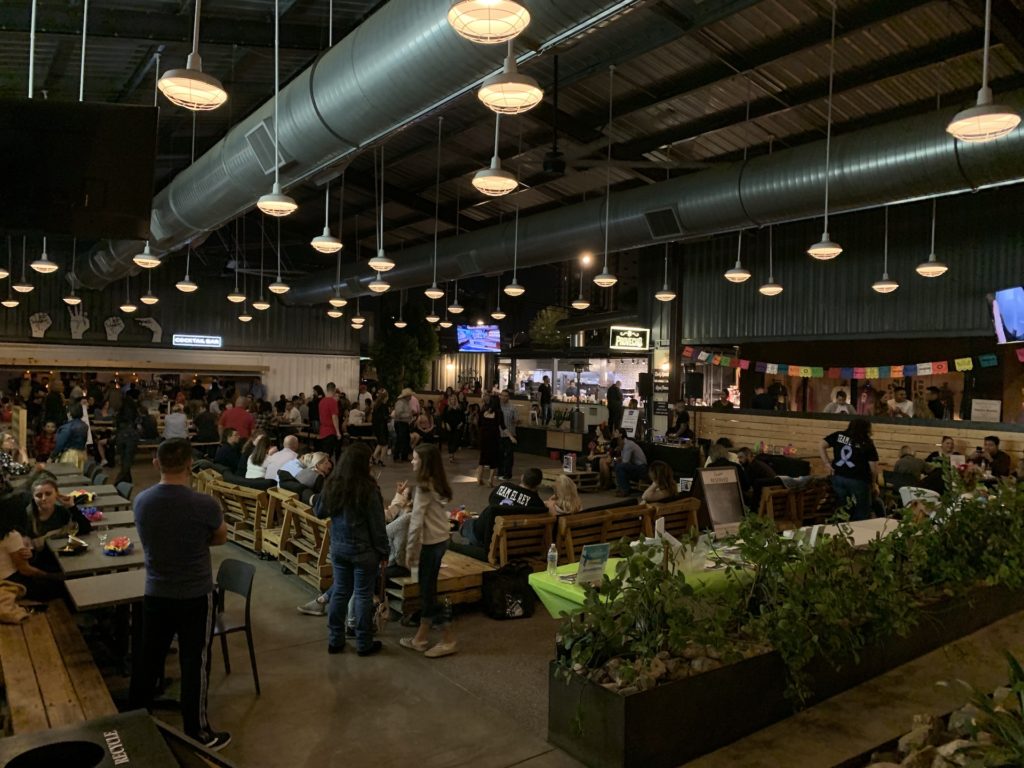 The Churchill is also a great concept for the local economy and local businesses, per their website: The Churchill is home to ten small local businesses, mixing established operators with start-up entrepreneurs.
All of the businesses residing in The Churchill focus their efforts on collaboration over competition, finding ways to benefit each other.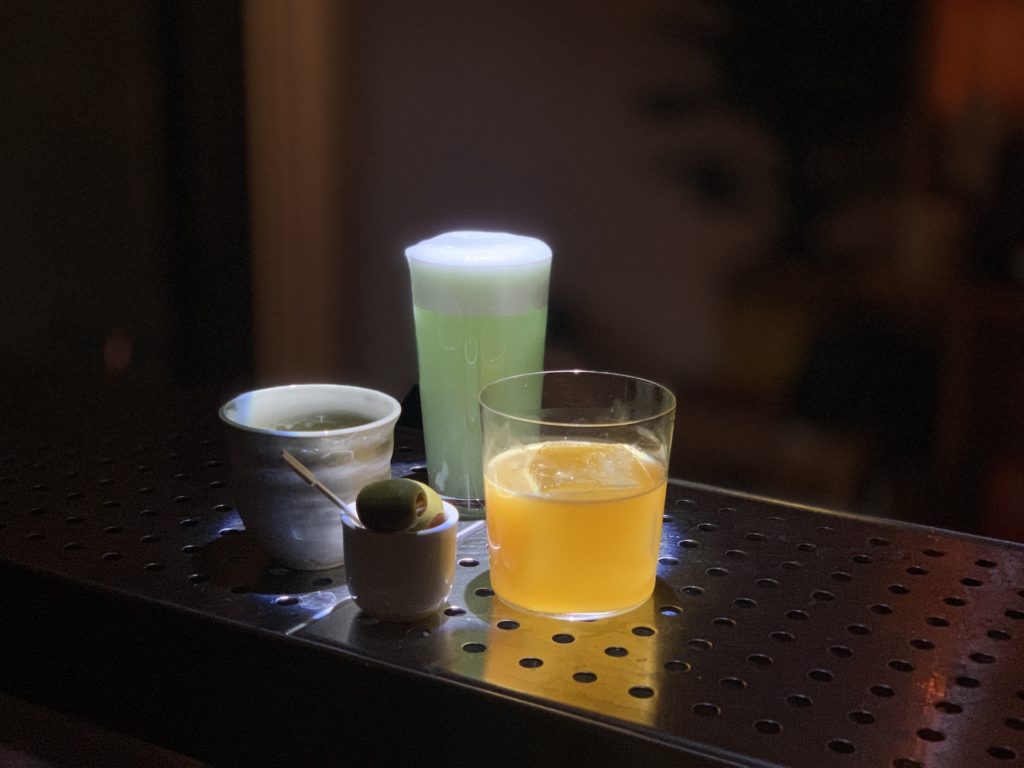 Honorable Mentions:
Barrio Queen Tequileria
Price: $$-$$$
Best authentic Mexican food. It just doesn't take reservations so I put that down the list since sometimes the wait is one hour+. It is arguably the best Mexican food in all of Phoenix and definitely top 3 Mexican restaurants. Watch out of their margaritas!
Ocotillo
Price: $$$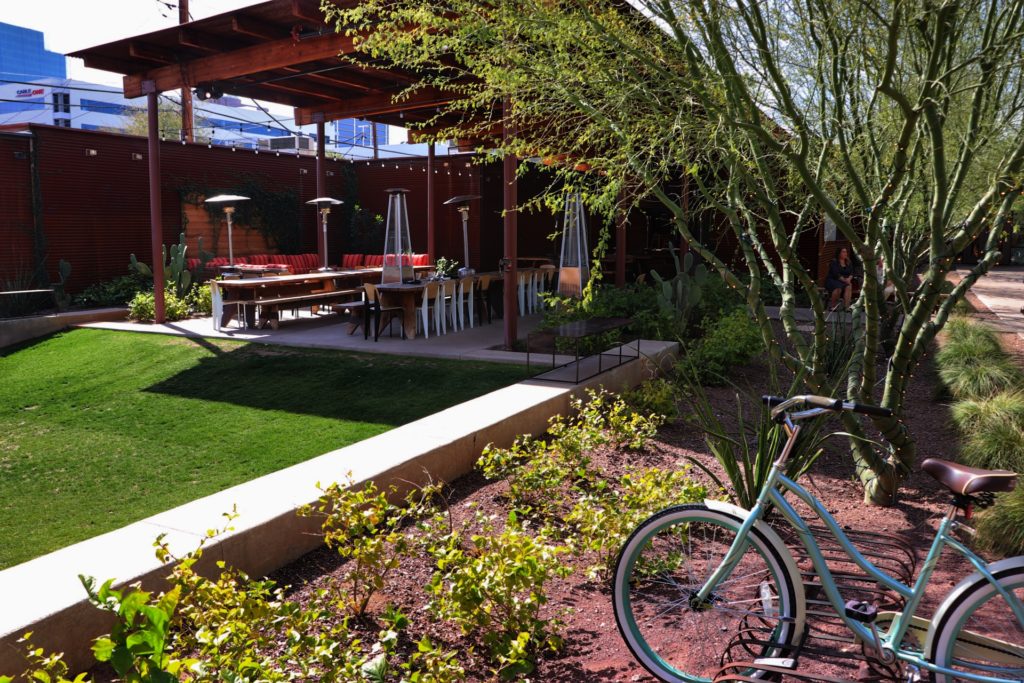 Ocotillo is a terrific outdoor space with pretty good food and a solid menu overall. If looking to mix it up or find a good spot for lunch and drinks outside this is a great little spot. There is even a fire pit and expansive outdoor space for the family or a nice night out.
The Gladly
Price: $$$-$$$$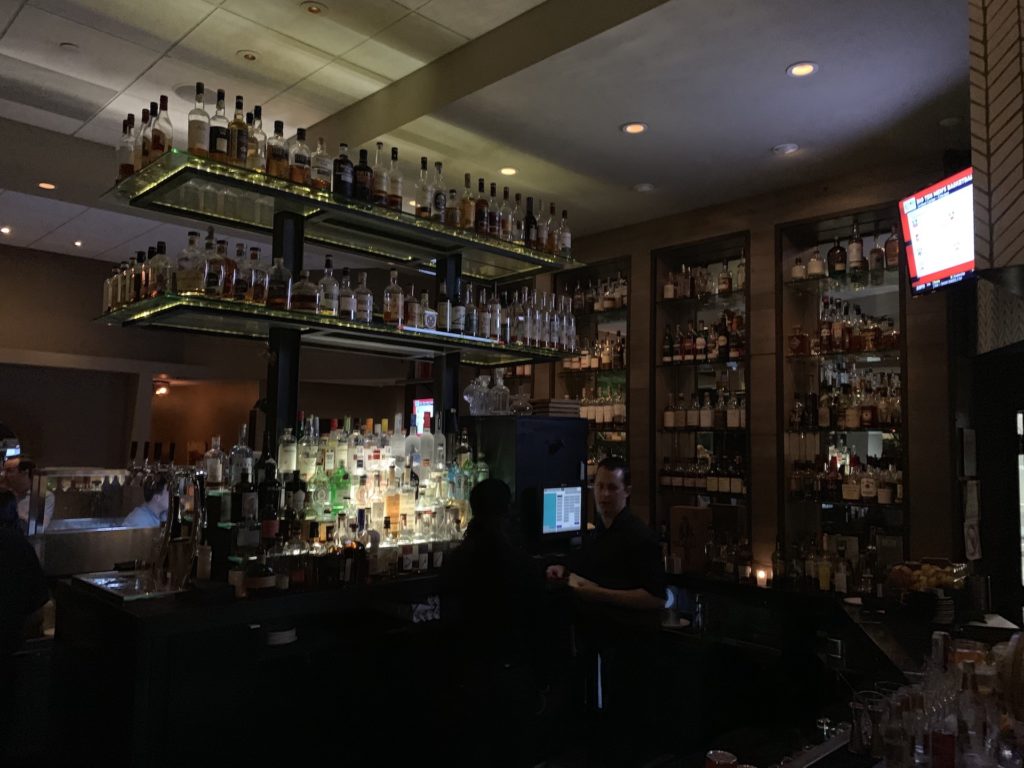 Maybe my favorite casually fine dining place in Phoenix. It has the famous Arizona State's Official Chopped Salad as well as the best mac n cheese in Phoenix with their relish. It is a great mix of fancy and casual, of which the fair prices indicate.
The Attic
Price: $$$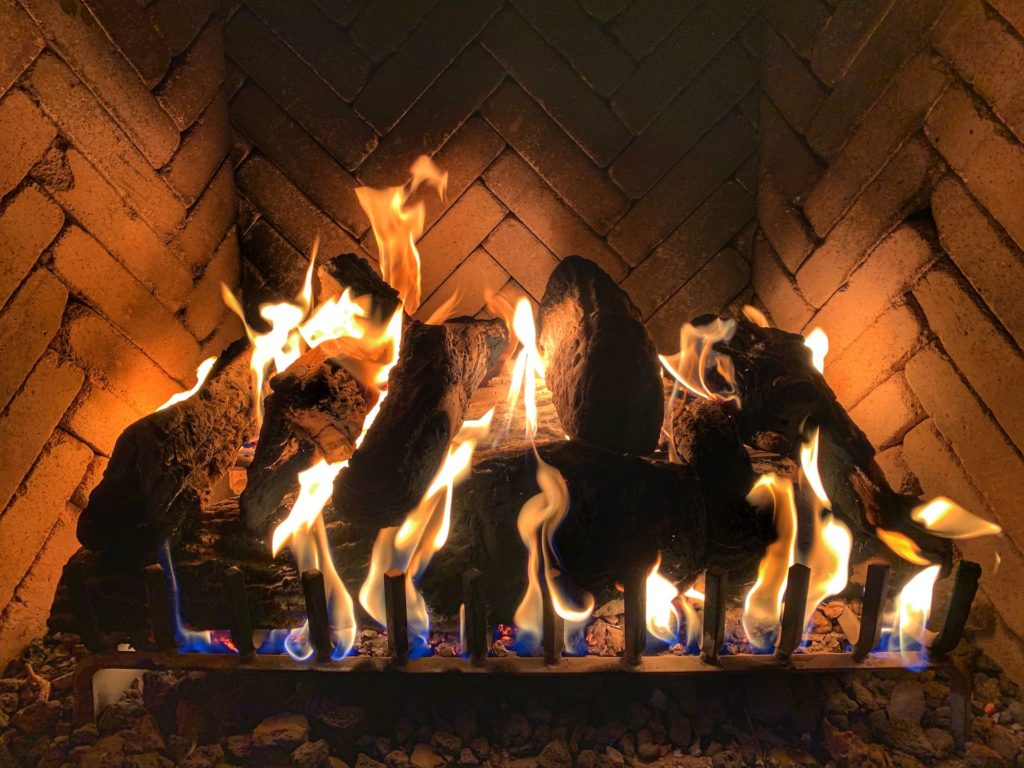 Best atmosphere to burger combo with really good wine and drink prices. Check out their sunday bottle of wine specials and overall atmosphere is great. See if you can get a spot next to the fire and you might not leave all night.
Prado
Price: $$$$
Situated at the stunning Montelucia get a spot on the patio for a great fine dining meal with amazing scenery and landscaping. There is some great patio seating as well as a nice indoors. After dinner take a drink to go and sit by the fountain.
Culinary Dropout – The Yard
Price: $$-$$$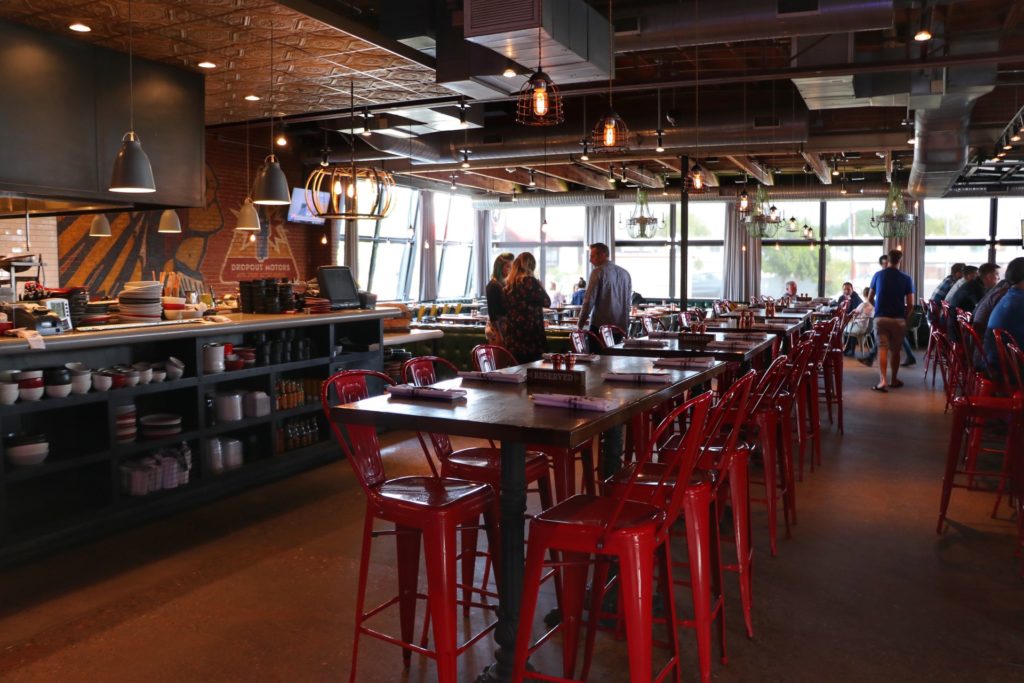 A couple locations and a great spot with good food, drinks and games like cornhole/bags, ping pong etc throughout the venue. They have the famous pretzel fondue, which is a must try. It is Fox Restaurant concept and you surely need to try as many of them as you can.
Overrated Places
Pizzeria Bianco
1-3 hour wait, designer pizza and it's one of those "oh we don't serve ranch" places. Call me crazy but growing up that didn't seem like the type of pizza place I dreamed about. I'm overall not a huge fan of "fancy" pizza so it could be your thing, just not for me… I also don't wait for hours to eat, I get hangry.
Mastro's City Hall
This place isn't about the food and it's about the social verification. I have been there three times and the $$$$ steak is far from best i've had and the sides often taste like burnt. The people are normally Scottsdale bougiest where you'll see lots of plastic surgery and "sponsored" dates.
I love fine dining, just go to T. Cooks or El Chorro if you want something less plastic. "But the butter cake"… stop it. You just wanted to tag yourself that you were there even though you just went for dessert.
Any spots you want to add? Let us know in the comments.