Sedona is arguably one of the best places to hike and most beautiful settings in North America… write that down as I will stand by it. There are hikes for every level of fitness, which makes it great for adventure lovers, families and everyone. I personally like my hikes to challenge me, be an adventure and at the end ideally have a payoff thus that is how my list is ranked. The pay-off can be a beautiful view, a swimming hole, a waterfall or even some some cliff-jumping.
Sedona is one of the prettiest and best outdoorsy places in the USA and I want to make sure you see all of the best spots. It checks most boxes for reasons to travel and is truly stunning the second you round the corner to view those red rocks. There are patios galore, it has amazing weather, beautiful scenery and activities for days. Moving to Phoenix 10 years ago I was told that I needed to go to Sedona and always thought it sounded overhyped. Fast forward to present day and I have been there countless times from day trips, weekend hike trips, romantic trips, weddings and more!
For More Sedona tips:
An example of my likes/dislikes is how Bear Mountain is my favorite and how I suggest not to waste your time at Slide Rock (unless you have little children). At the bottom of this list I also have top places to stay while in Sedona. With that said, here are my favorite 5 hikes Sedona.
1. Bear Mountain Trail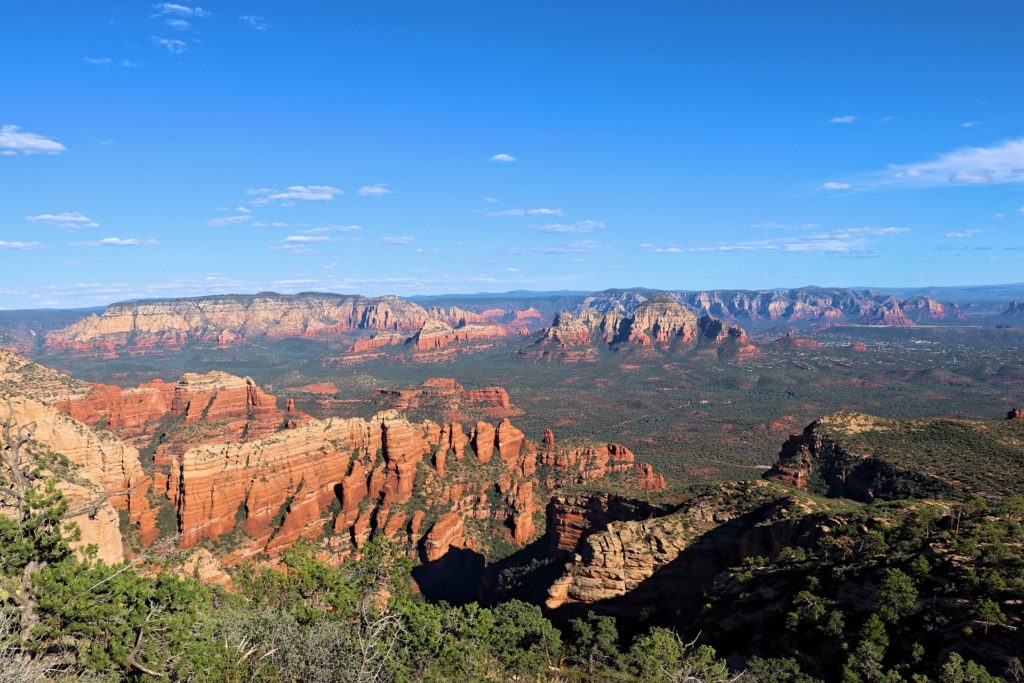 Elevation Gain:
2,000 Feet
Length:
4.5 Miles - 2.5-5 Hours - Out & Back.
This is the perfect all around hike in Sedona with multiple breathtaking views. If you want a challenge and a top 3 view of Sedona then this is the one.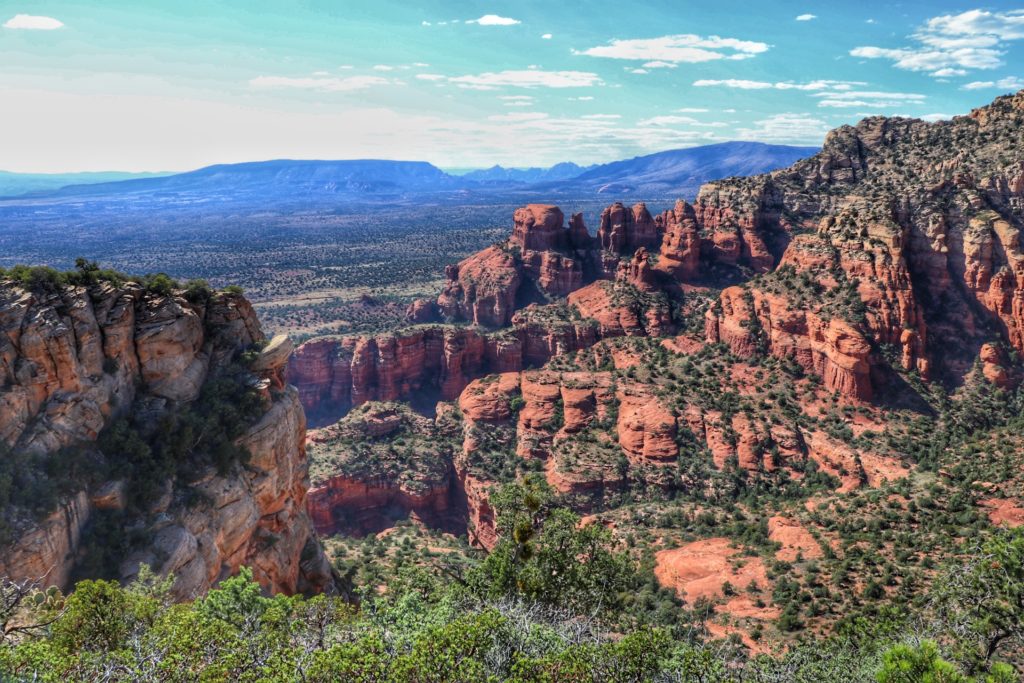 This hike is a beast, however, it is stunning and every turn of the trip brings a new view more beautiful than the one prior.
I suggest packing a lunch and having a picnic overlooking one of the amazing views. My 55+ year-old parents who are in good shape made it so it is possible for all ages but be prepared that it isn't easy.
Pros
Top 3 views of Sedona.
If you can't make it to the top there are plenty of payoff views prior so don't feel bad!
Dog Friendly (On a leash).
Amazing unique views throughout the hike.
You get a serious workout so can splurge at the wineries and restaurants after.
Cons
You have to pay $5 for parking. Credit cards accepted.
Not a con but the only thing that could get this hike ranked 5 stars would be if there was a waterfall or swimming hole at the end.
It is pretty hard.
Tips
As mentioned parking is on the opposite side of the road from the Bear Mountain Trailhead so don't start up the wrong trail!
Watch the weather, might be worth bringing a light jacket as it can be much cooler at the top if the weather is turning at all.
There is a but of a false summit so don't be let down when you have more to go once you think you make it to the top.
Bring extra water as even if you don't need it maybe another hiker will be struggling.
Pack a snack just in case and even have lunch at the top.
This is a pretty hard hike so don't take it too lightly.
---
2. West Fork Trail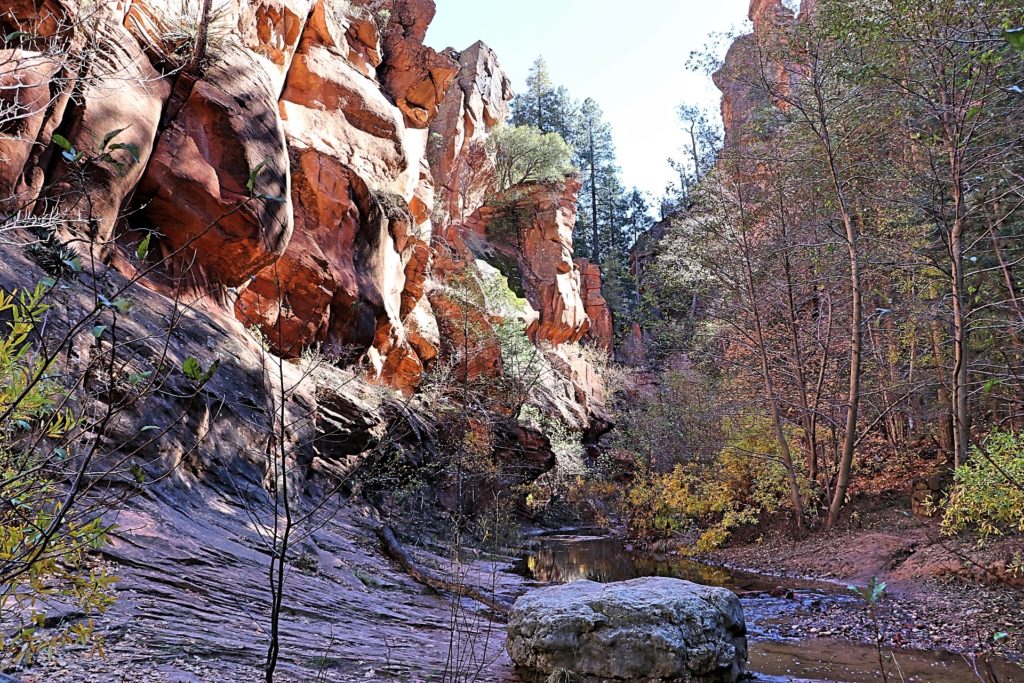 Elevation Gain:
2,000 Feet
Length:
7 Miles - 2-4 Hours - Out & Back
This hike is arguably the best relaxing and zen hike in all of Arizona. What also makes it great is that it is good for all ages and fitness levels. Whether you are with your children or on the older side it is probably the best hike for all skill levels as it is almost entirely flat.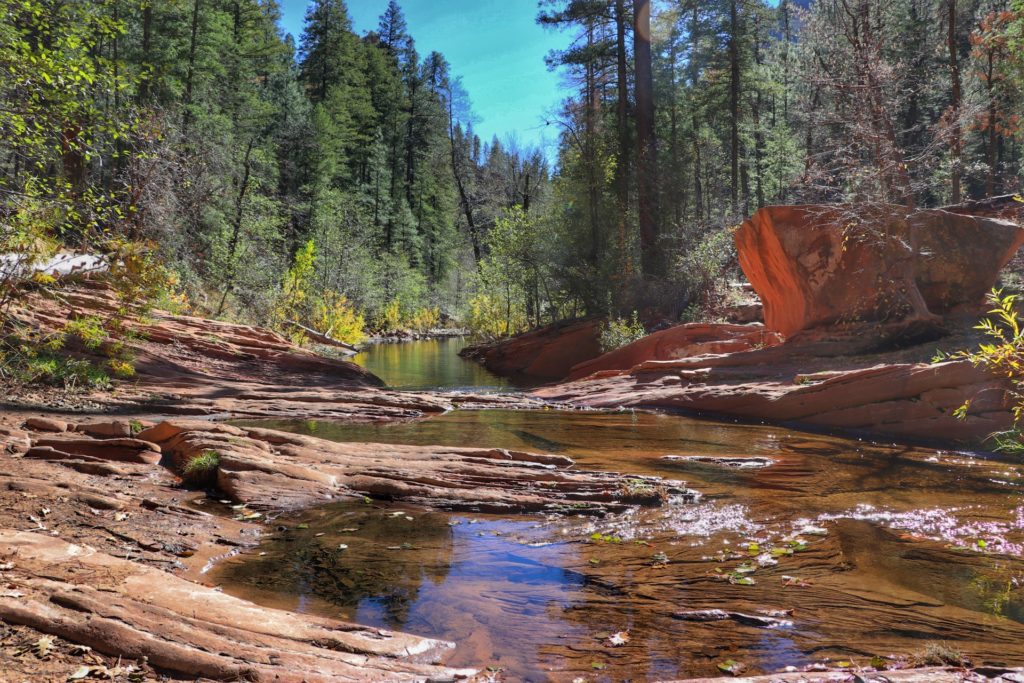 The hike itself is beautifully set along the creek of which you cross multiple times while the gorgeous red rocks tower above you. There isn't a major "payoff" at the end so feel free to turn around whenever you had your fill. Whether you are looking up or down the entire hike is worth every step.
Pros
Dog Friendly (On a leash).
Amazing changes in scenery throughout the hike.
Good for all ages.
You can turn back whenever you want without feeling like you're going to miss something major.
Can be a great workout and trail run.
Cons
There is no true major payoff at the end but the whole way is multiple changes of scenery, which more than makes up for it.
Parking isn't ideal. The lot costs $10 per car and it fills up quickly, especially in the busy season.
It can be busy but thankfully the parking size limit does curb that a little.
Tips
Bring water shoes or shoes that are okay being wet as you cross the water multiple times.
Go off the trail and walk up the creek for an added adventure with unique sites.
Pack a picnic.
Watch the weather, it can be flooded and rushing water post rainfall.
If there was recent rain then the water could be very muddy, not the end of the world but something to note.
You can camp in certain places.
There are beautifully colored crawfish in the waters if you look hard enough. There are fish as well who actually try to eat them.
---
3. Wet Beaver Creek Trail - The Crack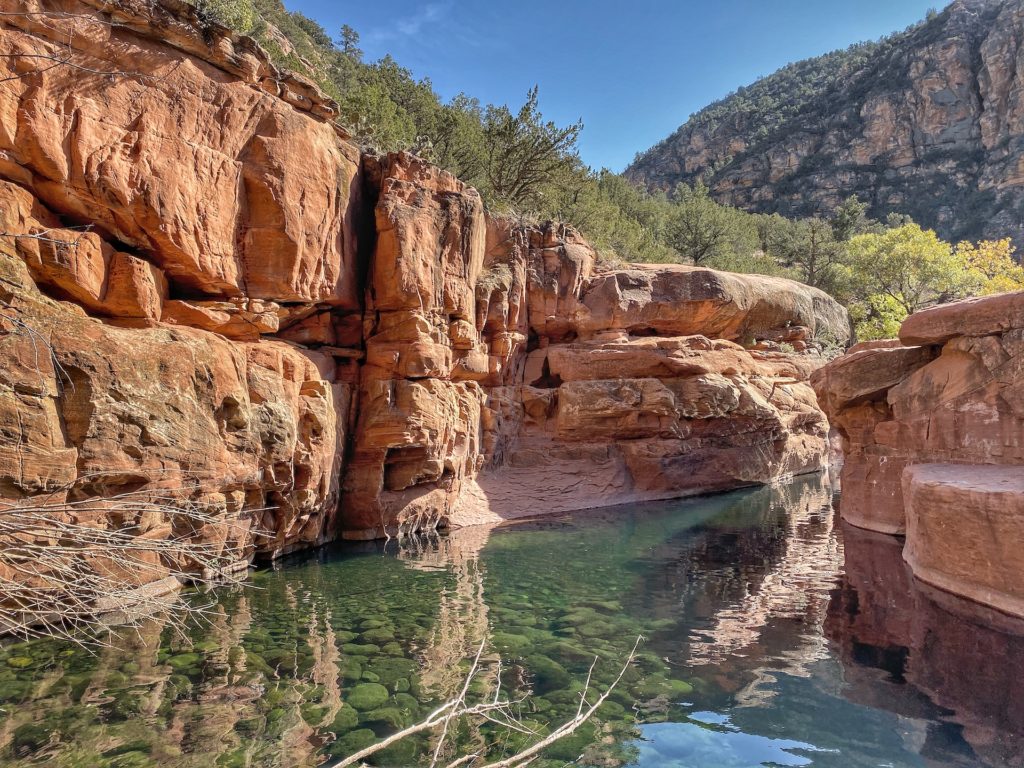 Length:
7 Mile. 3-5 Hours. Out & Back
What is better than a nice hike with a giant swimming hole at the end! I know… this is just outside of Sedona but it is well worth the quick drive and as close as some Sedona hikes so I included it.
Also known as the Crack, this hike is great as it is a good workout, not too hard and has the payoff of an amazing swimming hole, mini-waterfall and cliff jumping spot all in one. Definitely take a dip in the creek off to the right at the beginning of the hike.
Pros
Dog Friendly (On a leash).
Amazing water hole with multiple cliff jumping levels at the end.
Incredible little creek on the way with water oasis and swimming holes to stop at during the hike.
Great distance to get some exercise and some sun.
Pretty flat throughout, long but not too tough.
Lots of parking and overflow parking.
Cons
It can be a little crowded and often younger people will be playing music with a small touch of a party atmosphere… doesn't happen often and isn't anything crazy but just something to be aware of.
Not much shade at all the entire hike so bring sunscreen and a hat. Get a dip in the creek on the way to cool off.
Follow the directions as there are forks in the road to other trails.
Tips
Go off the trail to the creek at the beginning and throughout to dip in some pretty little water holes along the way.
Can make this an entire day trip with a picnic, hammocks, music and lounging at the swimming hole.
Bring some beer/wine for swimming hole (no glass) but pack out what you pack in.
Weekdays are a lot quieter if you want it less busy.
---
4. Devil's Bridge Trail
Length:
4.2 Mile - 1.5-3 Hours - Out & Back
This is everyone's favorite Instagram picture in Sedona. The hike isn't too rough but some find it a little hard towards the end. With that said, I have seen all ages and fitness levels do it.
If you have a 4×4 definitely use it to get to the trailhead. The hike from the trailhead is great however walking the dirt road from the parking lot for an added hour lot isn't ideal. This is a great place to go if you rented an ATV so that you can drive right up to the trailhead and save an hour.
Pros
Dog Friendly (On a leash).
Arguably the best picture in Sedona when you reach the end.
Not too hard of a hike.
Good for kids if you hike from the DB trailhead.
Few good spots for pictures along the way.
I recommend renting an ATV and making this a stop to save time.
Cons
In terms of a workout the two hike options aren't that great.
The 4.2 mile hike is 2 miles along a dusty jeep path or just off the side and no major changes of scenery until you get to the Devil's Bridge Trailhead. If you are runners then it can be a good run to the trailhead.
The 2.2 mile hike itself from the trailhead isn't that long or strenuous so you won't get an amazing workout. Getting to the trailhead takes some slow 4×4 driving to get there so it's a lot of driving and time for not a ton of hiking… the view is worth it to do once though!
Tips
Great if you rent an ATV and have that fun drive to the trailhead.
The bridge is much wider than it looks so don't be scared to walk out there.
Tell someone you will take their picture and then have them take yours ?.
Don't be a jerk and just sit out there.
---
5. Cathedral Rock Trail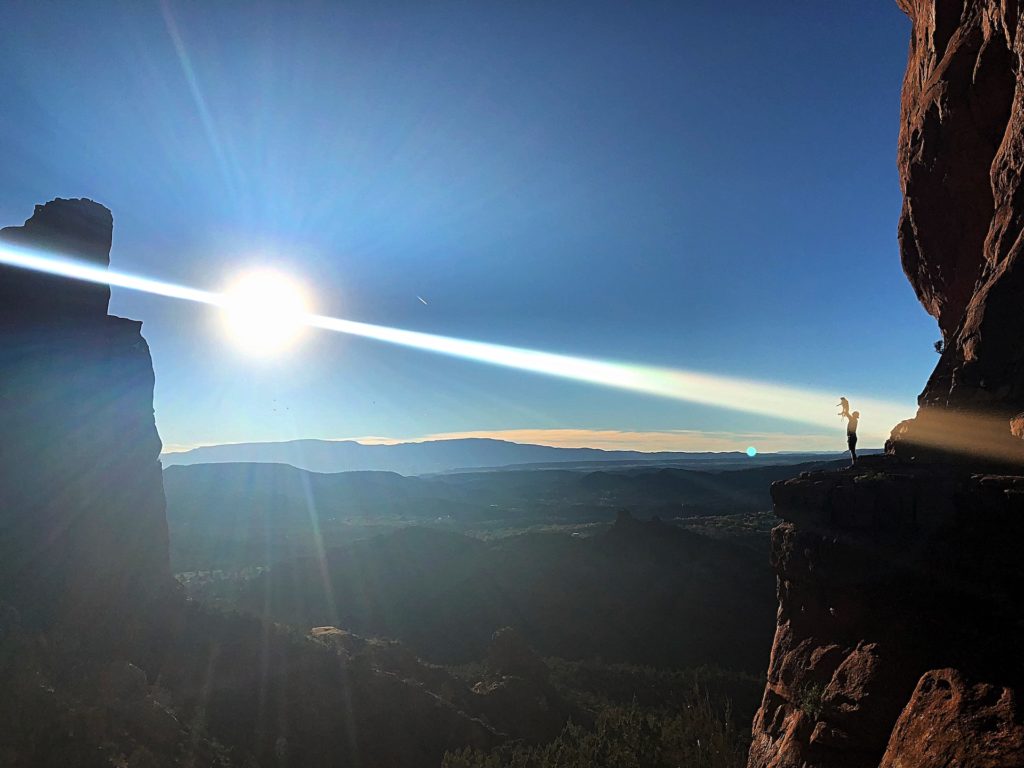 Length:
2.4 Mile - 1-2 Hours - Out & Back
Cathedral Rock is another gem in Sedona with an amazing view at the end. The hike is almost a perfect length and difficulty for everyone to enjoy it and feel they got a workout in.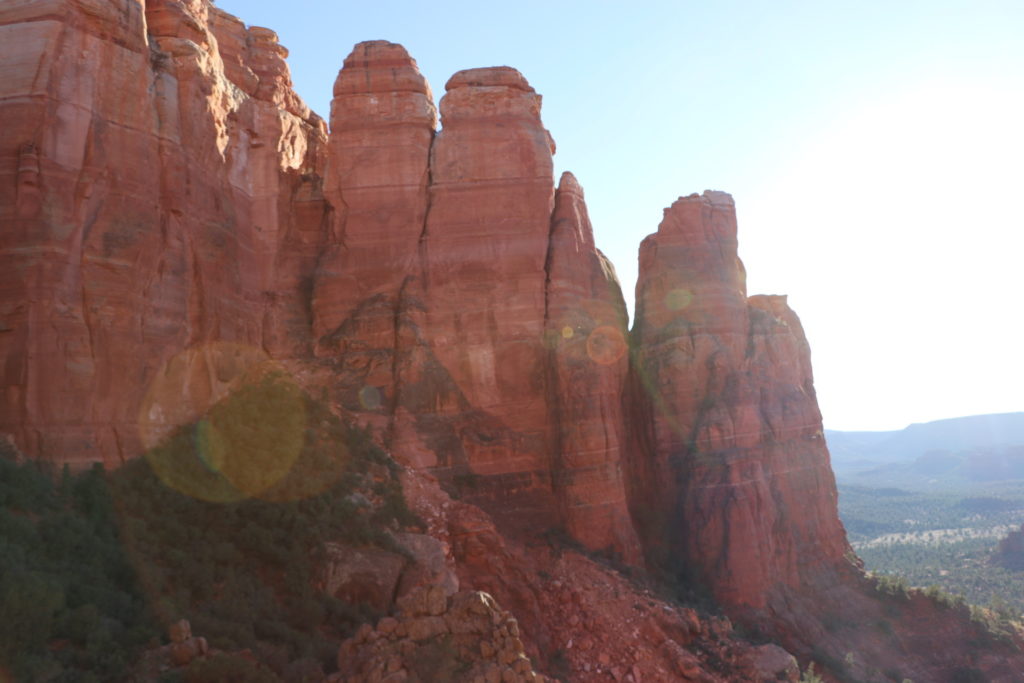 There are some great views along the way and at the end you can go to the left to see even more breathtaking views and scenery. It falls in the middle of the hikes in this list in terms of difficulty.
Pros
Dog Friendly (On a leash).
Top 5 best pictures in Sedona when you reach the end.
Not too hard of a hike.
Good for kids
You can go a little further to the left for a less seen hidden area for more views.
Cons
The 2.4 mile hike isn't that long, decent workout though and the view/picture are terrific.
Parking is scarce and can get very busy so avoid weekends during peak season.
Tips
Don't be the jerk who stands in the money-shot spot for 10 minutes as people line up to take the picture… it's happened twice now.
Tell someone you will take their picture and then have them take yours.
---
Fay Canyon
Pretty nice but short. Great if you want a small hike.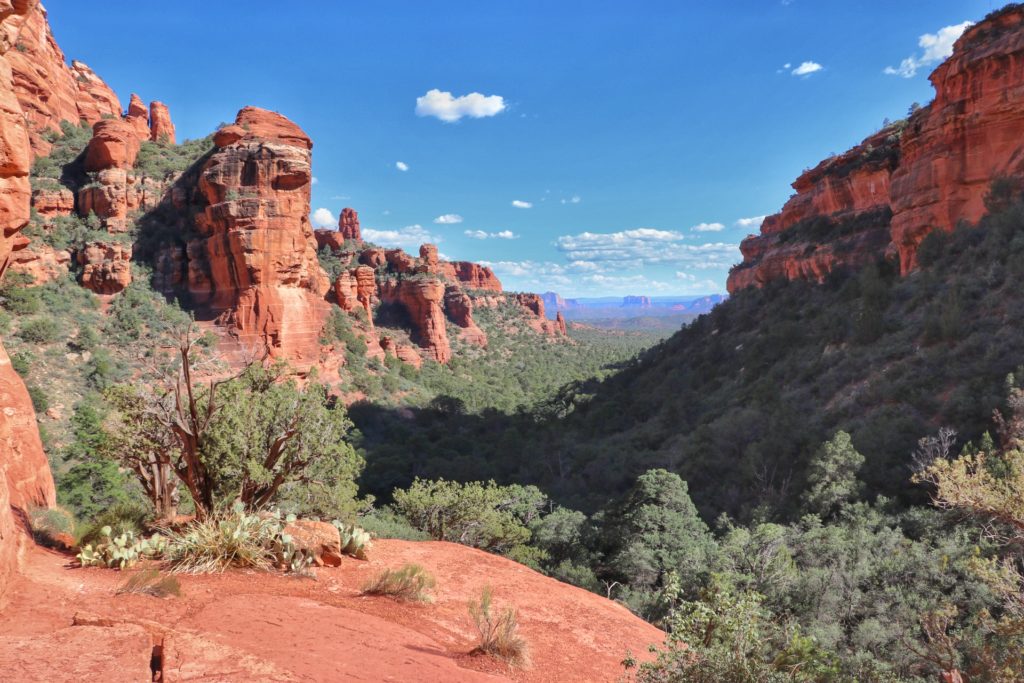 Soldier's Pass
The sinkhole and Seven Sacred Pools are a little underwhelming when compared to the views and the water holes in this list. There is a hidden cave, which is a pretty picture to check out!
Where To Stay
AirBnB. You can find some cheap gems and is the most efficient bang for buck in Sedona. With that said, AirBnB fees have been sky-rocketing lately so if someone with AirBnb is reading this I want you to know I'm unhappy and partially revolting… unless it's too good a deal of course ;).
Enchantment Resort is absolutely stunning. The accommodations, the restaurant and the views! You will have to pay for it though as it is very pricey but for the cost I would pick it over L'auberge de Sedona Resort & Spa
L'Auberge de Sedona Resort & Spa is perfection but it comes with a cost. I would recommend spending 50% or less on your lodging staying elsewhere to spend more money on food, ATVs or other entertainment if you are on a budget. However, you must go to Sunday Brunch. While it is the most expensive brunch I have ever seen, it is definitely worth the experience.
Kimpton Amara is the best higher end resort without costing a fortune. It's also dog friendly with a great patio.
The above 4 options above separated themselves from others but are more expensive, however if you want a good place to stay without paying a fortune checkout any of Sedona Rouge Hotel & Spa, Poco Diablo Resort, A Sunset Chateau or the Hilton Sedona Resort at Bell Rock. Hotels seem to drop off after that in terms of quality.
Did you like this, please comment if so :).
Want to improve this list for version 2.0? Do you agree? Do you hate it? Let me know in the comments and can improve for next time!
Hey I'm Fraser. My site is dedicated to the 22nd century person with a lust for travel and adventure, need for time efficient recipe ideas as well as anyone in need of self-help or a pick-me up! Thanks for visiting Inspire Travel Eat!