Water Wheel Falls is a nice hike and a perfect spot for families. It is close to Payson as well which makes it a perfect spot to visit if you end up spending the weekend in the area. Combining it with Tonto Natural Bridge or Fossil Springs would be the ultimate weekend to an amazing weekend trip.
The hike is relatively short making it great for families to bring the kids to with a lunch and hangout playing in the water. The hike can be a little challenging in spots pending water levels so be sure to wear proper shoes to avoid slipping or hurting yourself on the loose rocks.
Don't expect a challenging hike but you can continue up past the falls to Ellison Creek to see more little swimming holes and small falls that are pretty to see as well. The hike is something to check out if in the area and definitely worth combining it with other hikes in the area.
Water Wheel Falls Hike
Length:
3 Miles Round Trip - Out & Back - 1.5-2 hours
Truly a perfect short hike with a great payoff swimming hole at the end! You start from the parking lot where there is a $9 parking fee. It sometimes can be full so try to get there earlier or not go during peak times.
The first part of the trek is on a well used path with the creek to the right of you and within a quarter mile in you will go up a small hill and is the only real "difficult" part of the hill. Once past that you are in the clear and it is just following the stream up to the top.
You can make things more of an adventure and more difficult by walking up through all of the stream to the top as well. If you have dogs they will love this part too. Within 30-45 minutes you will reach the falls with plenty of little swimming holes to hang out around. You can even jump off the log ladder into a deeper portion of the pools.
You can even go up further past the falls to Ellison Cascades, which is a great addition to the hike! Another quarter to half mile up you will find the confluence of the two creeks as well as the waterfall, which give the falls its name.
Pros
Perfect hike to escape the heat
Great for families
Dogs okay on a leash
Cons
Can be busy
Isn't too long or much of a exercise hike for people looking for something challenging
There is a fee to park of $9
Tips
Try to avoid the weekends if you don't want it too busy
Avoid spring runoff season to try and be there for blue water
Be aware of the weather as flash floods are possible here
---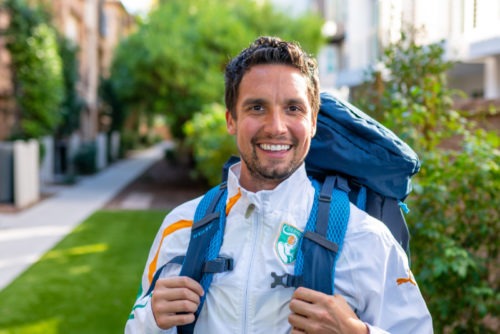 Hey I'm Fraser. My site is dedicated to the 22nd century person with a lust for travel and adventure, need for time efficient recipe ideas as well as anyone in need of self-help or a pick-me up! Thanks for visiting Inspire Travel Eat!
This error message is only visible to WordPress admins
There has been a problem with your Instagram Feed.