West Clear Creek Wilderness Trail Hike to Hanging Springs & Pool Grande
The West Clear Creek hike from the trailhead off is one of the most beautiful day hikes in Arizona!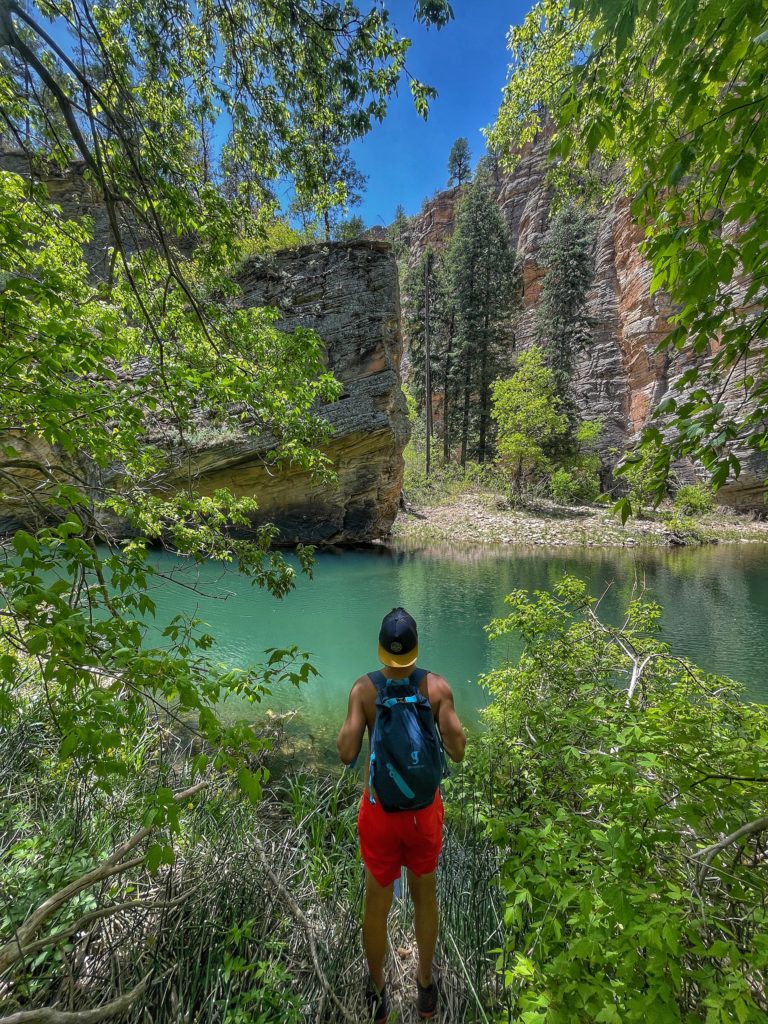 This hike is a secret gem in the West Clear Creek Wilderness with very few people ever strolling down East to see some stunning sites along this hike.
West Clear Creek trail from the trailhead is as hard to find information on as keeping on the trail. While the trail is hard to track it is absolutely worth it and one of the best hike in Arizona!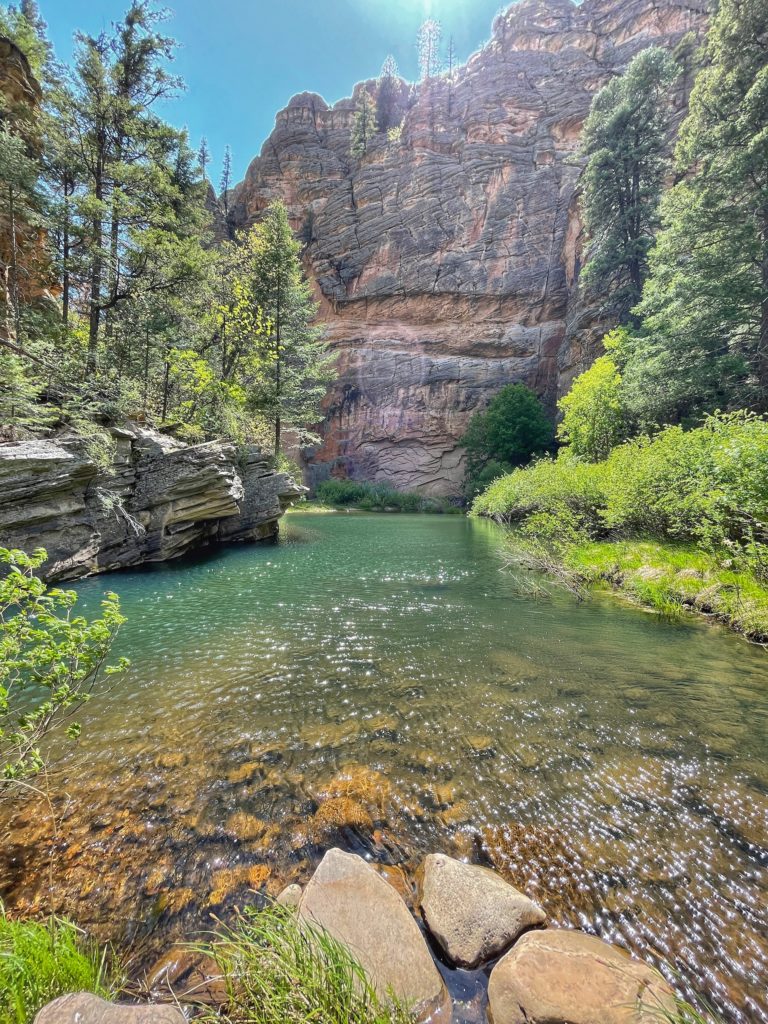 This hike includes Tramway Trail and takes you across the stream 10+ times all while seeing the beautiful Hanging Springs, not to be confused with Hanging Gardens and can end at the Pool Grande.
If you are wondering, yes I named both the Hanging Springs and Pool Grande as you may have also found that there is absolutely no information on this trail from the West Clear Creek Trailhead heading east but there is so much to see!
Google maps takes you to the West Clear Creek trailhead and then all of the sudden you are on your own with no information on the world wide web from there… so here is where I come!
Do not be afraid, this hike is borderline difficult, mostly just the way back up the steep hill from the parking lot, but the rest is flat. However, it is absolutely stunning and if you love camping there are a ton of amazing camp spots.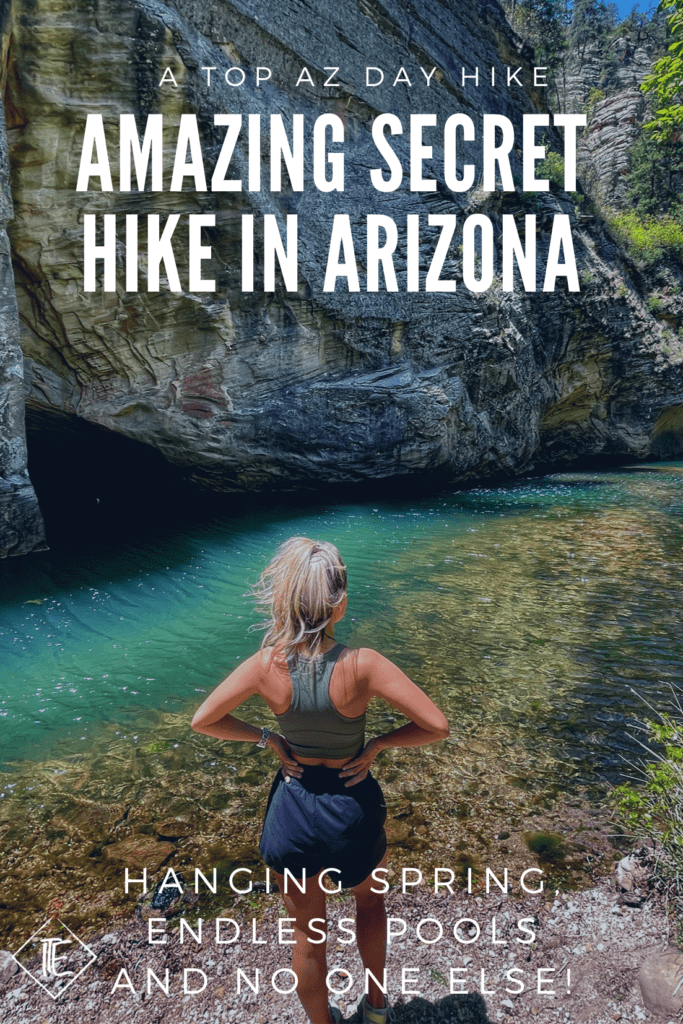 The hike it really shaded and you cross the water 10+ times throughout the hike the the Pool Grande so it is a perfect summer hike. The hike out is really tough but also is completely shaded with giant pine trees thankfully.
The weather is also about 20 degrees cooler than the likes of Phoenix and Sedona making it pretty bearable in the summer. There are also a ton of swimming holes the entire way to cool off at!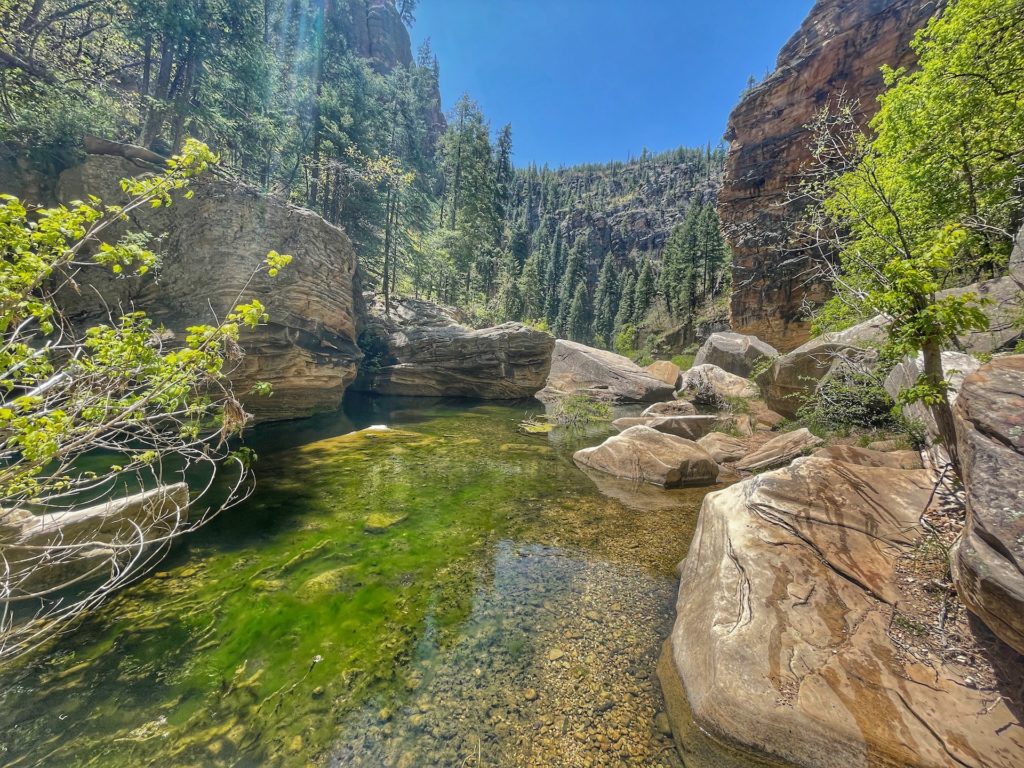 This hike is pretty much empty and we only saw a couple of groups at the bottom of the hike down into the valley and then didn't see anyone the rest of the hike. You will have this place all to yourself!
A testament to how untravelled this hike is we saw a dead owl, two snakes, a dead skunk, lizards of course, hundreds of fish and crawfish! Thankfully my girlfriend saw the terrifying but harmless red & black Milk Snake!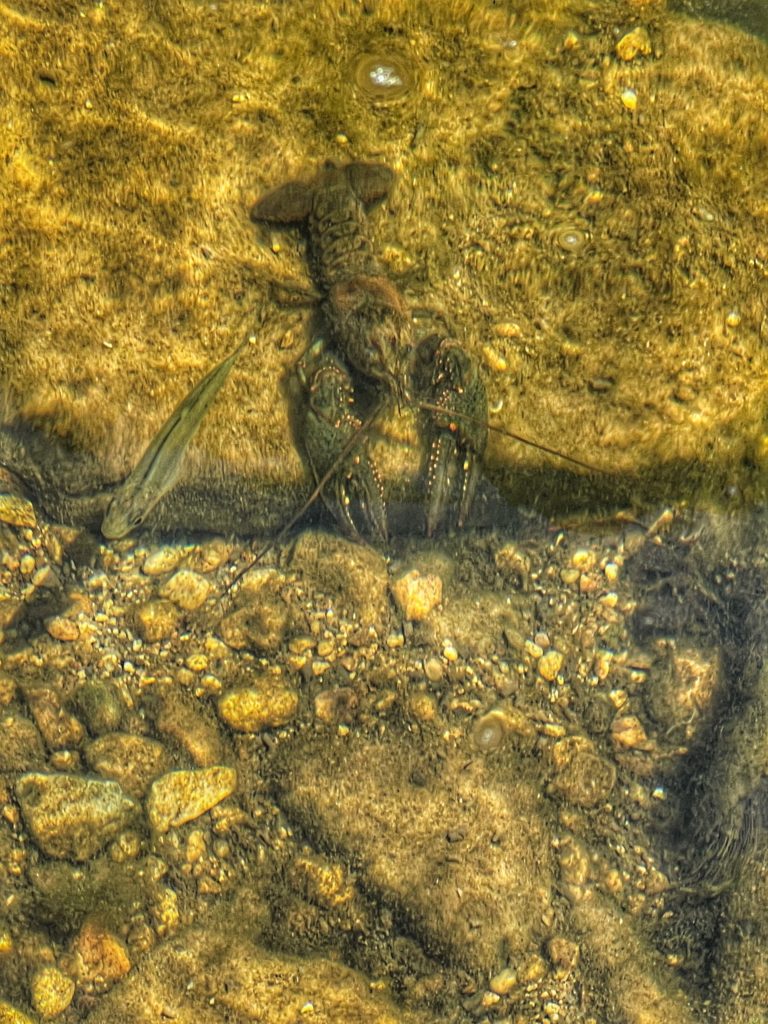 The hike goes on even further past the Pool Grande but that is a great turnaround point at 2.5 miles. The Pool is a great spot to have a picnic on the big rock, wash your shoes out and even have a nice little swim!
How Do You Get To West Clear Creek Trailhead?
Google maps has West Clear Creek Trailhead starting just off of Forest Service Rd 142. It can be accessed from the West and Campe Verde and the East from Payson/Pine/Strawberry etc via the 260 to 149 to the 142.
You really should download Google Maps and download the offline map of the area so that you can find the way even without service, since you will lose it. Google Maps takes you directly to the trailhead.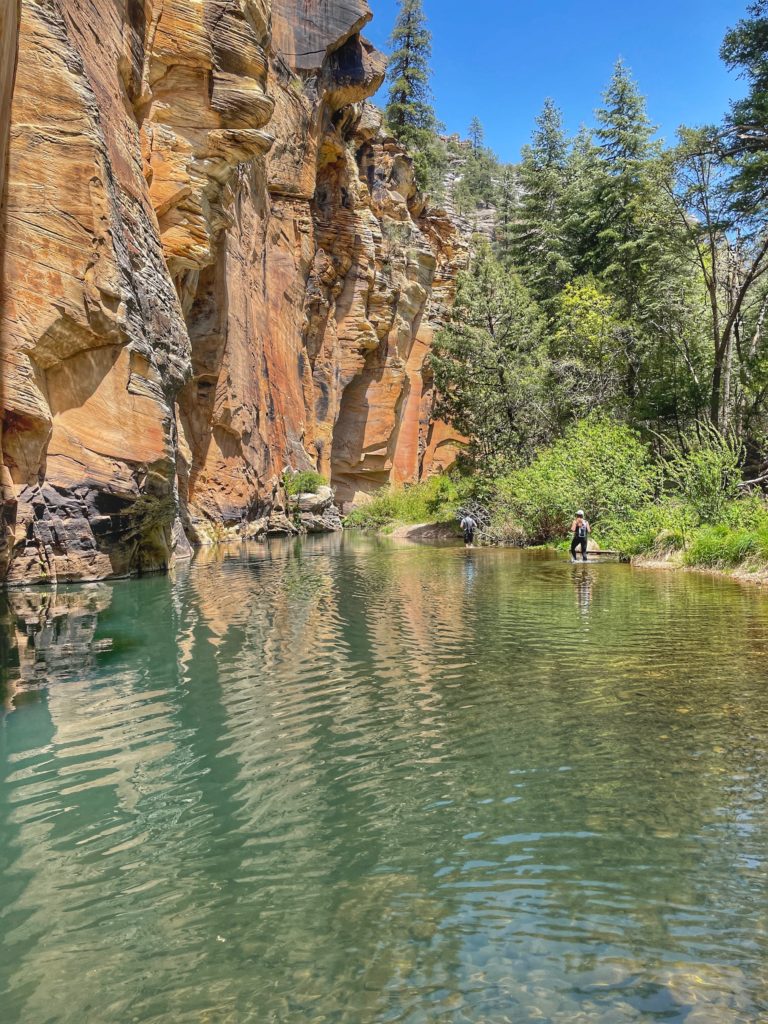 From Payson you take the 260 Northwest to the 149 where you turn right and go for 1.1 miles, then left to stay on 149 for .7 miles, slight right onto 142 for 0.9 miles then in .4 miles turn left and continue straight for 2.3 miles.
From Camp Verde take the 260 east to the 149 where you turn left and go for 1.1 miles, then left to stay on 149 for .7 miles, slight right onto 142 for 0.9 miles then in .4 miles turn left and continue straight for 2.3 miles.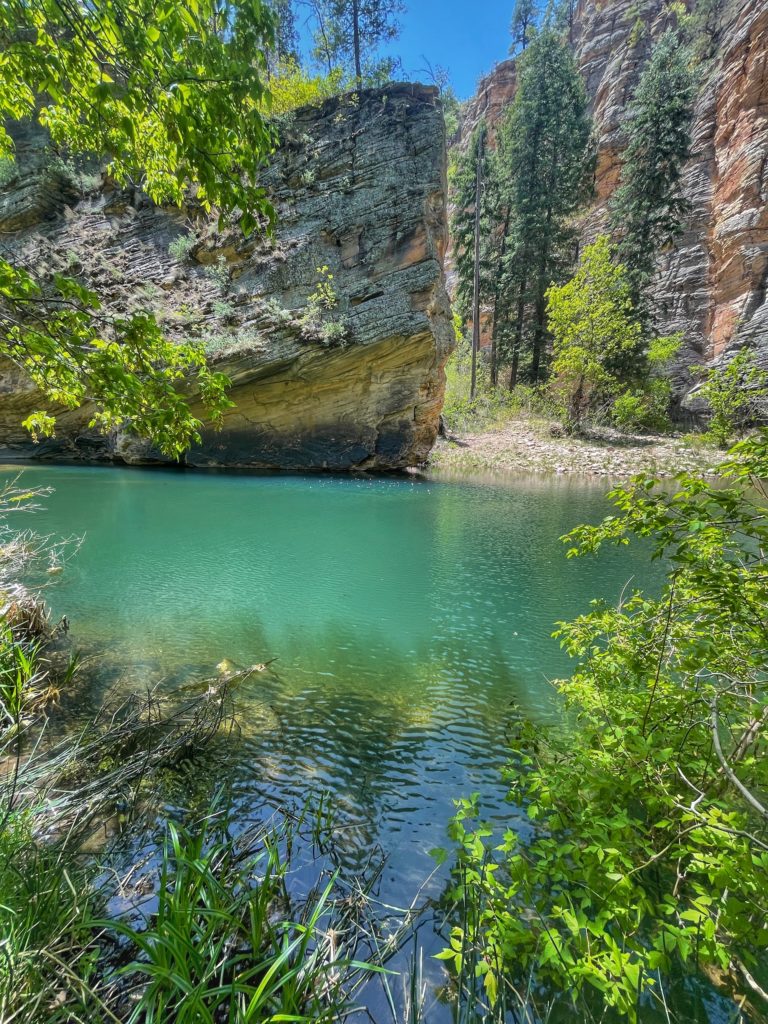 Do You Need a SUV Or High Clearance Vehicle for West Clear Creek Trail
Yes, you need a high clearance vehicle for this trail as a car won't work. It is not awful but just bad enough that a car can't make it and it is pretty slow going most of the way.
Is West Clear Creek Trail Suitable For Dogs?
From the West Clear Creek trailhead the hike is not okay for dogs unless your dog is a really good hiker. There is a ton of brush, snakes and the hike back up the the parking lot is rough as well.
How Long Does The West Clear Creek Trailhead Take?
If you want to rush it you can do it in 3 hours. If you want to take your time, pictures, swim around and explore give yourself about 4-5 hours.
Is there a Winery Near West Clear Creek Wilderness?
Yes, there is a very quaint and tasty winery right off the road! You can easily visit it if you hike Fossil Creek, The Jug and from this hike.
The winery is Clear Creek Vineyard & Winery and it is an absolutely amazing stop if you are in the area. You can get a wine flight for just $10 sampling 5 wines.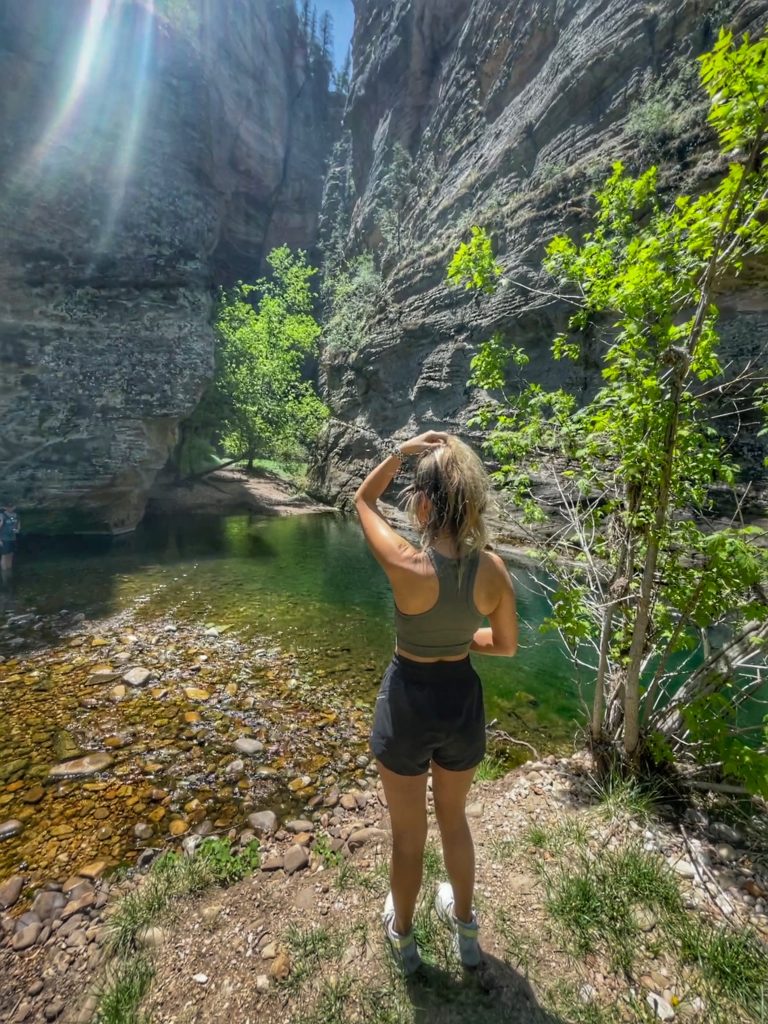 The wines are actually as good or better tasting than pretty much every Sedona winery, and I love those wineries.
Where Are the West Clear Creek Hanging Springs?
The hanging springs are about one mile from the West Clear Creek Trailhead off Forest Road 142. You will hike down from the trailhead for about .65 miles and from there it is about .35 a mile to see them.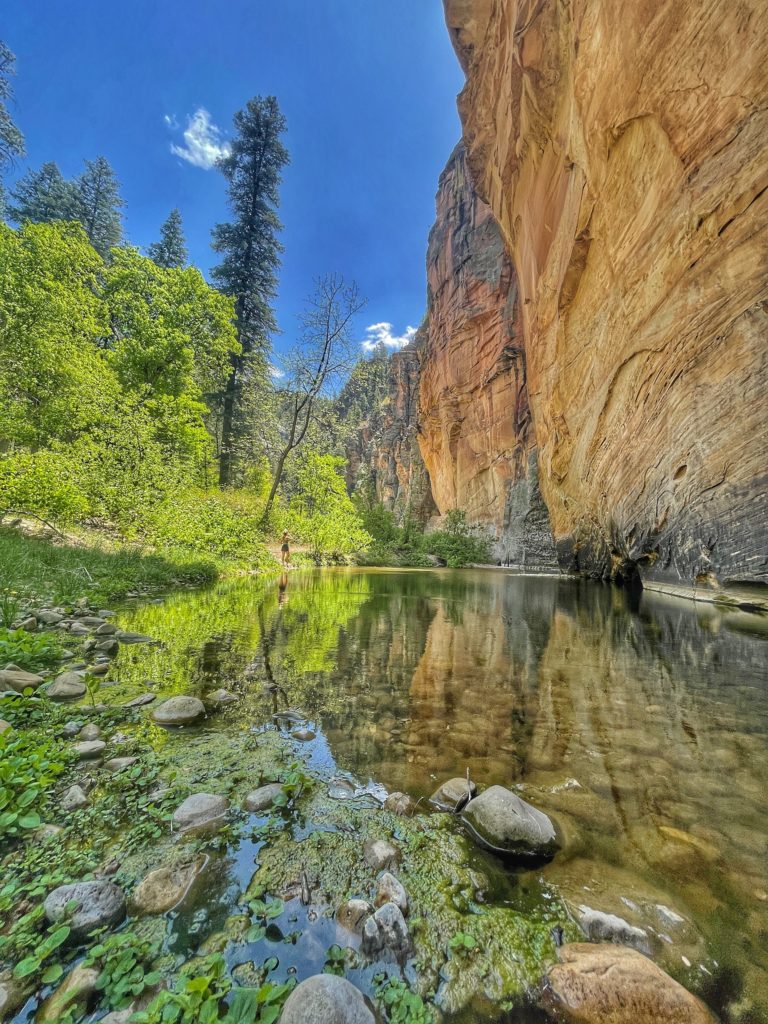 Can You Drink From the Hanging Springs?
Yes, our group did and there were no ill effects. Of course be careful as everyone is different. However, with this water coming from the mountain we assumed it is very pure and filtered through the rocks.
There is a spring at Havasupai this reminded me of where you actually get your drinking water from when you are down there.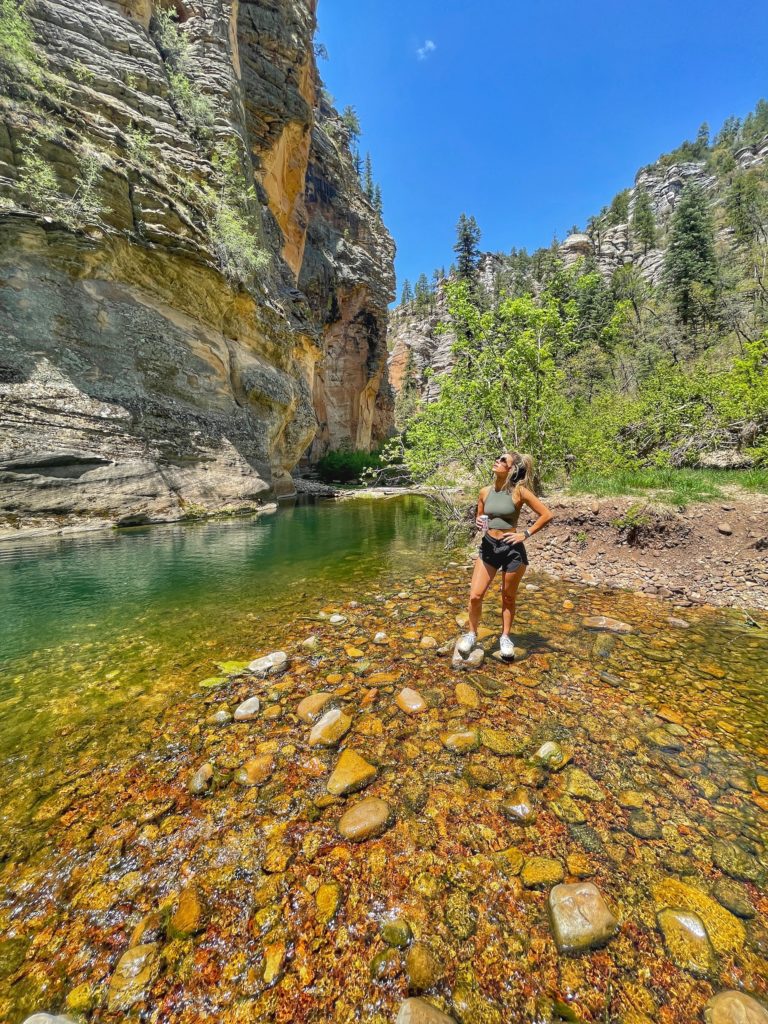 West Clear Creek Trailhead to Hanging Springs & Pool Grande Via Tramway Trail
Length:
5 Miles Round-Trip | Out & Back | 3-5 Hours
I wish there was a good description for this hike but it really just is better with pictures!
You start with a rough descent down from the parking lot for just under a mile and just at 900 feet in descent.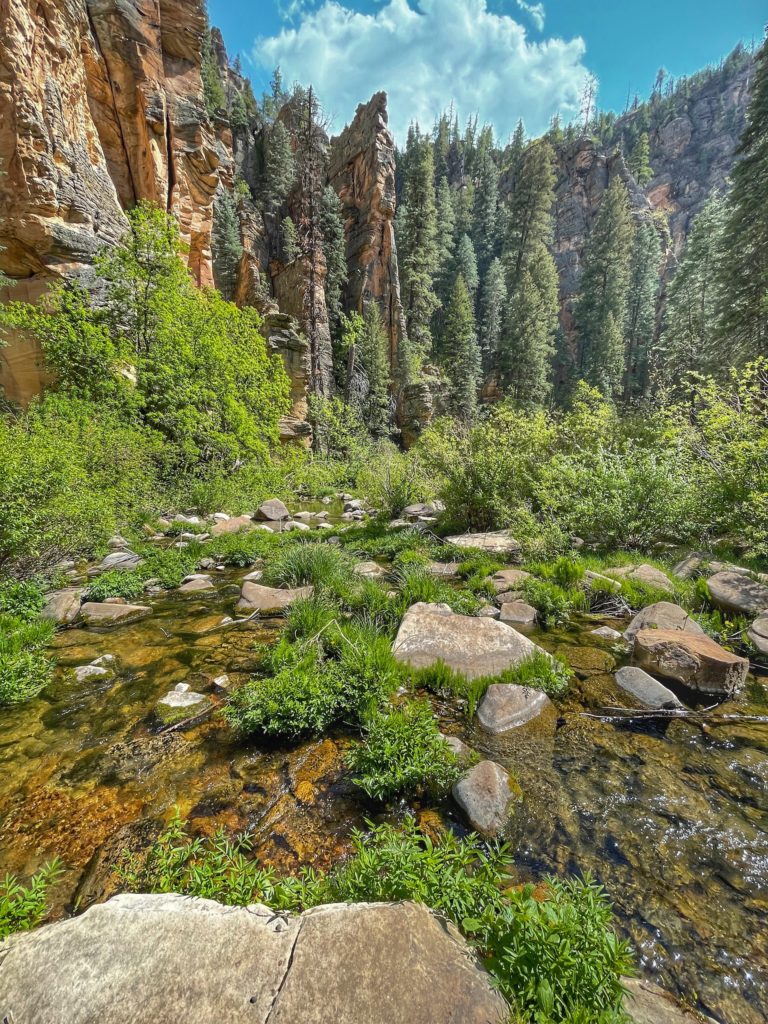 I won't lie, it actually is pretty tough and even less fun when you are hiking back up.
It isn't awful at all but it isn't great so that is why this is rated as difficult. It is about .65 miles down and 900 ft descent.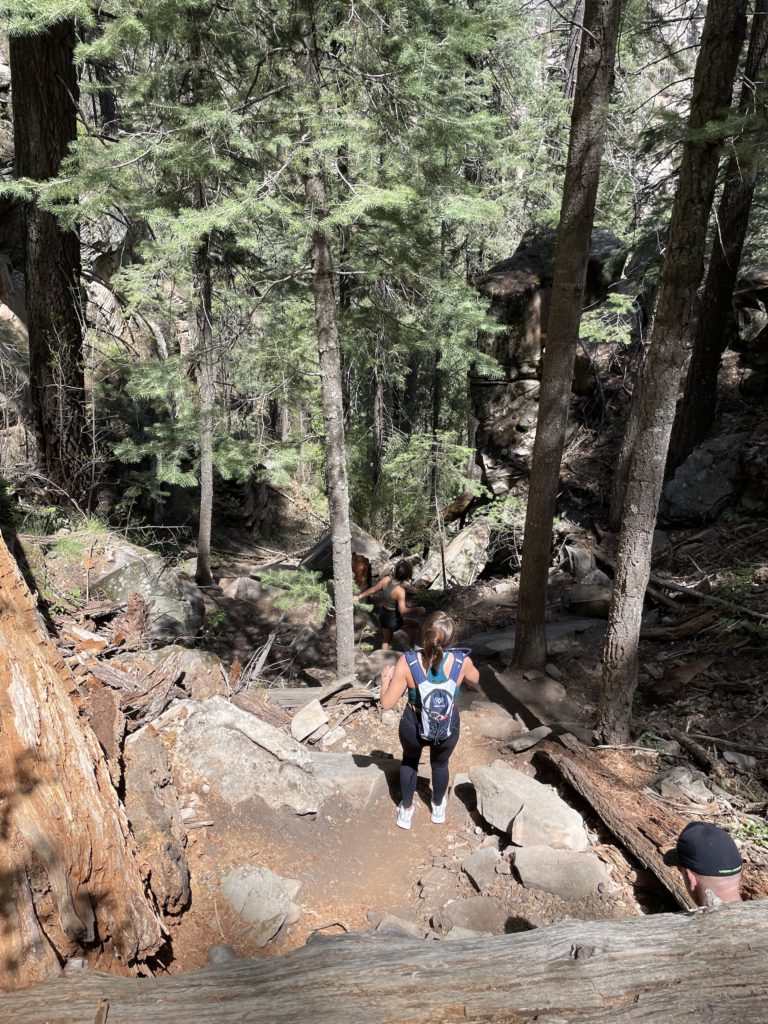 Once you hit the bottom you will instantly be met with pools and cross the water to the right/East.
After you cross once the adventure begins as you walk along the stream the entire way with little pools, giant cliff walls.
We were counting how many times you cross the water and at some point you lose count but I would guess about 15x.
I would honestly say every 10 minutes you are met with another amazing spring, pool, cliff face or a mix of all of the above!
After you get to the bottom of the hike to the valley floor, it is about .35 miles to the Hanging Springs and they are absolutely amazing.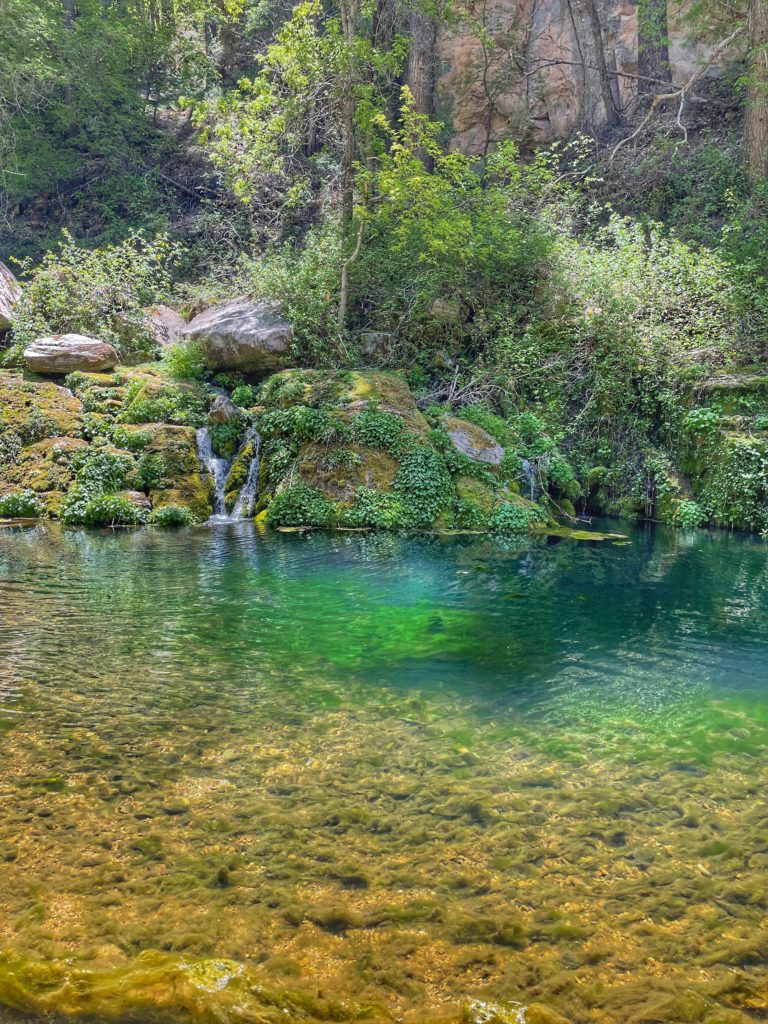 We event went and had a drink from them and they taste incredible and so fresh!
Back on the trail you will be met with more springs and pools to explore along the way.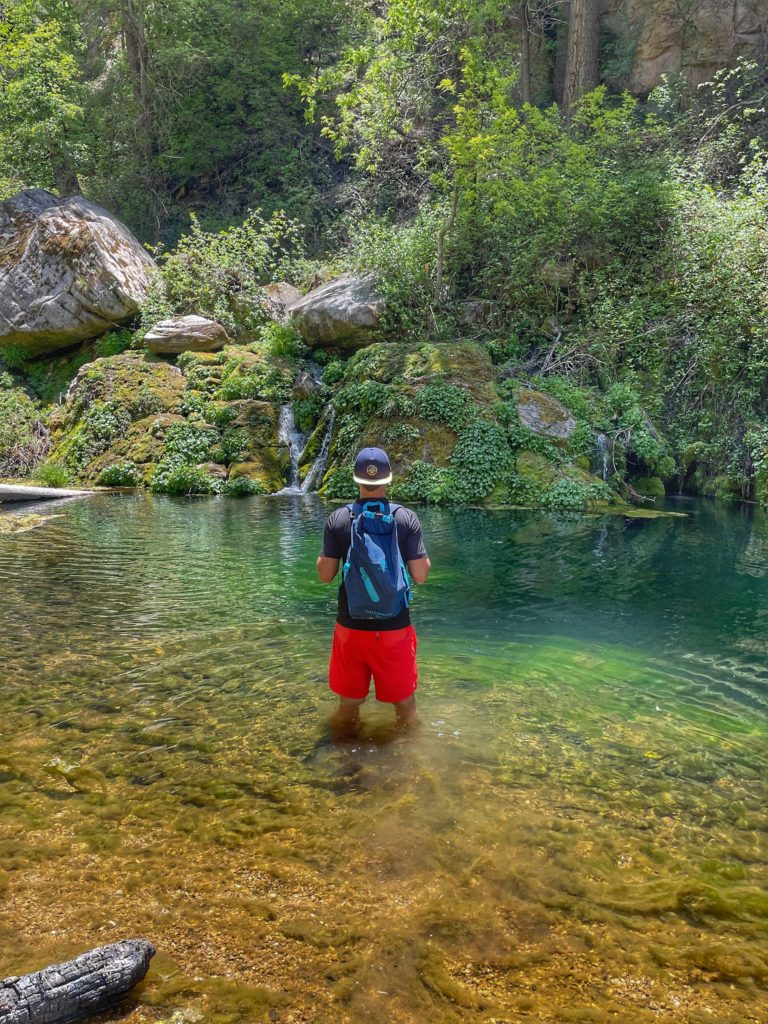 It truly is beautiful around every single corner! Keep on going until you finally end at Pool Grande 2.5 miles in.
Pool Grande is a great turnaround point, fishing spot, picnic place, swimming hole, fishing area, suntanning rock and whatever else you want to turn it into!
Pros
Water from the Hanging Springs was safe to drink.
Secret gem in the West Clear Creek Wilderness
Access to Hanging Springs
Tons of fishing opportunities
Tons of swimming holes
Cross the water 10+ times
The hike is really shaded so protected well from the sun
Temperature is about 20 degrees less than Phoenix
Cons
Not suitable for dogs that aren't top level hikers
Trail can be easily lost when crossing the water
Not a con but we did see two harmless snakes… it isn't much of a desert landscape so I don't think rattlesnakes are prevalent here.
Lots of brush so if you don't want your legs scratched and cut up, wear pants or leggings.
Crossing the water a lot you will want to wear shoes you are fine going in and out of the water with.
Some crossings can be hip-high depending on the time you go.
Don't go if there are thunderstorms present due to flash flood potential.
It is 2.5 hours or so from Phoenix so a bit of a trek, great if you want to camp there.
Tips
Have a drink from the Hanging Springs! We did and no issues and was so fresh!
Bring a swimsuit or something you don't mind jumping into the water with.
Wear easy dry pants so you don't get your legs scratched up like crazy.
Would leave the dog at home unless it is a great hiker.
Bring a lunch.
Hike goes on forever so you can go even further than the Pool Grande but that is a nice place for lunch and to turn around.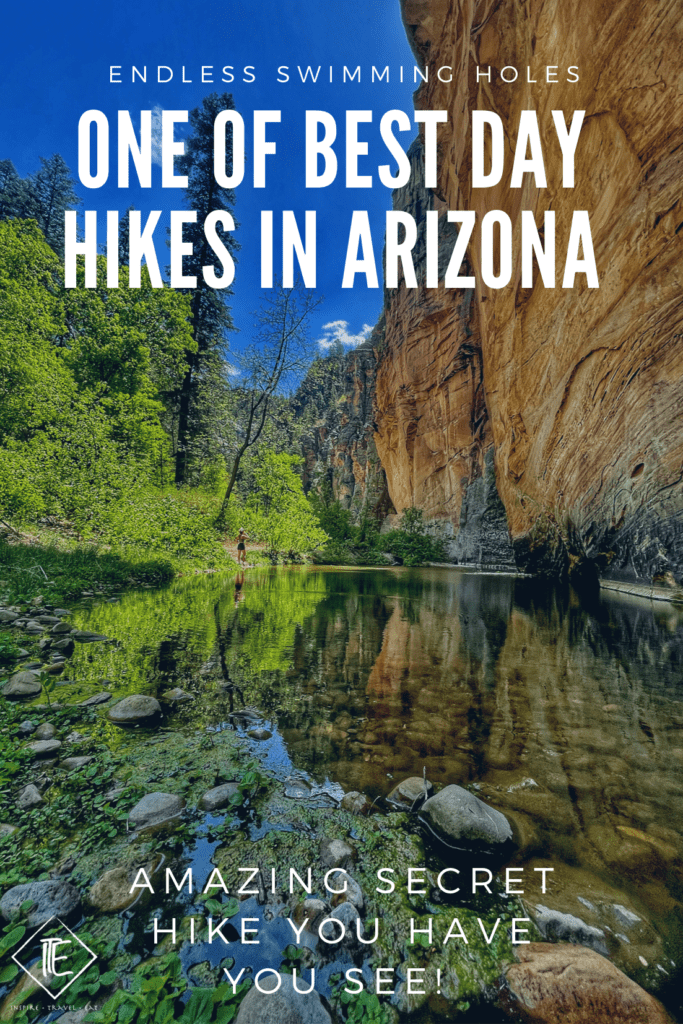 ---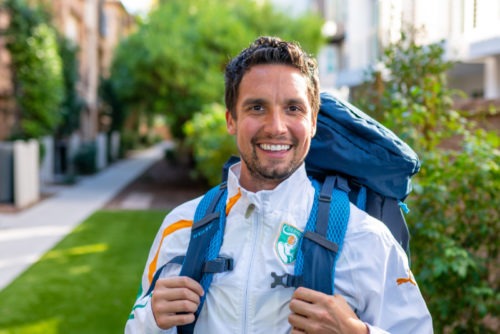 Hey I'm Fraser. My site is dedicated to the 22nd century person with a lust for travel and adventure, need for time efficient recipe ideas as well as anyone in need of self-help or a pick-me up! Thanks for visiting Inspire Travel Eat!