What is the best hard seltzer? It's been on everyone's minds… you're in the store staring at this plethora of hard seltzer's and you don't know which one is the best hard seltzer…
Well, here we are to help that issue as we did the ultimate hard seltzer taste test comparing all the most common and popular hard seltzer's available to all.
We compared White Claw, Truly, Bud Light Seltzer, Natural Light Seltzer and Cape Line's for this test. We did leave out some like Bon and Vivm Izzy's and Wild Basin and others due to them not as wildly available or more expensive.
We also left out Coors Light Hard Seltzer for being way too late to the party. These are for the basic costing seltzers widely available and really the leaders in the sales field.
I would say I am an expert hard seltzer taster and was an early adopter with White Claw crushing it from straws way before they were generally acceptable for guys to drink. If you still don't think they are widely acceptable for guys to drink then just exit this article.
Beer is too filling, liquor many of us drink way too fast… hard seltzer's are a great fusion especially for casual drinking, don't hate, appreciate! With that said, you are in good hands on this taste test. Checkout 4 Amazing White Claw Recipes With The Best Shot Ever Here!
We kept flavors all the same in the cherry/berry realm so we were comparing apples to apples… or berries to berries… These flavors were chosen as White Claw Black Cherry is widely accepted as the best so we wanted to compare all the best ones!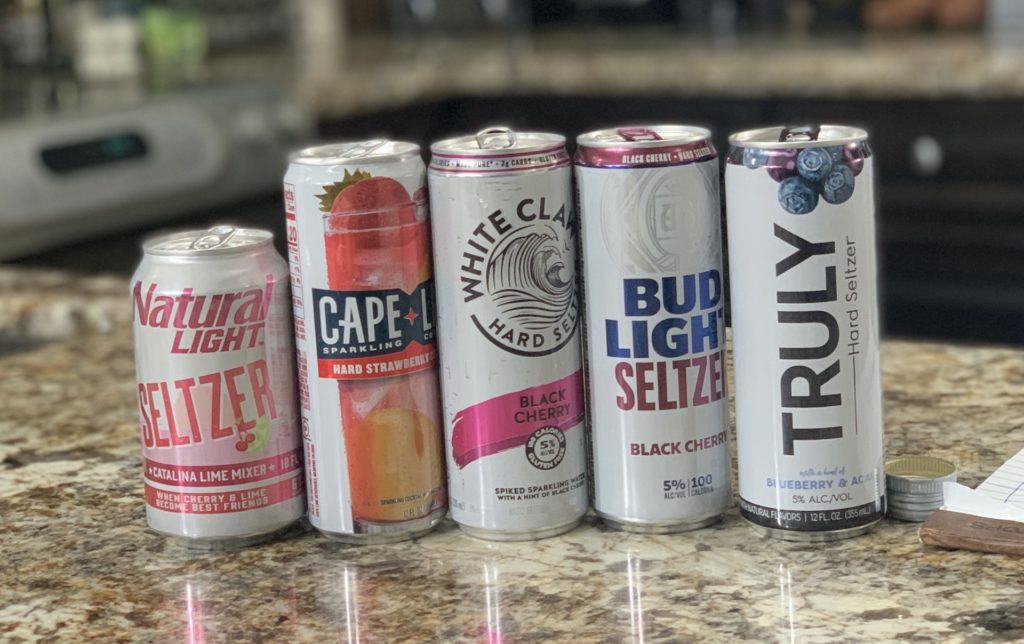 With that said… we compared them all across six categories. Alcohol content, sugars, calories, carbs, best & freshest tasting and then the overall best hard seltzer. I will tell you, I wasn't expecting the winner to be who it was and definitely will be only buying one brand going forward.
What Hard Seltzer Has the Most Alcohol Content?
No surprise here, Natty Light Seltzer comes on strong with 6% alcohol content! White Claw, Bud Light Seltzer and Truly come in at 5%. If you don't care about the taste, calories, sugars and healthy side as much… if you just want to get drunk then Natty Light Seltzer is for you, and it's cheaper!
What Hard Seltzer Has The Least Sugars?
Bud Light Seltzer & Truly lead the way with only 1g of sugars! White Claw has 2gs and then the others go double or triple the top three mainstays!
What Hard Seltzer Has the least calories?
White Claw, Truly and Bud Light Seltzer all tie with 100 calories.
What Hard Seltzer Has the Least Carbs?
Bud Light Seltzer, Truly and White Claw each have 2gs of carbs.
What Hard Seltzer Tastes The Best & Most Fresh
Hand down Truly tastes the best. It truly has a much more fresh and natural flavor taste then the other main hard seltzers. You taste that fruit more than the soda watery or malty taste. I was surprised and loved how much you could taste the flavors of Truly and it has 1/2 the sugar of White Claw!
What Is The Best Hard Seltzer?
Truly is the best hard seltzer! I was shocked! It ties Bud Light and White Claw with Alc %, calories, carbs but has less sugars than White Claw! Then overall, hands down it tasted the best no question.
You really could taste what seemed like natural flavors over all the others. 2nd best was slightly Bud Light as it maybe has a bit better flavor and 1/2 the sugar of White Claw. White Claw was third and the other two a distant 4/5th. However, Natty Light is cheaper and more Alc % so go that route if trying to save money and get drunk faster!
So What Is the Best Hard Seltzer?
Truly is the best hard seltzer and definitely always buy it! If you go with White Claw or Bud Light, there isn't a huge difference so just go with whatever is on sale or has the best variety pack!
As mentioned, if you want to go hard in the paint then go Natty Light with its 6% alcohol and cheaper price. To be honest Natty Light isn't even that bad so if you don't try the others at the same time… you aren't missing out. However, Truly is King/Queen!