This is hands down the easiest best recipe on this site. The recipe isn't so much as important as just the idea itself. Everyone loved frozen drinks… everyone loves White Claw… well now everyone is happy.
This recipe goes absolutely amazingly with the best shot on earth, which also involved White Claw here! I have spent a lot of time working with White Claw to perfect the perfect drinks and the shot and froze are definitely my favorite.
The key for these drinks is always using frozen fruit for the recipes vs. lots of ice and fruit juice. You get a much better and smoother texture, which is what separates the good frozen cocktails from the great!
If you have to use fruit juice and ice don't fret, however the best version of this always uses frozen berries. The best part about the recipe is how simple it is, you just dump some frozen berries in and hard seltzer and you are done. If I had one piece of advice in life it is to get a good blender.

You will want to use it way more whether it is for this, smoothies, acai bowls or anything. The Ninja blender I use is unreal and is really easy to clean. A good blender makes doing blended recipes even that much easier when you just press a button and 5-10 seconds later it's done!
You can use any hard seltzer for this recipe whether it be Truly, Bud Light or Natty Light hard seltzers! This truly is such a great hard seltzer cocktail especially for those who love frozen drinks. What's nice too is that it is not too sugary and is a great mix of fruit and alcohol.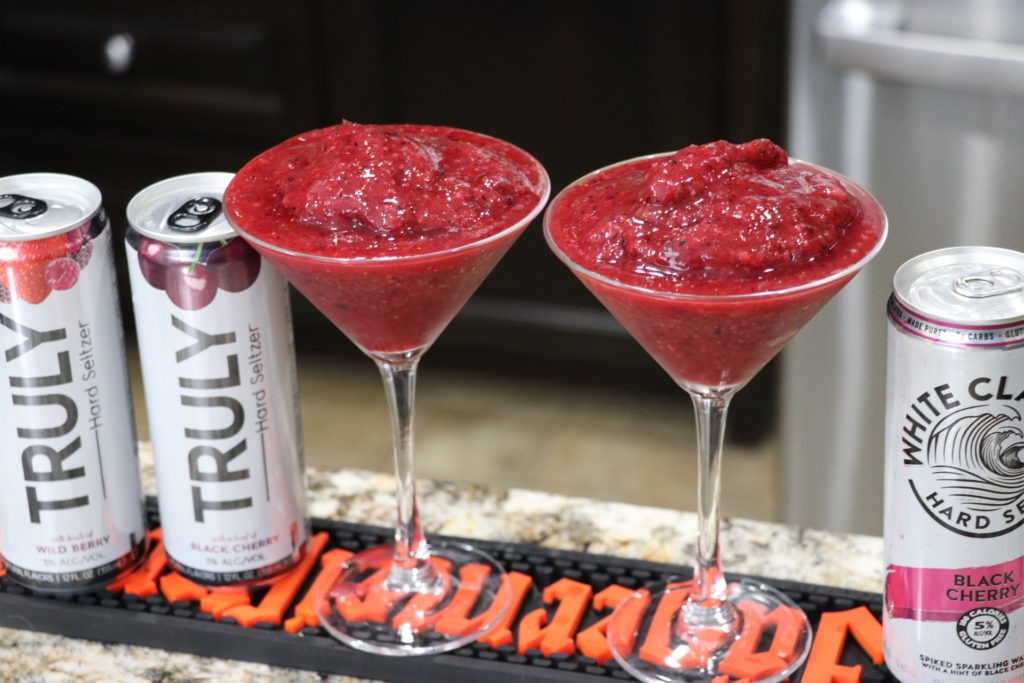 This recipe is so versatile as well because you can choose whatever fruit taste you like, you can sugar or salt the rim, you can even add in an extra shot of alcohol like rum, vodka or even amaretto! To be honest, you can do a nice little layer of amaretto on top when it is all finished.
Get as fancy as you would like with what you add in there as well as how you garnish it. You can make it a margarita fusion simply enough with just adding tequila and going more lime centric. With that said you can also do the same and make it a daiquiri fusion with some rum! of Make this your own and to your favorite tastes!
What is the best hard seltzer for froze?
I did an entire hard seltzer taste taste if you want to see here. Some key points to it is if you want to find the best overall, it is Truly. It has the most natural taste and also the least sugars and calories.

Next was Bud Light Hard seltzer as it was also the same calories and sugars as Truly, except without as good of a natural fruit flavor. White Claw was third on the list surprisingly! For skinny hard seltzer cocktails you will want to use Truly or Bud Light hard seltzers.
If you want the most alcohol content then go with Natty Light hard seltzer, it also doesn't taste that bad but is also the least "healthy." All of that said, between Truly, Bud Light & White Claw are pretty interchangeable when making cocktails so just get what is the best deal at the store!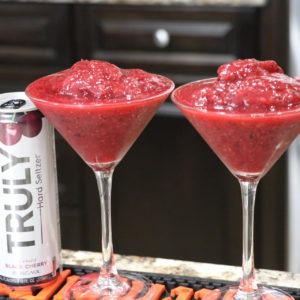 Best Frozen White Claw Hard Seltzer Recipe
This is hands down the easiest best recipe on this site. Everyone loves a White Claw slushie recipe! The recipe isn't so much as important as just the idea itself. Everyone loved frozen drinks... everyone loves White Claw... well now everyone is happy.
Print
Pin
Rate
Ingredients
1

can

White Claw

or any hard seltzer

1

cup

frozen mixed berries

or frozen fruit of your choice

1/2

cup

Ice

Fruit garnish
Optional
1-2

oz

Amaretto, flavored vodka or flavored rum.

Non-flavored okay too
Instructions
Pour frozen mixed berries, ice and White Claw into a blender... blend... serve.
Print Recipe