Wire Pass Slot Canyon Guide | Better Than Antelope Canyon
If you are near page you have to see Wire Pass Slot Canyon with Buckskin Gulch. What is Wire Pass Slot Canyon? Wire Pass Slot Canyon is an incredible slot canyon with some of the most amazing views you will ever see!
Wire Pass with Buckskin Gulch are even better slot canyon than Antelope Canyon. This is saying a lot considering Antelope Canyon is the most pictured place in the United States!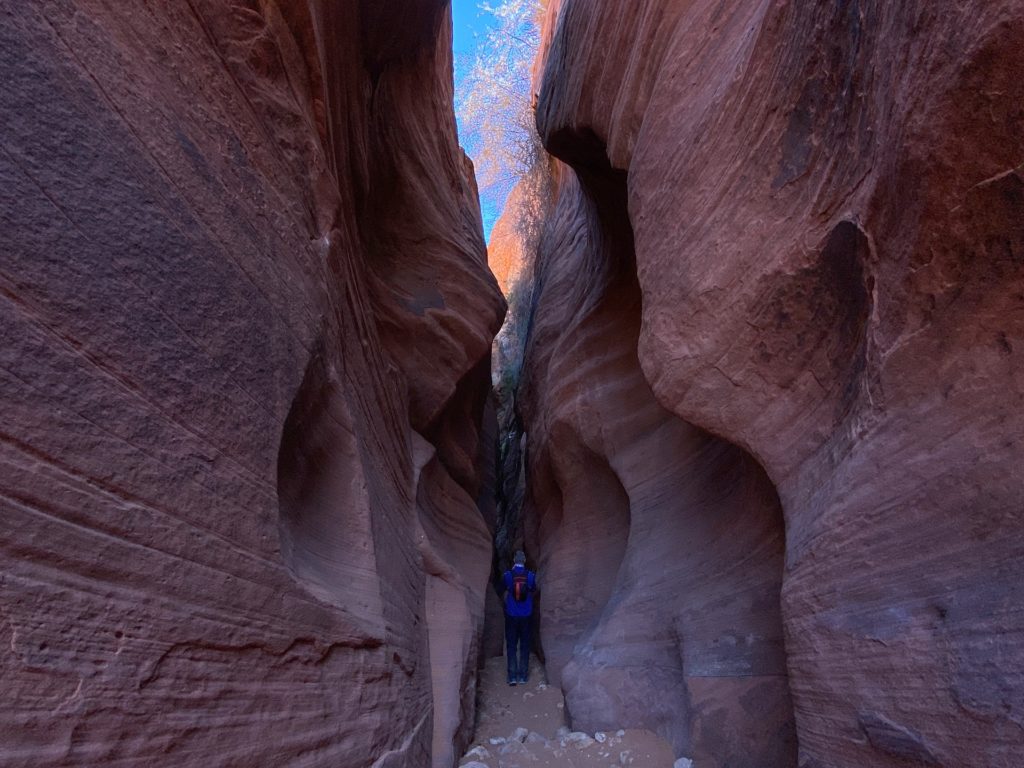 Why is Wire Pass Slot canyon the best slot canyon in the area? You will see below as it is a trail you cannot miss in the area! The views, the ease of access, the freedom and everything about the trail is incredible.
Located 30 minutes from Page, AZ you will find both Wire Pass Slot Canyon and Buckskin Gulch. This is a great hike for those in page and can be added to Horseshoe Bend for one incredible day!
Having done Antelope Canyon I can say I enjoyed Wire Pass more than Antelope Canyon by far! I will elaborate more below but the lack of crowds, being on your own time and the cost make Wire Pass Canyon a better time!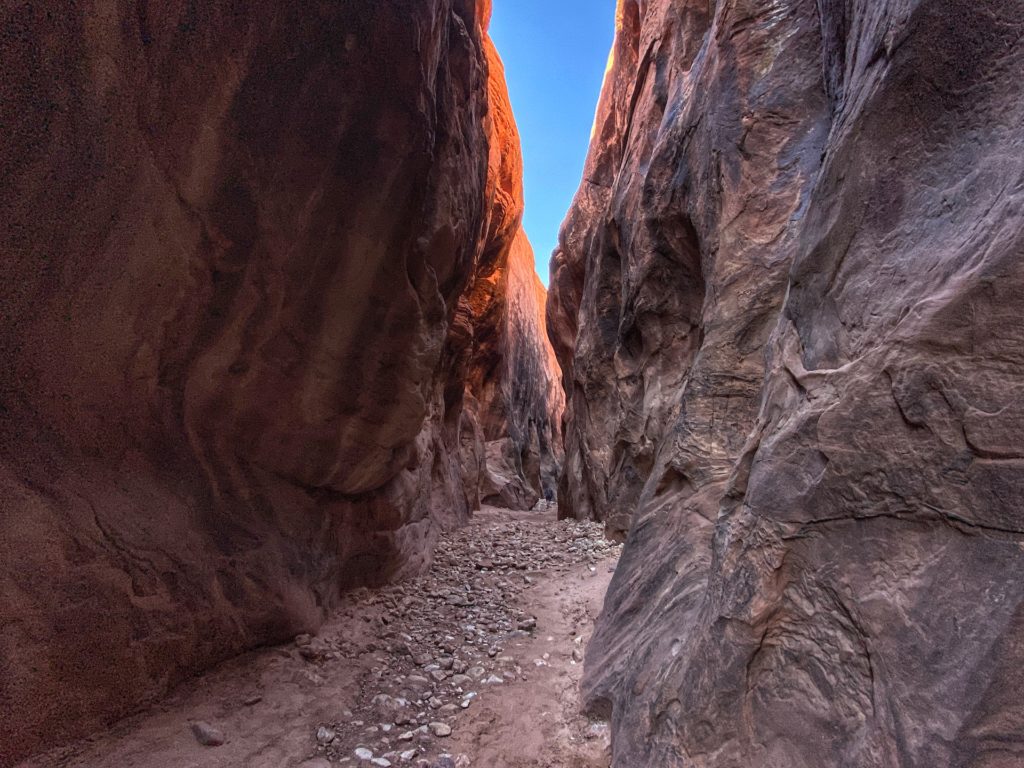 Wire Pass isn't a difficult hike at just 1.8 miles to the end and then 1.8 miles back. You also can see petroglyphs and hike down Buckskin Gulch for more amazing views on your hike!
Buckskin Gulch is 20 miles of a beautiful slot canyon that is definitely worth walking down for as long as you feel like. There are separate entrances to Buckskin Gulch as well if you wish to do that entire hike. Buckskin Gulch is actually the longest Slot Canyon In The World.
Where Are The Petroglyphs At Wire Pass Canyon
The Petroglyphs are hard to find if you aren't exactly sure which way is south, especially since you can't see the sun more than likely.
The easiest way to tell you is that the are located at the end of Wire Pass Canyon, past the giant cave opening on the right side as you are coming out of the end of Wire Pass.
They are right at the confluence (where Wire Pass meets Buckskin Gulch). There is a little sign right in front of them as well, which should help you find exactly where they are.
Do You Need a 4×4 For Wire Pass Slot Canyon?
No, all vehicles can get along this road. Cars can access Wire Pass Slot Canyon although the road itself is pretty bumpy. Depending on your vehicle you just may want to go slower than if you had 4×4 or vehicle that is good for the type of path.
Is Wire Pass Better Than Antelope Canyon?
Yes, wire Pass Slot Canyon trail is better than Antelope Canyon. It is better because Antelope Canyon has turned into a hurry up and wait.
You are in the canyon with hundreds of other people at the same time all in your groups where you have to stop and start as the group ahead of you does the same. You don't have much time to enjoy in Antelope Canyon as it truly is just hustling cattle through with tour group after tour group.
Wire Pass is also significantly cheaper than Antelope Canyon as you don't have to pay for a guide or tour to be able to access Wire Pass.
How Do you Get to Wire Pass Canyon Trailhead?
Wire pass Canyon is located in Utah and just 30 minutes outside of Page, AZ. This is a great place to visit if you are in Page.
The road from Highway 89 is very easy to miss but all GPS will take you to the trailhead. Slow down on Highway 89 as you get closer to House Rock Valley Road because it sneaks up on you and doesn't have any special signage.
Once on House Rock Valley Road you just follow it all the way down for 8-9 miles, which will take about 30 minutes due to how bumpy the road is. Once a the trailhead you will see the parking lot, which is where people also hike The Wave.
How Long Is Wire Pass Slot Canyon Trail?
Wire Pass trail is 3.7 miles round-trip from the parking lot to the end and back. Of course you can continue down Buckskin Gulch Canyon, which goes on for 12 miles to the right and 4 miles to the left.
How Far Should You Go Down Buckskin Gulch?
It really is a lot of the same down Buckskin Gulch but every corner has its slight differences. It is just up to you but at least go .5-1 mile down each way if you want to adventure some.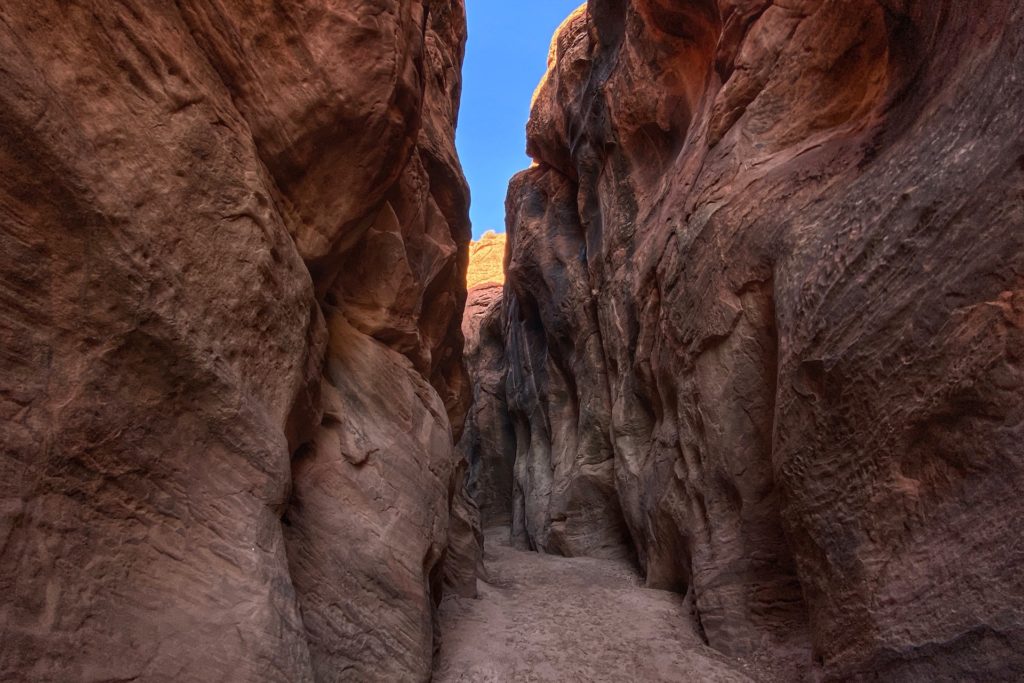 Are Dogs Allowed In Wire Pass Slot Canyon?
Yes, dogs are allowed but you must pay an entrance fee for your pet as well when you begin from the parking lot. Be careful bringing your dog in the summer as it can be very hot and the sand can be scorching as well.
Do You Need A Permit for Wire Pass Slot Canyon?
No, you do not need a permit for Wire Pass Slot Canyon but you do need to pay an entrance fee when you arrive.
The cost is $6 per person and it only accepts cash. You also must write in the guest book sheet for when you started and ended, it is a nice safety precaution especially since the area is a high flood risk.
Is There Water Or Bathrooms at Wire Pass Trailhead?
There is no water but there are bathrooms in the parking lot.
Are There Rattlesnakes In The Area?
There have been sightings of rattlesnakes in the area but know that the constant amount of visitors often makes sure all snakes keep their distance as they don't like to be in high traffic areas with people going by non-stop.
Wire Pass Slot Canyon Trail with Buckskin Gulch
Length:
3.7 Miles Round Trip | Out & Back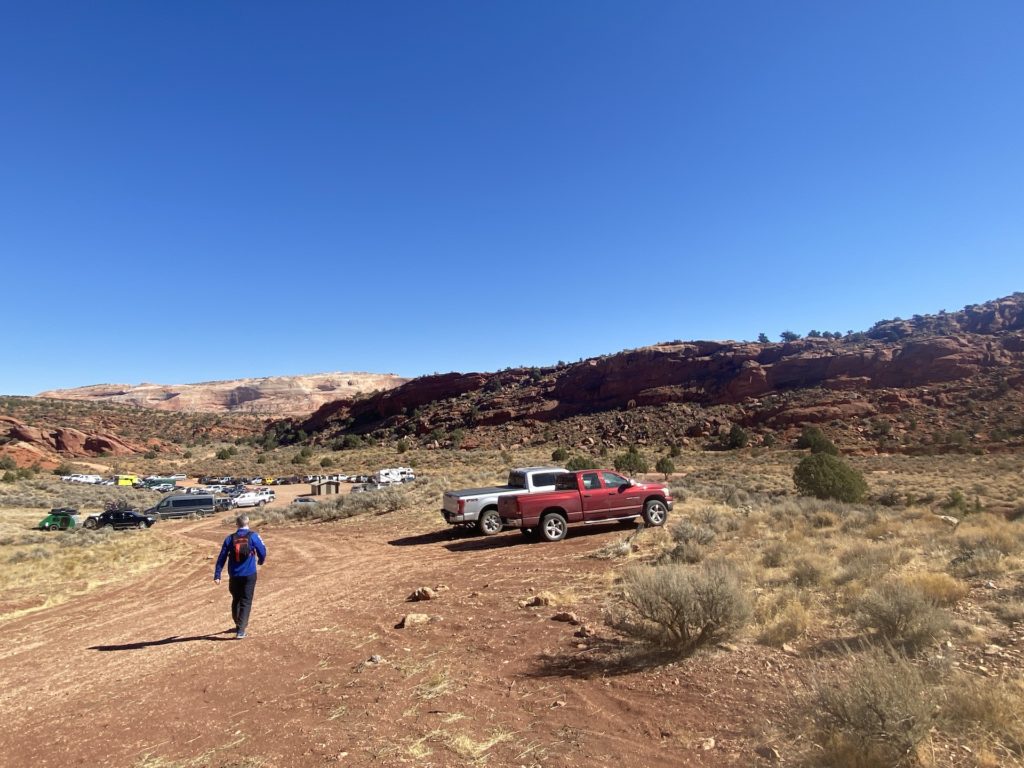 The trailhead starts from the parking lot where there are bathrooms and where you register and pay the entrance fee.
You will start in the parking lot and walk down a creek bed for the first mile of your hike. There isn't a whole much to see as you walk along the steam bed and they ask you stay in the stream bed vs. damage the vegetation short cutting through certain areas.
As you start to get closer the views pick-up dramatically. With some of the area picking up views similar to The Wave, which is in the area.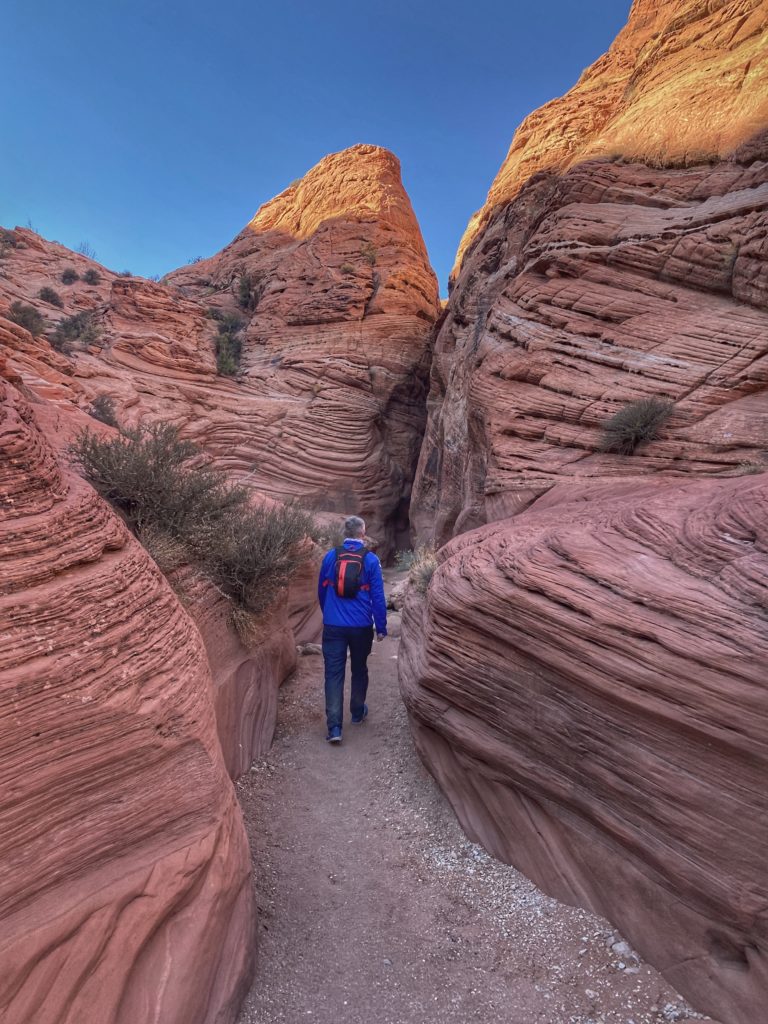 Soon the walls will get higher and you will be immersed in a smaller version of the slot canyon preparing you for the larger version just a little more down the way.
Once you enter the small entrance the entire canyon opens up into some of the most picturesque rock and incredible little slot canyon you will ever see.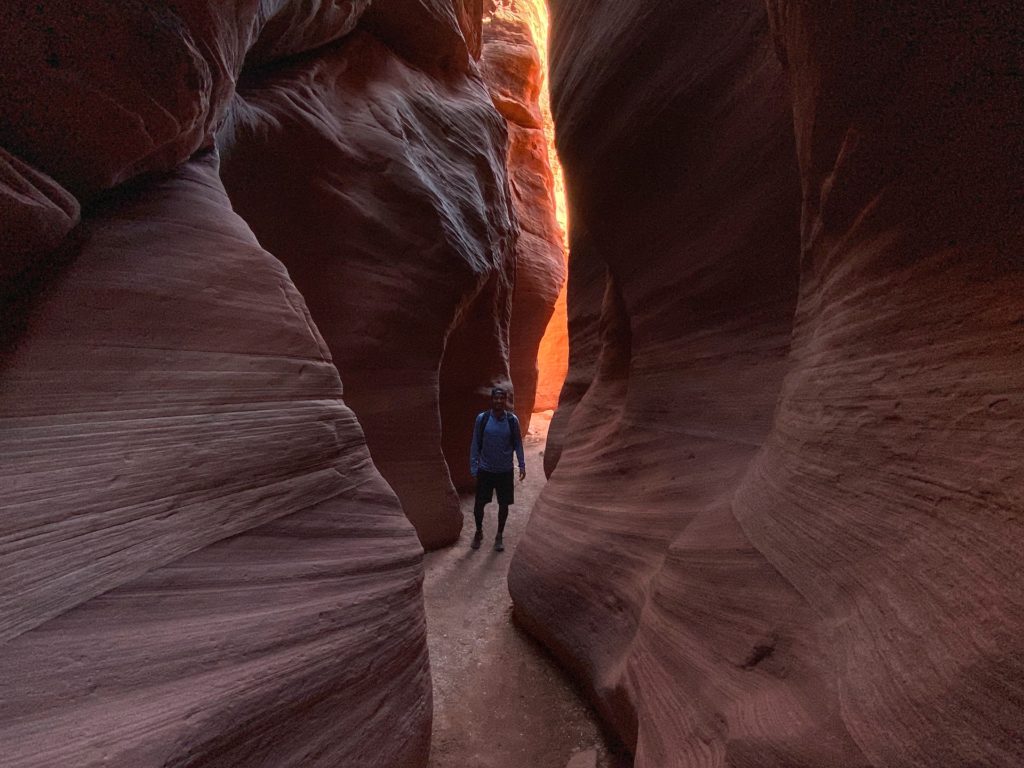 About a third of the way in there is a little ladder to get you down the next level for what is a total of 7 miles of incredible beauty.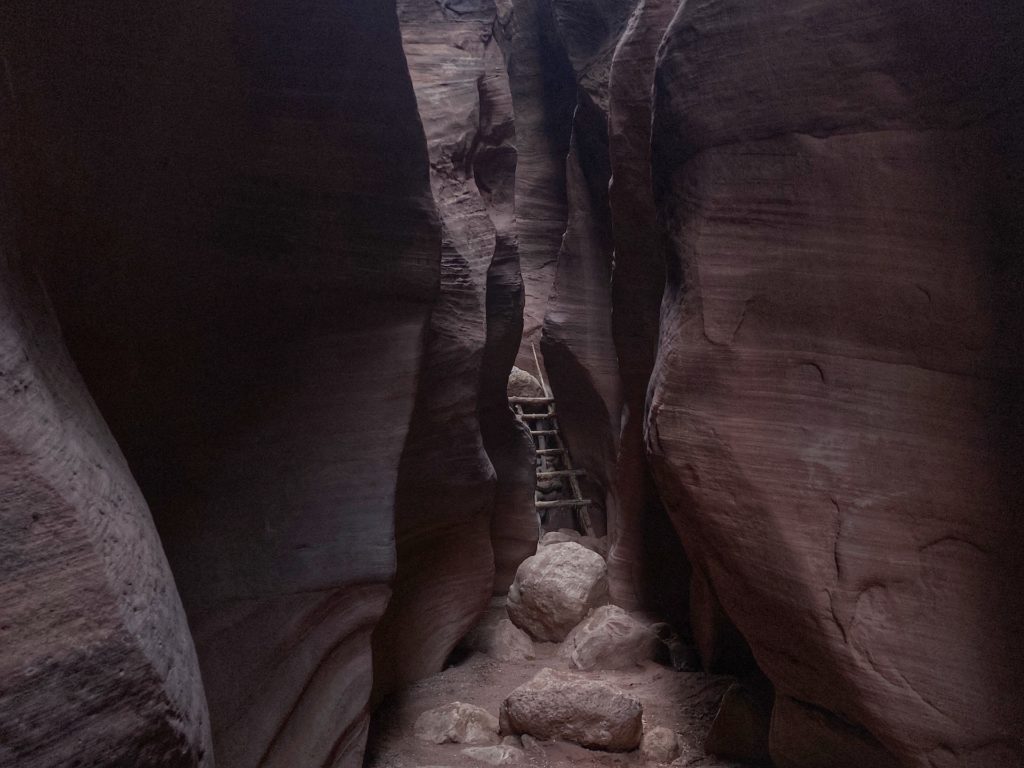 Be sure to keep looking up as there are so many incredible views of the light creeping in making some unique shapes and stunning pictures.
Keep an eye out for the Phoenix shaped opening, which is just one of the amazing sites and shapes throughout wire pass.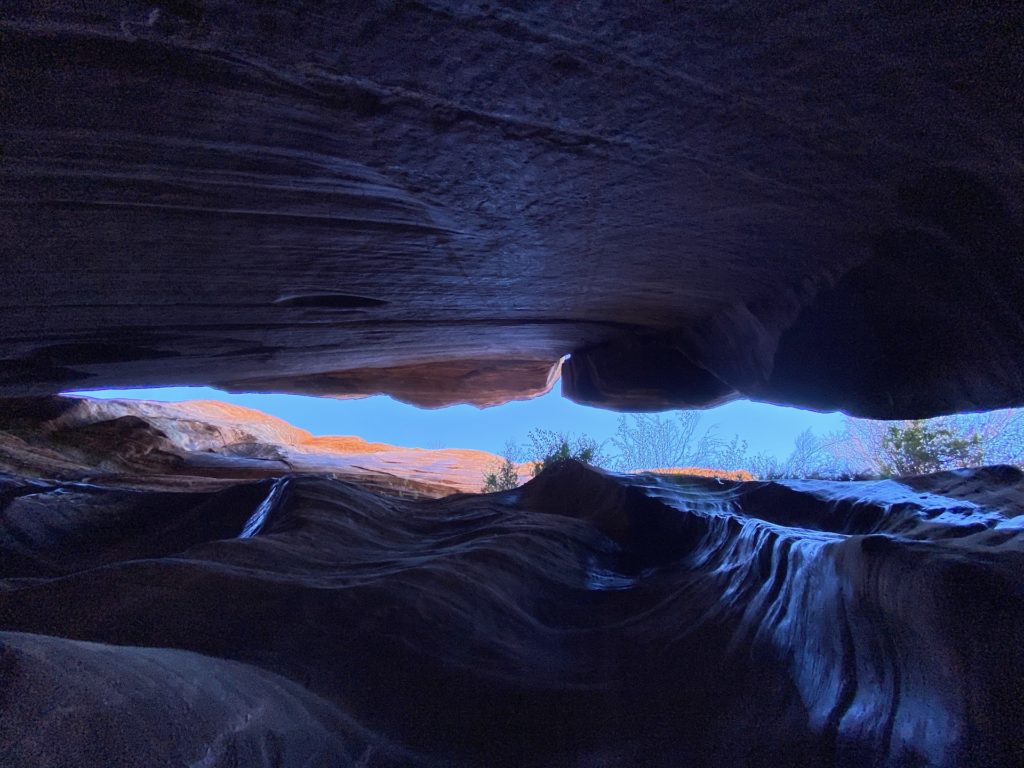 Take your time and soak it all in as there are so many different twist, turns and unique views throughout the .7 miles of wire passes main slot canyon.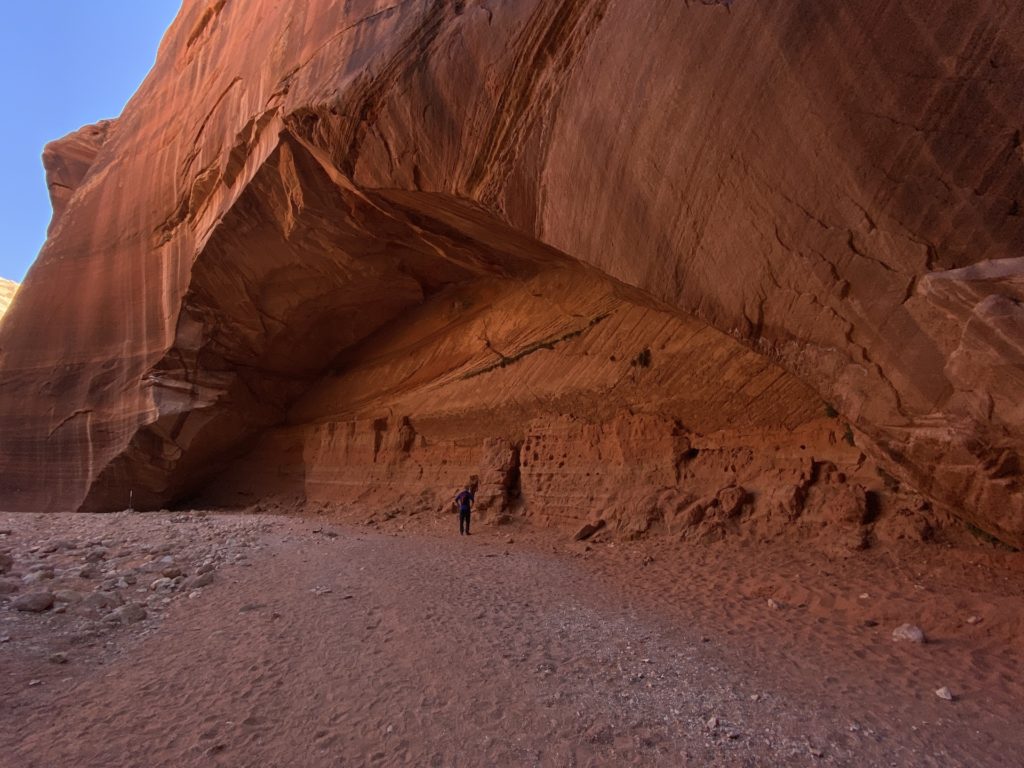 You reach the end when you meet the large cave type opening which is stunning in its own right.
If you are looking for the petroglyphs the will be at the end of the wall on the right just passed the cave opening and around the corner. There is a little sign there as well, which you can't miss.
At this point you have come to the Confluence where Buckskin Gulch meet Wire Pass Slot Canyon. You definitely should venture down either way of Buckskin Gulch at least a mile as there are some incredible views down there as well.
The Gulch goes 4 miles if you go left, and 16 miles if you go right. The right side has some of the more interesting views but there isn't anything drastic you will miss out on if you just go half a mile, a mile or miles into the Gulch.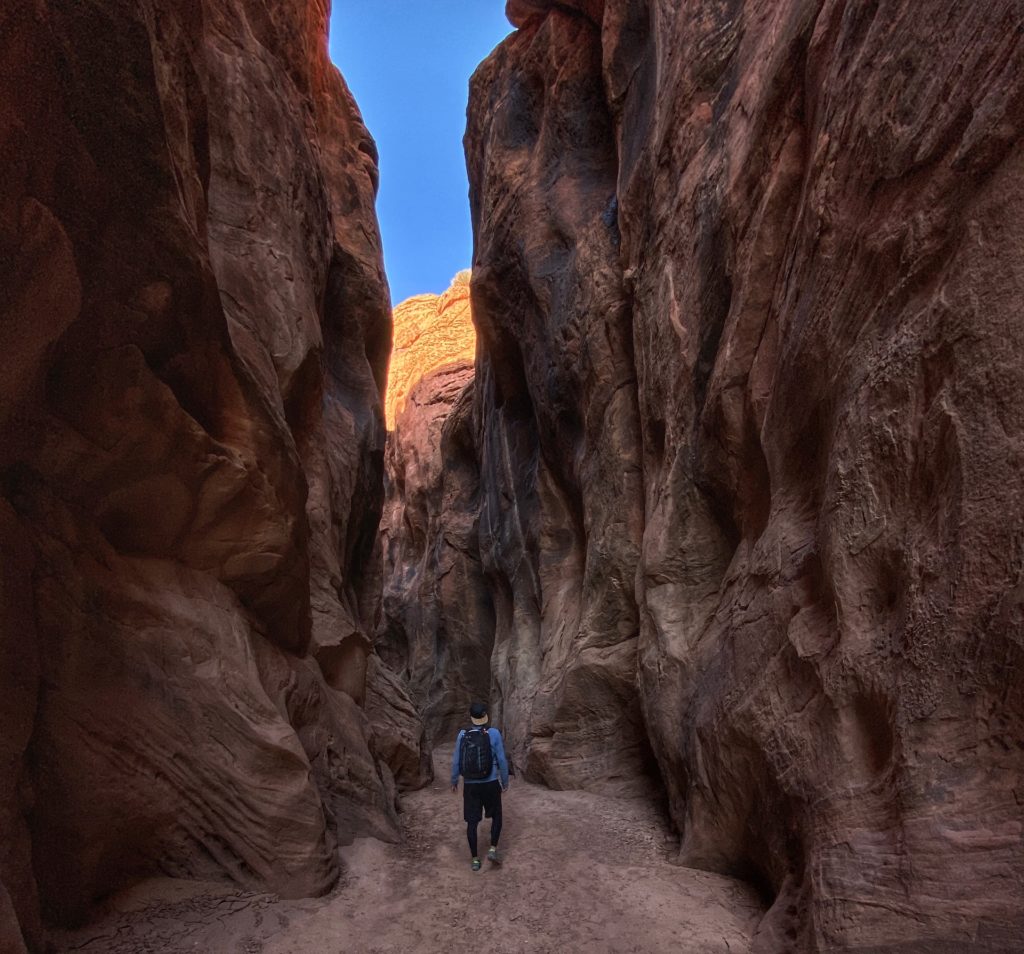 It is worth going down into Buckskin Gulch though as you can see from some of the amazing pictures. It has similar stunning views like Wire Pass Slot Canyon.
Pros
Better than Antelope Canyon
Easy trail
Only costs a $6 per person entrance fee
Is dog friendly, also cost an entrance fee.
You can go as long or as short as you want down Buckskin Gulch.
Cons
Is cash only for the entrance fee
Tips
Keep an eye on the GPS when you get close to the turnoff on 89 as it is very unassuming.
Pack a lunch and venture down Buckskin Gulch as long as you can last.
Bring cash for the entrance fee.
Pack extra water as there is not any water access at the trailhead.
---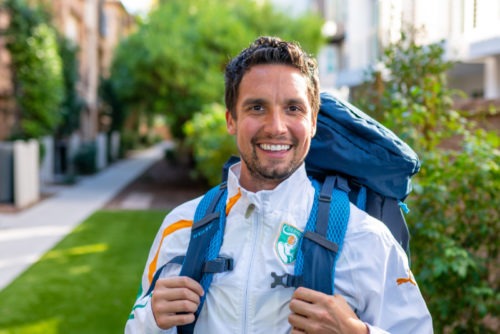 Hey I'm Fraser. My site is dedicated to the 22nd century person with a lust for travel and adventure, need for time efficient recipe ideas as well as anyone in need of self-help or a pick-me up! Thanks for visiting Inspire Travel Eat!
This error message is only visible to WordPress admins
There has been a problem with your Instagram Feed.