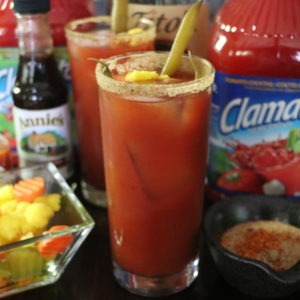 Print Recipe
Best Ever Bloody Mary Recipe With A Twist
Tasty simple bloody mary recipe with a clamato twist
3-4

cubes

ice.

Don't use crushed ice.

2

ounces

vodka.

Celery salt or Tajin Clasico seasoning for the rim.

I do a mixture of both.

Worcestershire sauce to taste.

I like it muddy and do 4-5 shakes.

Tabasco sauce to taste.

I like it spicy and do 3-4 shakes.

Pickled Spicy beans

or pepperoncini or pickled spicy vegetables or pickles

The Game Changer… Clamato juice…

don't even think about the -clam- part as all it does is add some amazing salt taste and thins out the tomato juice, which is a necessity.
Optional
Squeeze of lime juice

A1 or steak sauce
Re-evaluate your life and get ready to change.

Rimming. I already have my celery salt & Tajin mix in a wide Tupperware container to stay ready or if you don't drink that often then you can just pour some onto a small plate.

Put a little water on the edge of the pint glass and let the water flow around the top edges of the glass. Dip the wet (not dripping) edges of the glass into the salt and get a nice thick rim around the edge.

Add in the ice cubes and add in the vodka

Fill the glass with clamato juice about 1-2 inches from the top.

Shake in Worcestershire and tabasco depending how spicy you like it. I think 4-5 shakes of worcestershire and 3-4 shakes tabasco is a good start then progress from there.

Add 1 tsp. of steak sauce & squeeze of lime

Stir then add your garnish

Never look back.