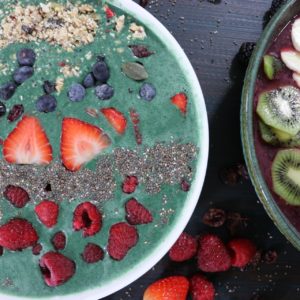 Print Recipe
Quick Healthy Spirulina Smoothie Bowl Recipe
Have you ever seen a spirulina bowl on Pinterest and been like… wtf is that?!?! Well really it can be done in about 5 minutes at most and boom, you just made the prettiest as well as apparently most nutritional breakfast bowl of your life.
Optional
1

tbsp

frozen blueberries into mix if using blue spirulina

1/4

cup

greek yogurt into mixture

1

tbsp

vegan or vanilla protein powder

Shredded coconut

Sliced almonds.
VERY IMPORTANT. Get everything prepped before you blend your smoothie so that it doesn't start melting as you do everything else

Cut banana, wash and prep all topping so they are ready to go before smoothie step

Blend together bananas, spirulina and milk. Add in greek yogurt if you choose to add.

Take a picture and make everyone think you're better than you are.

Next time dress it up… serve it in a carved out pineapple or melon!