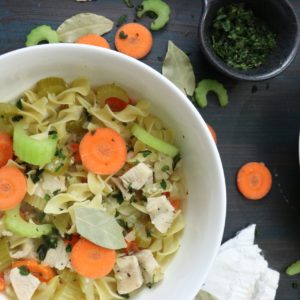 Print Recipe
Easy Homemade Chicken Noodle Soup Recipe
There are two things in life that are certain, everyone gets sick and everyone likes chicken noodle soup.
2

tbsp

olive oil

4

cups

egg noodles

standard bag or box

1

lb

diced chicken thighs

breast works as well but dark meat is normally better for this

2

large carrots chopped

2

celery stalks chopped

1/2

white or yellow onion chopped

1

tbsp

Italian seasoning

or 1/2 tsp dried basil & 1/2 tsried oreganop d

3

minced garlic cloves

or 2 tsp pre-minced garlic

salt & pepper to taste
Optional
2

bay leaves

2

tbsp

fresh parsley chopped
Game changer for chicken, brining your chicken in salt water for 15-30 minutes is huge and can increase juiciness and satisfaction by 20%+.

Pour in chicken stock and seasonings with salt and pepper ready to taste bringing to a medium boil.

NOTE! Now is the time to make sure the broth tastes good before adding in raw chicken ;).

Submerge chicken into soup so that broth fully covers them bringing to a low simmer. Cover and stir for 20-25 minutes until chicken is cooked.

Cook noodles per instructions in a separate pot.