Hello,
I'm Fraser Laveay and thank you for reading this blog.
In short I have always been the guide, cook, entertainer, therapist and host for everyone who knows me. This site was created as my entire life has led me to this moment and idea to provide help, guide people and make people's lives happier and easier.
I founded a 5013c Non-Profit the Change Your Stars Foundation in 2016.
The Change Your Stars Foundation is a recognized 5013c Non-Profit that provides impoverished children with role models, unforgettable experiences, inspiration and smiles to last a lifetime. Find out more at http://www.cysfoundation.org. I managed a daycare for a year where 95% of the children were lower income and from broken homes and have my teaching certification with a goal to help mold the world's future.
Personally I have never met my biological father; grew up hating my skin-color; was lower income at one point living in a trailer park; was kicked out of class and school often; failed multiple high school classes, was even arrested at age 7 and often didn't feel good enough throughout my life from school to sports and beyond my entire life. From there I was lucky enough to be receive my Master's graduating with honors, purchased a half-million dollar dream home and saw "success" no one thought I would see.
From there I have left two 6-figure jobs because I thought my life was more than just making money and being financially secure… I truly think I can make a difference and have made that my life goal. I currently am a struggling "entrepreneur" with a charity, socially responsible meal prep company feeding impoverished kids, part of Phoenix Suns charities and built this site to help people enjoy their lives.
My goal is to help people travel, give tips to make travel financially possible and give you the hidden places to visit, amazing experiences and ideally the best trip you ever had.
I believe there are four reason's people travel; culture, which includes history, food, religion and way of life; adventure; partying; and to see things they have never seen before like the craziness of Asia, chaos of India, geothermal activity in New Zealand or swimming with sea turtles in Costa Rica. I want you to check off all of these reasons anywhere you go making it the best experience of your life.
I have lived in 12 cities, 6 countries and have traveled to 30+ countries. Not only do I have a lust to experience all cultures but I love being everyone's travel agent. Prior to this site I have helped hundreds of people plan their trips just out of pure excitement and wanting to make sure people have an amazing time. Every time I travel with friends they just give me their credit card and I do the rest.
In this day and age nobody has time to cook anymore and my goal is to give you ideas and recipes to create taste bud tantalizations quickly and efficiently.
I was raised hands-on in a cooking household, own a meal-prep company and worked in the restaurant industry for 5+ years. My entire life I cooked for my roommates, friends and was the place to go for friend Sunday dinners and parties. I love to host people and making people happy through food and drink is one of my favorite things to do.
Professionally I have my Journalism degree; I received my Master's in event & sports marketing; I worked in events for 10+ years; was marketing head of the blogger/influencer division of USA TODAY. I founded my own non-profit, benefitting lower-income children and am part of Phoenix Suns charities.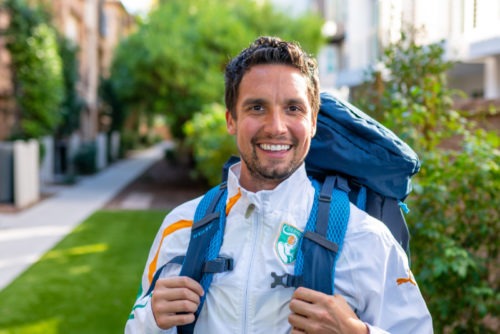 Hola! I'm Fraser & this site is a guide to help you reach your goals, travel the world and create amazing food in between. Get inspiration for travel, recipes & to follow your dreams.