Back in January, if you told me I would be hiking in the jungles of Peru in May, I would have probably laughed. The idea for the trip started with a conversation between my brother and his wife in February, as she would be in Peru for a work trip during May. This isn't the first time they have graciously invited me to join them on a trip, and I'm starting to feel my contributions as a third wheel may not be all so bad.
The trip was four days, and the overall plan was simple – Day 1: Arrive and settle in, Day 2: Machu Picchu, Day 3: Laguna Humantay, and Day 4: Explore the city of Cusco. The main focus of this article will be on the second and third days, as they were the most action-packed. The four day adventure could be perfectly described as short and sweet. So with no real expectations other than this rough idea of a plan, my brother and I packed our bags and flew out to meet his wife down in Cusco, Peru.
How we got there you ask… Well the tour agency picked us up in a van at 3:00 am on the second day to take us to Machu Picchu… because who needs sleep, right? From the hotel, we took a 2.5 hour ride through twisty mountain roads to a train station. We then took a beautiful 2.5 hour train ride through the Peruvian mountains and jungles to Aguas Calientes, the city nearest Machu Picchu. From Aguas Calientes, we boarded a bus which took us up to Machu Picchu. We had finally made it, and it was nothing short of spectacular.

We want to feature you!
If you have any pictures of this or other hikes tag us on Instagram @InspireTravelEat or hashtag #inspiretraveleat and we will feature you!
You can also follow us on Pinterest @InspireTravelEat
Witnessing this ancient city on top of this mountain range in the middle of Peru's high jungle was truly humbling. To me it stands as a testament to the innovation of the human spirit. This could clearly be seen through the subtle detail in the city's design and architecture as well as realizing the resources necessary to build it in such a place at that time. The houses and temples within the city and the walls surrounding it consisted of small and large granite stones that were precisely cut to fit perfectly together. I found myself continually asking, "How did they do this?" as the Inca did not have knowledge of the wheel until the Spanish arrived.
There were enough houses (140) on Machu Picchu to accommodate a population of 1,000 people. They divided areas within the city for agricultural purposes, with the land terraced to accommodate for different crops and a natural irrigation system. The sun temple was one of the more fascinating structures as its windows were cut out to perfectly align with the summer and winter solstices. The Inca even went so far as to cut rock in a nearby mountain into the shape of a "V" which the sun lined up with perfectly during the summer solstice shining through the "V" directly into the summer solstice window of the temple.
Underlying all of this architectural beauty were its currents of the Inca's cultural values. I learned that the Inca were a people who respected "Pacha Mama" (Mother Earth), as they took only that which they needed from her. I think in today's discussion on the treatment of the earth's resources, we can certainly take the philosophies on nature from the Inca people and apply them to our own lives as best we can.

The second part of the Machu Picchu experience was the hike up Huayna Picchu Mountain. Following the original trail built and laid out by the Inca was a surreal experience in itself. It consisted of 2,700 stone steps, and was difficult especially at that altitude (if you live in Phoenix, think of a double Piestewa). It took me about an hour of straight stepping, and I now fully understand why the trail is also called the Stairs of Death. I don't know if it was the altitude, or the fact that it just felt like I had done an hour on "hard" of the Stairmaster. However, when I got to the top the view was so incredible it was almost disorienting, as I had never taken a view like that in. It felt similar to a sensory overload, and with the realization of where I was (I'm hiking in the damn jungles of Peru!) I almost started to cry. I sat up there for almost an hour, just soaking it all in and feeling a connection with nature unlike anything I had experienced before. It was a beautiful moment that I will always remember and be grateful for.
On the third day, the tour agency picked us up at 4:30 am and we took a 3.5 hour drive through mountain country to Laguna Humantay. We were dropped off with our guide at the base of the mountain range about 2.5 miles away from the laguna. The laguna sits at 14,000ft so the entire trek was uphill at a steep grade…. and at that altitude, you really start to feel it. After about two hours of hiking (lots of breaks included) we made it to the lake. The view of the laguna was absolutely incredible as it sat nestled in front of the snow-capped mountain of Humantay, which sits at an elevation of 18,000 ft. The water of the lake was perfectly still, crystal clear, and had incredible shades ranging from deep blue to light green making it seem like something out of a painting. Apachetas (man-made stacked rocks) surrounded the lake as is local tradition for people to create an apacheta and then take a rock with them for when they return again.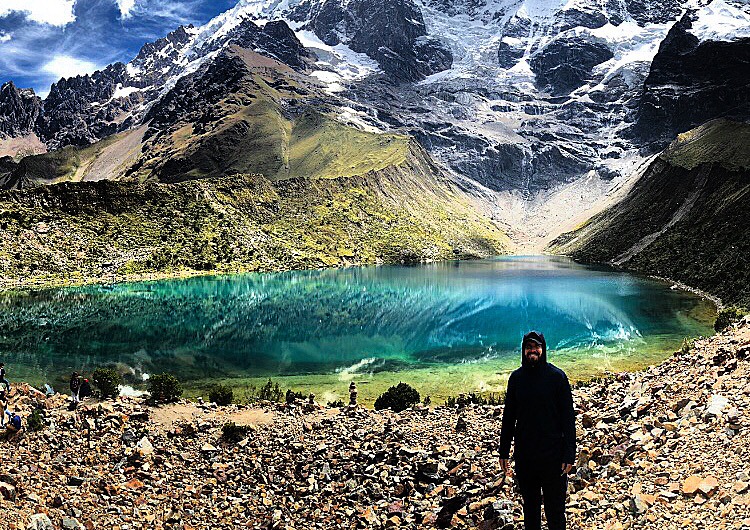 Our guide then shared the traditional Inca practices of the coca leaf with me, as I was interested in participating. The K'intu offering is a grouping of three coca leaves with leaves facing up and the stems facing down. Each leaf represents an aspect of life: work, love, and wisdom. Each leaf also represents the spiritual world, our world, and the underworld. Finally, each leaf represents an animal: the candor, the puma, and the snake. I made my offering to Mother Nature by moving my hand in a circular, spiraling motion towards the sky while expressing my gratitude for everything nature gives us. I placed the K'intu under a rock, and then put some coca leaves in my mouth to chew on as is the custom. After that, I continued to listen to our guide share the social and cultural norms surrounding the coca leaf. It was in this moment, as with the day before, that I felt a connection to and a gratefulness for the earth that I had never experienced before. To have this experience two days in a row was simply incredible.

I didn't come to Peru with any expectations, and certainly didn't consider the depth of experiences these two places had to offer, or how they would positively impact my perspective on life. But I was completely open to understanding and experiencing whatever the adventure would offer me, and it certainly did not disappoint. I hope this adventure inspires you to be open to whatever life has to offer, and that you might find something beautiful in your experience that you maybe weren't expecting.
Travel Info
Hotel: Andenes de Saphy – $200 total
Tour Agency: Action Peru Treks – Machu Picchu – $400, Laguna Humantay – $150.
Airline: Avianca – $950 roundtrip from Phoenix, AZ.
If you liked this article or have any tips or questions of your own please let us know below in the comments section :).