Sayulita offers so much and is my favorite city in Mexico! It truly encompasses it's small quaint surf town feel but also adds the adventures and excitement you want in a vacation.
Sayulita is a vibrant coastal town nestled on the Riviera Nayarit in Mexico. Boasting golden sandy beaches, lush jungles, and a laid-back atmosphere, Sayulita offers a myriad of exciting experiences for every traveler.

Whether you're seeking adrenaline-pumping adventures, cultural immersions, or simply a serene getaway, Sayulita has it all.
In this guide, I will unveil the best things to do in Sayulita, from exploring pristine beaches to indulging in delectable cuisine, cute coffee shops, going on adventures and immersing yourself in the local arts and culture.
Get ready to embark on an unforgettable journey filled with sun-soaked days, enriching encounters, and lifelong memories.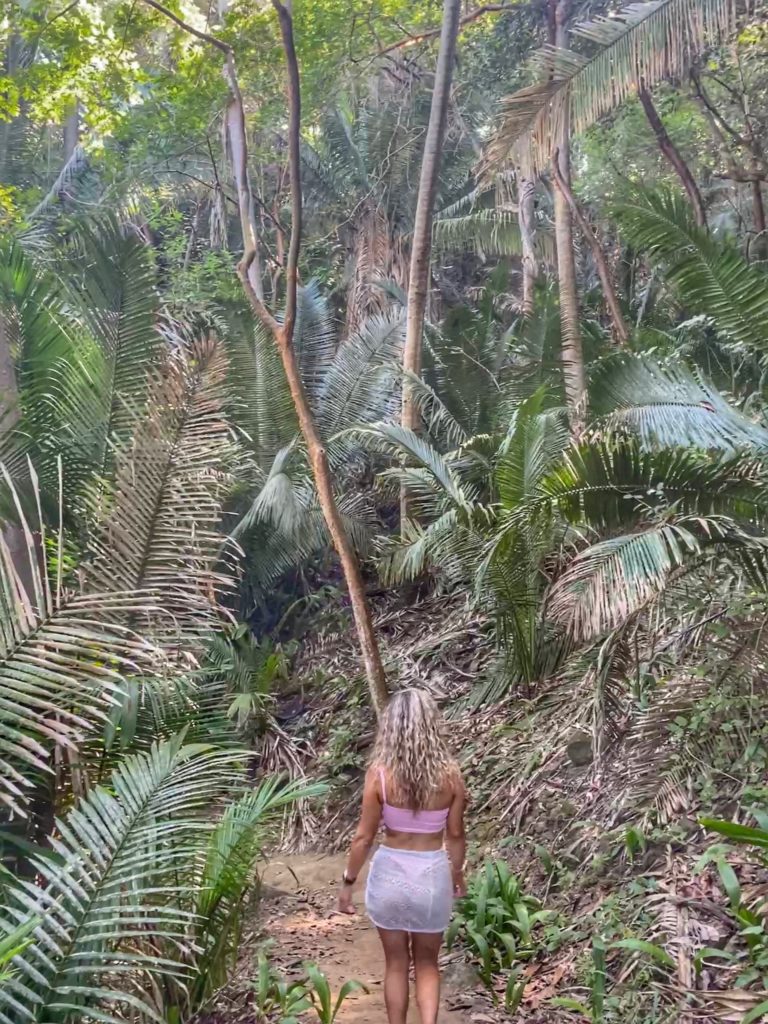 Sayulita offers all of the best things you want in a Mexican vacation but with less people, more nature and none of the americanized resort feel.
In my opinion Sayulita is the best place to go in Mexico as it has everything you need but in a perfect smaller package vs. the busy Puerto Vallarta/Cancun/Cabo/Tulums of the world.

While Tulum used to be my favorite place in Mexico it truly has just gotten so busy. My favorite things in Mexico, which were cenotes & ruins in Tulum, are now a hurry up and wait filled with tons of people.
It is sad but more the reason I recommend Sayulita as it still is still moderately less busy.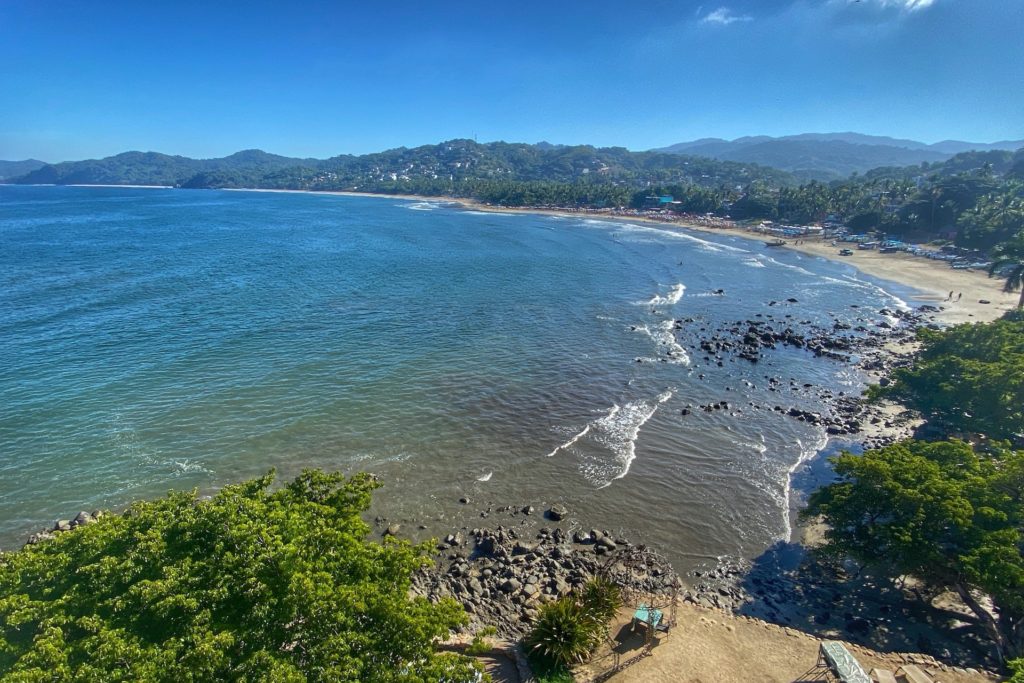 Sayulita truly is one of the best places to visit being that perfect quaint surf town with all of the upsides of the larger Mexico tourist meccas. It's so beautiful how the stunning jungle backs right up onto the beach giving the best feeling of paradise.
With all of that said, let's jump into the best things to see in Sayulita!

Hike to The Secret Cave & Beach at Playa Las Cuevas
There is an beautiful hike through the jungle and along the beach, which I dive into more below, where you can hike all the way to San Pancho through the stunning flora and fauna while peeking out at the beach from time to time.

The hike to this cave is moderately easy and is found by just going to the furthest north part of Sayulita beach and starting your hike over the rocks and up the side of the hill.
See the full hike by clicking here with our hike to San Pancho and the stop at Playa Malpasos and Playa Las Cuevas.
There is really just that route once you get to the end of the beach and just keep going and always staying left closest to the water. From there you can't miss it.
Eat One of The Best Meals On Earth
What is the best restaurant in Sayulita? What is the best Mexican food we have ever had? What is one of the top 5 meals on earth we have ever had?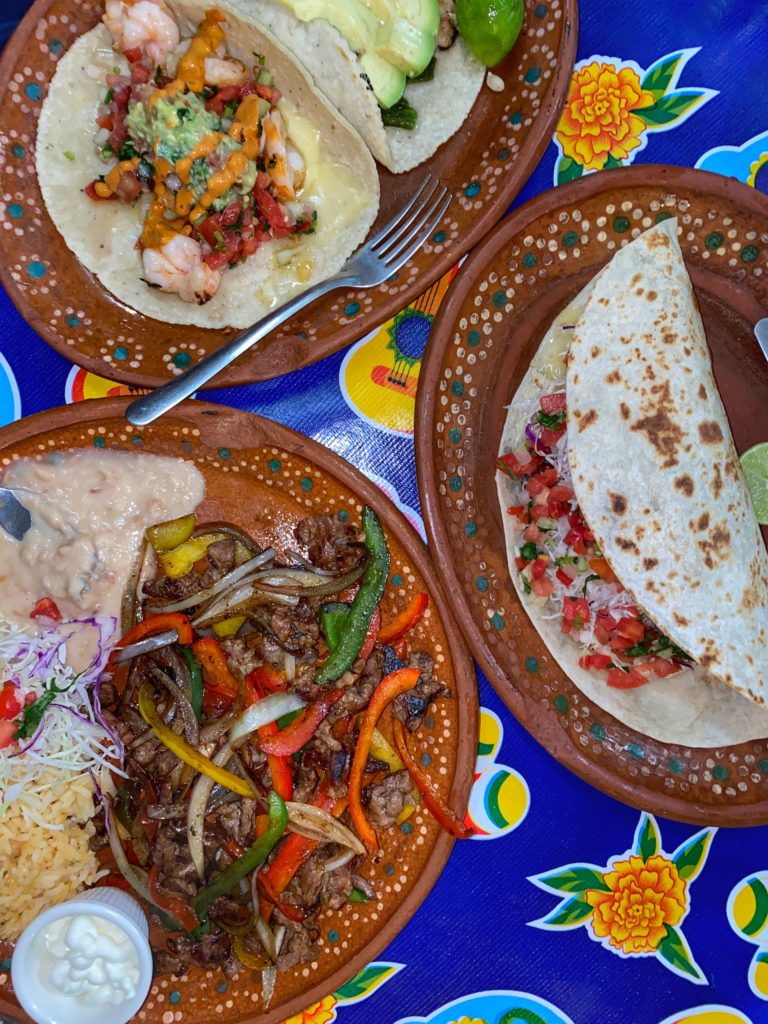 If you want to know the answer head down to Mary's! Wow… we ordered the steak fajitas, chicken quesadilla and shrimp tacos. The best steak ever tasted, the best chicken and best shrimp tacos.
It truly is not even close to any other place we have ever eaten at in the 30+ times we have been to Mexico and we have lived in Texas and reside in Arizona for 10+ years. For list of the best 12 restaurants in Sayulita see our article here!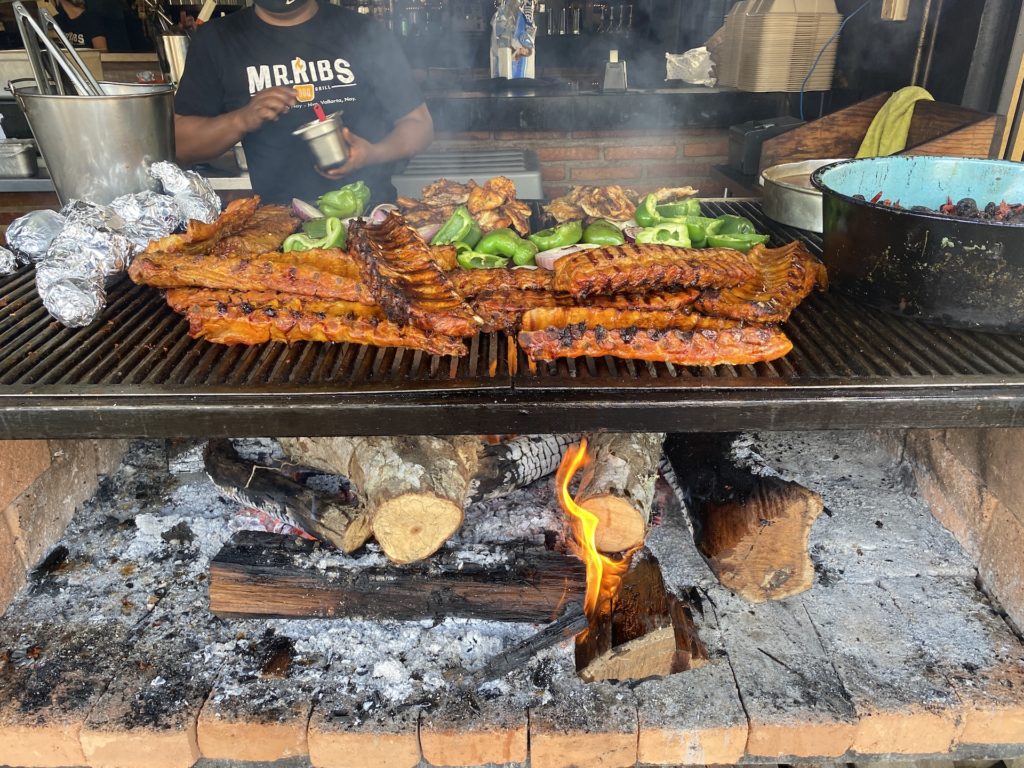 Hike To San Pancho
The hike along a secluded beach and through the jungle is as unique an experience as you can come by! Sayulita is such an amazing place just due to all of the vegetation and jungle right up to the beach.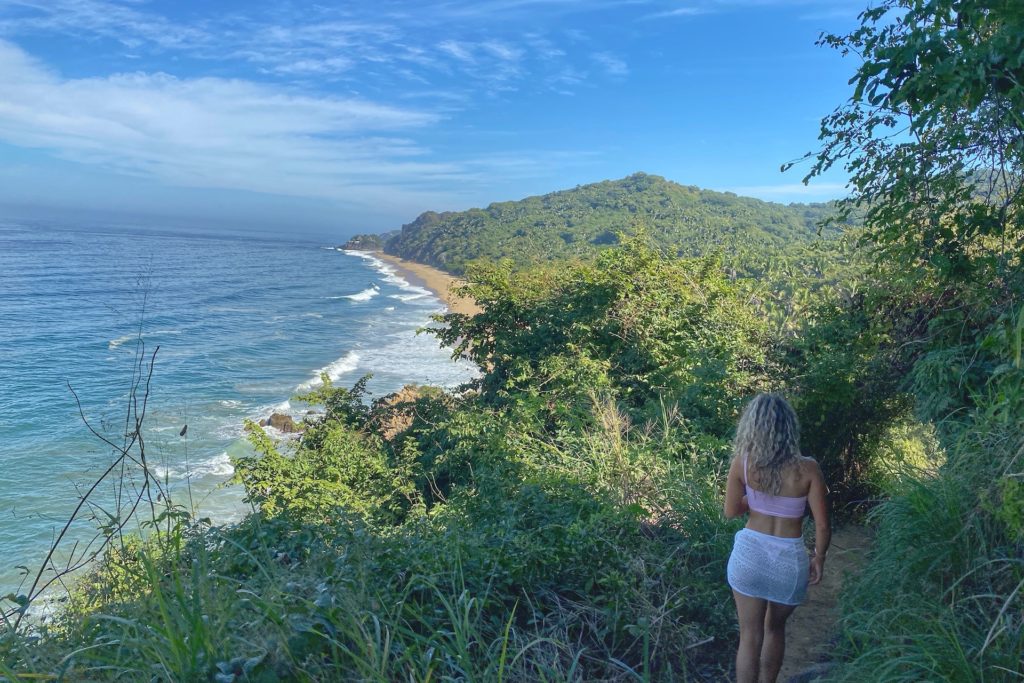 With that said, you need to immerse yourself in it! This hike isn't ideal for those less able bodied due to some of the steep parts but see here for our full guide here for this amazing hike to Playa Malpasos & San Pancho.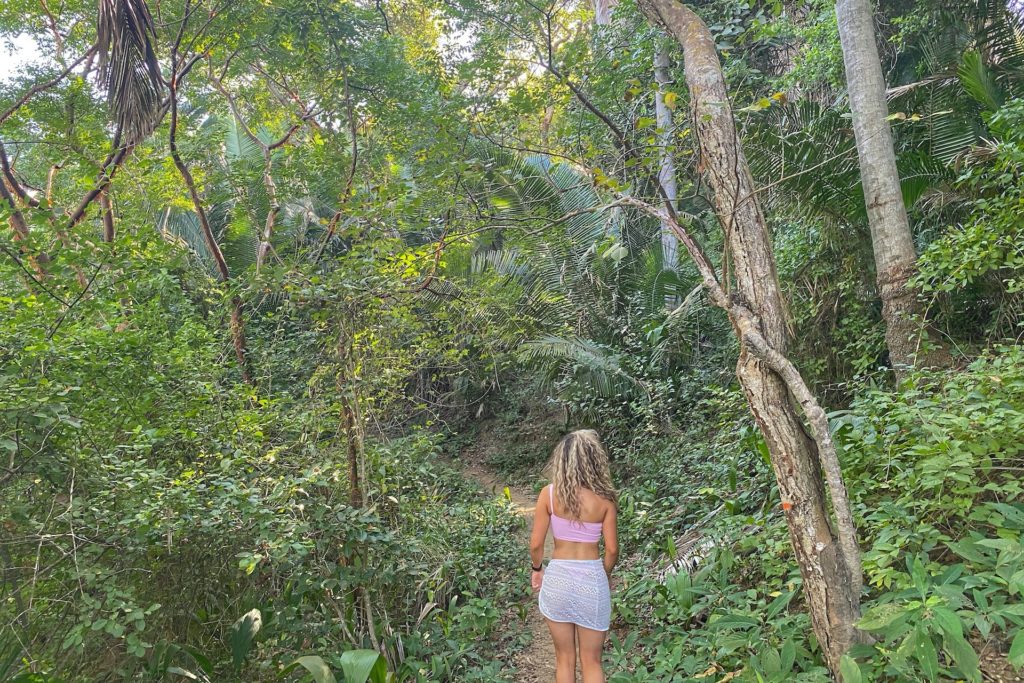 See Sea Turtle Nests eggs & baby turtles!
Sayulita is a turtle nesting hotspot with turtle nesting season going from June through January.
If you go for walks on the more isolated beaches such as Malpasos or even San Pancho you will see egg remnants, human protected turtle nests and you may even see a baby turtle!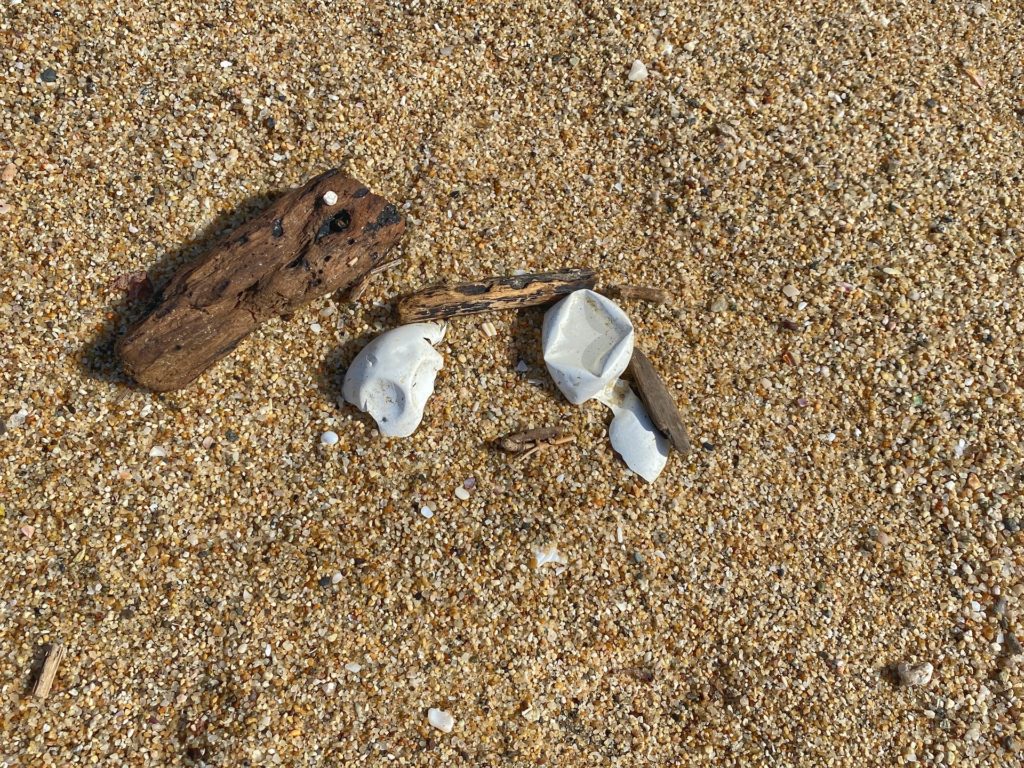 We fortunately and unfortunately came upon a turtle that birds had found before it could get into the water. We put it in the water to give it a chance and it was swimming but things did not look good.
According to seaturtles.org only 1 in 1,000 hatchlings will survive to adulthood. More the reason to be extra careful around any nests and turtle nesting areas.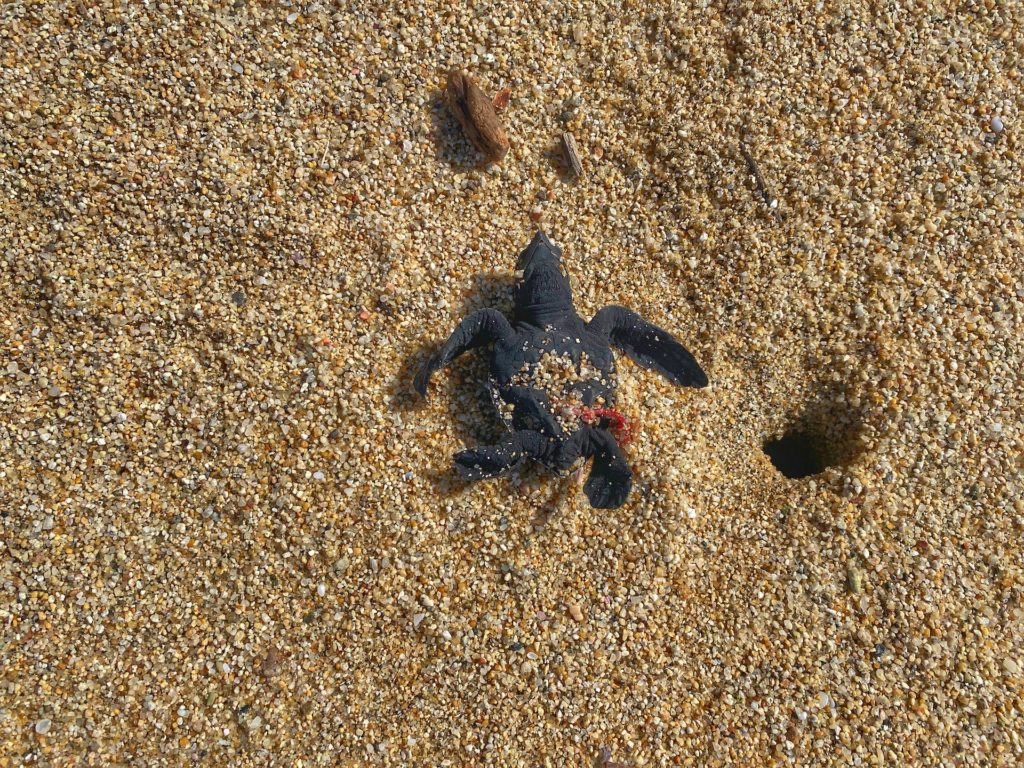 Eat Fresh Shucked Oysters On The Beach
There are no places we have ever seen where you can just have someone with fresh caught oysters on the beach shucking them right in front of your eyes!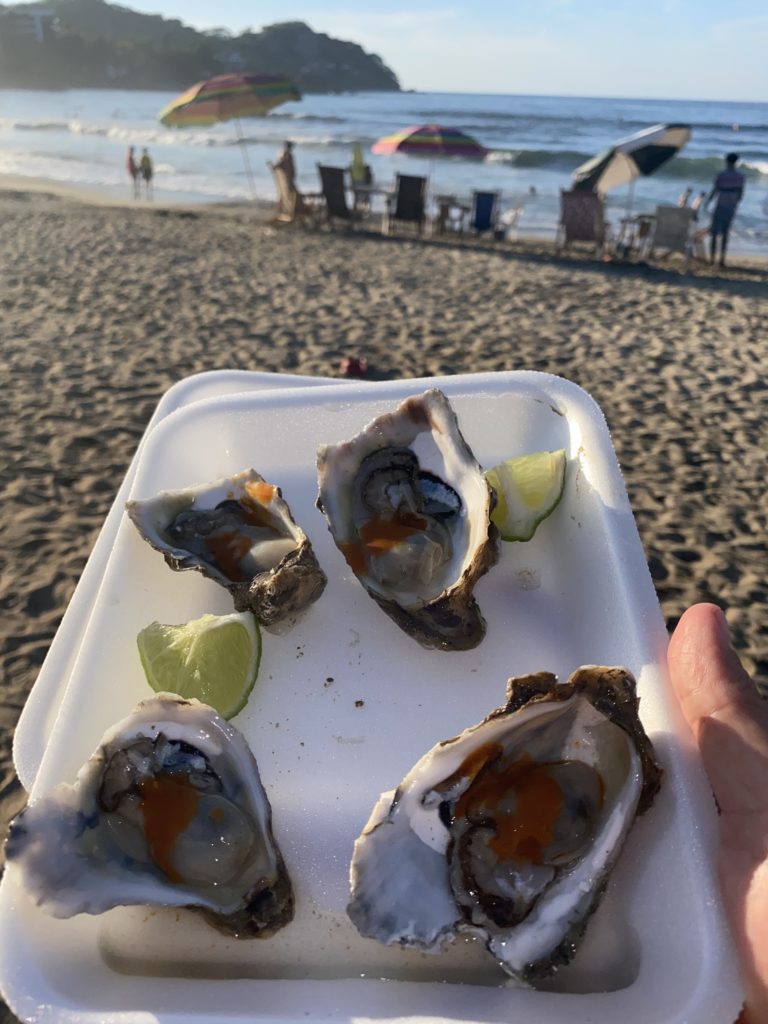 What an experience in itself having someone chop open and shuck oysters in front of you and then to enjoy of course the most fresh oysters you could imagine.
Important Sayulita Tip To Save 20-30% of your money!
Very few places in Sayulita accept a credit card.
We never care about losing a little on currency exchange but it is awful in Sayulita. It cost $230+ USD to withdraw $200 USD from ATMs. From there you also get gauged at the restaurants and bars giving you 2-3 cents less than the standard currency exchange.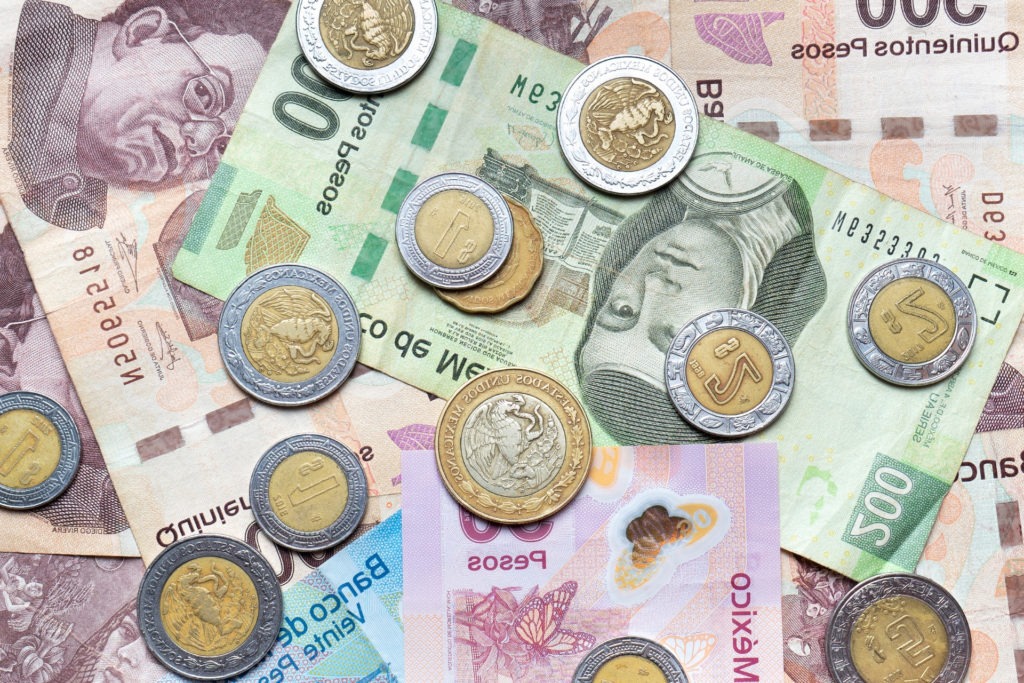 In the end you probably lose $20-30 per $100 or 20-30% of your money if you withdraw cash in Sayulita. There aren't banks in Sayulita, just ATMs thus can't be saved by a sister bank from your country avoiding fees. ATMs charge $8 USD fee alone plus a percentage.
You definitely want to withdraw a ton of Pesos or USD before arriving. Only a few places take credit cards so 50% of your purchases will probably be in cash.
I found out that apparently there is an Intercam Bank down the main road about 10 minutes walking that has less fees and a good exchange rate. Some banks like Schwab will also refund the atm charges.
Visit a Beautiful Cemetery & Playa De Los Muertos
Yes, a bit of a weird juxtaposition but definitely take a walk to Sayulita Cemetery as it is colorful and so stunning. It can be a short little stop on the way to spend some time at Playa De Los Muertos.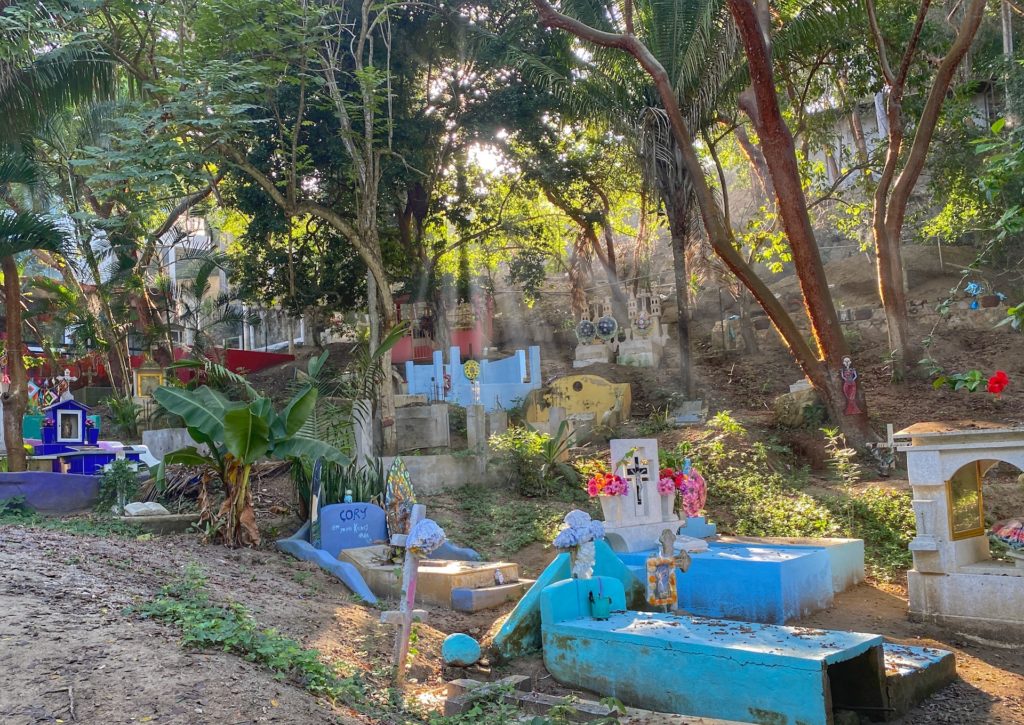 How Do You Get To Playa De Los Muertos & The Cemetery?
The Sayulita Cemetery & Playa De Los Muertos are just an easy 5 minute walk from town. You can walk South (left) down the beach until you have to go up to the road that goes in front of Villa Amor.

From there it is quite easy as it is just 1 minute from Villa Amor with signs the rest of the way. Just follow the road up and you will instantly come across the cemetery.
From there you will go past the cemetery and to the right is the opening for Playa De Los Muertos. Playa De Los Muertos has a food and drink stand as well as beach chairs and waiters if you wish to hang out there in the more quiet beach for the day!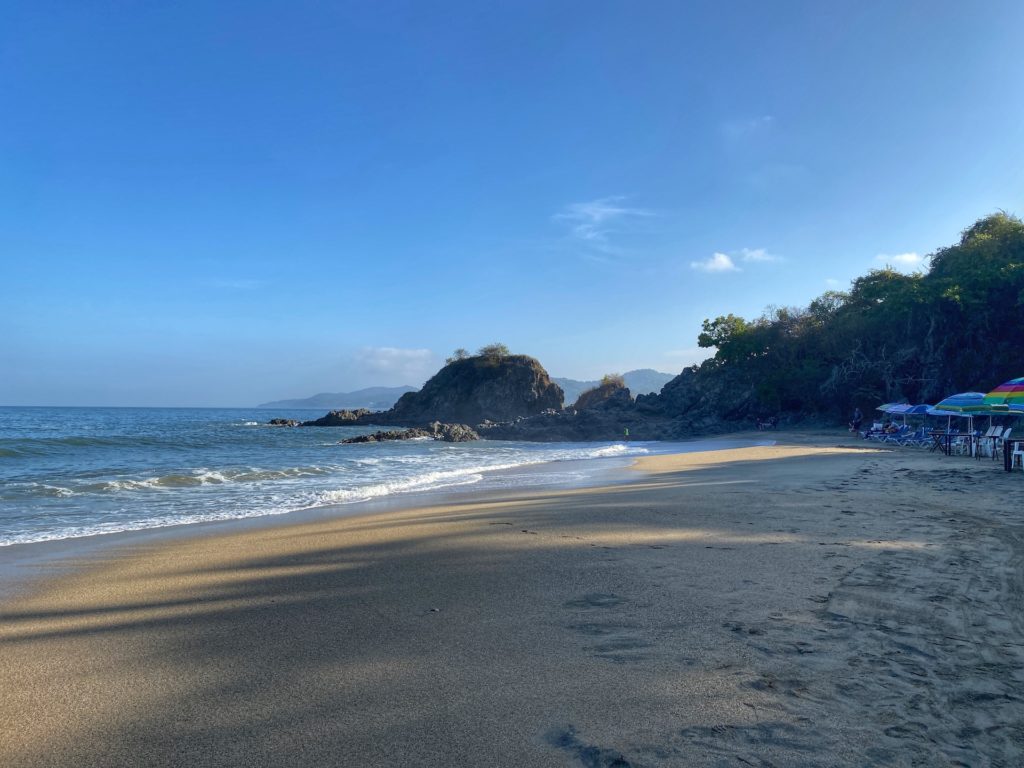 Watch The Sunset from Playa Carricitos
There is a hill in the way of sunset if you are trying to watch from Sayulita Beach. Thus, the simple way around that is to just walk around that hill to Playa Carricitos.

How Do You Get To Playa Carricitos?
The walk itself is a little tough as it isn't really marked. You will walk to the South end of the beach past Villa Amor & Si Senor on the way to Playa De Los Muertos.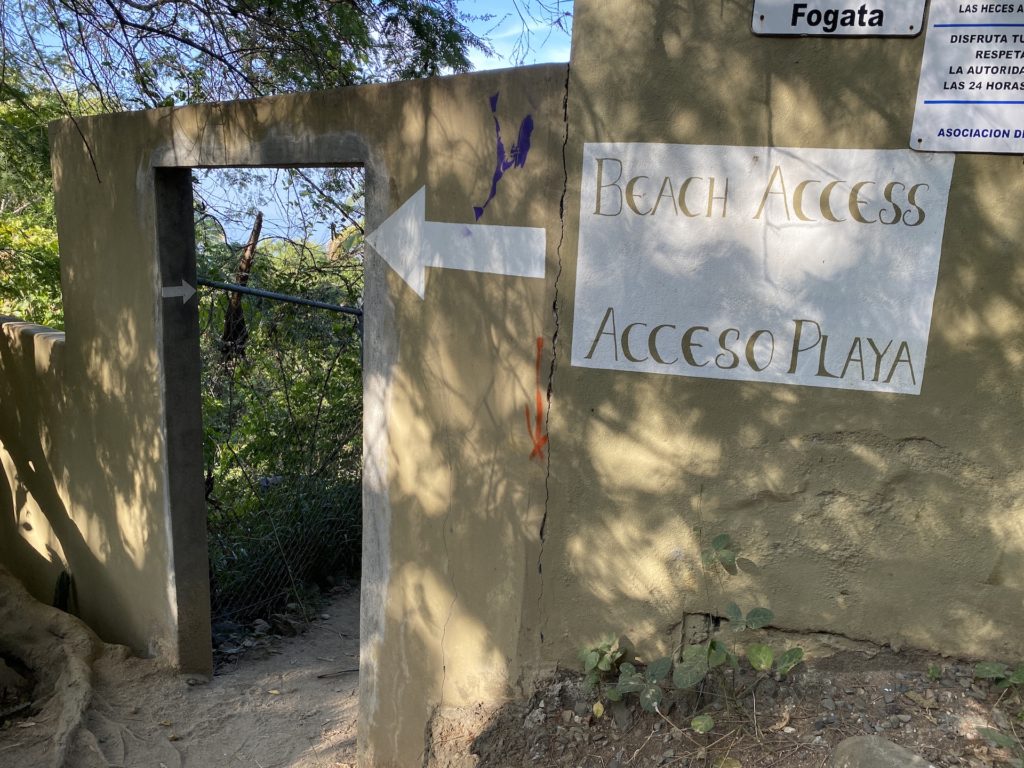 When you reach the turn down to Playa De Los Muertos, go left up the hill instead of right to the beach. From there stay right the rest of the time except one right that instantly goes to a private property, which you will figure out pretty quickly.
As you get close to beach there is an opening in the wall & fence with a giant painted sign to go down to the beach and from there it is just a little walk down the dirt path.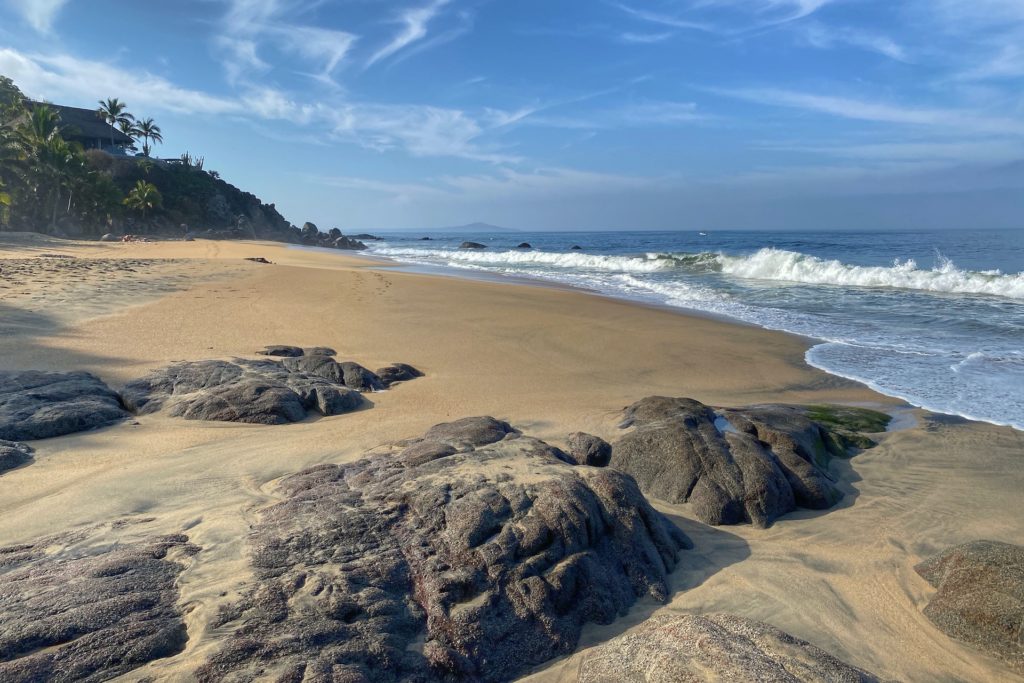 It is worth checking out even if not just for sunset as the beach is pretty empty and it truly is incredibly picturesque. You can even own a piece of land there for $8,000,000 USD.
Pamper Yourself On The Cheap
$30-40 massages, cheap facials and spa days! When you are in Mexico you must seek out some R&R which includes cheap massages on the beach and spa days.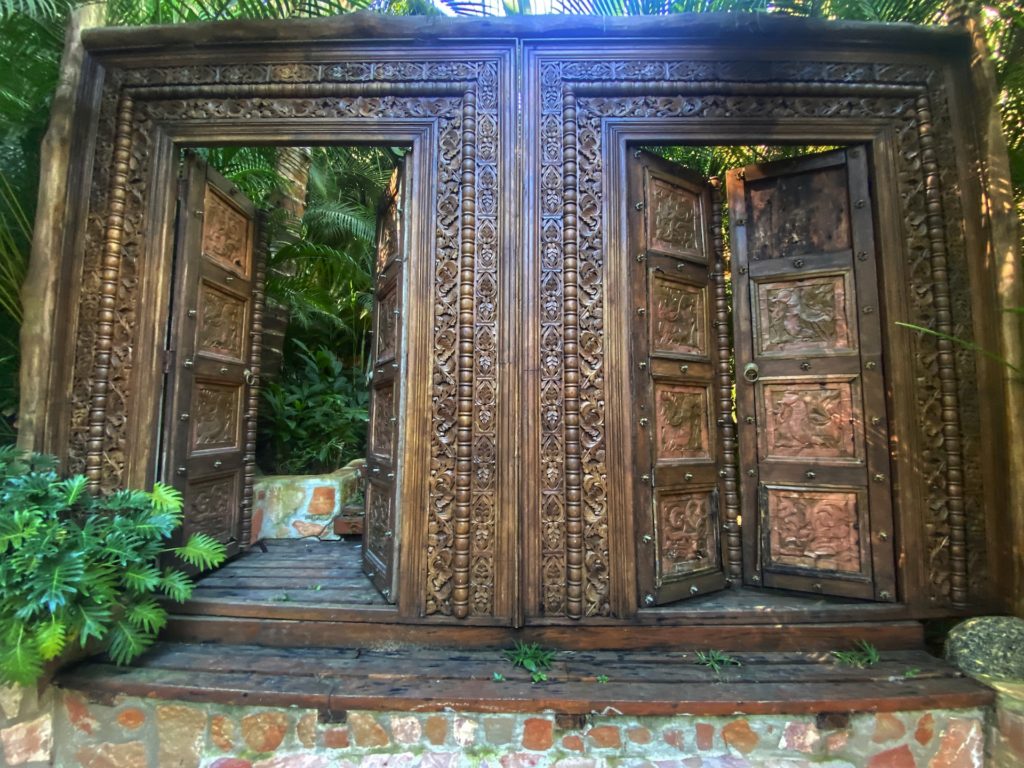 If you want a massage there are a couple great affordable options, I love Nirvana Spa. While a beach massage is nice, the beach can be very noisy, of course you typically are covered in sand so it is a little rough and it just isn't very private.

Thus, if you want a more private, cleaner and serene massage yet still very cheap and affordable go to Nirvana Spa right in the hard of town! I love it so much I went 4 times on my trip. The place across the street is double the cost!
Sayulita has the cheapest massages we have seen in Mexico as typically beach massages are $40-50 in every other main Mexican tourist destination. Sayulita really is an affordable gem!
Attend Mexican Catholic Church Service
Even if you are not Catholic or Christian, attending a religious ceremony in another country is always incredible. Whether it is a buddhist ceremony or something like this in Mexico, it is so important and amazing to fully experience another culture.

Visiting Mexico isn't just drinking margaritas and laying on the beach. It has a ton of amazing cultural aspects to experience as well.
Visit Mercado De Pueblo
You always have to visit the local markets whenever you visit any city. The Mercado De Pueblo is no exception and it is also right next to the hippie market.

Be sure to go through and see the standard Mexico tourist trinkets and maybe find some gems like salsa serving bowls, surf art, mugs and of course tons of street food.
Enjoy The Best Coffee & Breakfast At YAH-YAH SAYULITA CAFE
If you want one of the best tasting coffees and breakfasts, along with the prettiest looking, then you have to visit YAH-YAHs. It is also off the main strip so it is only known to locals and frequent visitors.

There is often a line whenever you go during peak times as everything there is so good. It is a great combination if you need food after a night of drinking but also want it somewhat light and healthy since you are going to be in a bathing suit all day… if you care anyways.
Eat Fruit Popsicles!
We all love desert and this unique little ice cream shop also serves up some amazing fruit popsicles. The popsicles at Wakika Heladeria are the best you will ever have and are infused with fruit!

On a hot mexico day there isn't much better than something cold and these popsicles are just that and then some. Wakika Heladeria is located right across the street from the Sayulita Plaza.
Party All Night Long On A Rooftop
Of course you need to party when you are in Mexico and Sayulita offers a few open-air gems you have to checkout. See here for the 6 best bars in Sayulita!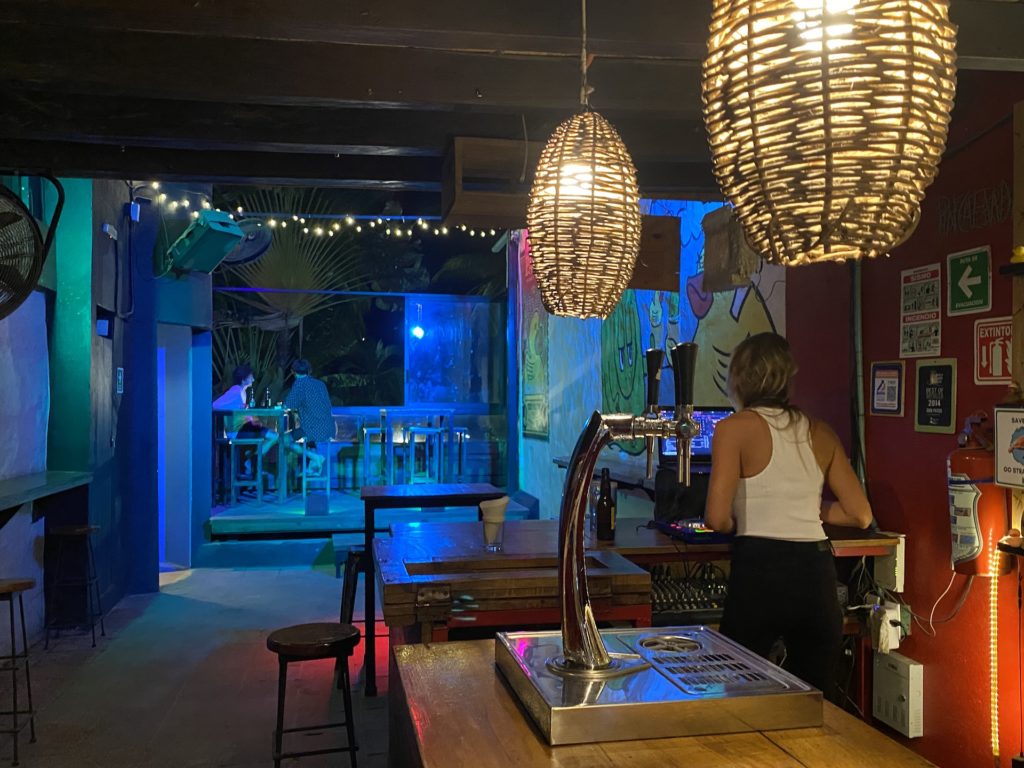 A few of the best rooftop bars are Bar Don Pato, Chillum Surf House, Rustica & Aria Lounge. See the article for our favorite!
Stay At One Of The Best Hotels On earth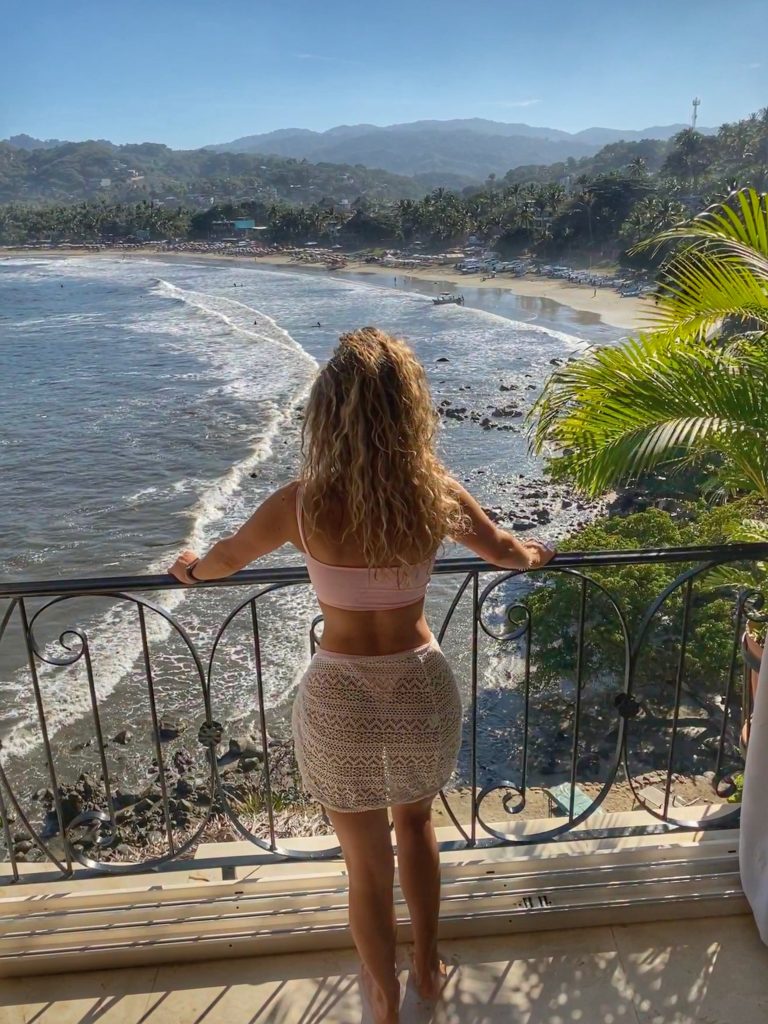 Villa Amor is so amazing we wrote an entire article about it here! If you have ever wanted to feel like royalty or like you were on an ABC reality dating series… this is the spot.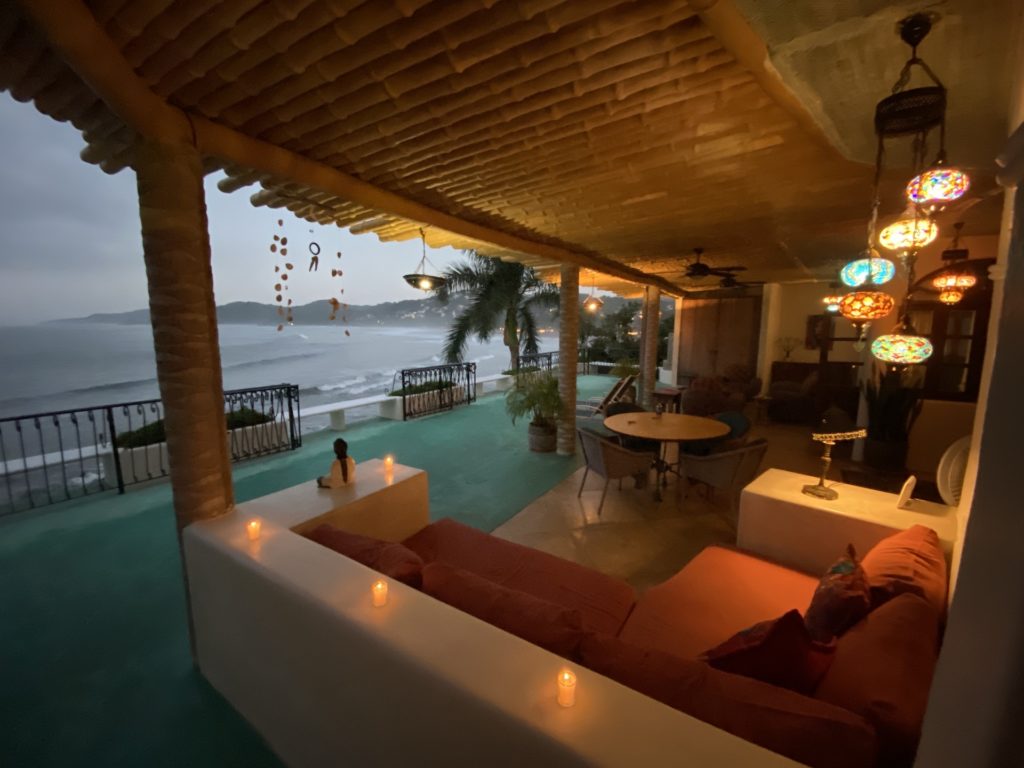 Wow, every detail is looked after and the views are out of a fairy tale. Waking up to views of the entire bay & beach then falling asleep to waves crashing beneath your feet. Villa Amor truly us paradise!
Save 15% on this hotel! Use code LAVEAY2021. Not valid on holidays and 2 night minimum stay. Book rooms and see more info here.

Walk To A Secluded Beach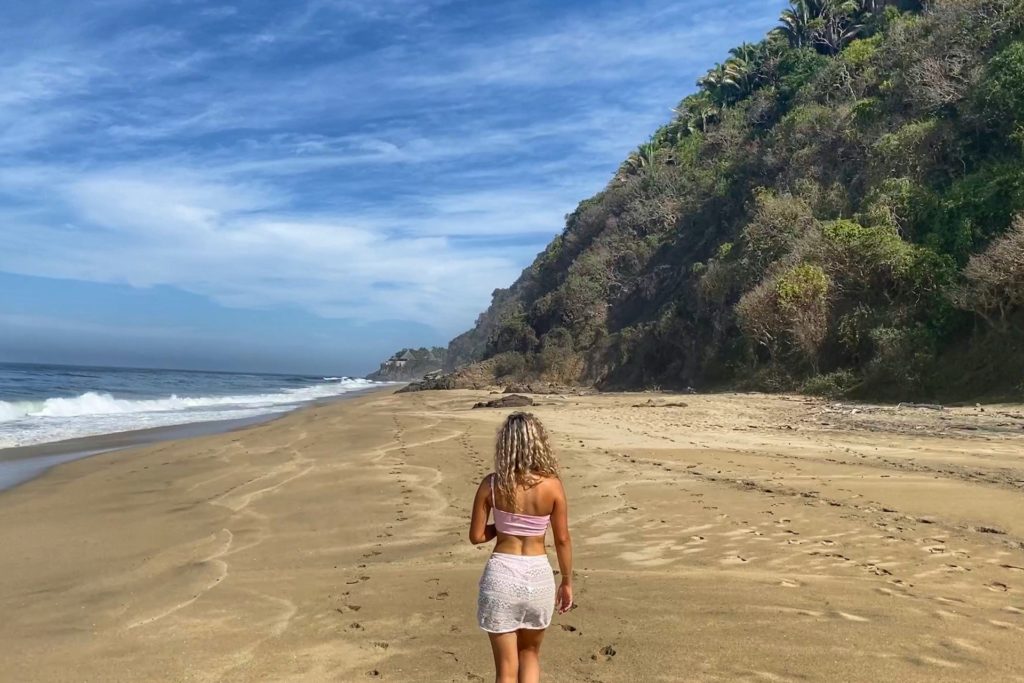 These were mentioned above but you need to make sure you take a walk to a secluded beach that you might share with 1-3 other groups or maybe have all to yourself! Playa Carricitos is a great one as is Playa Malpaso.

See above how to get to Playa Carricitos or this article for Playa Malpasos & Playa San Pancho. You can't go wrong with any of these and Carricitos is just a 20-30 minute walk from town and Playa Malpaso about the same.
Buy Drugs
No not those kind of drugs! We are talking maybe some of the better allergy medicines and such you can't get back in the US without shelling out $50+. *Inspire Travel Eat does not endorse buying prescription or illegal drugs :).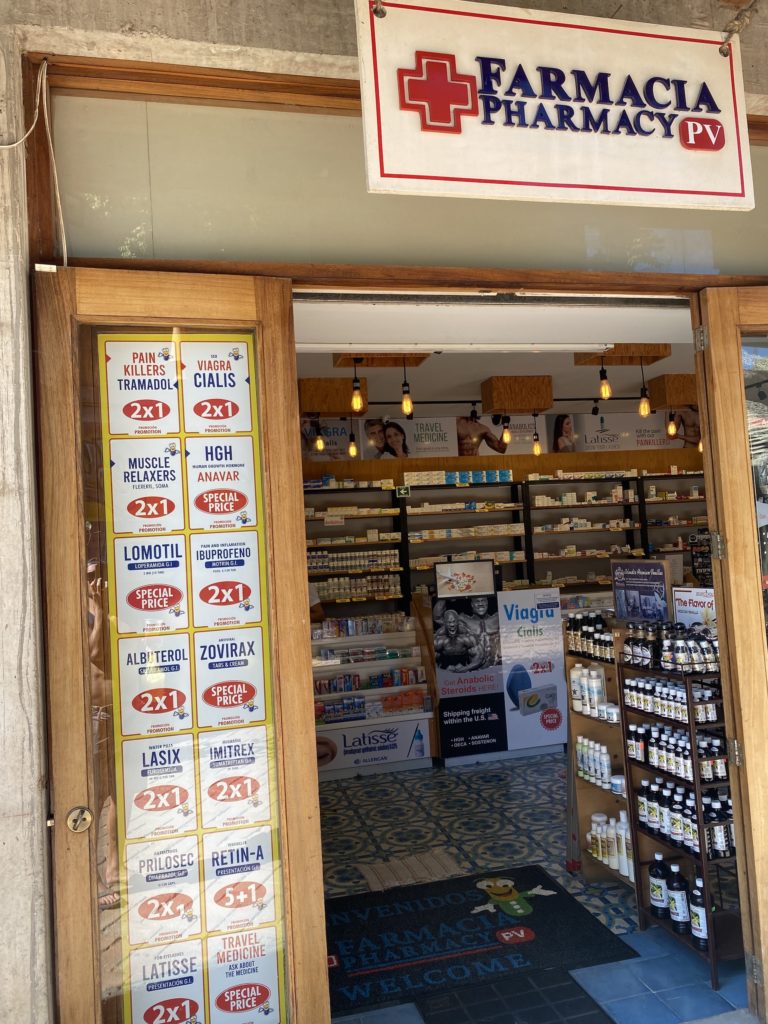 Eat Street Food
Eat, eat, eat. Maybe the best thing in Sayulita is eat. It is a foodie paradise and of course the street food is no different!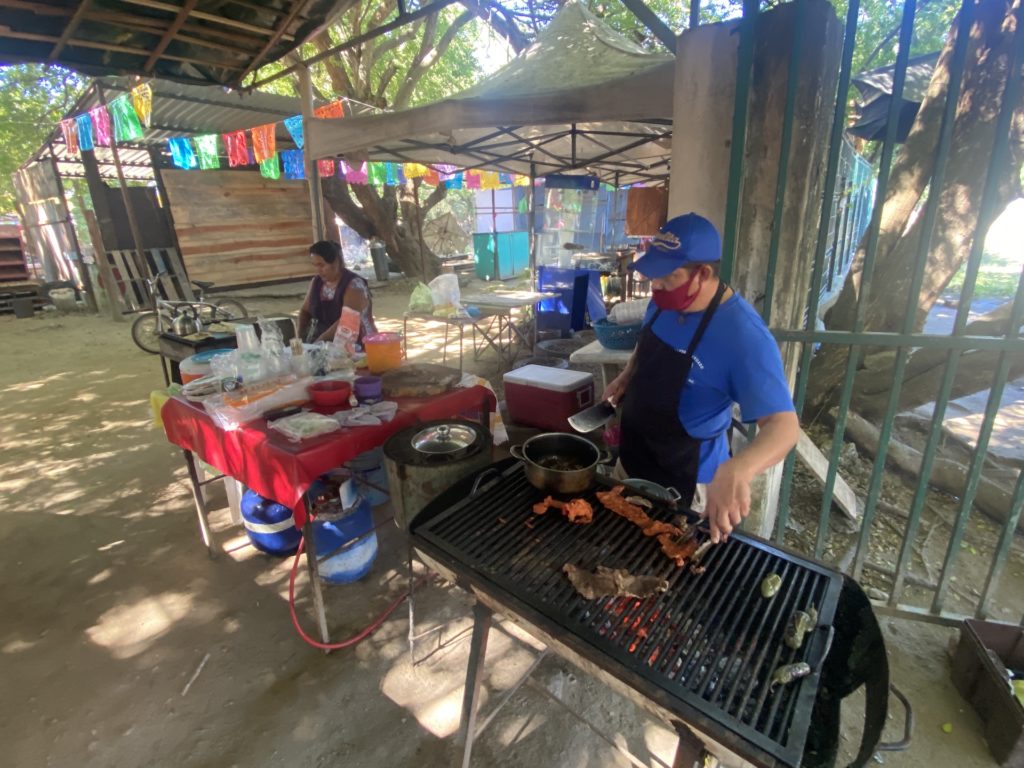 One of the best burgers on earth is from a street vendor, some great crepes, of course tacos, amazing desserts, coconuts, fresh squeezed juice and more!
You need to try it all and don't be scared, if the locals are eating it you are fine! In fact we ate all the street stalls and never had an issue but ate at the nicest restaurant in Sayulita and got food poisoning…
Go Surfing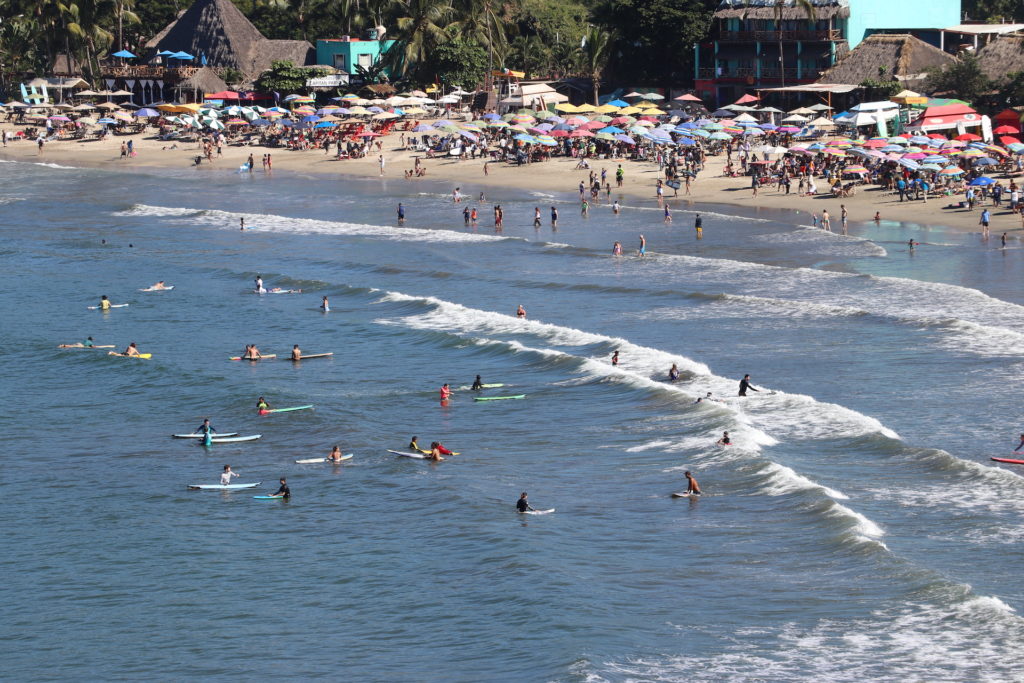 This is a no brainer! With surf shops and surf schools all over this is the place to surf or learn! The bay is actually broken out really well with larger breaks on one side for actual surfers and then smaller ones on the left for those just learning.
The surf is pretty good actually and it isn't too busy if you get out there earlier in the morning. You can also save money of course if you rent boards for a longer period of time.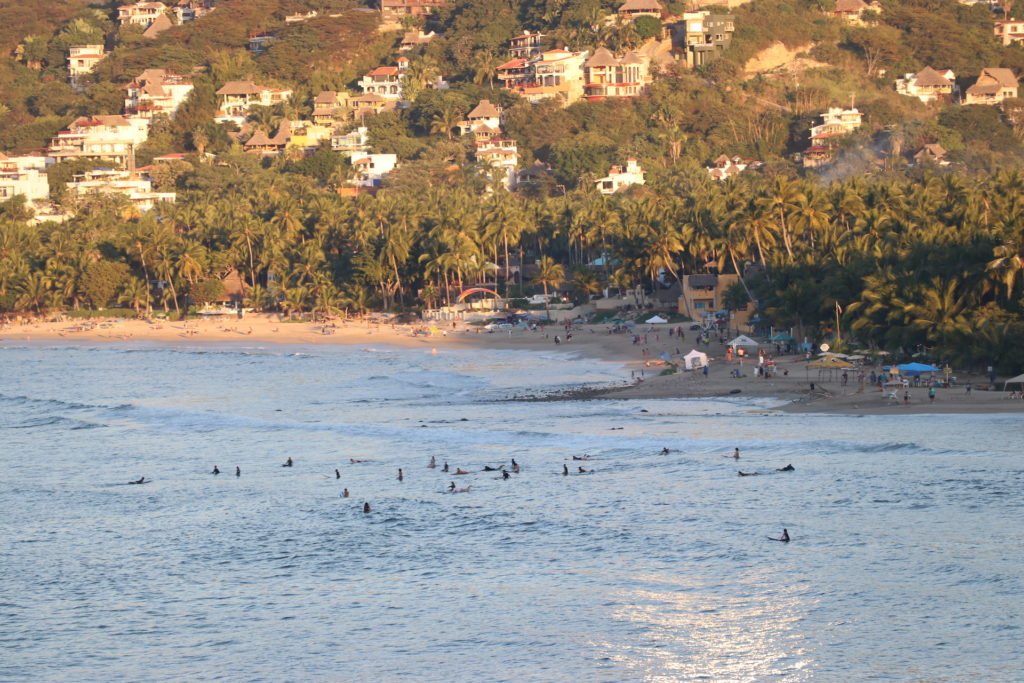 Get A Picture Under The Flags at Flag Street
Of course when visiting Sayulita you need to get a picture under the flags! It is a perfect pretty shot and to be honest it actually looks better at night!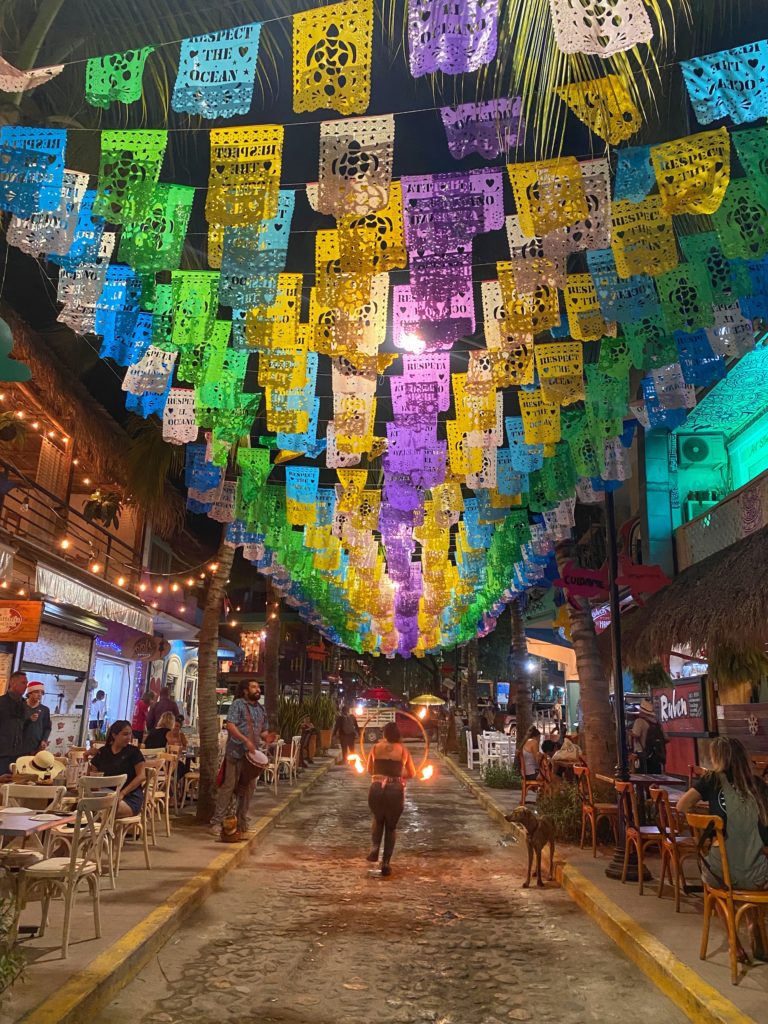 Visit a Sayulita Brewery
Sayulita has a brewery and you need to visit! Yambak is the location and it is great spot where you can even bring your street food inside when enjoying your beer or something from their full bar.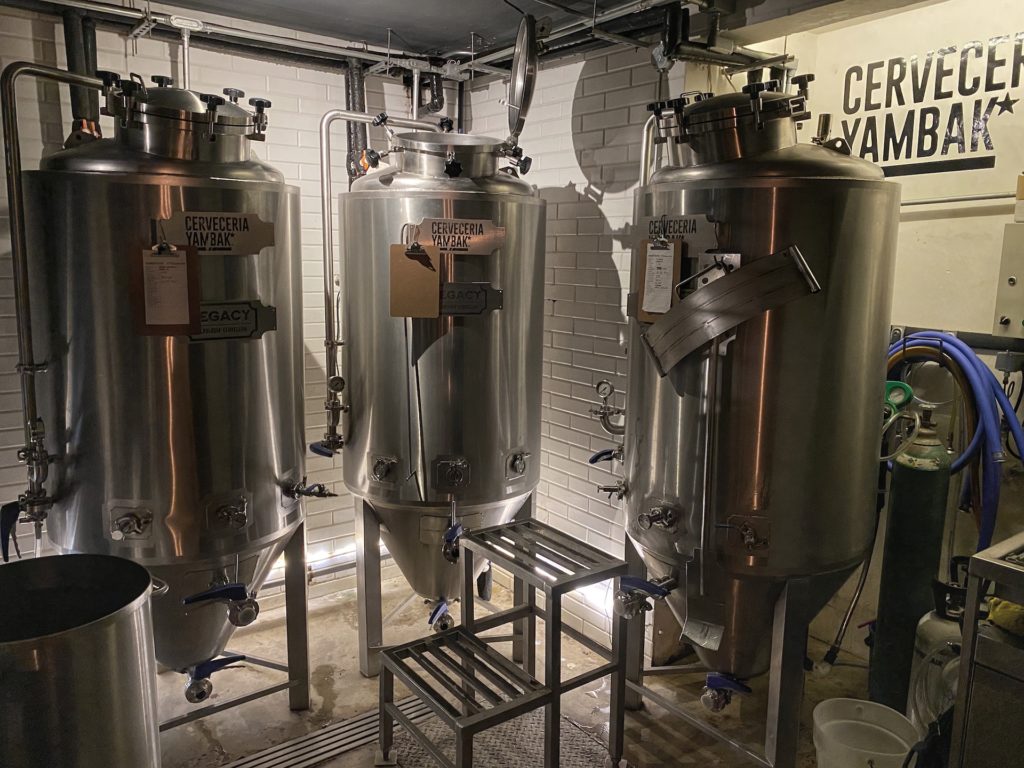 They also have a DJ on the weekends and some weeknights, it is always a great party there at night and is often packed nightly. They have a great sample flight with beers from light to dark and IPAs.
Have Drinks On A Swing!

Nothing says beach vacation like having drinks on the beach in a swing. It just feels like you are in paradise and of course is a quintessential picture to take!
You're in luck in Sayulita as there are plenty of bars and beach bars with swings. Unfortunately most have just a couple of swings save one! See here for the best beach swing bar!

Get Entertained At Sayulita Plaza
Sayulita Plaza is the main square in town and there is always street performers there for your viewing pleasure. Not to mention there are a ton of amazing street vendor serving crepes, fried bananas covered in strawberries & chocolate, taco and hamburger vendors!

Buy The Best Cheap Fresh Fruit
Whenever you visit a tropical destination you really should buy a ton of the local fruit. Not only are there unique options from home, the price is also 1/4 the amount and the flavors of the fresh local fruit are 5x better than mass produced fruit in the USA.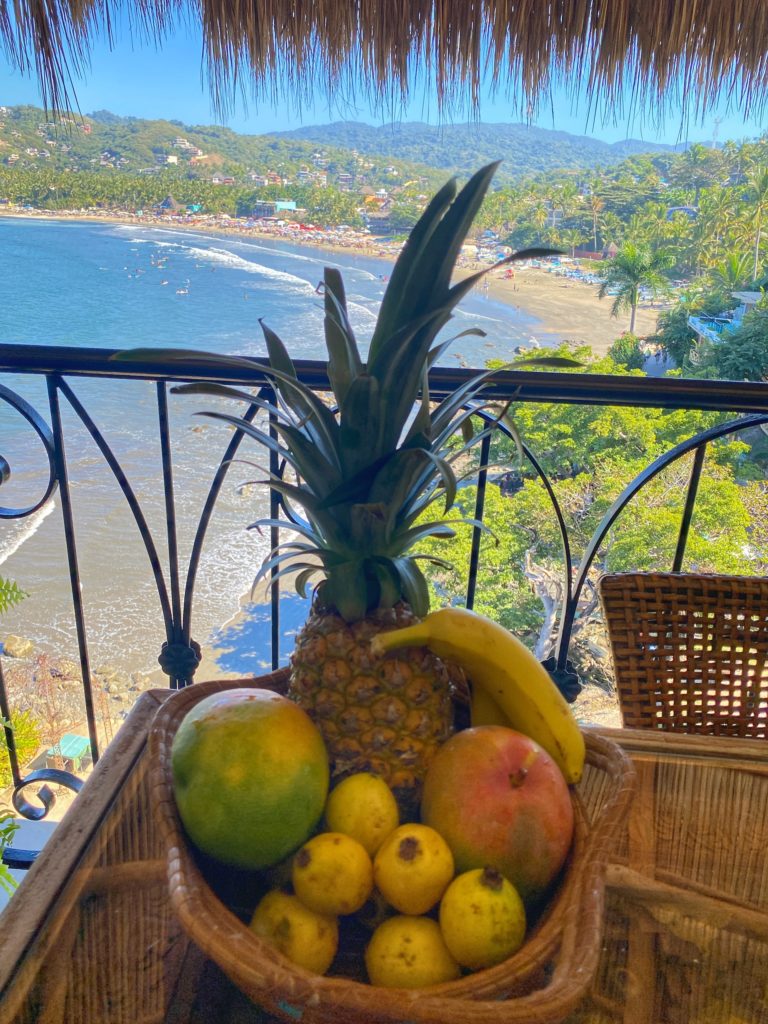 Cruise Around In a Golf Cart
Be sure to take a day to rent a golf cart and cruise around town and even go to some stretches of secluded beaches! Renting golf carts is just fun driving as it is let along in paradise!

Eat On The Cobblestone Street Tables Like It's Rome
One of our favorite things to do in Sayulita was eating on the road like it is Rome. The quaint charm of Sayulita just doesn't stop as you indulge on some amazing food on the cobblestone street.

If eating the amazing food in Sayulita wasn't enough, there are so many amazing ambiances that add to your meal. Whether you are eating on the beach, a terrace overlooking the water or on the cobblestone street Sayulita food experiences do not disappoint.

Go Fishing & Island Hopping & Whale Watching
This is a no brainer of course. There are a ton of tour operators in town that offer deep sea fishing trips, booze cruises, trips to the Marietas Islands, beach hopping and whale watching!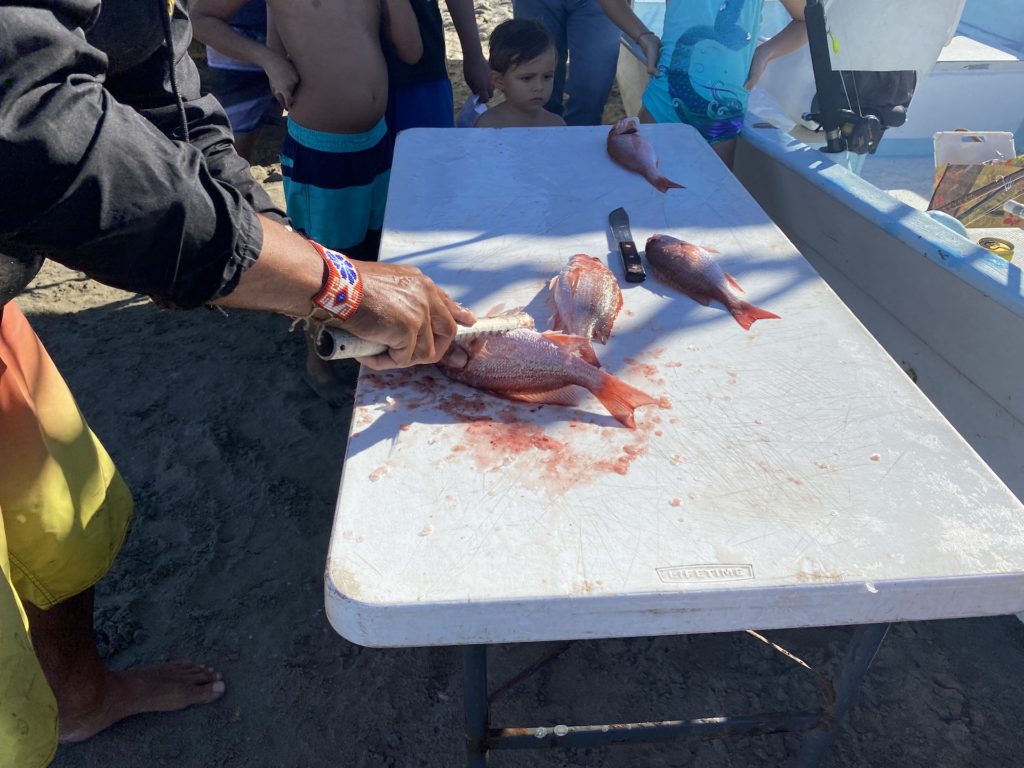 Prices are really reasonable too with only a cost of about $100 per person for a full day on the water including lunch, snacks and alcohol!
Do Yoga Or Attend a Yoga Retreat
Sayulita is a smaller version of Tulum with their growing yoga scene. Many hotels here offer yoga palapas and yoga retreats and classes continue to grow in this beautiful bohemian city.

Depending on the season Villa Amor offers yoga every day or weds-Saturday. It is complimentary for guests and as of writing in 2023 it was just 150 pesos for non-guests.

Adventures
Like many tourist cities there are a ton of fun options in Sayulita whether you want to go zip-lining, ATV or horseback rides on the beach!
There are a ton of tour operators who can help you do it all!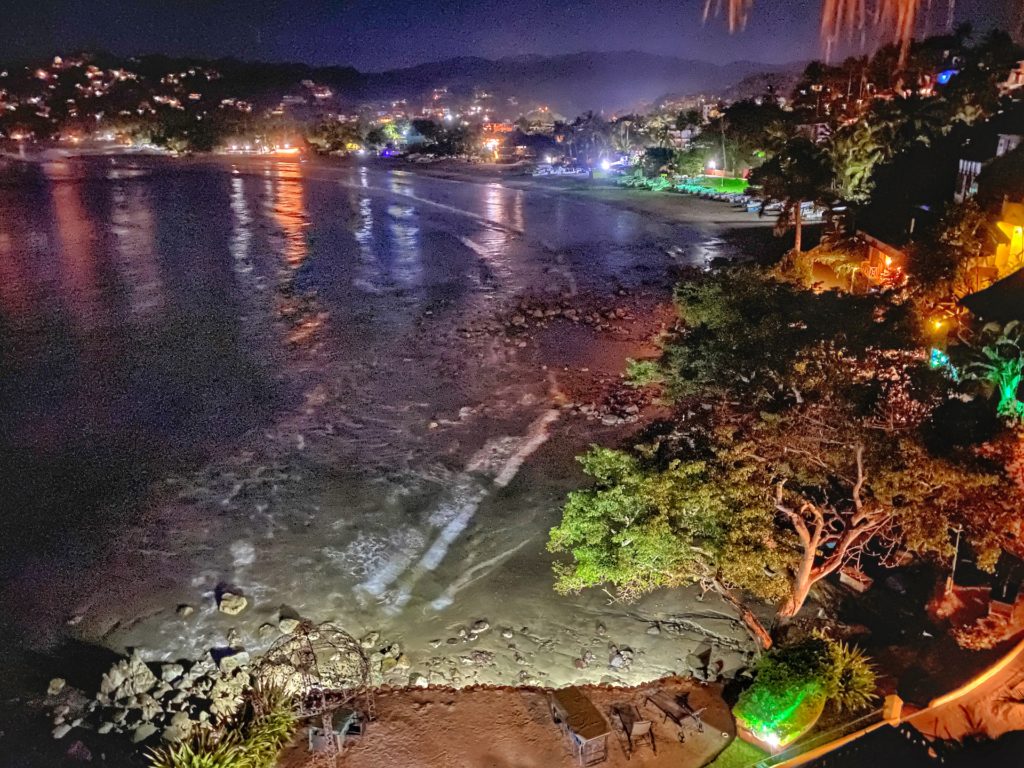 Those Are Best things to do in Sayulita!
All of this and we didn't even say hangout on the beach, go to Puerto Vallarta or taxi to San Pancho! Sayulita is an amazing place with tons to do, be sure to check it all out!