Looking for a skinny Moscow Mule recipe that tastes great but also doesn't add too much to the waist line?
If you really want to enjoy a delicious Moscow Mule without compromising on your health goals, you're in luck! Here is a fantastic recipe for a healthy twist on the classic Moscow Mule cocktail.

By making a few simple substitutions and additions, you can create a lighter version that retains all the refreshing flavors and zesty appeal, while also keeping your wellness in mind.
Everyone wants to drink and most people want to be healthy but it's oh so hard to do both… really impossible I guess.
But have you ever come across a superfood alcoholic drink? Well you are in luck… This Moscow mule is packed with ingredients that have a plethora of antioxidants, are immunity boosters, have heart health benefits, promotes weight loss and more!
So, get ready to indulge guilt-free as we guide you through the steps of crafting a wholesome and revitalizing Moscow Mule that will leave your taste buds satisfied and your body thanking you.
Not only does this drink have great health benefits it also is an energy booster to start off or continue your night.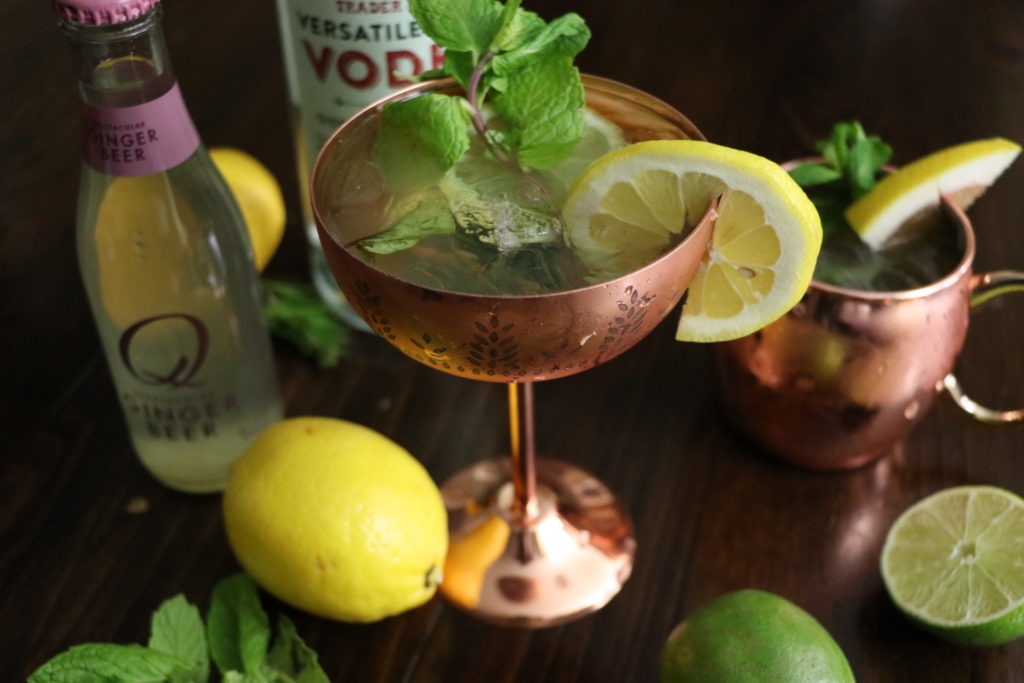 No more red bulls or coffee drinks needed as this one recipe has the energy boost you need for your drinking adventures.
It's always great to have less sugars and fat in your drink since you could be drinking 10+ throughout the night.
A long night out could end up being as many calories as eating McDonald's Big Macs by the time you're said and done. All this doesn't include the bad food you may eat later.
Thus, I have the best healthy skinny fit Moscow mule recipe below that not only tastes great but also adds in ingredients that pretty much make it a superfood.
In theory you should be able to do a triathlon after drinking like 8 of these since they are packed with so much goodness.

I don't recommend it but I like theories… theories worked for Issac Newton anyways and people called him crazy. If I can't live in a world where I can be an athletic alcoholic then I'm out.
How Can You Make A Moscow Mule Healthy?
You can make a Moscow Mule healthy with fresh grated ginger, lime juice and mineral water. Then you can go the extra yard with spirulina, matcha, lemon juice and gluten free vodka!
Fresh ginger has a plethora of added health benefits such as it boosts immunity, fights infection, soothes the stomach, counters acid reflux and is an anti-inflammatory.
Overall one major thing I do to cut out some sweetness and sugar is use just straight lime juice vs. lime cordial or syrup.
Lime juice also said to have a ton of benefits for your digestive system, skin, heart health, immunity-boosting, lowering cancer risk and is said to promote weight loss.
Lemon juice supports weight loss, promotes hydration, good source of vitamin c, improves skin quality, aids digestion, freshens breath as well as detoxes.
Spirulina is apparently is like a super-duper food… pretty sure you can walk on water with the correct serving.
It is a micro-algae that can be a protein supplement and contains amino acids, B vitamins, beta-carotene, copper, iron, magnesium, potassium, manganese, vitamin E, high in antioxidants, minerals, chlorophyll and phycocyanobilin.
Matcha is a great natural healthy energy drink with as much caffeine as a cup of coffee.
It is also high in antioxidants, good for the liver (which is important when drinking), boosts brain function, good for heart health, helps prevent cancer, promote weight loss and loaded with antioxidants.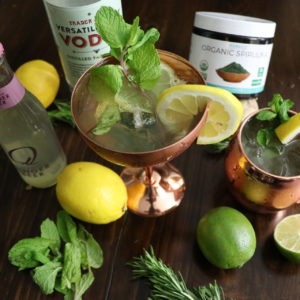 Healthy Moscow Mule Recipe
This Moscow mule is packed with ingredients that have a plethora of antioxidants, are immunity boosters, have heart health benefits, promotes weight loss and more!
Print
Pin
Rate
Ingredients
Mineral water.

Sparkling lime water or ginger soda water or lime soda water works as well.

2

oz

Gluten Free vodka such as Tito's, Ciroq or Trader Joe's.

Kettle One Botanical Vodka is great in this too.

1/2

tsp

Fresh lime juice

1/2

tsp

Lemon juice

1/2-2/3

tsp

Fresh grated ginger

Ice

Mint & lemon garnish
Optional
1/2

cup

Chilled matcha or green tea

To add energy

1/8

tsp

spirulina

If you want to make it extra healthy and add that mermaid color than you need this!
Instructions
Add ice, tea, vodka, juice, ginger and stir or shake well to combine.

Add sparkling water or soda water.

Garnish with fresh ginger piece & mint.
Optional
Make matcha or green tea and chill before adding to drink. Add spirulina.
Print Recipe