Looking for the best restaurants in Big Bear lake with the best views? Want the best breakfast in Big Bear Lake, the best atmosphere, dinner, coffee shop, live music and all in between?
Well you are in the right place as not only will you find something for any mood you are in but Big Bear Lake also might be in my top 5 favorite places to eat on earth.

It sounds weird… because it is… however the food quality was outrageous and it literally it has anything you could want in basically a 3 block radius in the village!
I wanted fine dining with a view in Big Bear and there are two great spots for that; I wanted a amazing homestyle breakfast diner and there were two places for that; a place with a burger and live music, done; an amazing deli, check; a local coffee roasting company, you betcha; sunday funday mimosas & brunch, has that; smoothie & bowl place, yep; Asian options, multiple; and beyond!

There were a couple of places that were… meh but Big Bear hit at least 90% perfection, which is tough to beat especially with all of the options!
If you like hiking also check out this must-do best hike in Big Bear Lake article here!
Furthermore, if you have a dog… wow. Big Bear Lake is the most dog-friendly place I have ever been! My pug lived like a king on his visit.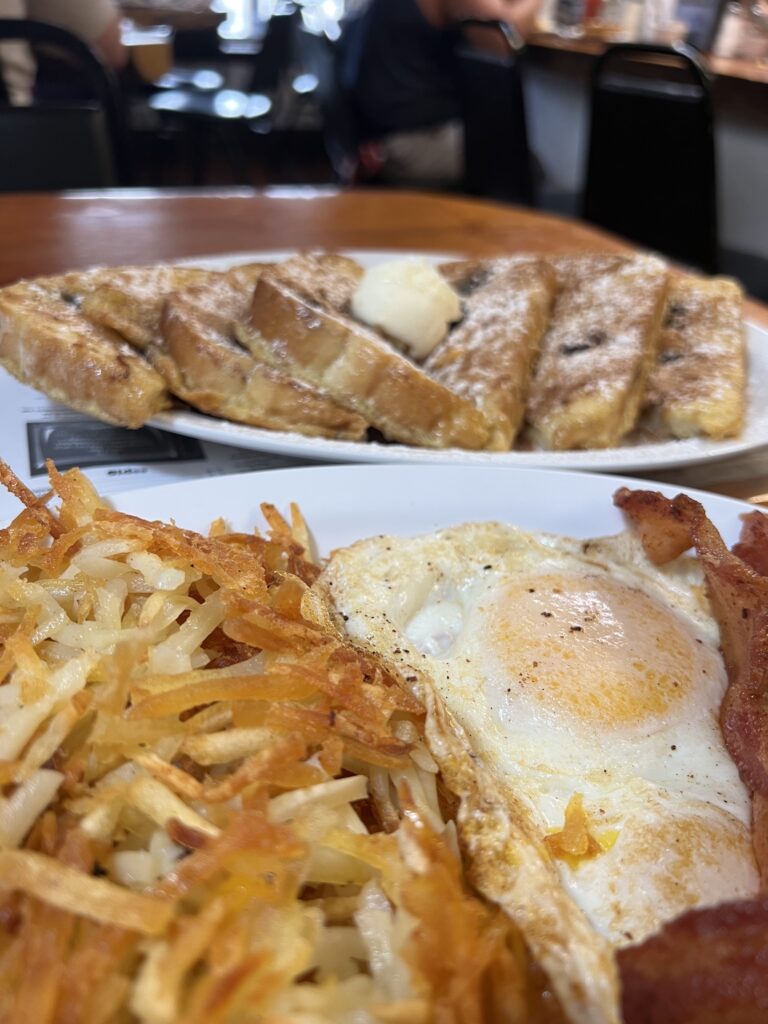 So with that said and in no particular order… here are the best restaurants on Big Bear Mountain.
Best Restaurant With A View In Big Bear Lake | Santana Mavericks Bar N Grill
This is such a tough call between Oakside and Santan Mavericks as to which is better. I have deleted one over the other multiple times while writing this…

If you want steak or more fine dining, go to Oakside… if you want a bit more relaxed then go to Santana Mavericks.
What put Santana Mavericks over the edge for me was it was really casual, has tons of patio room, is overlooking the lake and they have the largest menu ever.

Typically when a place has a large menu… all the food is meh. I think we can all agree, be great at a few things vs. serve some mediocre food of all types.
However, Santana Mavericks literally nails every single dish! I would give everything I ate a 9/10+ from seafood to mexican to pasta.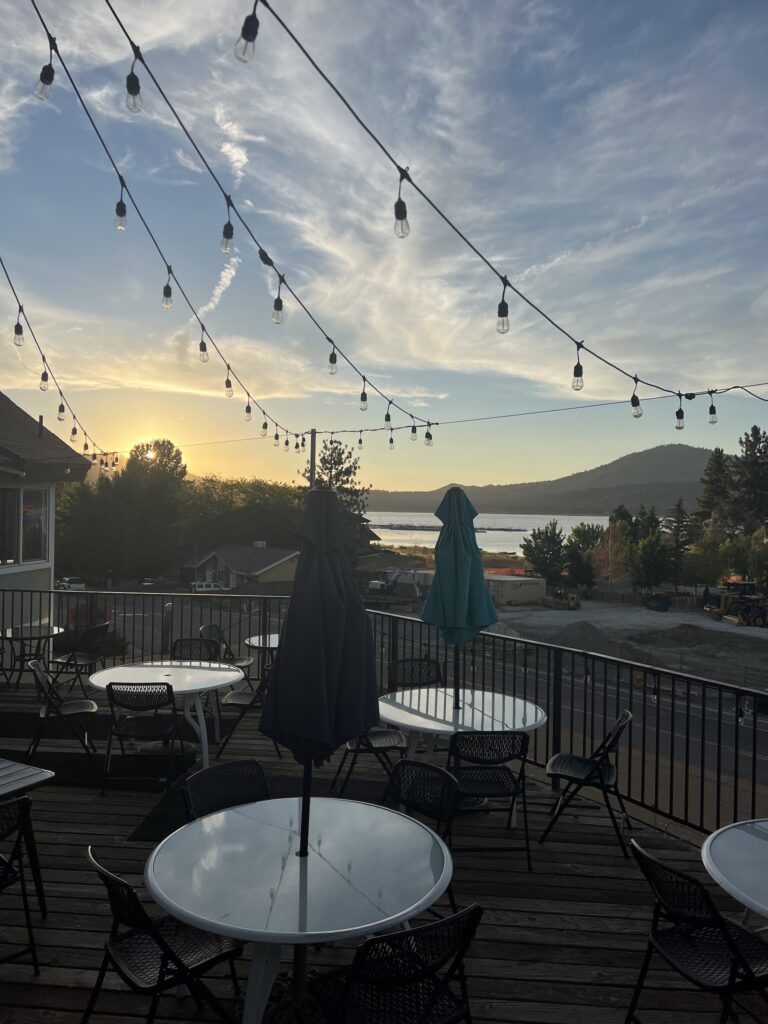 I could not believe how good everything was, decently priced and the atmosphere was perfect.
Best Restaurant In Big Bear Lake | Oakside
I'm torn again… I am back to thinking this is the best restaurant in Big Bear Lake and it even has a great view.

As I go back through my pictures I remember thinking this was one of my favorite restaurants on earth!
It screams ski hill vibes with the fire pit and the decor, has a great patio and some of the best food ever.
Their calamari might be the best I have ever had, steak & lobster was perfect, pasta was amazing and even had the French dip for lunch!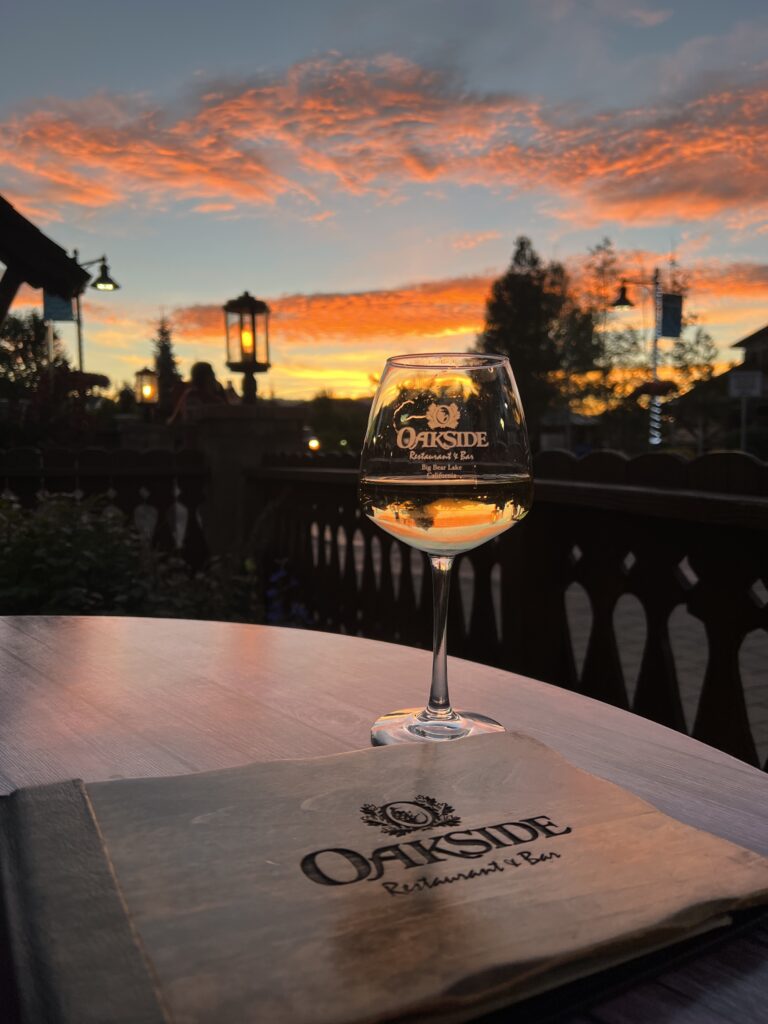 Their cocktail list is also unreal… it has everything! I think I have 3 exclamation points in 5 sentences so you probably get the point.
Alike Santana & Mavericks they also have a giant menu which has something for every taste! It basically combines fine dining with a bar & grill… it is perfect.
Best Breakfast In Big Bear Lake | Teddy Bear Restaurant
This is another tough one as you will see there are two other breakfast places on this list!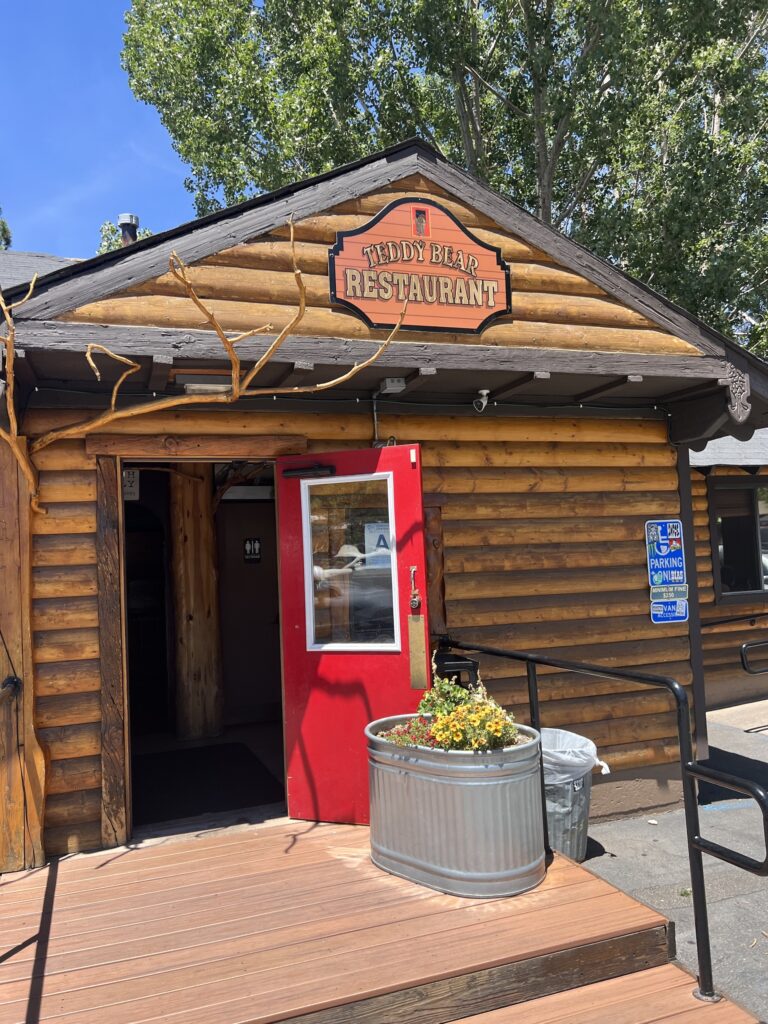 However, this one wins as it arguably could also be the best restaurant in Big Bear. It has a giant menu as well, has so many unique amazing options and they have their famous cinnamon cornbread.
It is sooo good, how good? It basically takes a regular breakfast place and adds a cape to it with some fireworks.
All your favorites but add more flavor and things like brown sugar glazed bacon, homemade bread, O'briens home fries and worth repeating that unreal cinnamon cornbread.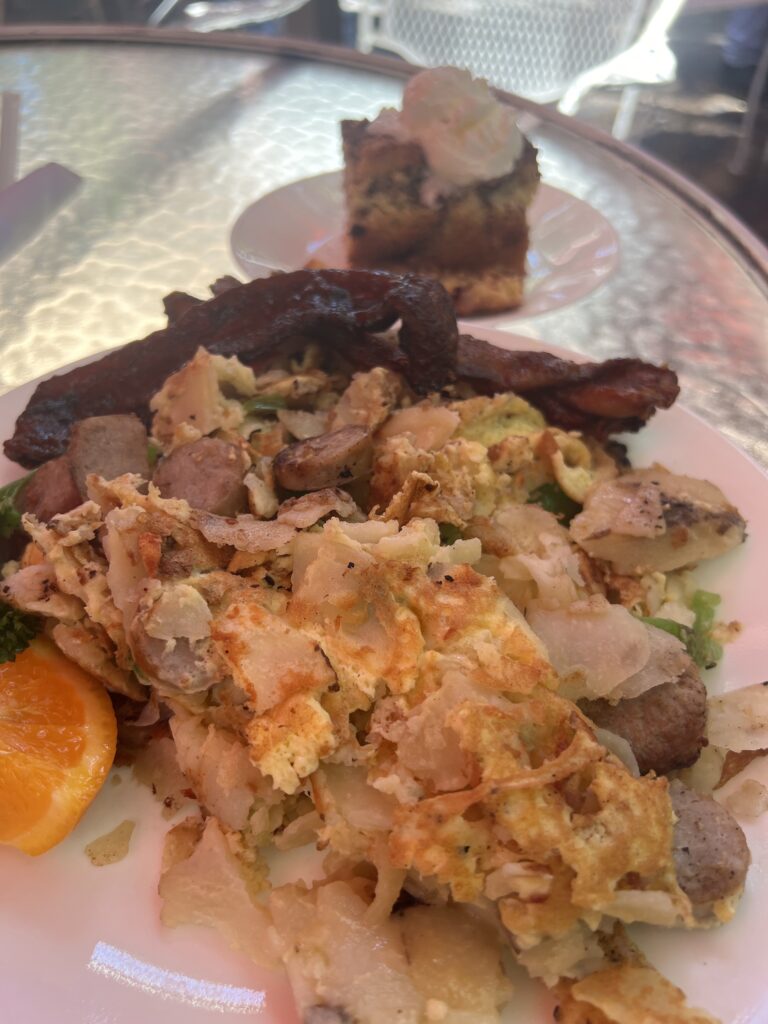 The only thing it is missing… which is fine since it is old-school, is an espresso maker. It has regular coffee but for baby-palate people like me a nice iced mocha latte would be delightful.
Best Pub Feel & Ambiance Restaurant | 572 Social Kitchen & Lounge
If you just want some good pub food then look no further than 572 Social.
They have live music every night, multiple fire pits and it is the perfect ski hill ambiance. Grab yourself a burger, a pint and enjoy the music and atmosphere.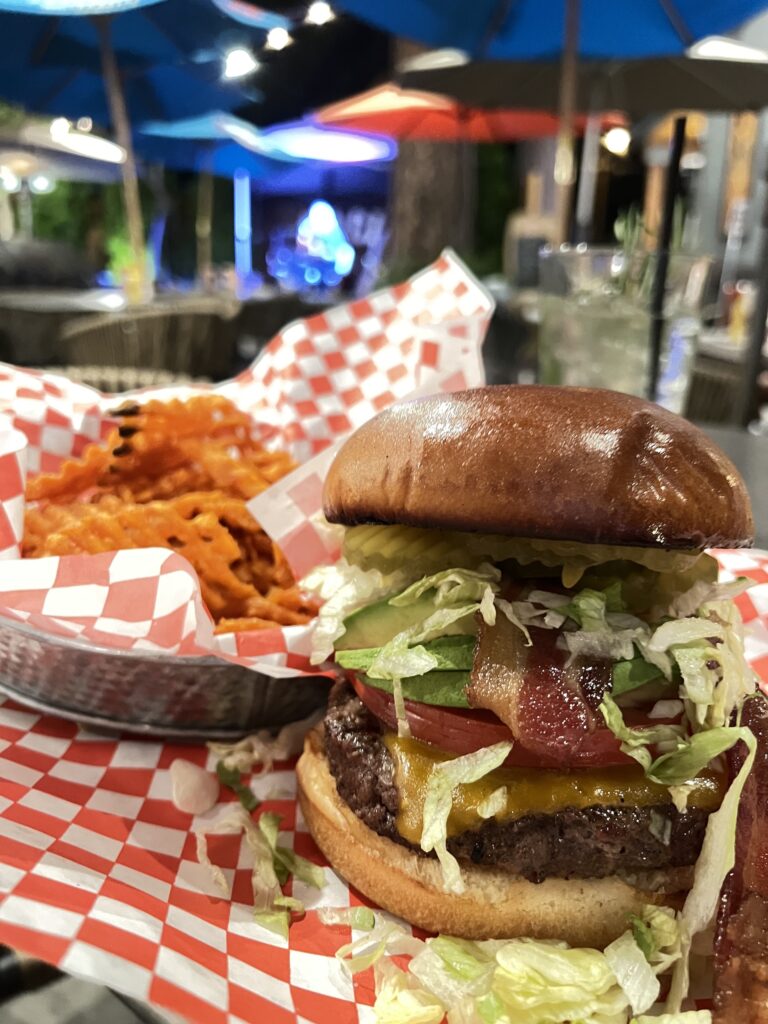 It is also my favorite place at Big Bear Lake as always a great spot to start your night with a drink and some music even if you don't eat there.
Best Sandwich in Big Bear | Amangela's Sandwich & Bagel House
I love sandwiches, they arguably are my favorite food. So, the fact there was a build your own sandwich deli on the hill is incredible.

Like I said earlier, this village has the best food options out of any ski hill I have ever been to and really any place in such a close proximity.
They have breakfast bagels too which are equally as amazing. They have so many options for breads, meats, cheeses, sauces and beyond so if you want a sandwich, this is your spot!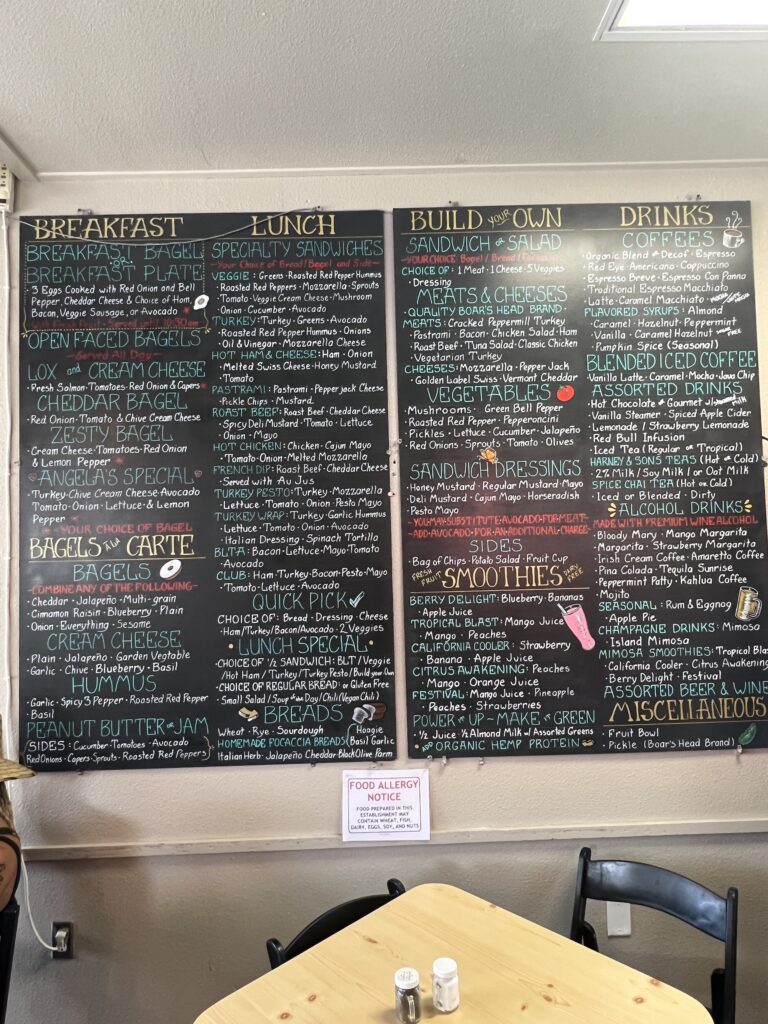 Best Sunday Brunch & Younger Fun Ambiance | Stella Luna
If you want something a little younger and more trendy then Stella Luna is your spot. Has good music playing, trendy menu options, amazing patio, contemporary decor and a solid cocktail list.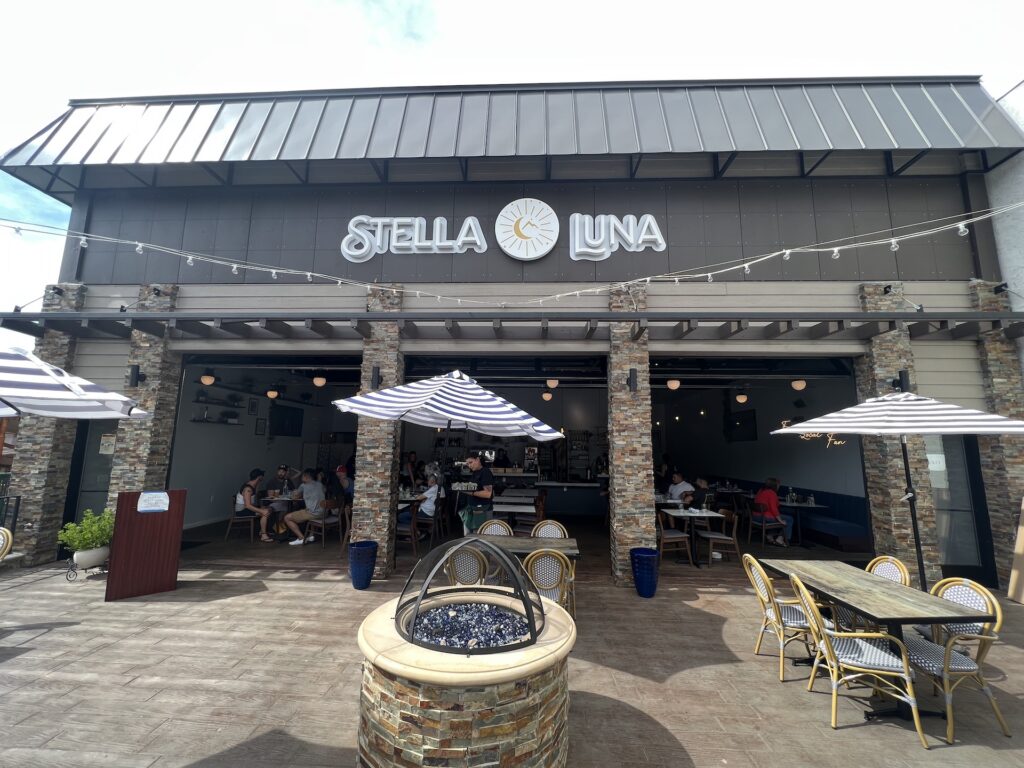 This is where you should go for your sunday brunch for mimosas & bloody marys to get your sunday funday going!
Best Coffee Shop | Big Bear Coffee Roasting Company
If you are a coffee snob or just basic af like me… and want an amazing & unique coffee place then you have to go to Big Bear Coffee Roasting company.

It was the nicest hosted coffee shop I have ever been to.
The owner didn't even know who I was (not like I am anything but he didn't know I may include him in an article or anything) and he took me on a little tour, explained more about the business as well as said to let him know if I needed any changes to my drink after he made it.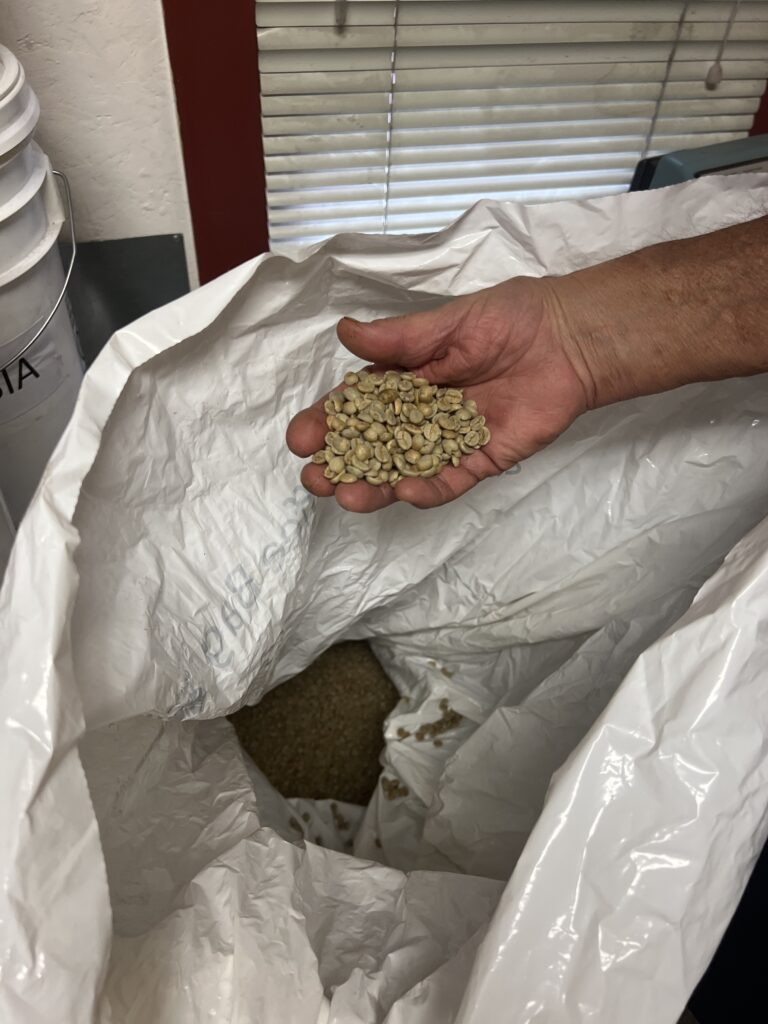 Little did he know I didn't know anything as I have a weak coffee palate, which made it even better. They actually order coffee beans in from all over the world and roast them at their shop!
You can purchase your own coffee beans there as well from places like Sumatra, Brazil, Peru and all over!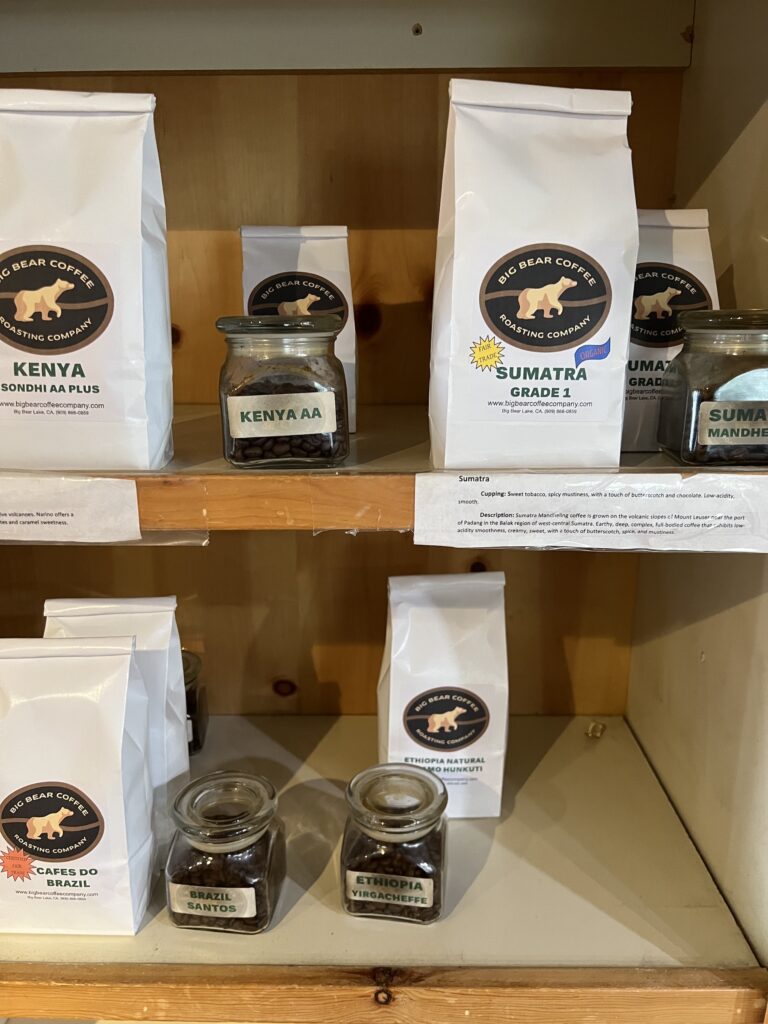 Their store also sells CBD and lots of other great natural products, it is near the village and a must stop!
2nd Best Breakfast In Big Bear Lake | Grizzly Manor Cafe
This could easily be your favorite breakfast place in Big Bear over Teddy Bear but the small size of the place, while adding to the charm, isn't ideal if you have to wait around a long time to eat.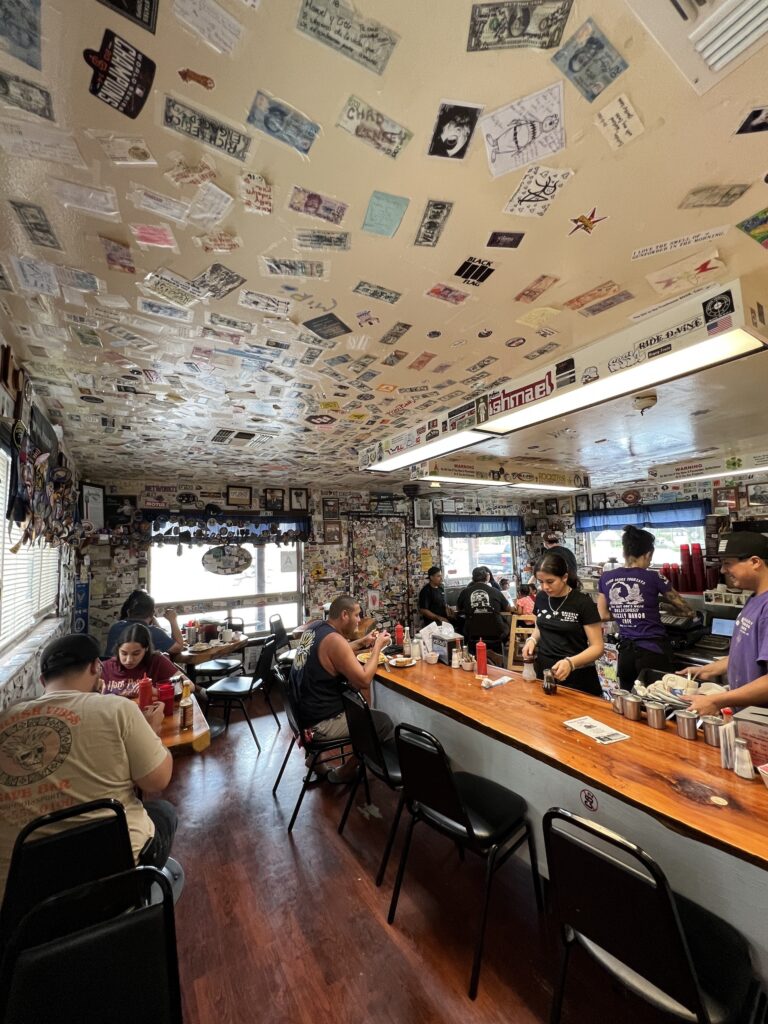 The wait isn't too bad and well worth it! It is just all-american breakfast diner with no frills and absolutely awesome!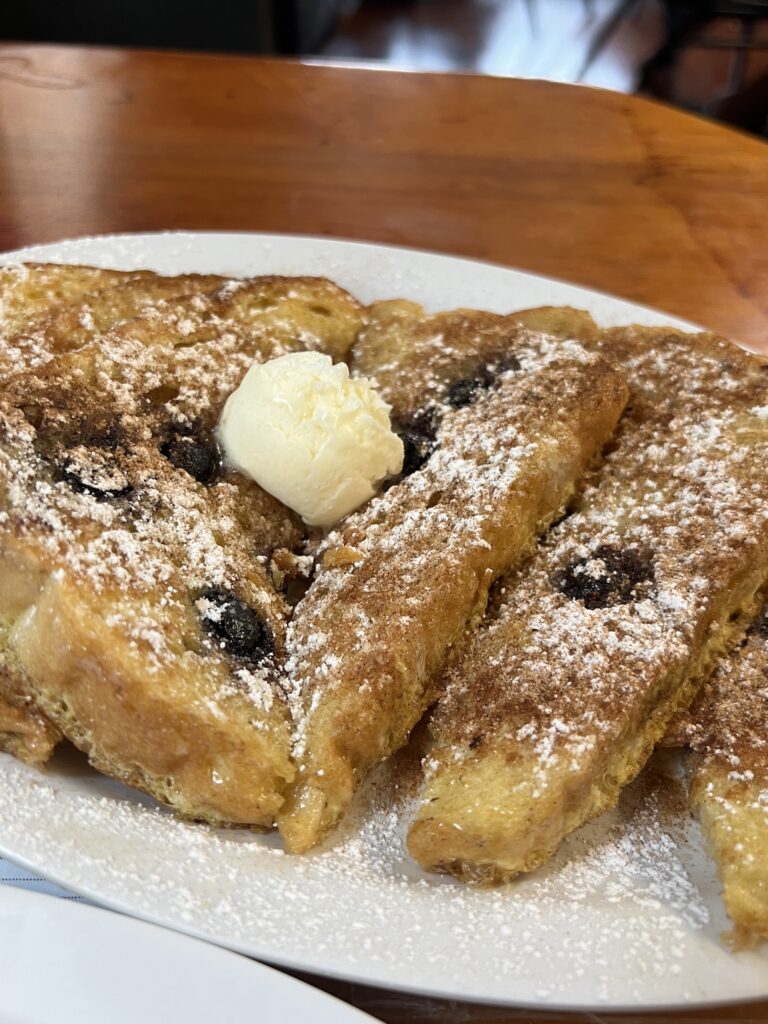 I always want to eat at places like this reminding me of the small-town feel, quaint and you have to go!
Best Quick Food & Drinks | Cafe Crepe Espresso & Creperie
Cafe Crepe is arguably another place tied for favorite spot in Big Bear. They have sweet & savory crepes, tons of coffee options, dog meals, and lots awesome seasonal tea & coffee drinks!

This place is a quintessential ski hill spot and should be replicated everywhere. It isn't affiliated with the Canadian version with the same name but it is equally as good!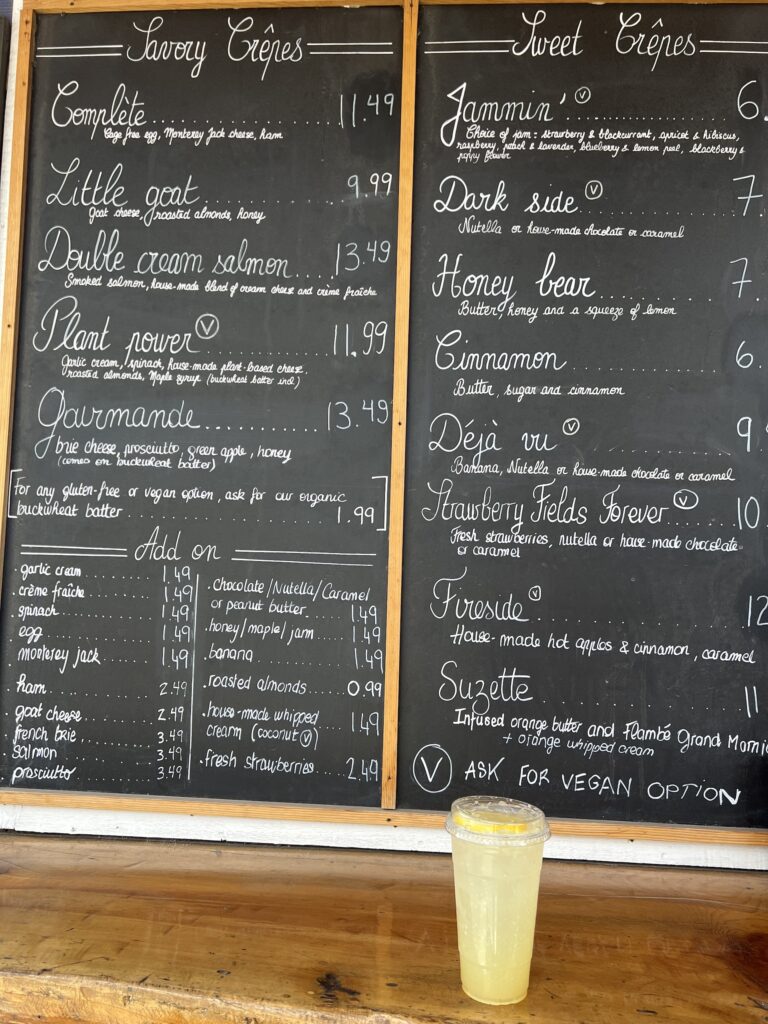 Best Smoothie & Bowls in Big Bear Lake | Frusion Juice N' Coffee Bar
If you need something healthy like a smoothie or acai type bowl then Frusion has what you want!

They offer avocado toast, coffee and everything in the smoothie realm. It is also conveniently located in the village.
Honorable Mentions
Peppercorn
Is nice fine dining with great food. However, the food is not significantly if any better than Oakside or Santana and it comes without the view.
On top of that I had the worst service ever there. Was never given water as the waitress was busy… we were there for 1.5 hours. Also had an empty drink for 35 minutes.

On top of that I can't stand it when places won't seat you if your whole party isn't there. It is rude and dumb for their own bottom line. My plan was to order drinks for everyone so they were ready when the rest arrived…
This starts the tab and the restaurant making money early… yet not only did we have to wait for the last couple of people in our group but it also took 25 minutes to get our first round.
Himalayan Restaurant
I heard amazing things about this place, they even put on a show! Unfortunately it just didn't make the list for the summer as it was indoors and there was just way too many great patios with the unreal sunset I picked.
For the winter this is a must visit!
Do Not Eat At
Hate to be negative but the Bone Yard Bar & Grill food was awful. I am not picky and I ate it, however if we are going to compare any of the others above vs. Bone Yard choose the others 5x before this spot.