If want to find the best waterfalls in La Fortuna this article will cover not just the best ones to see when in town but also ones nearby that are worth the trek.
From giant waterfalls, to swimming holes to hot springs in La Fortuna to one of the prettiest waterfalls I have ever seen just outside La Fortuna you will have an amazing time chasing falls on your trip.

La Fortuna, one of my favorite towns on earth, is nestled in the heart of Costa Rica and truly is a nature lover's paradise. S
urrounded by lush rainforests, breathtaking volcanoes, and captivating wildlife, this enchanting destination offers a plethora of natural wonders to explore.

Among its many treasures, La Fortuna and its surrounding areas boast 7+ waterfalls that showcase the region's awe-inspiring beauty.
Best Waterfall Near La Fortuna: Rio Celeste
Let's start with the best waterfall in the La Fortuna region and one of the prettier falls I have seen anywhere in the world.
A pretty 1.5-2 hour drive from La Fortuna lies the captivating Rio Celeste, renowned for its celestial blue waters that just don't look real.

As you embark on a hike through the Tenorio Volcano National Park, you'll be treated to the sight of the mesmerizing Rio Celeste Waterfall.
The unique turquoise hue of the water is a result of the convergence of two pristine rivers enriched with volcanic minerals. The cascading waterfall against the vibrant blue waters creates a sight that seems almost otherworldly.

The hike itself is moderate in difficulty but is shaded most the entire way. It takes 1.5-3 hours to adventure around inside the park pending your speed and fitness level.
Aside from the waterfall you will come across the bubbling sulfur outlets, a blue lagoon, an instagram post worthy bridge, as well as the confluence where the clear river of Rio Buenavista hits the mineral sediment and changes color into the blue of Rio Celeste.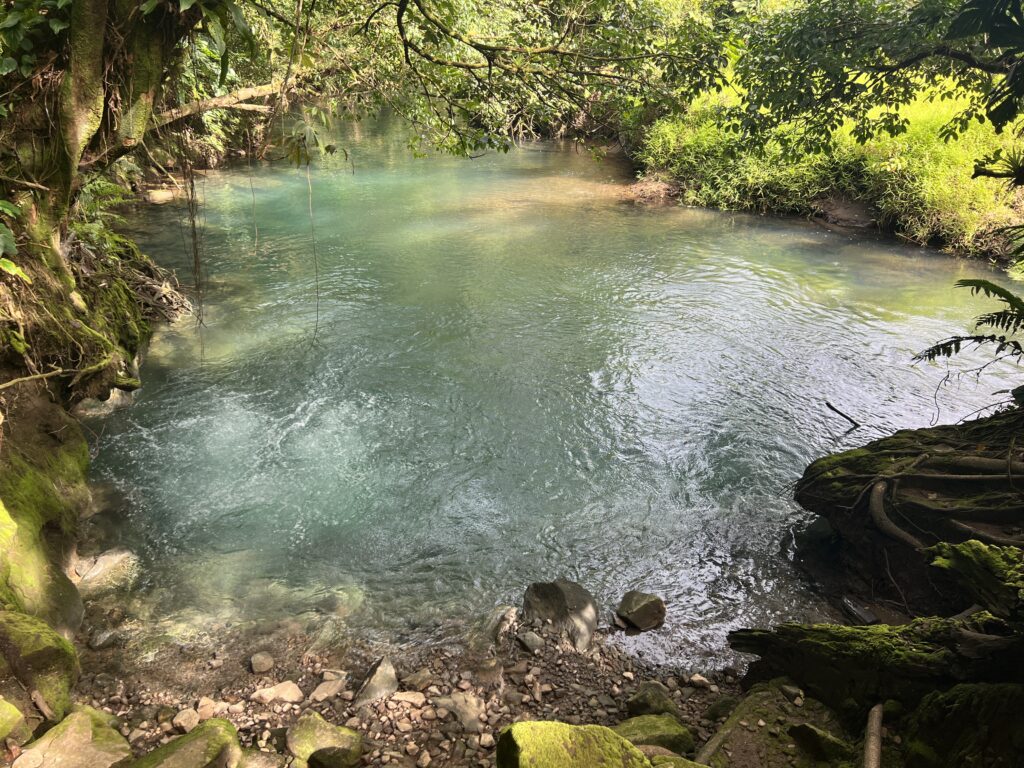 The drive here itself is worth it as a you drive through the countryside, through some rural towns and just see some Costa Rica outside of the tourist cities.
To get there I always rent a car in La Fortuna as you save money in the long run vs. everyone in your group paying a tour fee. However, many tours will also take you there but the drive is very easy and straightforward.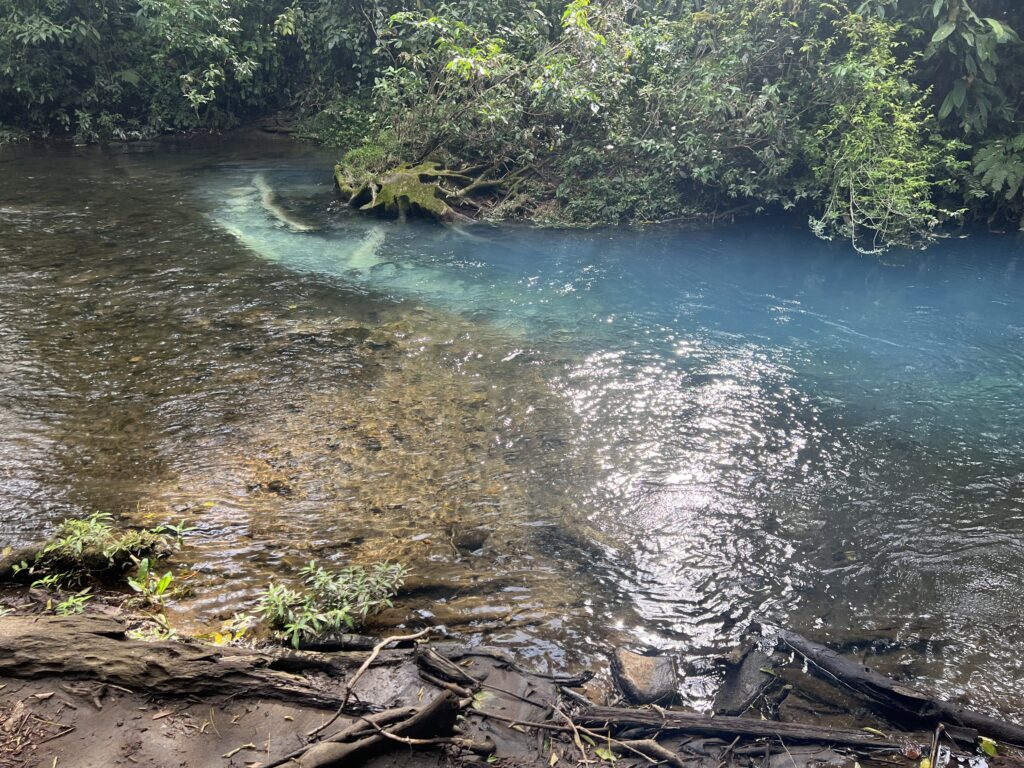 Rio Celeste closes at 2pm so be sure to get there and start before then. There is a modest fee to get in and around the entrance there are a ton of great places to eat, street food, restaurants, fresh fruit, smoothies & more!

Arenal Observatory Lodge Waterfall
If you love hiking then you must checkout the trails at Arenal Observatory Lodge, which boast incredible views including a gorgeous waterfall.
Tucked away within the Arenal Observatory Lodge lies a hidden gem of a fall waiting for you to go for a swim in its waters.

This serene and secluded waterfall offers a tranquil escape from the crowds, allowing visitors to connect with nature in its purest form.
Aside from just the waterfall definitely take half a day or less to hike through the lodge's trails, which surrounded by lush rainforest and diverse wildlife as well as have some incredible lookout points.

Even without the waterfall you would still love all of the sites and views from this exquisite park.
When you enter the park you will get a map of all of the things to see in Arenal Observatory Lodge with the points of interest on there for you. I suggest waiting to do the waterfall at the end so you can cool off and go for a swim in the water for a refreshing dip after your hike day!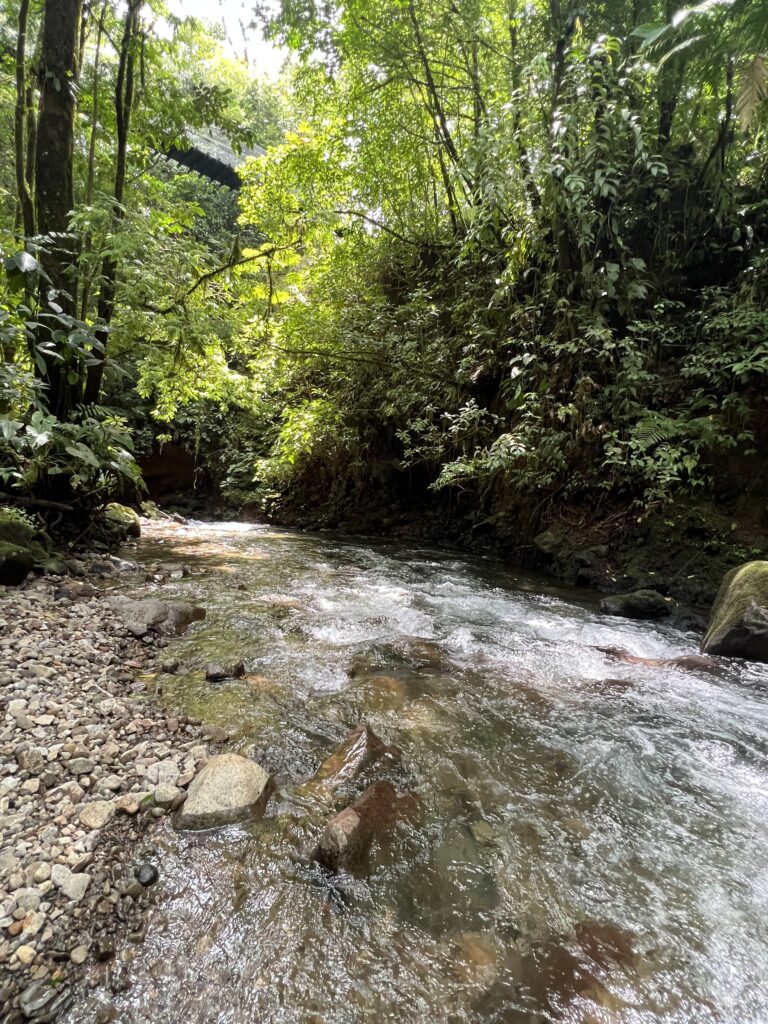 Arenal Observatory Lodge is 30 minutes from the town of La Fortuna and the entrance fee is $15 USD per person. There is a restaurant as well if you wish to eat there after.
Definitely be prepared to do 2-5 hours of hiking as there is a lot to see. You can even go off the standard path and find your way down to the streams for some unique & gorgeous views.
Canyoning: Waterfall Rappelling In La Fortuna
One of the best and most thrilling experiences I have ever had that shouldn't be missed is canyoning in La Fortuna.
Known for its stunning canyons, cascading waterfalls, and rugged terrain, La Fortuna provides the perfect setting for an exhilarating canyoning adventure that I have never seen anywhere else in my travels.

Canyoning, also known as canyoneering or waterfall rappelling, involves navigating through narrow canyons, rappelling down cascading waterfalls, and immersing oneself in the raw beauty of nature.
The treks combine elements of hiking, climbing, rappelling, and swimming, making it a truly immersive and adrenaline-fueled adventure.
Yes, it is scary as heck… but oh so worth it. Not to worry, you have guides for your adventure so you will be well taken care of with top-notch equipment, and a safe and unforgettable experience.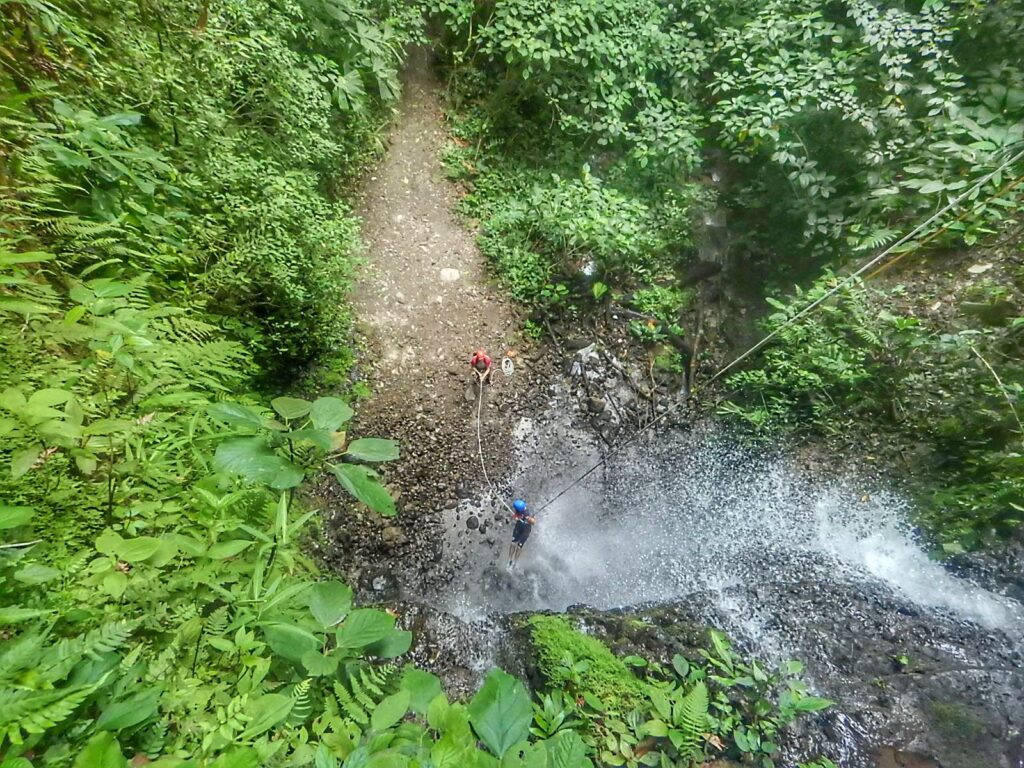 A couple recommended companies are Pure Trek Canyoning & Desafio Adventure Company. Costs are around $100-125 USD per person and I mean it, it is one of my favorite things I have ever done.
Whether you're a seasoned canyoneer or a first-time adventurer, canyoning in La Fortuna is an experience that will leave you exhilarated, inspired, and in awe of nature's raw power and beauty.
La Fortuna Waterfall
La Fortuna Waterfall is undoubtedly one of the crown jewels of the region due to its proximity to La Fortuna and its magnificent size.
Cascading from a height of 70 meters into a crystal-clear emerald pool, this majestic waterfall is a sight to behold.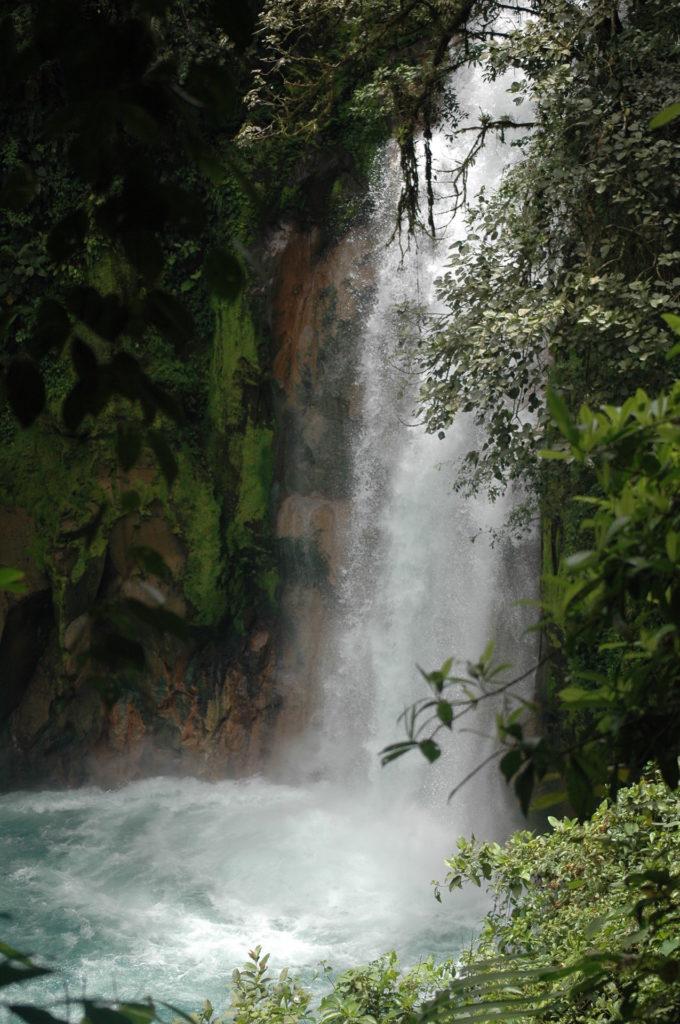 The hike down is pretty as well as you go through the dense rainforest, descending around 500 steps to reach the base of the falls.
Here, you can jump into the refreshingly brisk waters or simply just hangout and revel in the awe-inspiring beauty of this natural wonder.
You can even follow the stream down and play in the pools if you wish to avoid the colder, deeper and forceful pool of the giant waterfall.

It will take 15-30 minutes to get down the steps and then more to get up. It is safe to get down to as it has a cement staircase that has railings to help you along the way.
The entrance fee is $18 USD for foreigners and $9 USD for Costa Ricans. $8 USD and under is free.
El Salto Rope Swing, Swimming Hole & Waterfall
For those seeking a chill hangout twist to your waterfall experience, El Salto Rope Swing & Waterfall is a cool little destination.
While there isn't much to the waterfall itself, the overall ambiance is definitely a must visit spot in La Fortuna.

Located just a short distance from La Fortuna, this hidden gem is perfect for those who just want to grab some beers and hangout at the local swimming hole.
Swing from a rope and plunge into the refreshing pool below or just hangout and have a dip.
It is located right off the road and often it is free unless there are locals there charging around $5 for parking.
Public Natural Hot Springs
One last, not so waterfall but more water-trickles, is an escape into relaxation and tranquility at the secret public natural hot springs.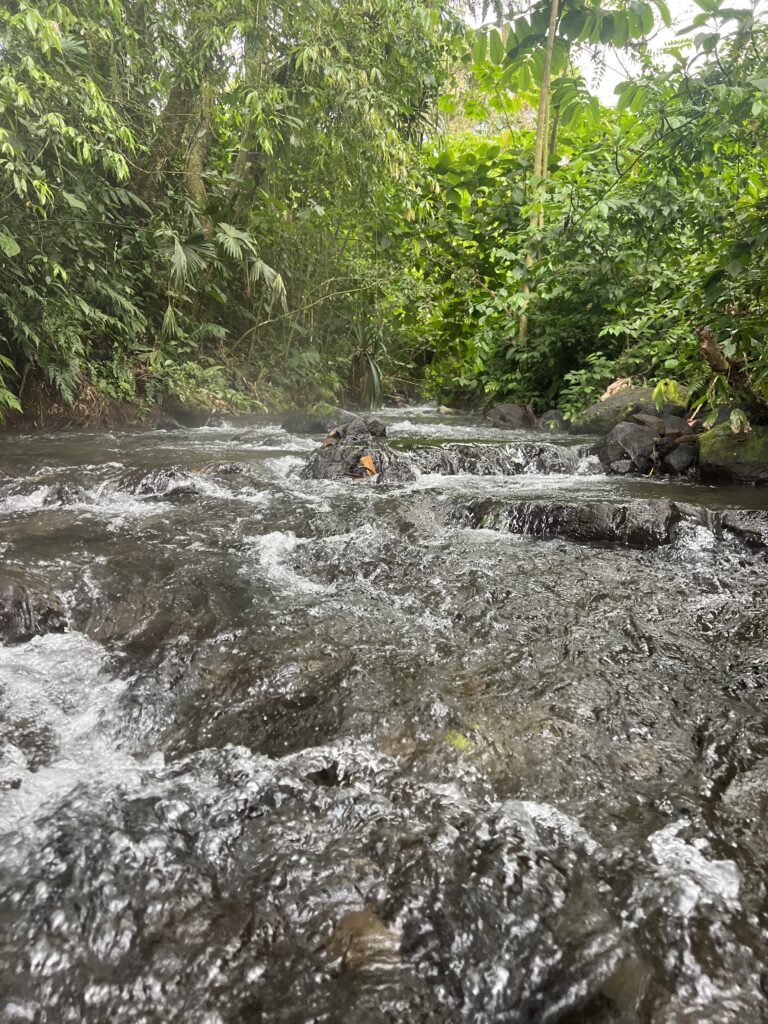 Skip paying the resort fees and come to this unique natural wonder found in the vicinity of La Fortuna.
Enjoy the warmth and tranquility of the hot springs as you bask in the lap of nature, surrounded by the sounds of cascading waterfalls and chirping birds.

Located just 15 minutes from town seconds past the entrance to Tabacon Hot Springs if driving from town. You will see a lot of cars parked in a makeshift parking lot where you will be charged $5 for parking.
The water is lukewarm and the stream stretches for hundreds of feet with plenty of spots to find a little place to sit or wade in the stream. Water shoes are recommended or shoes you don't mind getting wet as the rocks are pointy.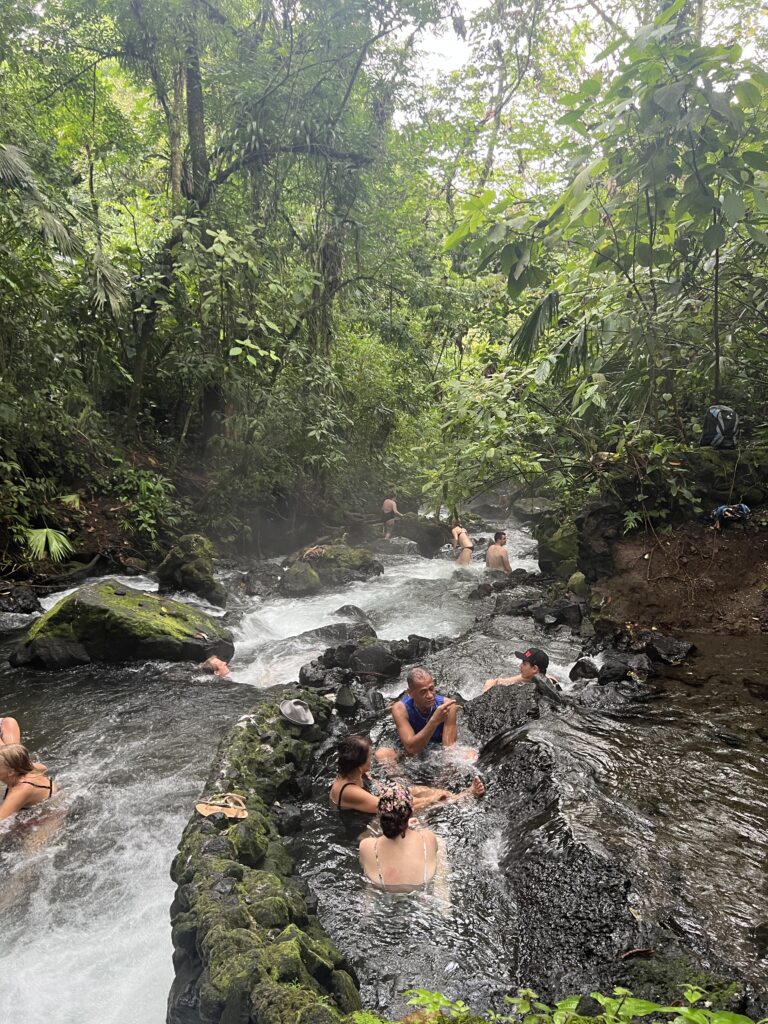 No the hot springs don't offer the amenities or the different heat levels and such of the resorts but it is pretty cool to just venture into nature and hangout in some hot springs in the jungle.
Mistico Hanging Bridges Waterfall
Another must-do in La Fortuna are the Mistico Hanging Bridges, which provide a unique opportunity to explore the beauty of nature from a different perspective hanging in the sky.
Suspended high above the forest floor, these impressive bridges offer an aerial journey through the treetops, revealing breathtaking views and an up-close encounter with the region's diverse flora and fauna.

As you traverse the bridges, you'll find yourself immersed in a world of natural wonders, with the sounds of exotic bird calls and the gentle rustling of leaves accompanying your every step.
Each bridge offers a different vantage point, showcasing panoramic vistas of the surrounding landscapes and you can even walk down to the Mistico waterfall!
The waterfall itself isn't extremely impressive but still a great site in this fascinating park.

Whether you're a nature enthusiast, a photography lover, or simply seeking a serene and awe-inspiring experience, a visit to La Fortuna's Mistico Hanging Bridges is a must-do activity that will leave you with memories to last a lifetime.
To be honest the cost of the park is expensive at $28 USD for adults but kids 6-10 are free, which is great. You need to purchase tickets in advance and it takes 1-2.5 hours to go through the park with a short (1.9km) and long (3.2km) option for the park.

You have to visit La Fortuna due to its surrounding areas that boast an array of breathtaking waterfalls that showcase Costa Rica's natural splendor.
La Fortuna is an adventure playground and is a must-stop for anyone coming to Costa Rica!