Where are the best places to stay in South Lake Tahoe? Where are cheap places to stay at Heavenly Mountain? Well we have two options for both for you!
There are a ton of expensive places to stay in Lake Tahoe but we found two really affordable gems you absolutely have to visit when at Heavenly Mountain. Both don't break the bank and have some of the best perfect winter holiday charm!

Where should you go in Lake Tahoe? Well my vote is South Lake Tahoe because it is one of the best quintessential ski towns. There are a ton of restaurants, a great ski hill, lots of bars, nearby hikes, casinos, waterfalls and of course the stunning views of Lake Tahoe.
So where should you stay in South Lake Tahoe when visiting what is in name and truly us Heavenly Mountain? This can be an anxiety riddled question as there are sooo many options. There are high-end resorts, casinos, motels, lots of airbnbs and hotel price options of all levels.
If money isn't an option then it is relatively simple since there are a few perfect 5 star hotels. However, if you want to stay somewhere nice but not spend $200-500+ then here are a couple of great hotels we stayed at on our visit.

These two hotels didn't break the bank but still were absolutely perfect places to stay and both had awesome vibes for a quintessential ski/snowboard trip.
Whether it was the decor, your own fireplace, a beer garden, hot tubs, games or the great customer service.. both of these hotels were an amazing value to get a ton without paying through the nose.
Black Bear Lodge
$150-200

Black Bear Lodge is the perfect place to stay for a weekend at the hill! It is adorable and gives you such an amazing ski chalet feel. It is right out of pinterest with high ceilings, a beautiful fireplace, string lights and everything you want in a ski lodge.

Black Bear Lodge is less than a mile from the village & the Gondola as well as just a few minutes to the California Lodge that access multiple Heavenly ski lifts.
If you are there for the beach then it is just 0.5 miles from the beach! If you aren't driving then there is a free mountain shuttle that will take you to the lifts, which is right outside the lodge.

The hotel itself is unique and quaint with just a few rooms as well as a few private cabin options as well. They also have a little bar setup with local beers, wine and cocktail adding to the authenticity of this beautiful place. They even have a large game shelf and a DVD shelf if you want to spend a cozy night in your room next to the fireplace.

The lodge is also a great place for weddings or meetings with great offerings for all occasions. On top of what they offer the service is also impeccable as they host you like friends being overly welcoming and are the perfect people you want to talk to for a weekend at the hill!
If you want the ideal mountain escape then Black Bear Lodge is your place. You can be tucked away in a perfect place to stay yet be close in the heart of the area!

Basecamp Tahoe South
$100-150

This place is such a great idea… it surely used to be an old meh motel and they transformed it into a great little hotel with the coolest vibe. Now, don't expect a 5 star experience & hotel but it is perfect if you have no expectations and are happy in a 3 star hotel.
The hotel rooms are dressed up to fit into the ski hill vibe with great decor and an inviting cozy feel. However, the rooms aren't what sets it apart from the other hotels but it is the multiple fire pits and of course its own beer garden!
There is live music, house made food and they host the South Of North Brewing Co. to serve you craft local brews & more.

On top of all of that great stuff they are just a few minute walk to the village or the beach. If you are there to ski or snowboard you won't have trouble walking to the Gondola, which obviously is a huge win. You're also right across the street to the casinos and multiple restaurants and bars.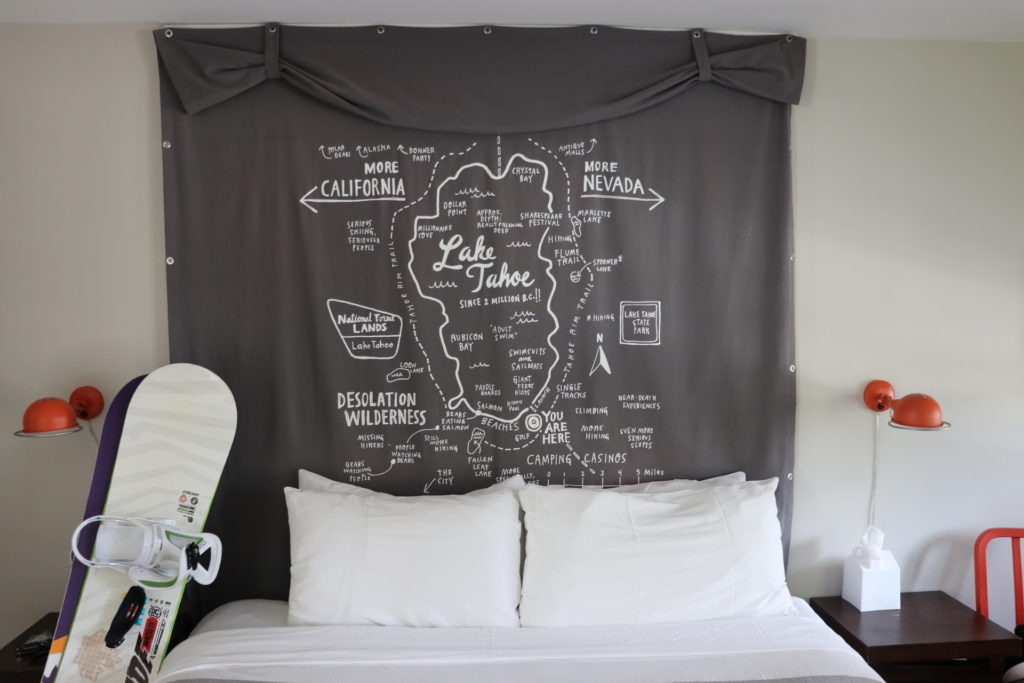 There are a ton of places to stay in South Lake Tahoe but I really do love both of these spots so be sure to check them out!