Fact, I have turned 100/100 Americans from bloody mary's to caesars once they try it. This recipe is more for non-Canadians as every good Canadian should know how to make a caesar or I assume you get deported. If you have been to Mexico this is also what they serve you down there, except not as quality.
For those who don't know a caesar is a bloody mary on steroids without the thick sauce feeling of bloody mary mix and the addition of a nice salty brine your body craves after a night of drinking. Don't let the Clamato scare you away as there is no fishy or sea taste to Clamato juice.
Side note: I hate when people add extra unnecessary things to my caesar… no I don't want hard cold bacon nor do I want a slider. In fact I find it quite presumptuous you think I want a slider and keep me from ordering food myself yet adding $3 to the drink I want. Don't get me started on celery you cheap bar a**holes, no one wants celery so stop being cheap and give us something spicy-pickled.
Anyways, for those wanting the standard best recipe without the gimmicks this is the essential caesar recipe as if you got it from Earl's or Joey's.
Here are some extra major tips for making drinks and hosting people to make sure they love your creation
When making a drink for people and you want them to love the experience you need to appeal to 4 senses.
You must make it taste good of course, it needs to have a pleasant aroma thus sometimes adding a garnish helps, it should look beautiful clearly and then they must feel a nice ambiance and setting when trying the drink. I can help you with the first 3 but the ambiance is on you… music, clean up, give them a shot so they are already getting drunk and everything is fun… up to you :).
One AMAZING way to add to your drink ambiance and appeal to all senses is infuse your liquor. Infusing liquor is the greatest lie in drink creation as what sounds extremely impressive is really just you pouring liquor into a jar and adding 1-2 ingredients then letting it sit for 1-7 days… or even 1 hour and just lying to your guests. Infused liquor makes you look like some planned, smart super-hero that would do anything to host people. It will impress them and has you already 5 steps ahead on appealing to all of the senses.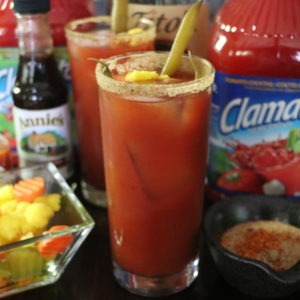 The Best Simple Caesar Drink Recipe
Great tasting bloody mary, the Canadian version called a Caesar. Perfect for brunches, breakfast, hangovers or post sporting events.
Print
Pin
Rate
Ingredients
4-5

cubes

Ice

2

ounces

Vodka or more if you're here to party.

Celery salt seasoning or Tajin for the rim.

I actually mix both together.

Worcestershire sauce to taste.

I like mine extra muddy and do 4-5 shakes.

Tabasco sauce to taste.

I like mine extra spicy and do 3-4 shakes.

Cholula or Tapatio to taste

Since this isn't spicy and more for flavor can do 3-4 shakes.

Pickled Spicy beans.

Or pepperoncini or pickled spicy vegetables or pickles.

And of course the game changer… Clamato juice

Don't even think about the "clam" part as all it does is add some amazing salt taste and thins out the tomato juice, which is a necessity.
Optional
Squeeze of lime juice.

1

tbsp

A1 or steak sauce.

Or to taste.
Instructions
Rimming. Most important start… I already have my celery salt & Tajin mix in a wide Tupperware container to stay ready, sort of like an alcoholic linebacker, always be prepared. Put a little water on the glass from the tap letting the water flow around the top edges of the glass. Dip the wet (not dripping) edges of the glass into the salt and get a nice thick rim around the edge.

Add in the vodka and ice cubes.

Fill the glass with Clamato juice about 1-2 inches from the top.

Shake in Worcestershire and tabasco to taste. I think 4-5 shakes of Worcestershire and 3-4 shakes tabasco is a good start then progress from there.

Add steak sauce & squeeze of lime juice.

Add your ideal pickled garnish... not celery.
Print Recipe