Located in Costa Rica, Manuel Antonio has some of the most stunning waterfalls you might ever see just a short ride out of town. This article will focus on two gorgeous bucket-list waterfalls you must visit on your next trip to Manuel Antonio.
These two falls were a couple of the most amazing falls I have seen in the world and what's more is that they are very accessible to most levels of physical ability.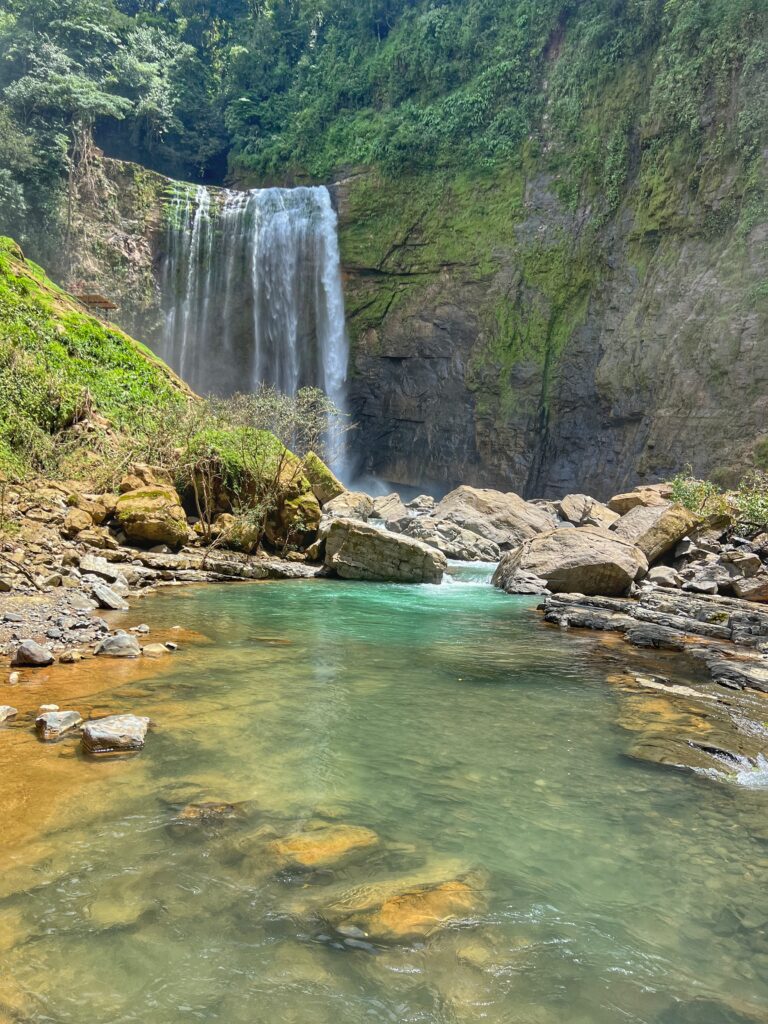 Many know Manuel Antonio is a stunning tropical paradise located in the central Pacific coast of Costa Rica, which is known for its beautiful beaches, national park and abundant wildlife.
However, not everyone knows the area also boasts some of the most spectacular waterfalls in Central America, including Nauyaca Waterfalls and Eco Chontales Waterfall.

What makes these the best in the area is their proximity to Manuel Antonio and easy of ability to get them along with their overall beauty.
In this article, we'll explore these magnificent natural wonders and why they should be on your must-visit list when traveling to Manuel Antonio.

On top of the stunning falls both of these locations have an amazing authentic restaurants you must try when you visit!
What is the best waterfall near Manuel Antonio?
Nauyaca Waterfalls is one of the most amazing waterfalls I have ever seen with two sets of massive falls.
Located in the heart of the southern Pacific region of Costa Rica, Nauyaca Waterfalls is a somewhat hidden gem that should be on every traveler's bucket list.
With two towering cascades, the falls offer a breathtaking view of the surrounding jungle and landscape.
The waterfall is accessed through a private reserve, where visitors can hike through the lush rainforest and enjoy a dip in the crystal-clear pools.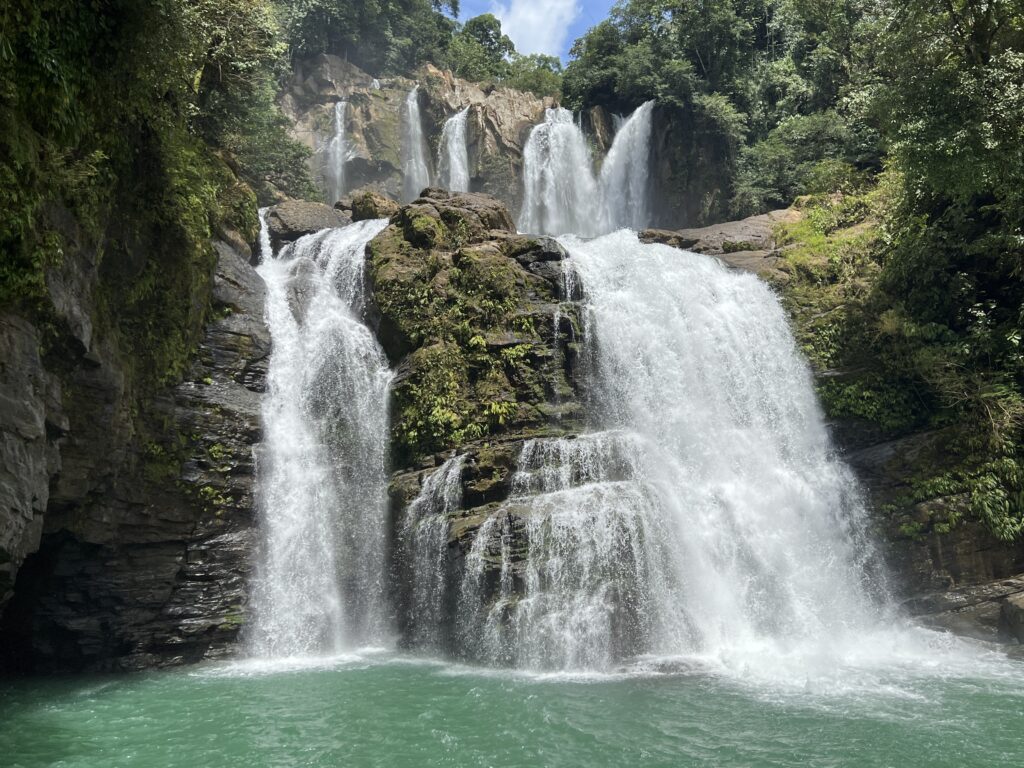 How Long Is the Nauyaca Waterfalls Hike?
The hike from the main office is 12 kilometer round-trip while the hike from the parking lot is 8 km round-trip if you have a car.
It is not a guided hike but it is a straightforward path down a road and then simple to follow the trail.
Along the way, you'll be surrounded by a variety of flora and fauna, including potentially howler monkeys, toucans, and sloths.
Once you reach the falls, you can swim in the natural pools, jump off cliffs, or simply relax and take in the stunning scenery.
Is the Hike to Nauyaca Falls Hard?
The 12 km hike is long with a lot of elevation change so it would be difficult due to its length. The 8 km round-trip is moderate and if you shuttle right up close it is easy.

How Tall Are the Nauyaca Falls?
The first falls are 20 meters high and the second set above those are 45 meters high.
Can You Swim In Nauyaca Waterfalls?
Yes, there are a ton of pools you can swim in at Nauyaca Waterfalls. You can also swim right up under them as well as find some grottos & caves to the side.
You can climb the falls as well but only with a top level guide and you must be extremely fit and well versed in climbing to attempt it.
How Much Does Nauyaca Waterfalls Cost?
It is just $10 to hike from the main office and that is 12 kilometers round-trip or if you have a car you can start from the parking lot just 8 km round-trip.

It is $32 USD per person if you choose to take their 4×4 shuttle from the main office to be just 100 meters from the falls.
The $32 USD shuttle runs every hour typically. They also offer horseback riding for $80 USD.
When Is Nauyaca Waterfalls Open?
Nauyaca Waterfalls is open 7am to 2pm except for Sundays when it opens at 8am.
Is there a restaurant at Nauyaca Falls?
Yes, the main office has a restaurant and it is amazing!

How do You get to Nauyaca Falls?
There are plenty of tours who will take you there or if you have a car you can drive right up to the office at Cataratas Nauyaca, Dominical – San Isidro PZ, Provincia de Puntarenas.
You can use Google or any maps to find it as well. The road is pretty steady and most every car can get there.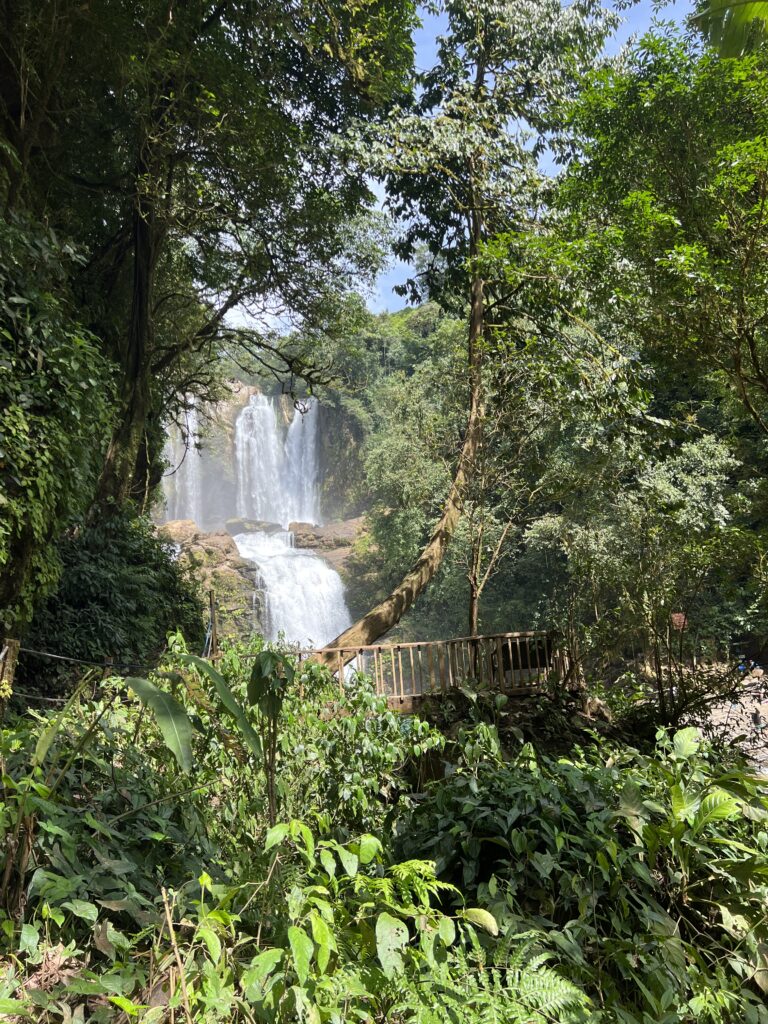 Are there tours who take you here?
Yes, I use and love Paddle 9 tours who not only take you here but they also first stop at a more secret smaller falls to play around in on the way. It also includes lunch and snacks like fresh fruit etc. www.paddle9sup.com/

The Nauyaca Falls webpage is quite helpful with lots of information so you can go here for total info you need. nauyacawaterfallscostarica.com/
Best Secret Waterfall: Eco Chontales Waterfall
If you're looking for a more secluded and off-the-beaten-path waterfall experience, Eco Chontales Waterfall is the perfect choice and equally as exquisite.

Located just over an hour from Manuel Antonio, this more secret waterfall is a pristine oasis surrounded by dense jungle and wildlife. The waterfall is about 70 meters high, and its turquoise-blue water cascades into a large pool at the bottom.
The pools at the bottom are also great for swimming and a dazzling photo in themselves. Beyond the pools there are more cascading waterfalls that also lend themselves to cliff-jumping for locals who know the spots to go.

While everything about these falls is unreal, there is also a restaurant at the bottom and please be sure to save room to eat there! Enjoy your visit and take your time as it is amazing when you are down there.
How do you get to Eco Chontales Waterfall?
Getting to the Eco Chontales Waterfall is an adventure in itself, as you'll need to drive through dirt roads and hike for about 30 minutes through the jungle.

However, the journey is well worth it, as you'll be rewarded with a truly unique and unforgettable experience. You can use google maps to get to the trailhead 9573+2MC, Unnamed Road, San José, Pérez Zeledón, Costa Rica.
The road is definitely a rough one as you go through the dirt roads so a 4×4 is recommended or go with one of the aforementioned tours like Paddle 9.

How Long Is the hike to Eco Chontales Waterfall?
The hike is pretty steep and takes around 15 minutes as you walk 600-700 meters down to the falls. Most people who hike and most levels of physical fitness should be able to do it.
How Much is Eco Chontales Waterfall?
It is 3,000 Colones or $5-6 per person to enter. Bring extra cash so you can dine at their amazing restaurant at the bottom of the falls!

When Is Eco Chontales Waterfall Open?
It is open from 8:30am to 4pm.
Why Visit these Waterfalls?
Aside from the obvious beauty and awe-inspiring natural scenery, visiting Nauyaca Waterfalls and Eco Chontales Waterfall offers a unique opportunity to immerse yourself in the local culture and ecosystem.
Both falls are situated in private reserves that offer a glimpse into the region's flora and fauna, as well as the chance to support local conservation efforts.
Visiting these waterfalls is also a great way to escape the crowds and enjoy a peaceful, tranquil environment. While Manuel Antonio National Park and its surrounding beaches are popular tourist destinations, these waterfalls offer a more secluded and intimate experience.
These natural wonders are a true testament to the beauty of Costa Rica and offer an unforgettable experience for all who visit.