Peralta Trail to Fremont Saddle & Weavers Needle
Peralta Trail is one of the best hikes near Phoenix. The superstition mountains offer a few of the best hikes in Phoenix and Peralta Trail just adds to the list.
Peralta Trail hike to Fremont Saddle not only gives you a great view of Weavers Needle but also get some stunning views of the entire area. There are also a couple diverse areas with lush forest type areas along the way and even flowing streams pending the time of year you go.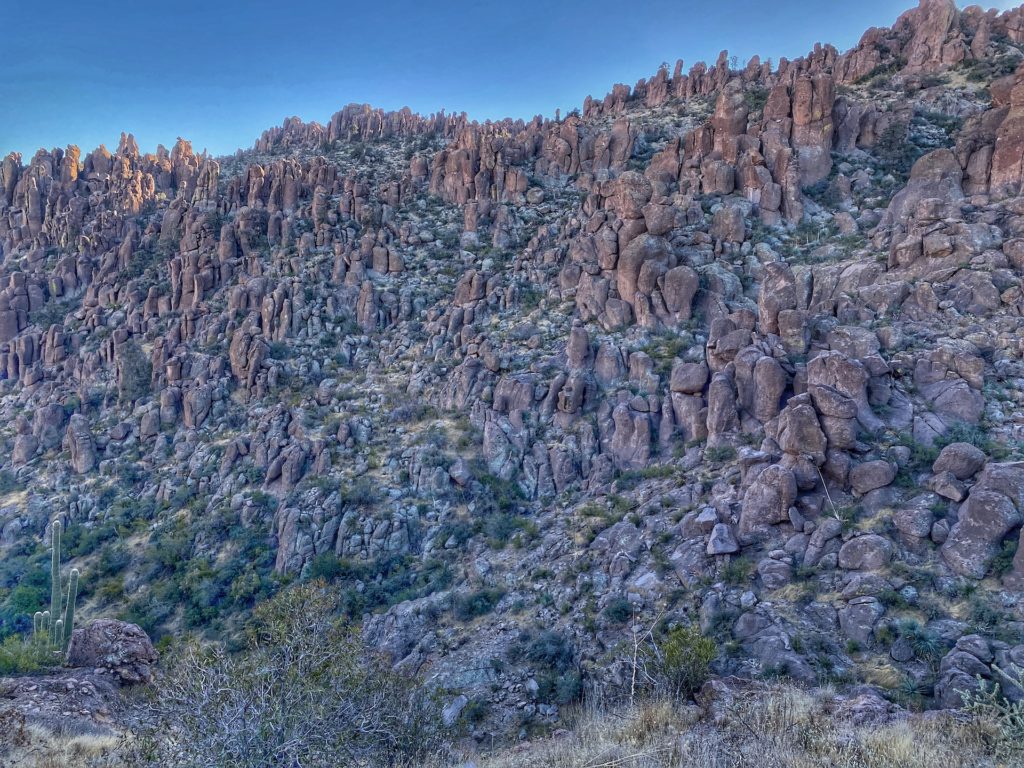 The hike to Fremont Saddle is the perfect distance as well at 5.5 miles and only 1,600 in elevation gain. It is good for all ages and of course with any Arizona hike just be careful in the summer and bring lots of water.
This hike is a great one for dogs as well considering many in metro Phoenix no longer allow dogs. If you have never hiked in the Superstition Mountains you must make it a priority the next time you head out.
Flatiron is arguably the best hike in Phoenix and Massacre Falls during the snow melt is spectacular as well. See here for a full Flatiron Guide and here for a full massacre falls guide.
When you do get to the saddle after you will get views of both sides of the saddle including Weavers Needle. Legend has it there is a lost gold mine that is within the shadow of weavers needle… just one of the superstitions in the incredible Superstition Mountains.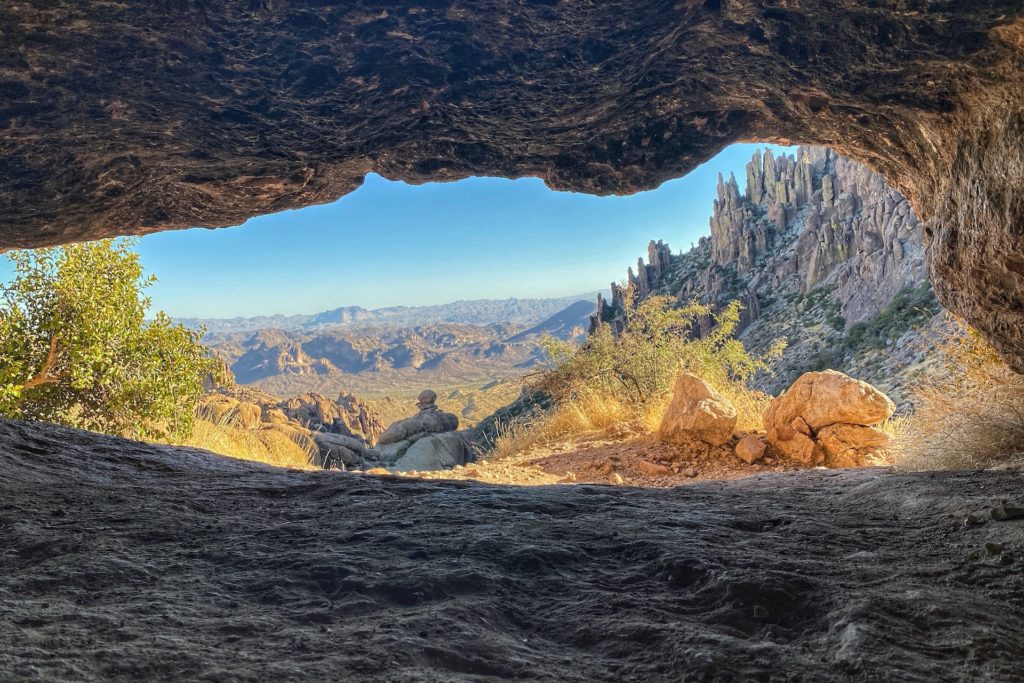 Peralta Trail to Fremont Saddle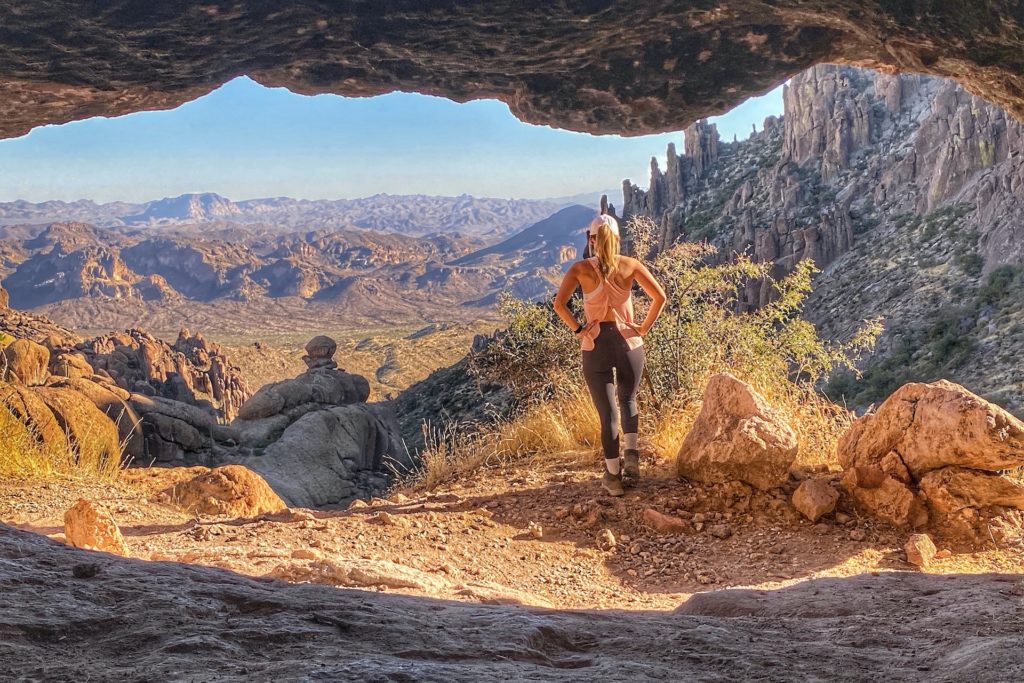 Difficulty:
Easy to Moderate
Elevation Gain:
1,600 feet
Length:
5.5 miles Round-Trip | Out & Back | 1.5-3 hours.
Peralta Trail is located 45 mins from the heart of Phoenix out past Mesa and about 15 minutes along a dirt/rock road that is driveable for all vehicles.
You will notice as get 3/4 of a mile from Peralta Trailhead there are cars parked at the Wave Cave trailhead. Definitely do both if you are feeling up for a big hike day.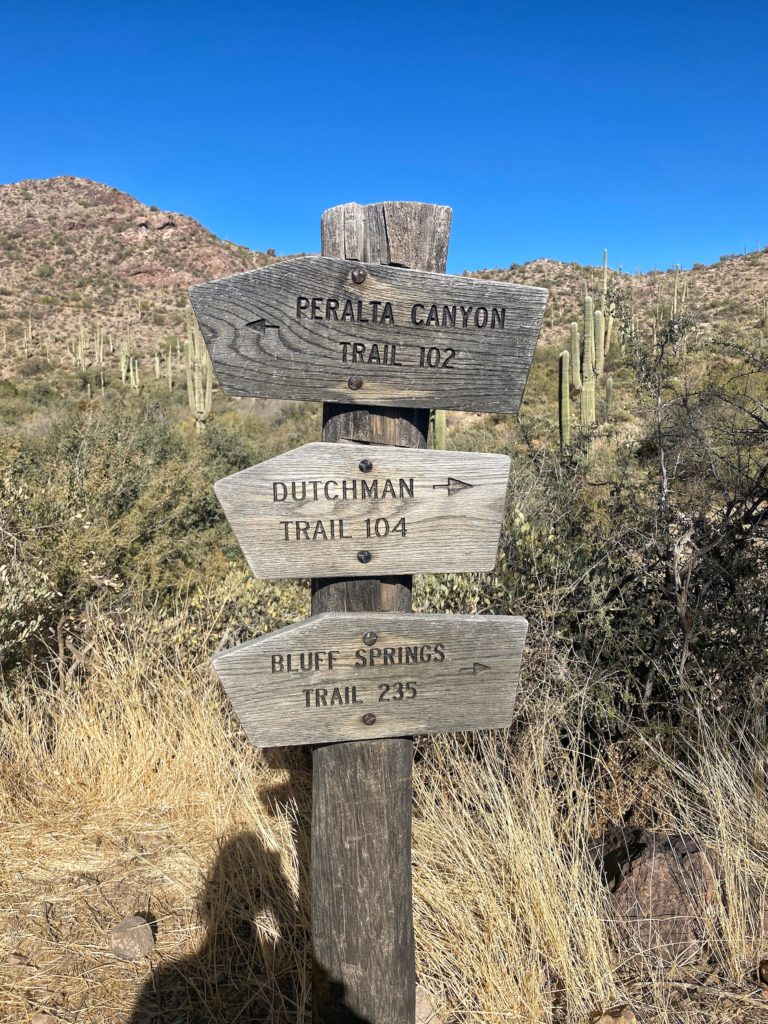 The hike is quite easy with a moderate incline the entire way. You start at the parking lot and right away there is some great sites with the large rock face in front of you.
Throughout the hike there is a cave, views and diverse ecosystems from desert to lush forest type.
The full Peralta trail is over 12 miles but most people love the hike to the saddle, which is 5.5 miles ending with views of each side of the saddle for miles.
When you get to the saddle you will also come across Weavers Needle where legend has it a gold mine exists within a mine that is within the shadow of Weavers Needle.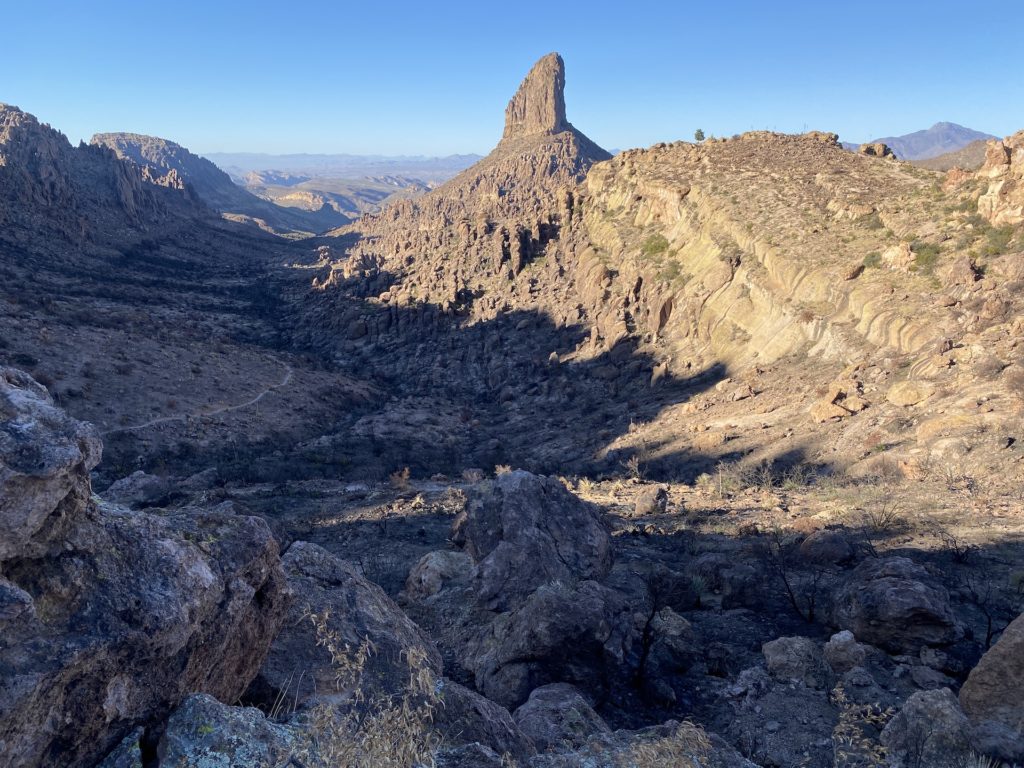 Pros
Perfect length and elevation for all levels
Amazing views
Not too busy being out of town
Dog friendly, on a leash
Unique views and sites along the way
Cons
No real cons aside from not much shade if hiking in the summer.
Tips
If feeling energetic combine this with the Wave Cave trail, which is right next to the trailhead.
---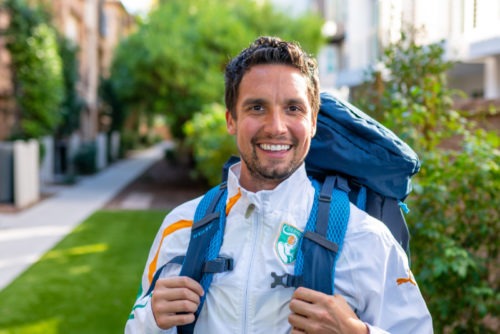 Hey I'm Fraser. My site is dedicated to the 22nd century person with a lust for travel and adventure, need for time efficient recipe ideas as well as anyone in need of self-help or a pick-me up! Thanks for visiting Inspire Travel Eat!
This error message is only visible to WordPress admins
There has been a problem with your Instagram Feed.