The Grand Canyon… wow. This sounds like the dumbest comment but it truly is enormous. Pictures do not to it justice at all and even flying over it multiple times I just never appreciated it. Walking up to the canyon just had me in awe, it is somehow even bigger and deeper than I was expecting x 10.
If you haven't been to the Grand Canyon you absolutely need to get there even if just for a day trip. The South entrance is relatively close to Phoenix at just 3.5-4 hours away from Phoenix and 30-45 from Flagstaff. If you want to have a perfect weekend combine a day at the canyon with a day in and around
Sedona
or Flagstaff.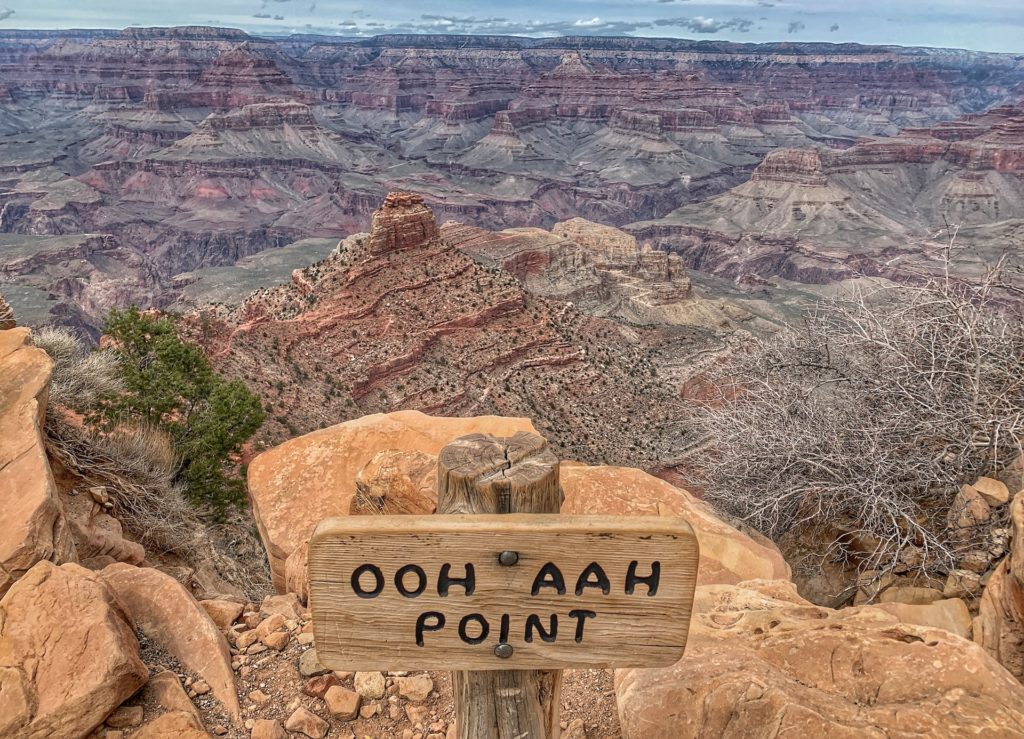 There are a lot of hikes at the Grand Canyon and it can be hard to choose what is the hike at the Grand Canyon. Of course, hiking Rim to Rim and multiple day hikes in the Grand Canyon are amazing adventures, however what about for those who aren't full on hikers or with limited time?
The South Kaibab Trail is perfect as it is open to the entire canyon, has some incredible views and also you can just turn around when you have had your fill. You can hike 1.8 miles round trip to Ooh-Aah Point, 3 miles round trip to Cedar Ridge, 6 miles round trip to Skeleton Point or all the way down to the South Kaibab Suspension Bridge & Water is 12.6 miles.

The National Park suggests you do no go past Cedar Ridge for a hike in the Summer and not past Skeleton Point at all for a day hike. As someone who hikes a lot I can tell you even just down to Cedar Ridge is a quality hike that will be a hard workout.
For people in okay shape just going to Ooh-Aah Point is amazing as well. You get views of the canyon, some exercise and to see the cool switchbacks along the way.
Some people prefer Bright Angel Trail as it is more gradual and easier, however you get significantly less stunning views and it is less picturesque than Kaibab Trail. If you had to choose one either Bright Angel Trail or Kaibab Trail I would definitely choose Kaibab Trail.

Kaibab Trail also has a ton of scenic viewpoints depending where you start walking from. If you leave from the Grand Canyon Visitor Center you can walk along the Rim Trail from Mather Point all the way to the trailhead, which will add a couple of miles.
You can take the shuttle to the trailhead as well. Or meet in the middle and park on the road near the Yaki Point turnoff and walk an extra .5 miles each way along the Rim. This gives you some more great unique views along the way.
Please use caution when you hike as it will take you twice as long to get out as it did to walk down. The hike seems easy and amazing the further you get down with your energy going and looking at all the sites.
However, remember you have to turn back around and hike back up. There is no water so be sure to bring extra and pack snacks or energy bars just in case you find yourself getting tired and weaker as you turn back to go back up.

There are also going to be pack mules along the way and you need to follow the direction of the wrangler. Do not pass the horses. Step off the trail on the side away from the edge, stay still and don't return to the trail until the mules are 50 geet past you.
Overall the trail is great as you can make it as long or as short as you want while getting in a ton of amazing views along the way. There is also a great chance you will see the resident elk near the visitor center.
You can catch the free shuttle going towards the Kaibab/Rim Route. There is also a hiker's express between the South Kaibab & Bright Angel Trail for those trying to hike both in the same day.