Cenotes, pronounced "seh-no-tays," are one of my favorite things on earth. The history, the colors, the jungle surrounding, sometimes fish taking off your calluses, snorkeling, scuba-diving or just basking in the refreshing water.
What makes me love them even more is that they are only located in one region in the world and it is just a 2 hour flight from Houston to Cancun! People want this tropical trip to Brazil or Asia but you can do so much amazing stuff in Mexico for less travel time and flight costs.

Tulum itself has a touch of Fiji to it with the amazing art, vibe and incredible beach bars. Don't believe me? Go to Instagram and type "Tulum" into "places" to see all of the unique pictures from travellers there. FYI, when I say to go cenote hopping I don't mean the $80+ USD adventure parks, I mean the local Free-$15 USD entry local cenotes.
As you may know this phenomenon is only in this region of Mexico and there are thousands of them throughout the Yucatan Peninsula. These mythical natural swimming holes are rich in history as they were once sacred wells and even were human sacrifice locations for the Mayans.
These Cenotes access networks of unexplored cave systems and are havens for adventurers, snorkelers and scuba divers. Some historians believe they can be linked to the extinction of dinosaurs.
If you want more than Cenotes on your trip to Tulum, Cancun and the Riviera Maya checkout: 13 Must Do Things or this Perfect 7-day Itinerary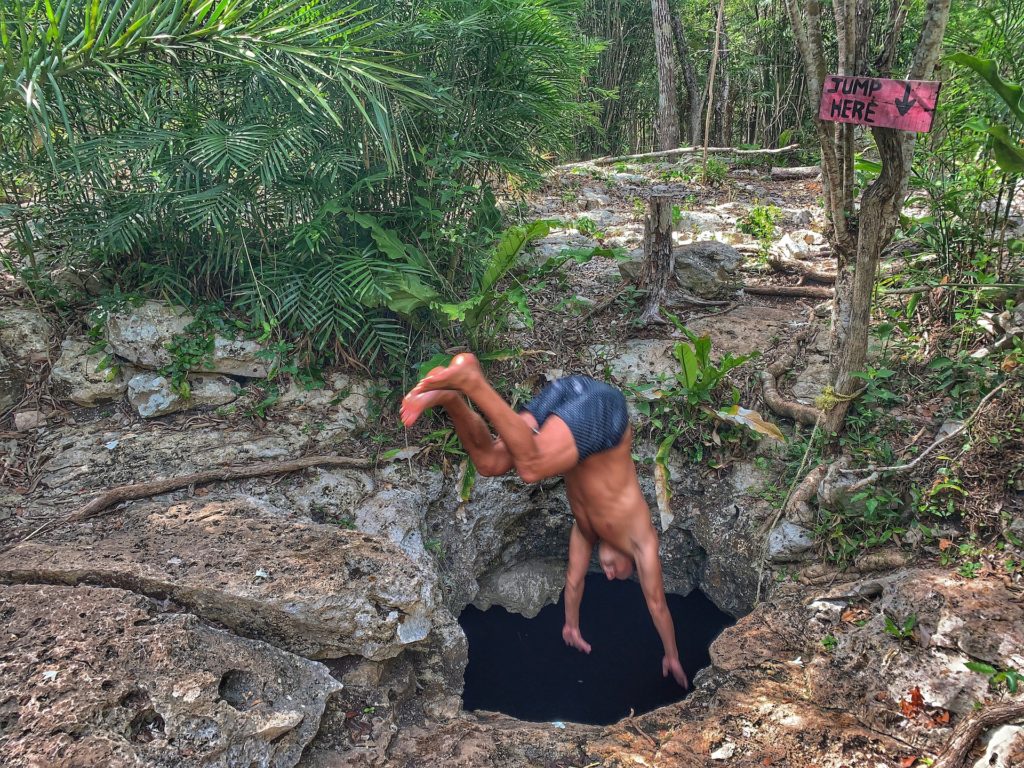 The only negative about them is that every year the Tulum area is getting more and more busy (isn't everywhere) so now is the time to go. As I mentioned in my article of 6 Reasons Why To Collect Passports Stamps Not Things, the world is getting smaller daily, making traveling now even more important.
Tulum from 10-years-ago to now is literally night and day. Even 5 years ago it didn't have the crowds at cenotes you now have… thanks a lot Instagram… thus go check them out while you can. When I went to a cenote 6 years ago there was like 4 other people there… now there are 20 cars in the parking lot… and it is only going to get worse.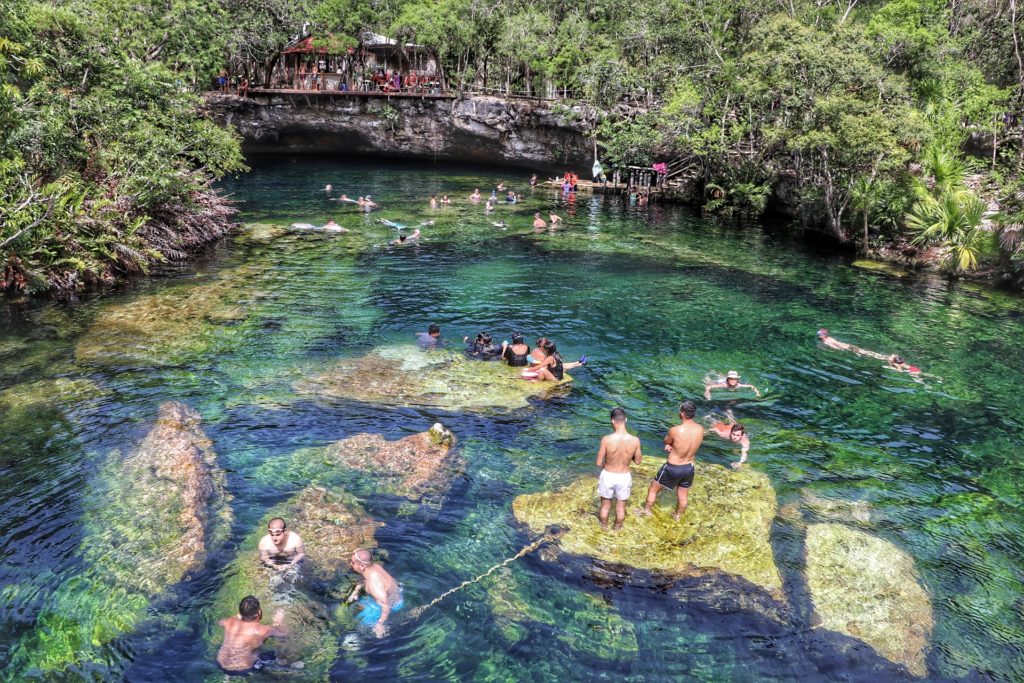 I guess one other small negative is there have been reports of some people getting sick from consuming too much of the water while swimming so just be mindful of that. I have never had any issues and the evidence has been all anecdotal… but enough people have mentioned it that I take a little notice.
With that said millions of people swim in them each year so don't be too worried, just try not to drink it all in. You could drink lake or pool water and not feel good so don't get too carried away or overthink it.
Notes:
I suggest going to a Super Ley or Walmart and buying snorkel gear for $10, it'll save you from renting everywhere and can bring back home with you.
Rent a car and go at your own pace. It will be much cheaper and more relaxing than a tour guide or a taxi.
Preserve the cenotes. Do not wear sunscreen, bug spray, perfumes or oils etc into any cenote. Most are cash only.
Skip paying for a fish spa, most of the cenotes below have the fish who will nibble at your calluses and feet for that spa feel :).
1. Cenote Ik-Kil
2 hours from Tulum. 2:15 from Cancun and Playa Del Carmen.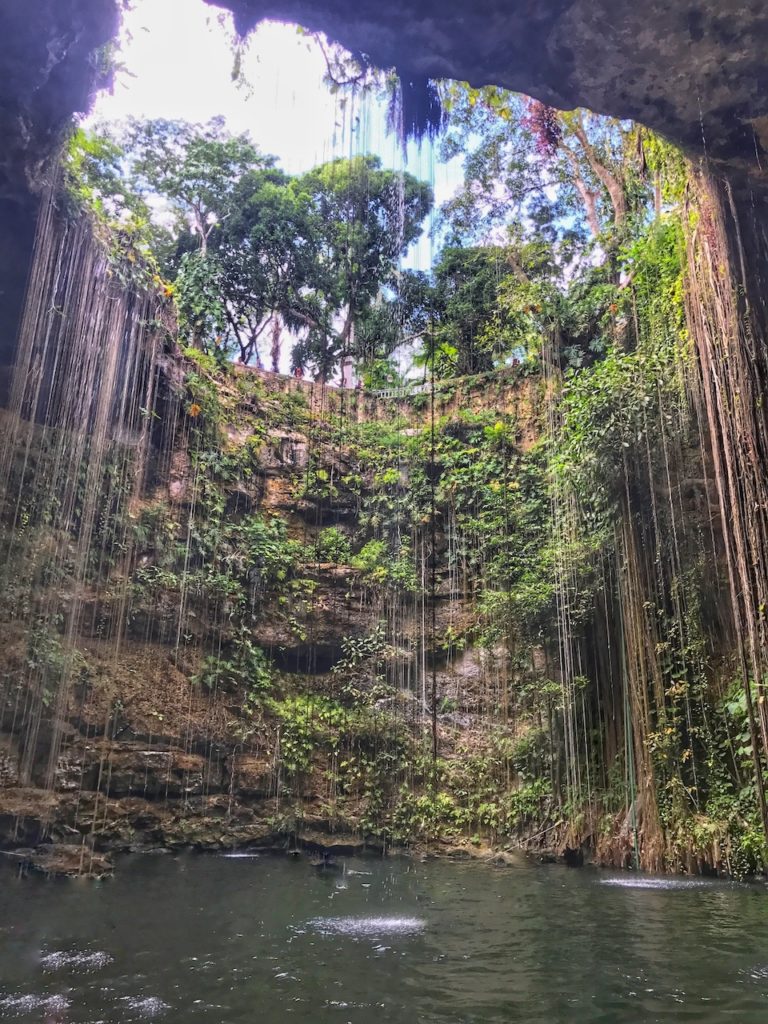 Ik-Kil is one of my favorite things on earth and I think the most beautiful cenote on in the world. The view from the top and from the bottom is so beautiful and one of the more unique things you will ever see.
It is part of the Ik-Kil archeological preserve located in the Yucatan Peninsula just outside the town of Piste. As you walk towards the cenote and look down you view cenote opening to the sky with vines draping down the walls and mini falls descending below.
The cenote itself is 130 ft deep, is home to black catfish and has hosted the Red Bull Cliff Diving Series. If you already weren't in awe or had the chills, the carved out steps and walkways will get your excitement bubbling as you walk down to the pool.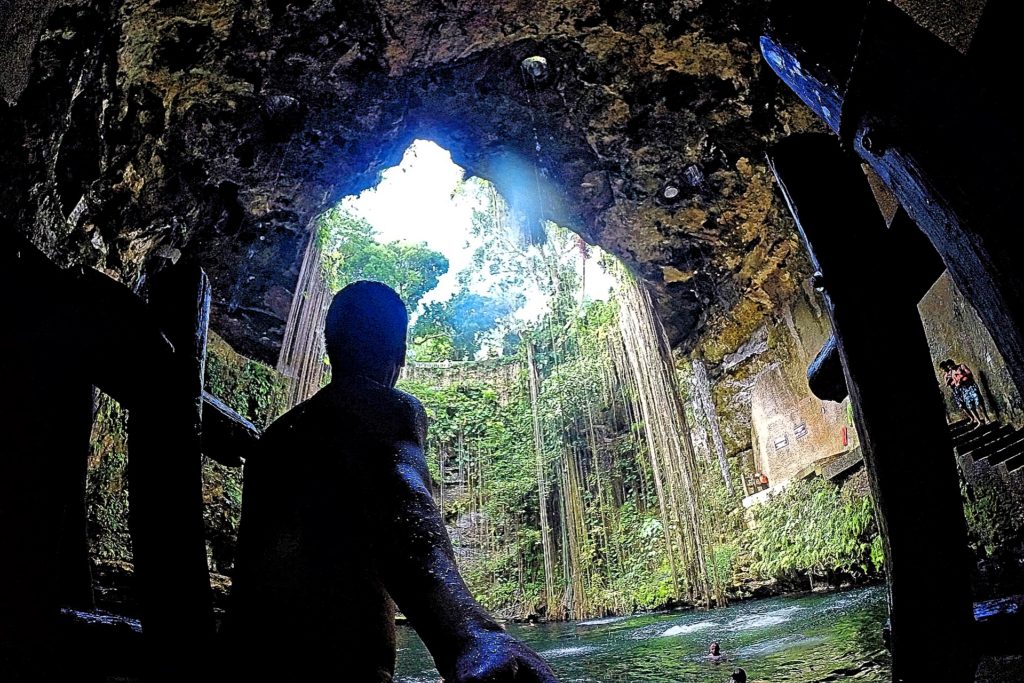 Historically Ik-Kil was sacred for the Mayans and was even used for human sacrifices to their rain God, Chaac. Archaeologists have even found bones as well as important ceramics & jewelry at the bottom.
Another amazing addition to this Cenote, as you probably know, it is just minutes from one of the New 7 Wonders Of The World in Chichen Itza. If you rent a car then this is one of the best half-day trips you could ever have
As with anything these days it can be extremely busy. I always suggest trying to get to a Cenote right when it opens if you want it to be a little quieter or to get that perfect shot.
Open: 9am-5pm. Admission: 80 Pesos. Notes: Cash only. You can rent lifejackets, towels & lockers there for a small fee (around 30 pesos each). There is a restaurant on site.
2. Cenote Dos Ojos
30 minutes from Tulum. 1 hour from Playa Del Carmen. 1:45 from Cancun.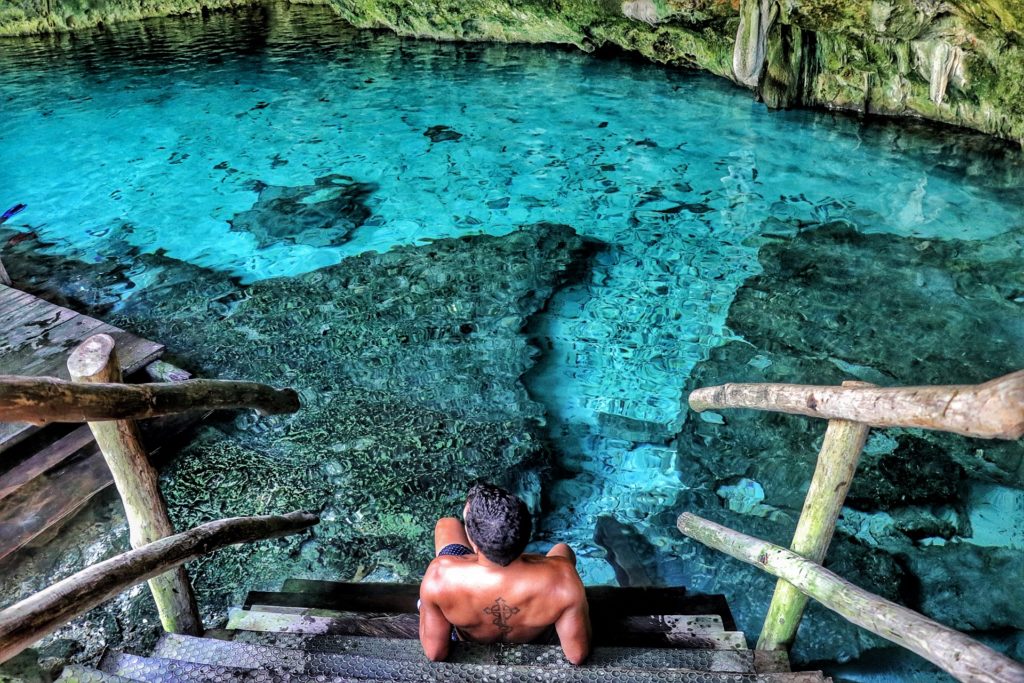 Cenote Dos Ojos, meaning "two eyes," is a beautiful area offering you 2 cenotes that people know about a less known Bat Cave if you take the correct turn. Dos Ojos is one if the best Cenotes in the world and is so nice it is been featured in movies.
Another nice feature about Dos Ojos is that it isn't as busy as some of the others in the area due to the cost and distance from the major towns.
When you arrive you will have the option of the East Eye and the West Eye. Both have the clearest of water with absolutely stunning colors. The West Eye is an option for scuba divers and seems to be the busier side.

I enjoyed the East Eye more as it is longer, has more entry points and it was significantly less busy. I suggest if you go to one and it is busy, walk the two minutes to the other and hope the crowd at the other dissipates. Also be sure to walk to the Bat Cave, which we didn't see one person at, went for a little swim and saw one of the most amazing birds we have ever seen.
Dos Ojos is located in the Yucatan Peninsula just north of Tulum and part of the cave system of Sistema Dos Ojos and now Sistema Sac Actun. Another amazing thing about cenotes is that so much of them are still undiscovered.

In 2018 there was a connection found between Dos Ojos and the larger Sac Actun, which now makes it the largest underground cave system in the world.
The only negative on this one is that it is on the more expensive side as Cenotes go costing close to $20USD but it is definitely worth it. The cost also allows it to be a little less busy than others.
Open: 8am-5pm. Admission: 350 Pesos. Notes: Cash only. You can rent snorkeling gear. You can snorkel and scuba dive there. There is a restaurant on site.
3. Cenote Jardin Del Eden
30 mins from Tulum & 20 mins from Playa Del Carmen. 1.5 hours from Cancun.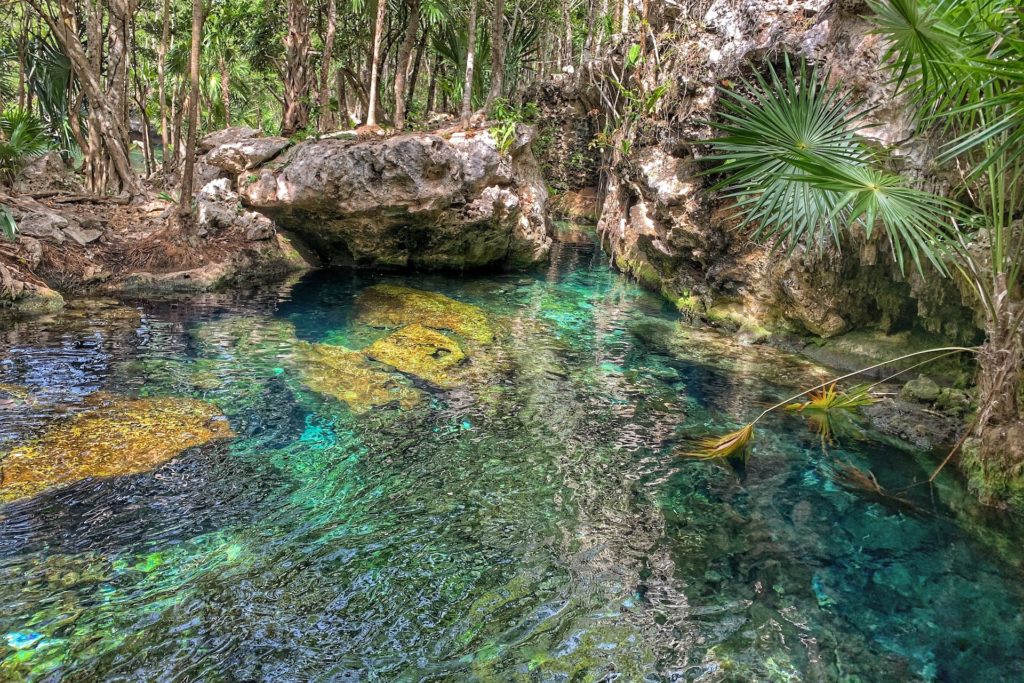 Cenote Jardin Del Eden is one of my favorites as it has the coolest passageway to swim or snorkel through. It also has a giant open area as well as a more private pool with less people in it as well.
JDE has places for scuba divers and is definitely cool for freediving when you snorkel around checking things out. There is also some rocks in the middle of the larger pool that you can sit on and bask in the middle of the water.

If you're an adrenaline junkie there is a platform for cliff-diving and a tree you can jump from if you want something higher and more risque. Definitely checkout the smaller pool and go for a snorkel down the little passageway.
The facility itself offers snacks, water and soda. They do not allow alcohol and will search your car. There are bathrooms and some palapas you can relax at if you bring a lunch and want to eat and have a little picnic.
Open: 8am-5pm. Admission: 350 Pesos. Notes: Cash only. You can rent snorkeling gear. You can snorkel and scuba dive there. There is a restaurant on site.
4. Cenote Azul
30 mins from Tulum & 20 mins Playa Del Carmen. 1.5 hours from Cancun.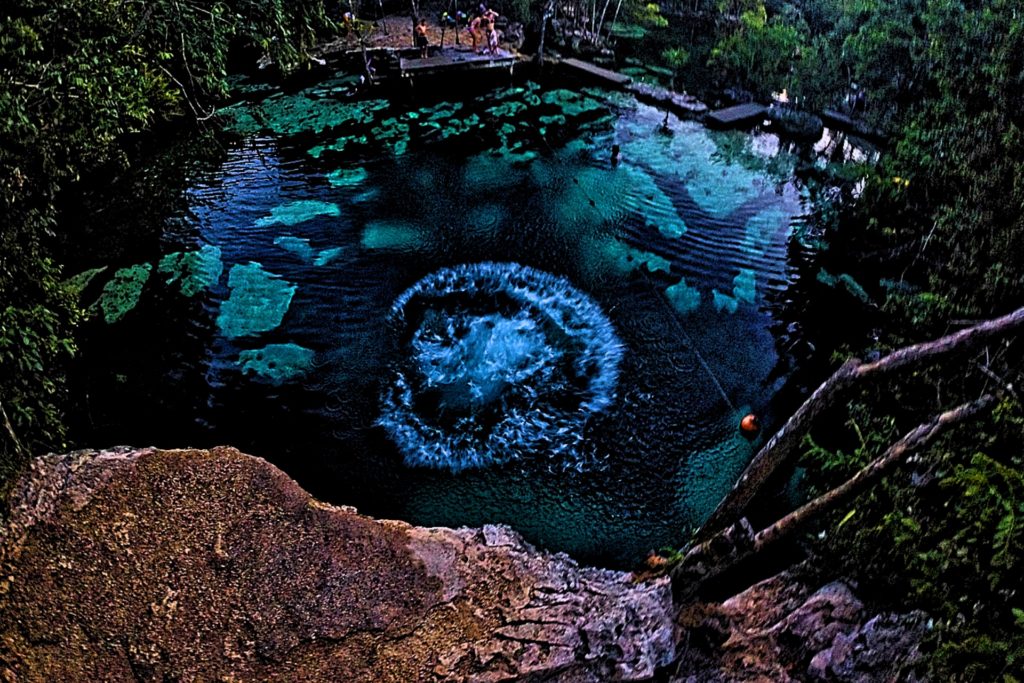 Another great cenote with multiple pools and maybe some of the most beautiful colors out of any of the cenotes. There is also some a medium sized cliff-jump area that is good for most everyone. You can bring your snorkel gear and dive into the incredible water as well as see some fish! There is a little grotto and if you can hold your breath there is a small underwater passage to swim through.
You can save money from the fish spa by doing it here with the fish who will take care of ya! As with the others, try to get there early or on a weekday to avoid it looking like a public swimming pool. It is two minutes from Jardin Del Eden and close Cenote Dos Ojos thus you could do a bit of self-cenote hop.
Open: 9am-5pm. Admission: 100 Pesos. Notes: Cash only. One of my favorites when not busy.
5. Cenote Calavera & Temple Of Doom.
5 mins from Tulum main street.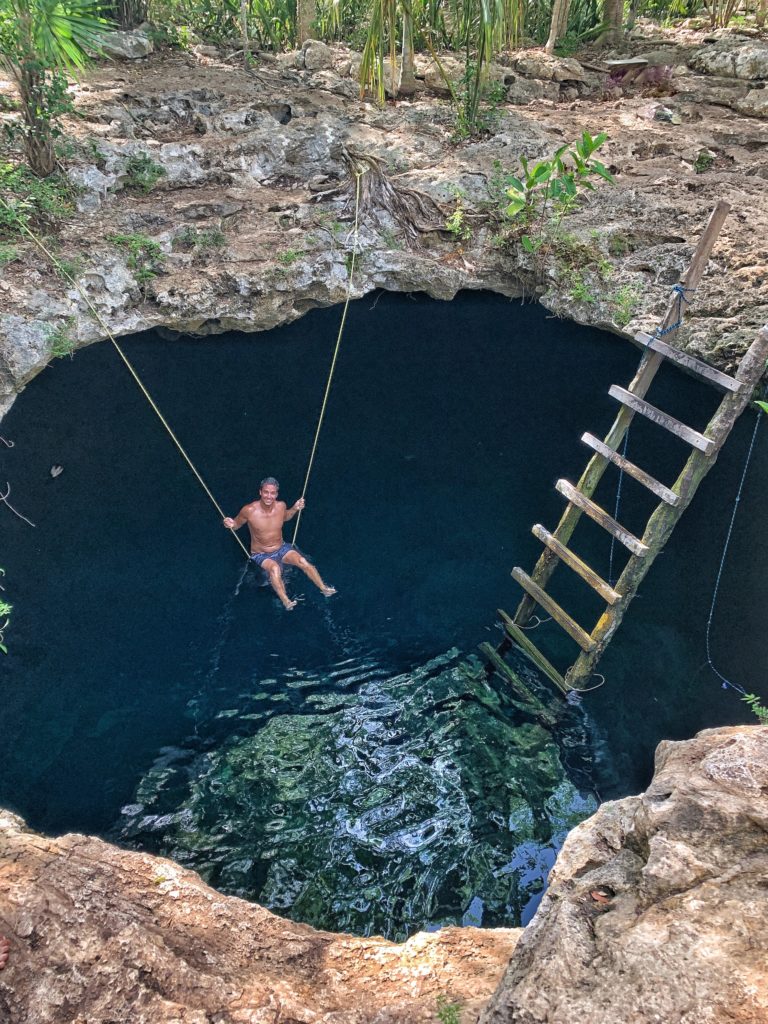 Cenote Calavera is best for a photo and video-op. Whatever you do, get there right away in the morning before it's too late. Calavera means "skull" as the openings actually make the area look like a skull.
It's not really a place to hang around for long but it definitely is a cool picture as well as cool to jump through the small holes and disappear like Batman. Speaking of Batman, towards the edge of the cave away from the main hole, there are over 100 bats to take a look at!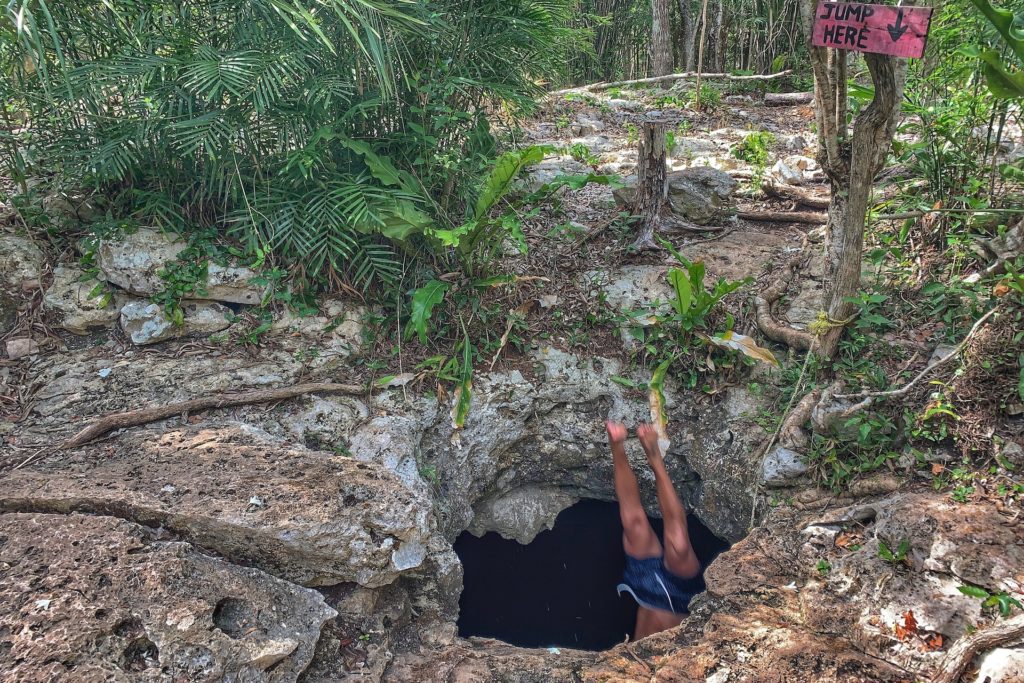 It is a little creepy especially if you are all by yourself but definitely something to take a look at! While it is very small, making it easy to be busy, it is nice since it is so close to Tulum and is pretty cheap to go in and out to check it off your list. You can even bike to it from Tulum as it is only about 3km away.
Open: 9am-4pm. Admission: 100 Pesos. Notes: Cash only. Is getting busier with each year.
There are other Cenotes to checkout as well in the area!
Gran Cenote I was told by many locals to avoid as it is right near Tulum thus tons of tourists without rental cars will head there. Dos Ojos is a better option since you will need to rent a car or book a tour to get there.
Other great options are Cenote Labnaha, Cenote Choo-Ha, Cenote Ponderosa, Cenote Oxmal; and even cliff jumping Tankach-Ha. While not for swimmers there is also El Zacaton, which is good for scuba divers but also home to the floating grass island.