Looking for where to stay in Peru to experience the Amazon jungle? What is the best region to visit in the Peru Amazon for a true jungle experience?

If you were like me, looking for how to get to the Amazon or where to stay was not and easy task! Making a decision of which park to go to, what city, where to stay and beyond is extremely overwhelming.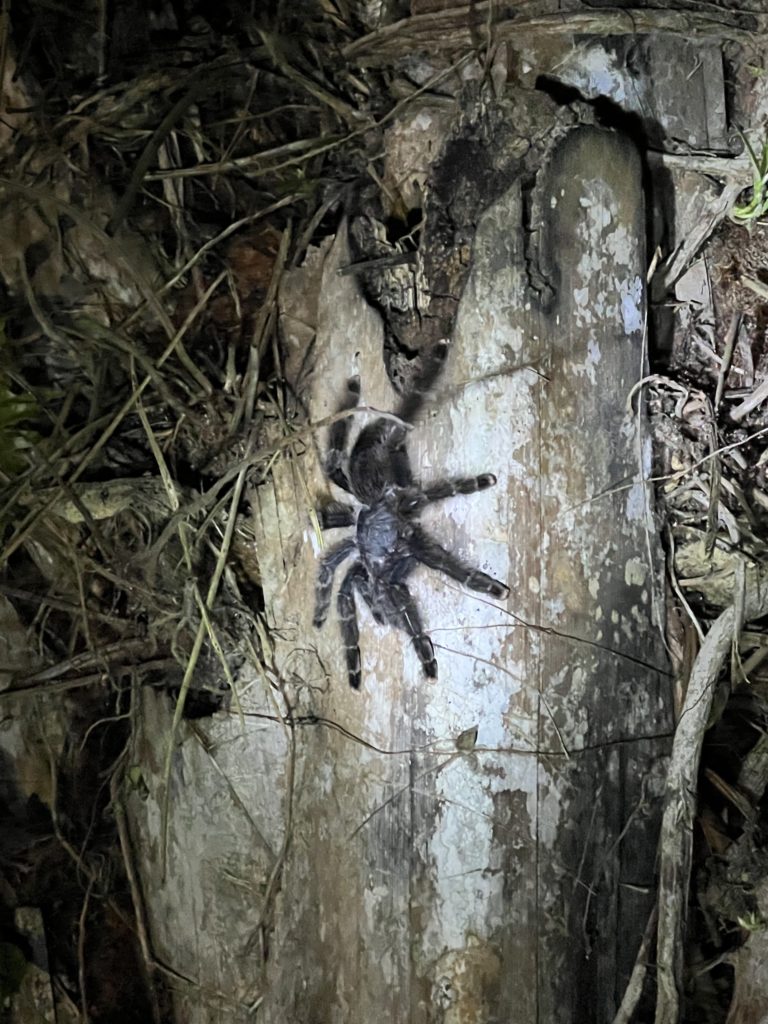 Afterall, it is the jungle so you definitely want something safe and comfortable since there are crocodiles, snakes, ton of mosquitos and tarantulas just chilling around.

With that said, in Puerto Maldonado, adjacent to the Tambopata National Reserve you will find the amazing Inkaterra Amazonica. Inkaterra is more on the luxurious side and you will be so happy you made the choice to stay there!
See here for a complete guide for how to get to Puerto Maldonado and what to do!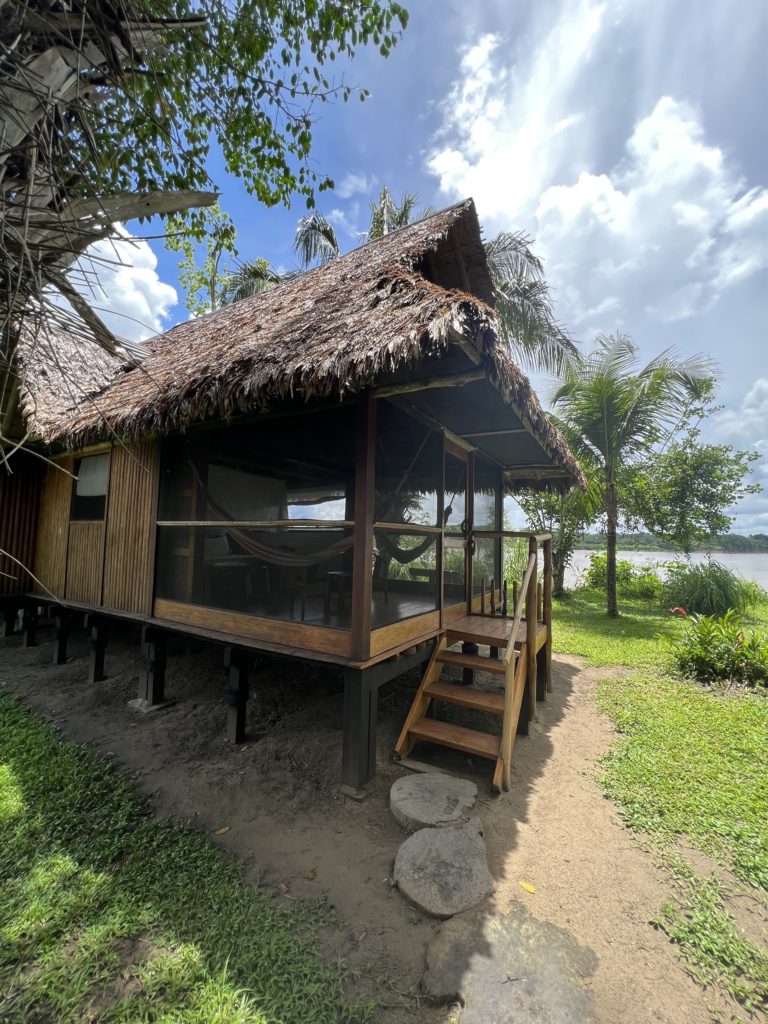 It is one of the most phenomenal resorts I have ever seen. It has even been ranked by National Geographic as one of the world's best eco-lodges!
Peru can be extremely cheap so if you are to splurge anywhere I would do it on the Amazon part of your journey. Keep in mind the cost for Inkaterra also includes all 3-course meals, all excursions, tips & transfer to and from the airport.
Set alongside the Rio Madre De Dios you will be immersed in the jungle and truly be staying in a place that is right out of a movie! The thatch roof house, log steps & wood boats give you that unreal feeling of living in the jungle.

Keep in mind this is the jungle, there will be bugs in and around your room by Inkaterra goes above and beyond to make sure you are as comfortable and clean as possible.
If you are someone who maybe is not the most outdoorsy then Inkaterra Amazonica will make your lodging the best you can find while also enjoying the jungle experience.

The last thing you want is some place that lures you in with pretty photos and is and absolute uncomfortable nightmare when you get there.
With all of that said, in comes Inkaterra Amazonica to make all your Amazon dreams come true! The decor and the ambiance of this place are the stuff of dreams!
It is one of the prettiest places I have ever seen and truly the perfect jungle experience. From the adorable authentic casitas to organizing all of your days to experience all the jungle has to offer.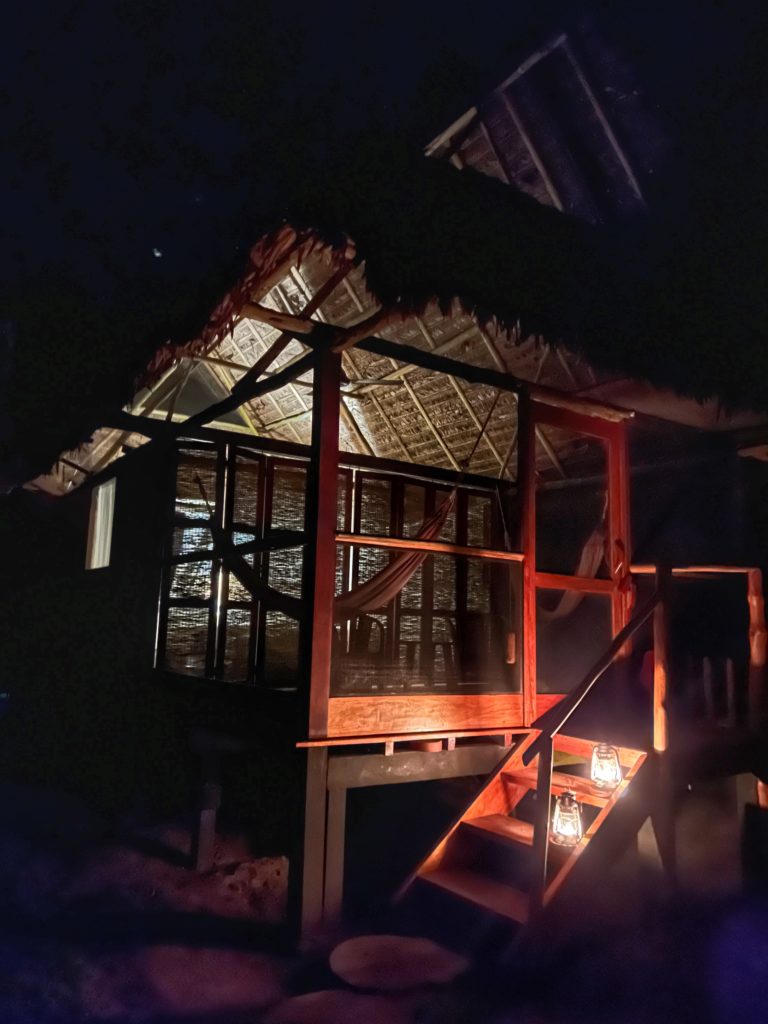 The casitas are along the river with screen windows so you can soak in all the sounds of the jungle. Imagine falling asleep to the soothing sounds of the jungle & river running by, it's magical.
They spare no expense or effort to make sure your stay in the Amazon is as comfortable as possible. They give you robes, sandals, rain boots water and all the comforts you could ask for in the jungle.
See here for a complete guide for how to get to Puerto Maldonado and what to do!

The beds are king size beds so you will enjoy one of the best sleeps with the sounds of crickets, frogs, birds and maybe some rain.
They make your bed a couple times a day and make sure it's very clean and protected, which is also a nice touch. They also put down your mosquito net for turn down service.

I was there during mosquito season and knock on wood didn't have any issues inside at all.
In term of cleanliness they even go so far as to give you sandals to walk around your room just in case there are the odd ant or bug in your place. They also have towels next to your bed to wipe your feet off on before you get into your large comfy bed.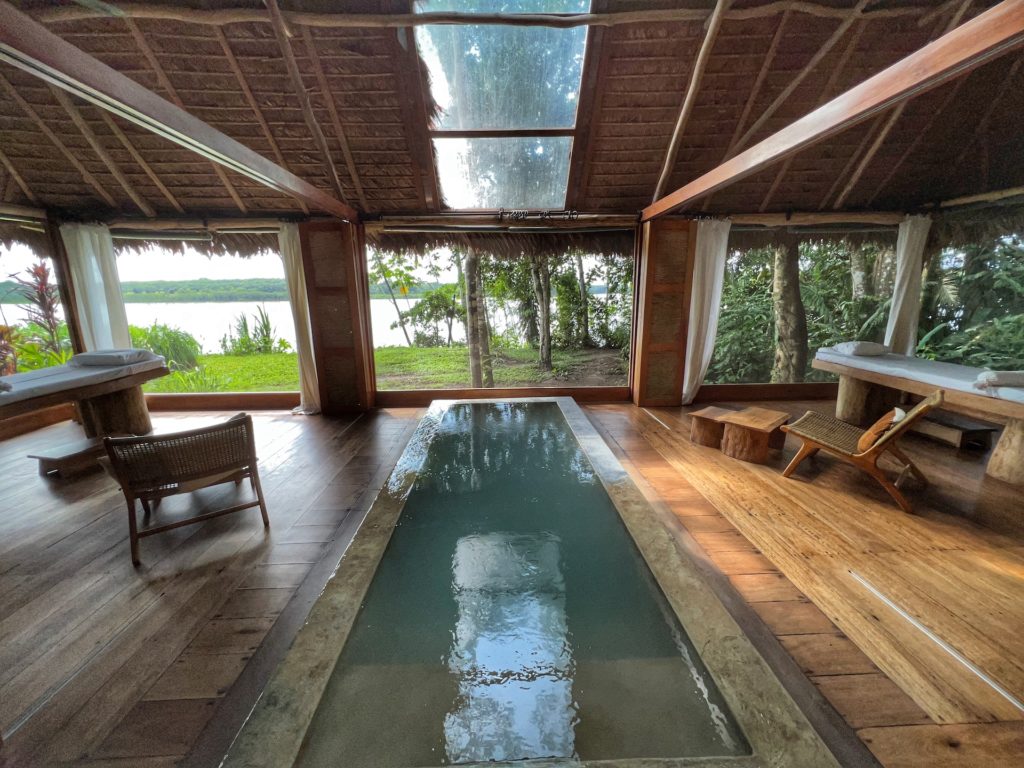 They also have a phenomenal spa so you definitely need to make a reservation there if you want a little r&r after the tons of walking you will do on your excursions.
How Far is Inkaterra Amazonica from Puerto Maldonado?
Inkaterra is about a 30 minute boat ride up the river and it is such a cool way to start the trip! You will be placed in an old wooden boat instantly immersed into adventure as you go by the banks looking for your first site of crocodiles or monkeys.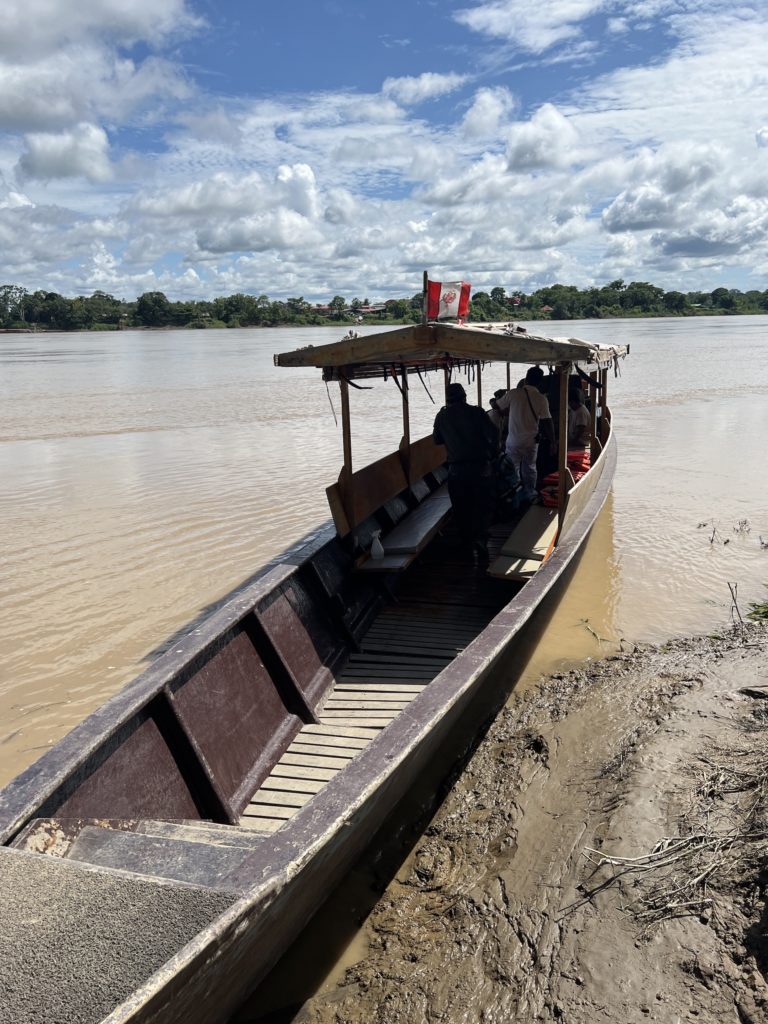 The boat is about 10 minutes from the airport and the airport is very small. So from the airport landing to the lodge is less than an hour, which is great.
Best Amazon Jungle Peru Hotel For Families & Kids
Yes, Inkaterra is the best Peruvian Amazon lodge for families. In the Amazon you want safety, activities & good food options.
Inkaterra has that all and as someone who is always full of energy, the excursions they keep you on will keep your kids tired and in bed early!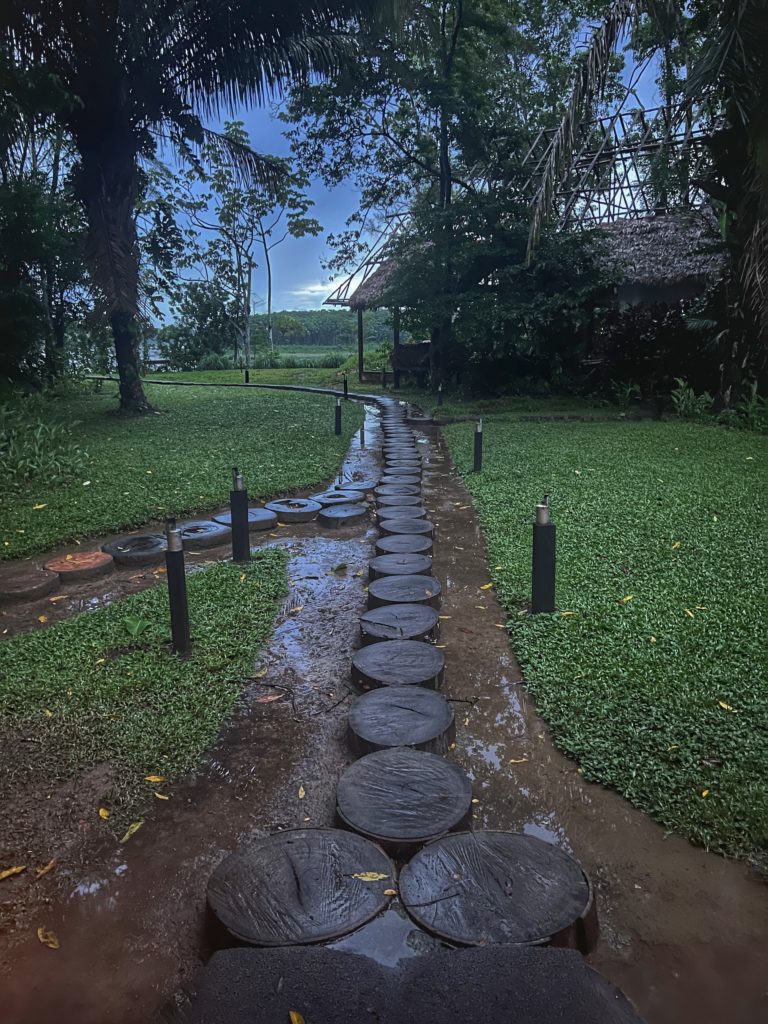 They also have lots of card games and such to play in the downtime.
How is the food at Inkaterra Amazonica?
Food is included with your stay, which is great! You get a buffet breakfast with lots of options and then a menu for lunch and dinner.
They have a fixed menu, which is pretty good. You pick a starter, a main course and also a dessert. The options are great with all types of food just in case you have kids or picky eaters.

They have all options if you want from some simple comfort food like a burger to traditional dishes to finer dining dishes.
Drinks aside from water/tea/coffee aren't included so must purchase them on site. Unfortunately there are no stores so you're kind of at the mercy of their prices but they are pretty standard resort prices.
You can always pack a bottle of wine or two from town as a good option to save some. They also have a happy hour from 5-7:30 where classic drinks and beers are are 2 for 1.
Peru Amazon Excursions

As you will be visiting the heart of the Tambopata National Reserve you will see hopefully every bit of wildlife, flora and fauna you could ever wish for with a visit to the Amazon!
There are multiple excursions Inkaterra takes you on and each more unique then the next. Typically on Day 1 you are taken for a jungle walk around the jungle that surrounds the resort.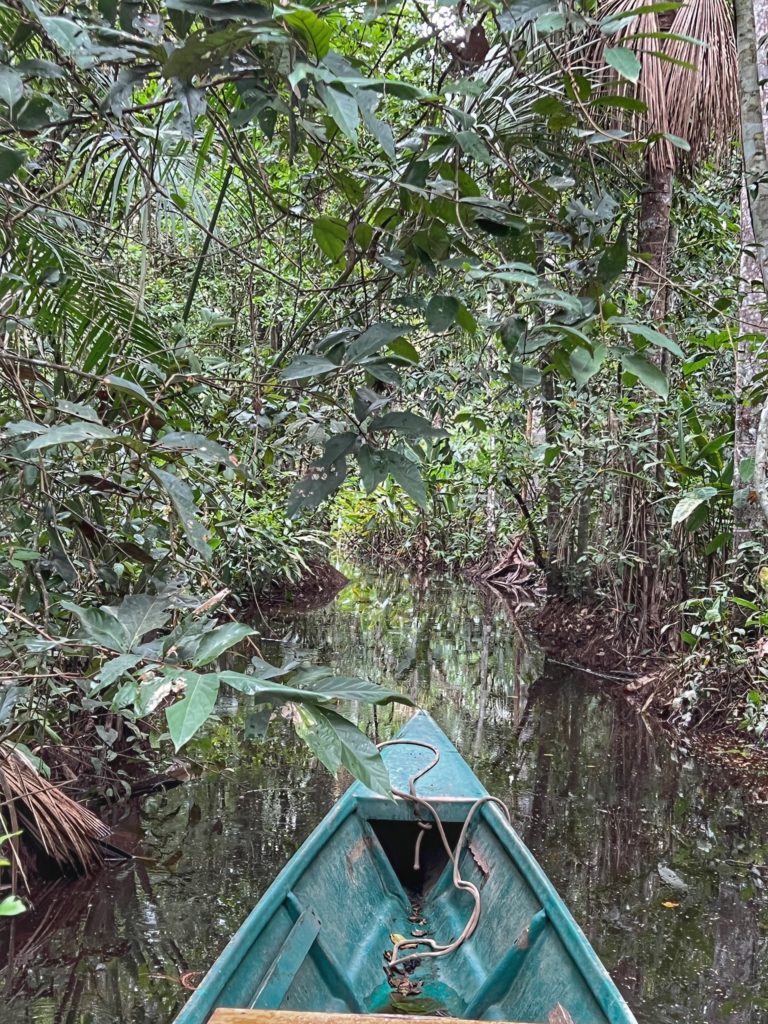 Here you have a chance to see any of the animals that live in the jungle from tons of birds to sloths, maybe monkeys and some incredible trees & flowers.
At night you will be taken on a river cruise by night where your guides will shine lights looking for any of those shiny cayman eyes so you can get up close and personal with this relative of the alligator.

There is almost a 100% chance you will see caymans, it just depends how big! There are also capybaras along the way offering lots to look for on your night river cruise.
The next day you will get to do a trip to the Tambopata National Reserve. Here you will take a boat ride to the park and then walk along an elevated walkway over the rainforest floor.
This is where you will get your first real good chance to see monkeys! From the walk you reach the canoes and from there go explore Lake Sandoval!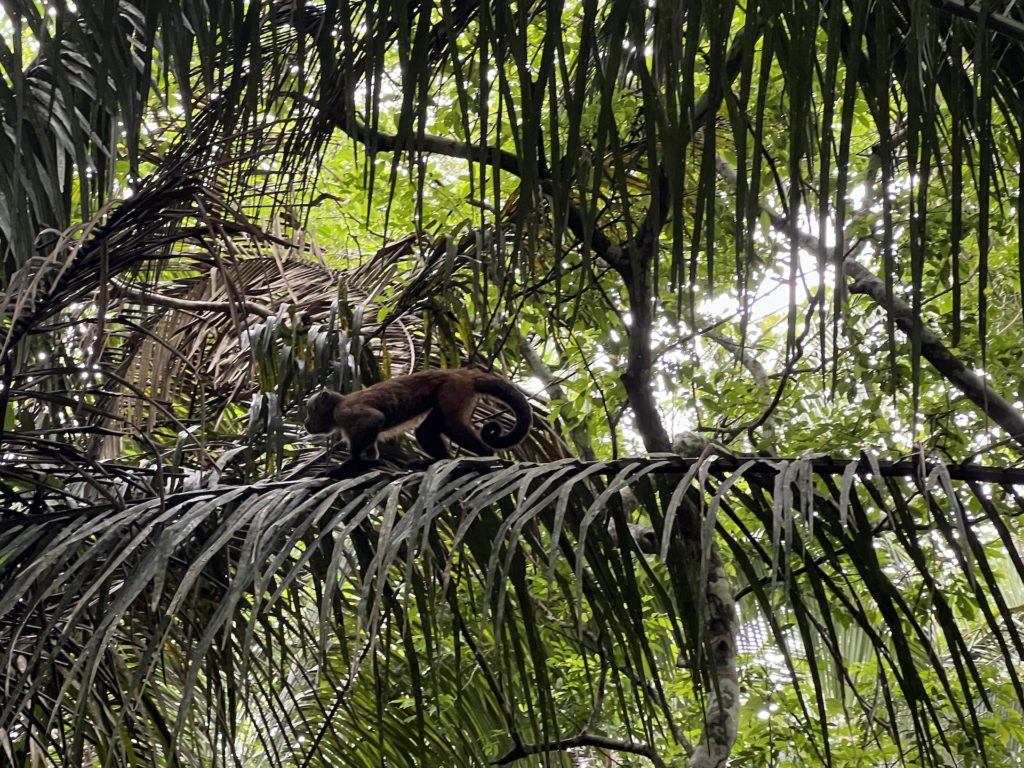 Lake Sandoval is home to endangered giant river otters, caymans, piranhas, howler monkeys, herons and tons of incredible birdlife.
At night you will get a jungle at night tour, where the entire jungle comes to life! On this trek you will see giant tarantulas, possums and unique nighttime flora as well as other insects & animals that only come out at night.

They also have their spectacular canopy walk, which is owned by Inkaterra and for guests only. It will have you 95 feet above the jungle floor walking through the treetops swaying in the extension bridges.
This canopy walk is surreal with once in a lifetime views! You may also see monkeys, sloths, toucans and more!

They have a other excursions like to their farms and wetlands all of which offer something unique along the way!
So what are you waiting for! Go to Peru and visit this amazing place now!
As a heads up there is no Wifi or cell service. If really need they'll let you hop on the office Wi-Fi for a few minutes not a problem.