Looking for the best food in Manuel Antonio, Costa Rica? There are honestly so many incredible restaurants near Manuel Antonio that you absolutely have to try!
Whether you are wanting the best dinner with a view in Manuel Antonio or a local amazing spot in Quepos, there is so much great eating in Manuel Antonio!

While there are the well known places to eat in Manuel Antonio, this article will hopefully open your horizons to some more local fare as well as help confirm a couple known great spots as well as
There are so many incredible restaurants with views in Manuel Antonio as well so you really can't go wrong, but a few standout from the rest!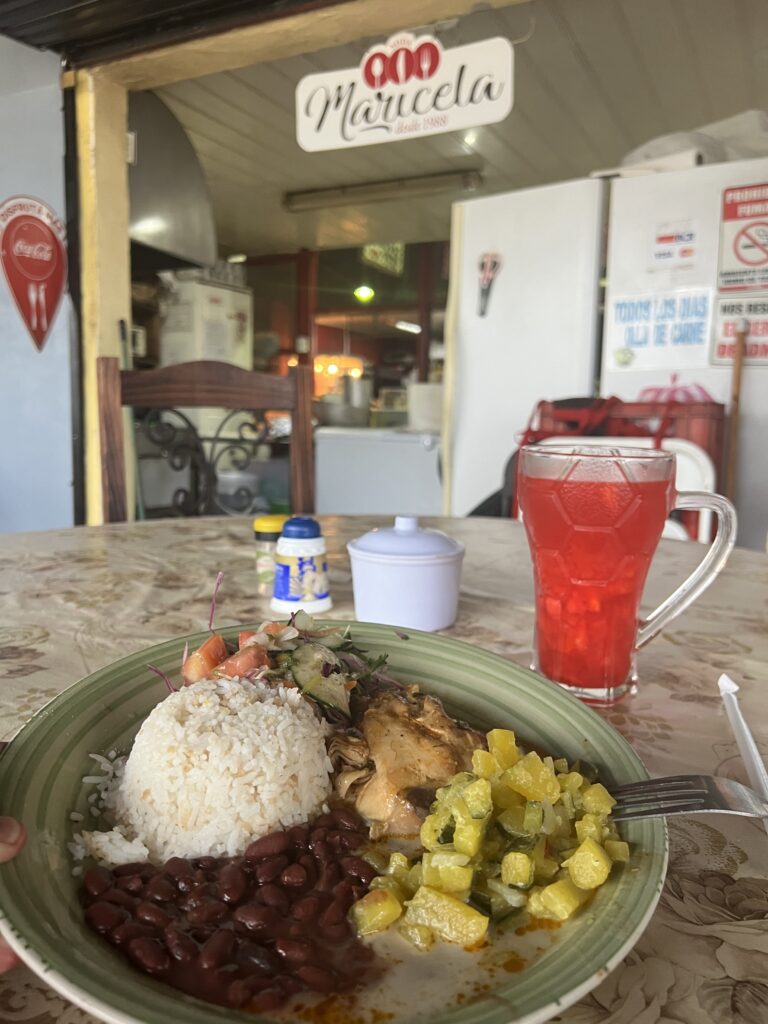 Best Restaurant With A View | Ronnie's Place
If you are looking for the best food with a view, then it is Ronnie's Place. There are multiple good places to eat with a view but if you also want the best food quality then this is it!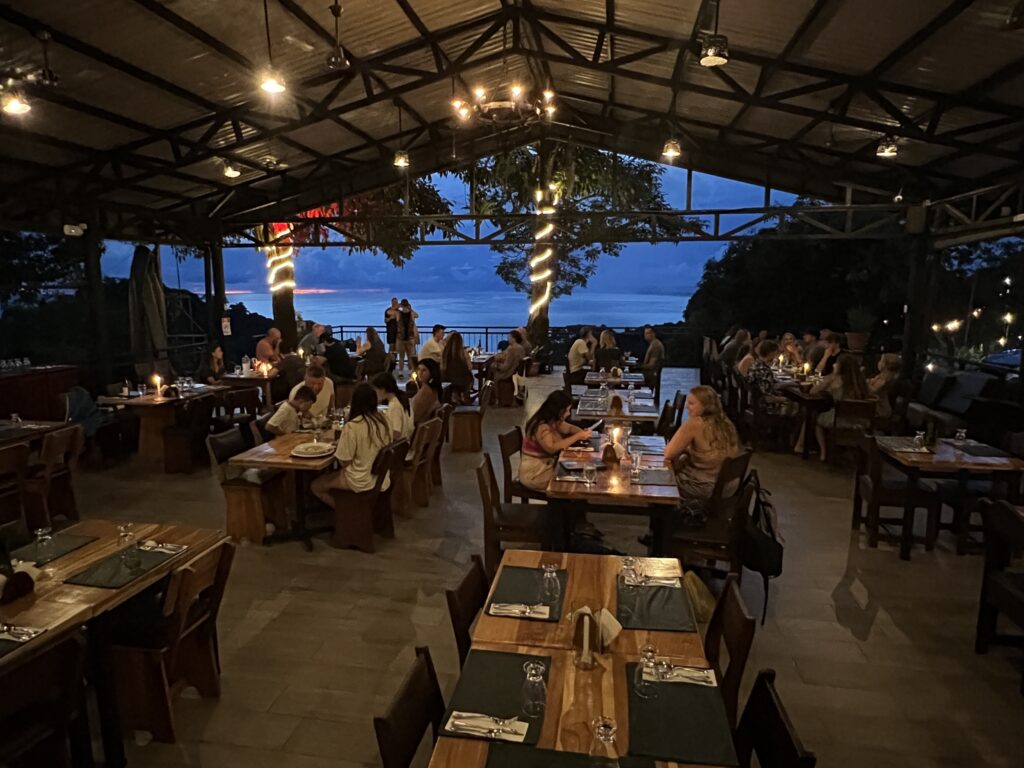 The only negative of course is that it is a little out of the way compared to many of the others that are along the main strip… but this place is worth the extra mini trek.
They have a great menu, terrific drinks and the food quality is arguably the best out of all of the nicer restaurants in Manuel Antonio.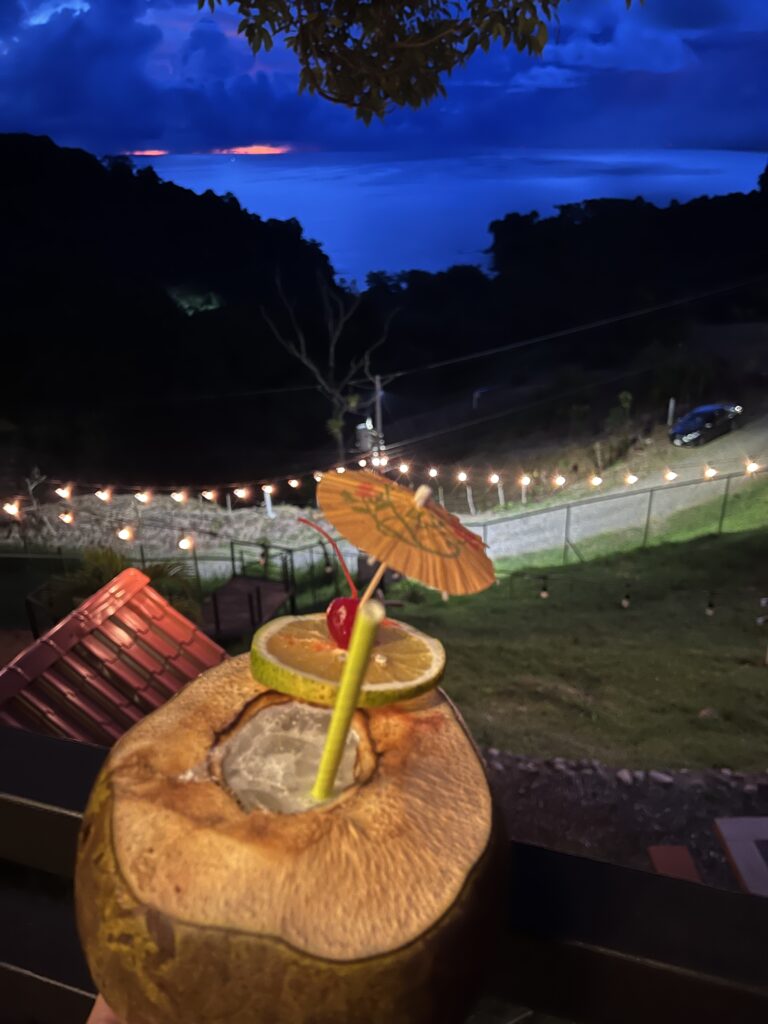 Best Food Near Manuel Antonio – Soda La Feria & Marcela's
If you want food that will absolutely smack your tastebuds then you need to go to Quepos for Soda La Feria or Marcela's.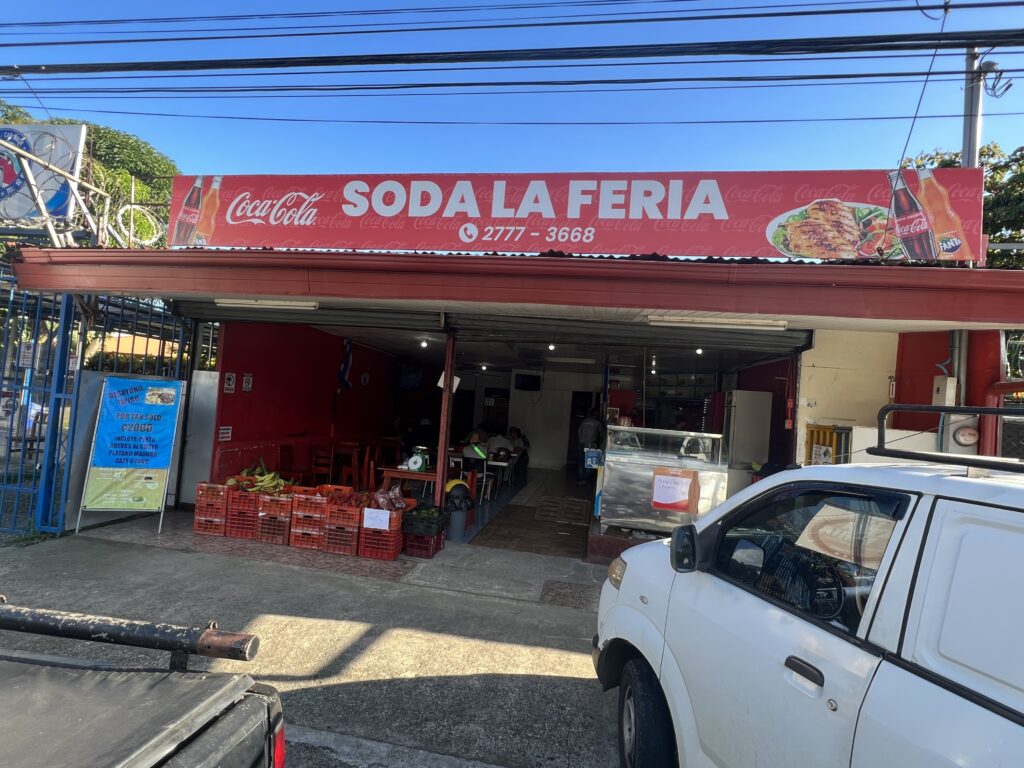 As my new friend & local guide Ismael says… in Costa Rica if you ever see "Soda" go to it. 10/10 there will be a grandmother in the back cooking and chicken that has been marinating and slow cooking to perfection.
As you should know, if you read this site much, the hole in the wall local spots are allllllways the best! Not only do they have the most amazing food they also of course are incredibly cheap.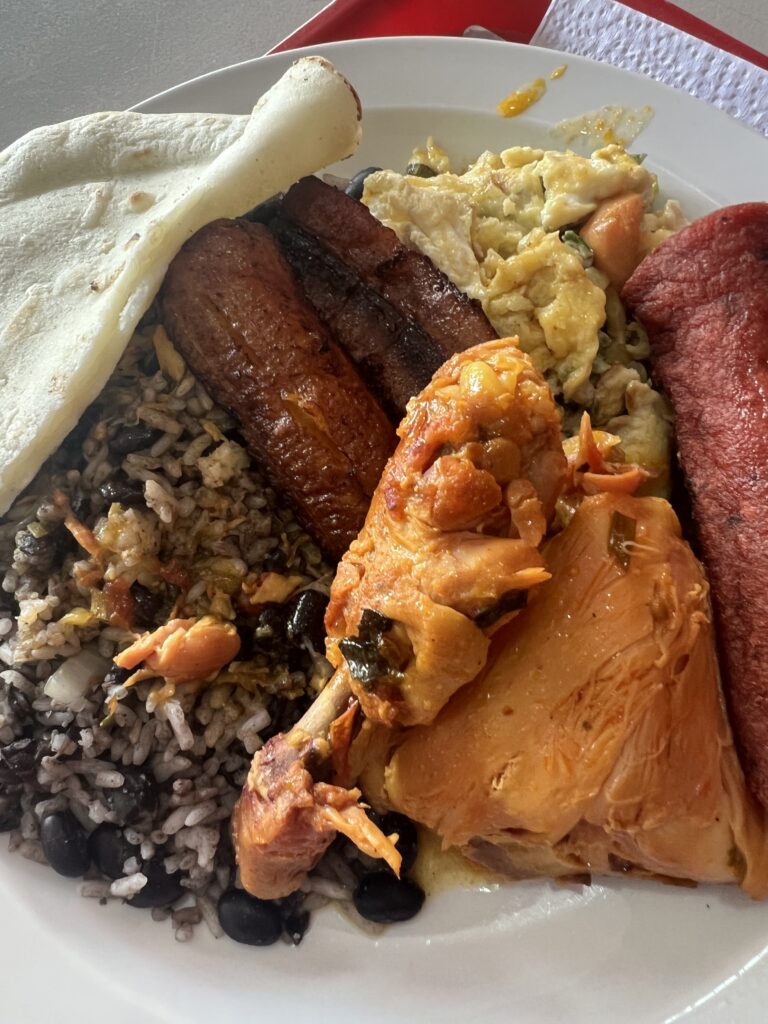 You also know it is good when you are the only non-local sitting down. When I went into Soda La Feria my favorite bartender from my hotel was even there so I knew it was a good spot.
The food is so good and Soda La Feria even has a fruit stand to get some fruit at your table or on the way out the door for desert.
Maricela's is the exact same and Maricela is actually making your food! She is the nicest sweet elderly lady and has her family cooking with her! Go support her and this amazing place!
The chicken and really everything… wow. Their breakfast is just as amazing! It is a local breakfast but if you are good with trying something different, which you should be, do it!

There isn't a ton to do in Quepos but it is worth going for a couple hours of shopping, some cute coffee shops and of course lunch!
Soda Sanchez is the most well known restaurant in Quepos as it was featured on a travel show but it honestly just was another restaurant in my opinion.
It also doesn't have any of the authentic and local feel as it literally is a standard nicer looking restaurant vs. these places that are more of a local hole in a wall.
Best Restaurant In Heart Of Manuel Antonio | Cafe Azul
Cafe Azul is the best overall restaurant out of all of those restaurants right in that main heart of Manuel Antonio, which is where most of the restaurants are.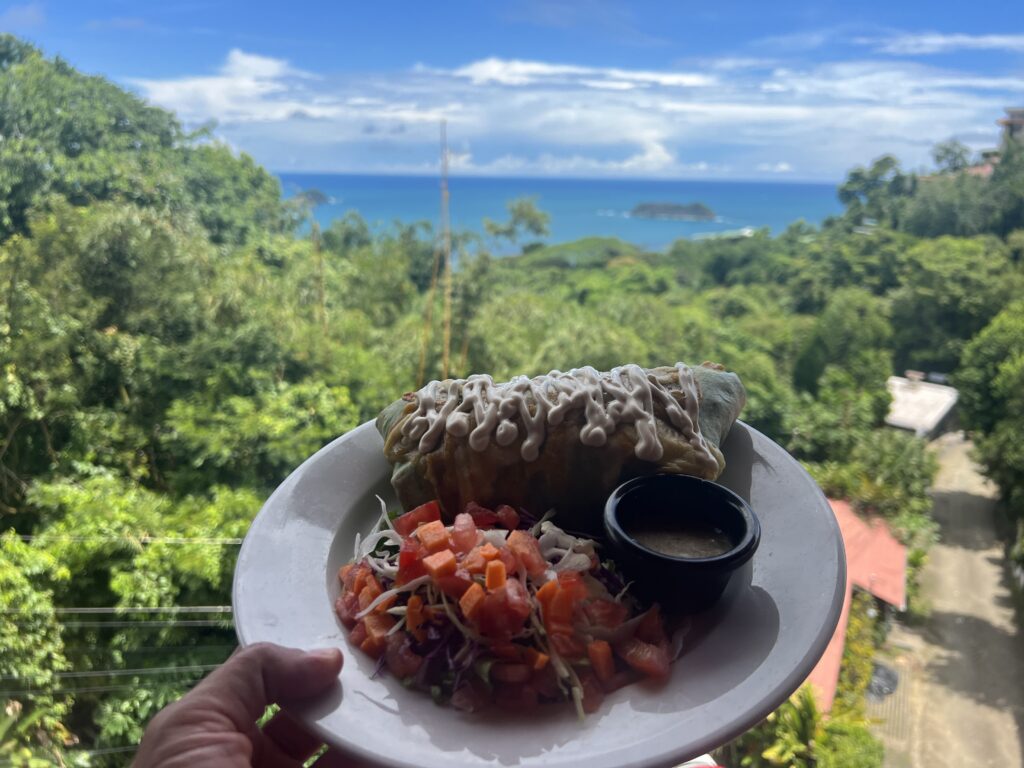 There is a place where I like the food taste a little more, but here the fun laid back ambiance, the giant menu and of course the stunning view really make this the overall winner.
You must go here with a large appetite or be your hangover spot as they have giant burritos and even 2lb burgers! I tried the 1lb burger and didn't even think how big that could be… I mean a quarter pounder at Mcdonalds or anywhere is large… imagine a patty 4x the size!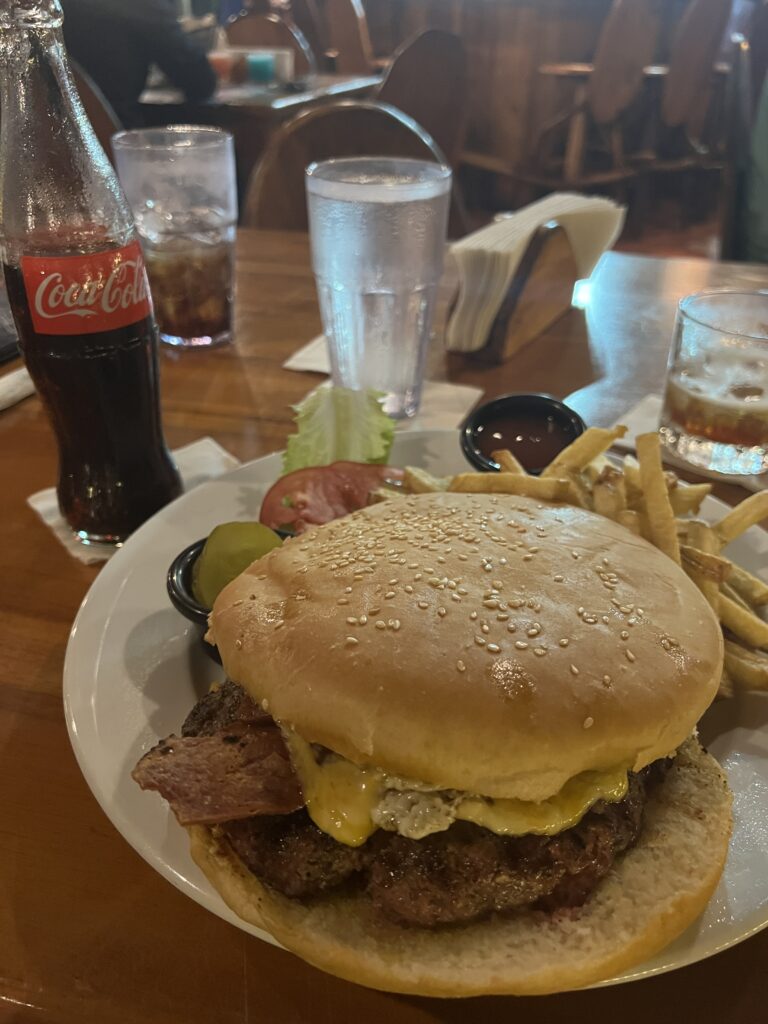 They of course have lots of local dishes and everything else you could ask for. However, the view and the ambiance really are what makes it great!
Best Unique Place To Eat
If you want an incredible and unique setting for a meal then you need to do the Eco Chontales Waterfall Trek with Paddle 9 adventure company.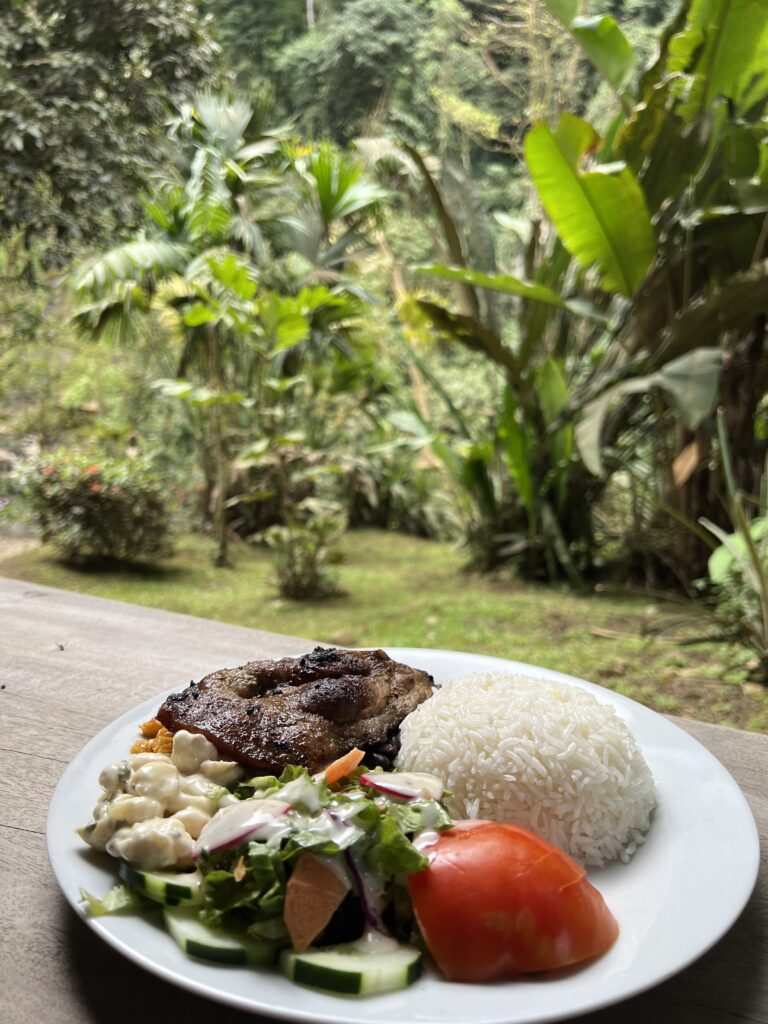 At the bottom of the hike and near the waterfalls is this adorable little authentic hut restaurant where you will be served by one of the locals cooking up your meal fresh!
This isn't just a must-do for the restaurant but as you can see the experience is unreal! Definitely hit-up Paddle 9 for not only this tour but all the adventures you want to do!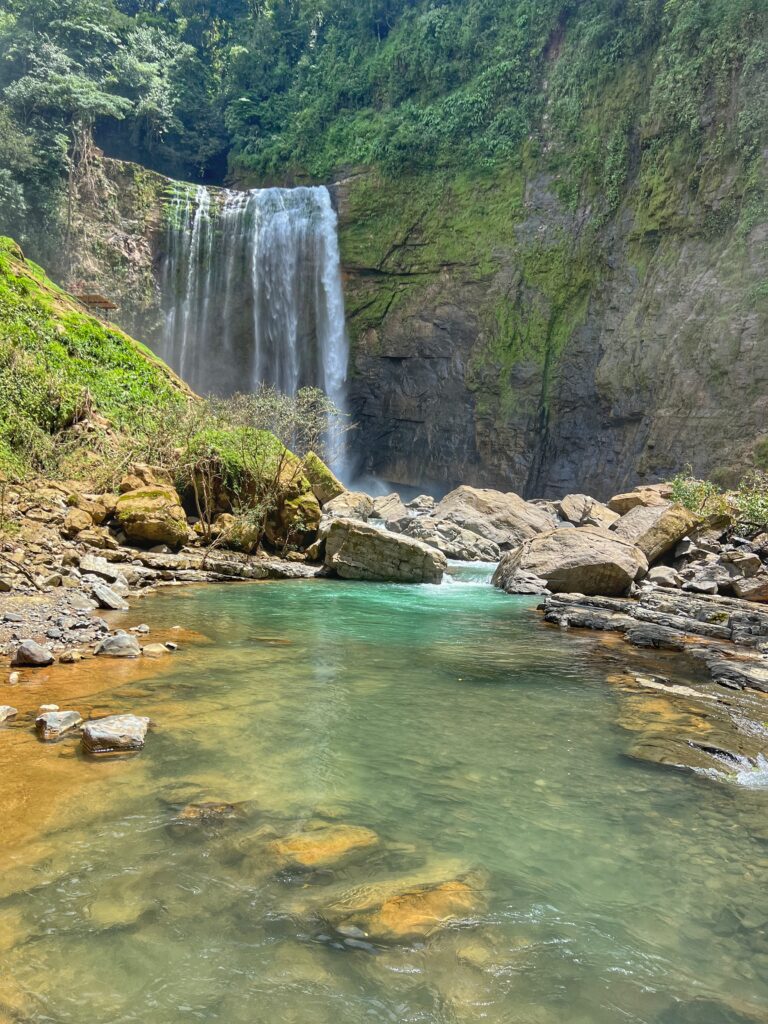 Shana Restaurante
Located at the stunning Shana By The Beach Resort, this is a great place to come for lunch by the pool or a fantastic dinner.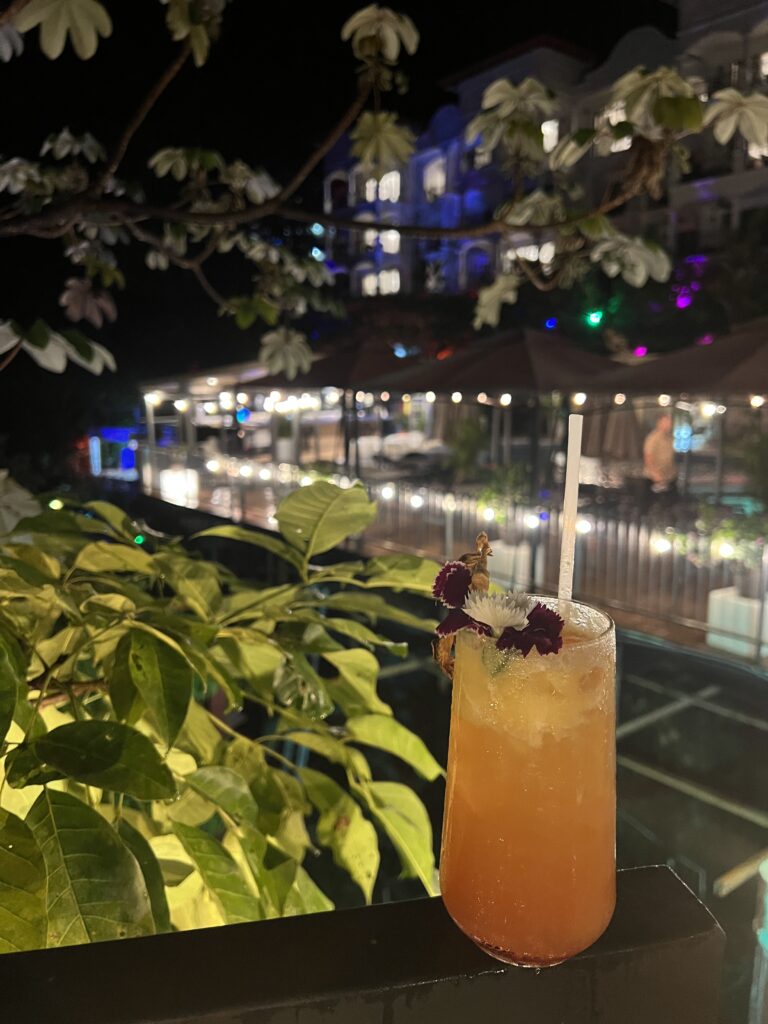 Their woodfire pizza is really what you should try while here. There seafood is good too but if craving a perfect pizza then this is a great place to come!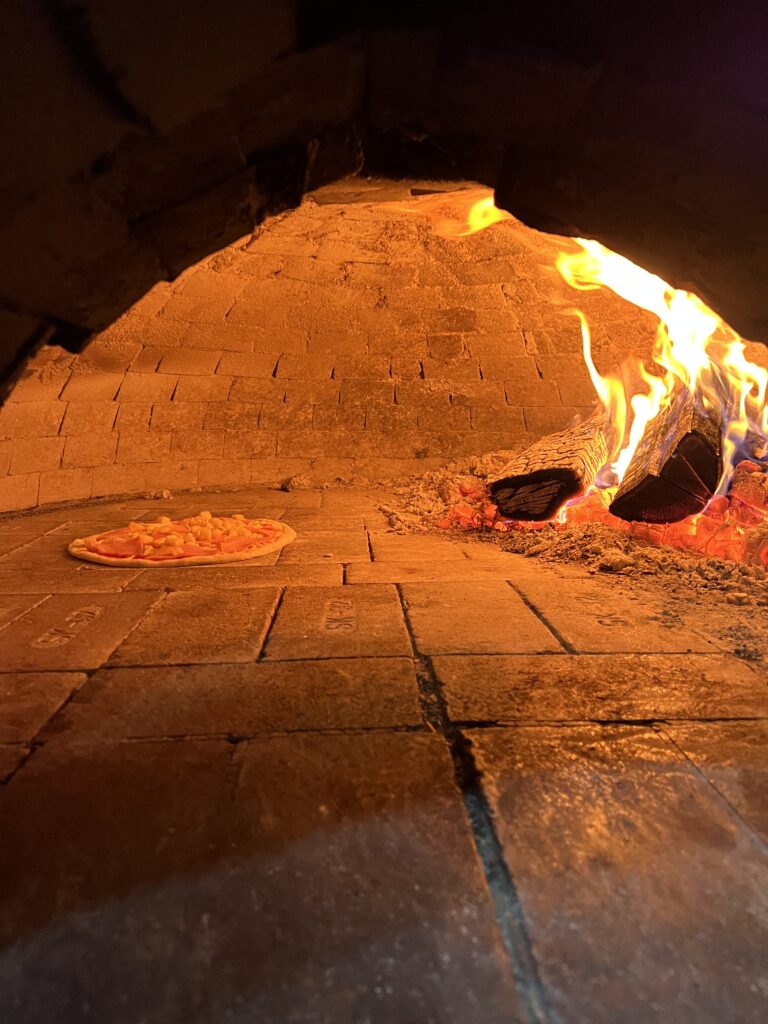 There is also happy hour from 3-6pm with 2 for 1 drinks. They have a pool party in Sunday too with happy hour most of the day!
If you are looking for a hotel then this is also definitely the place to come stay! It truly is the best place to stay in Manuel Antonio. See more about it in our article here.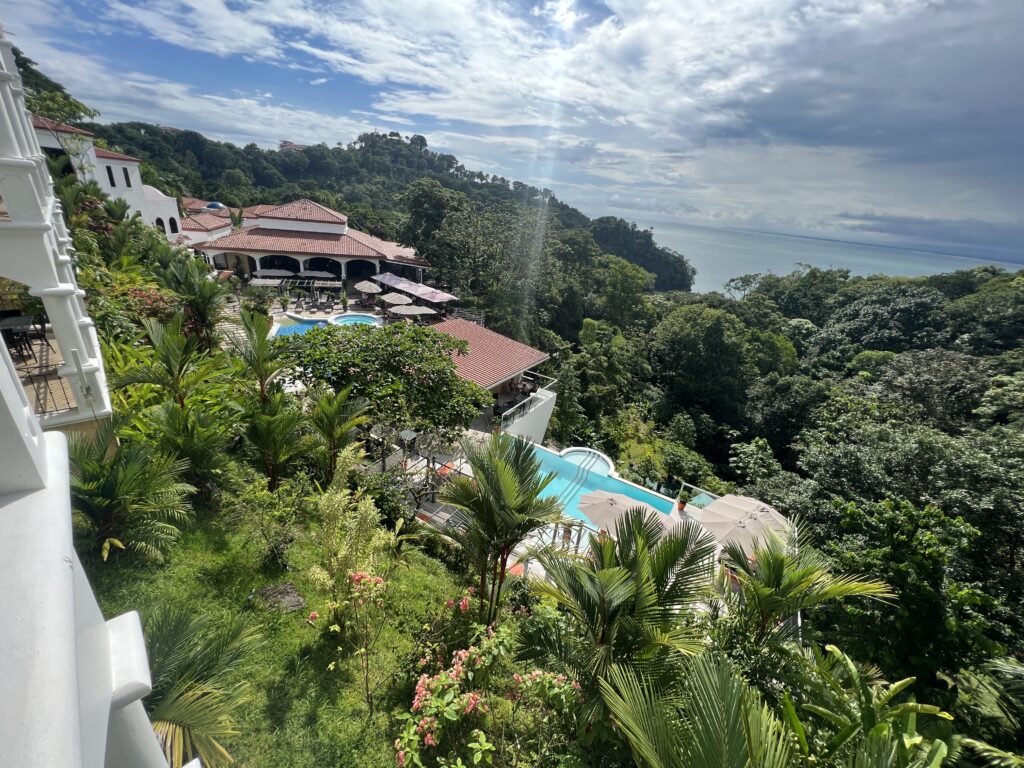 El Avion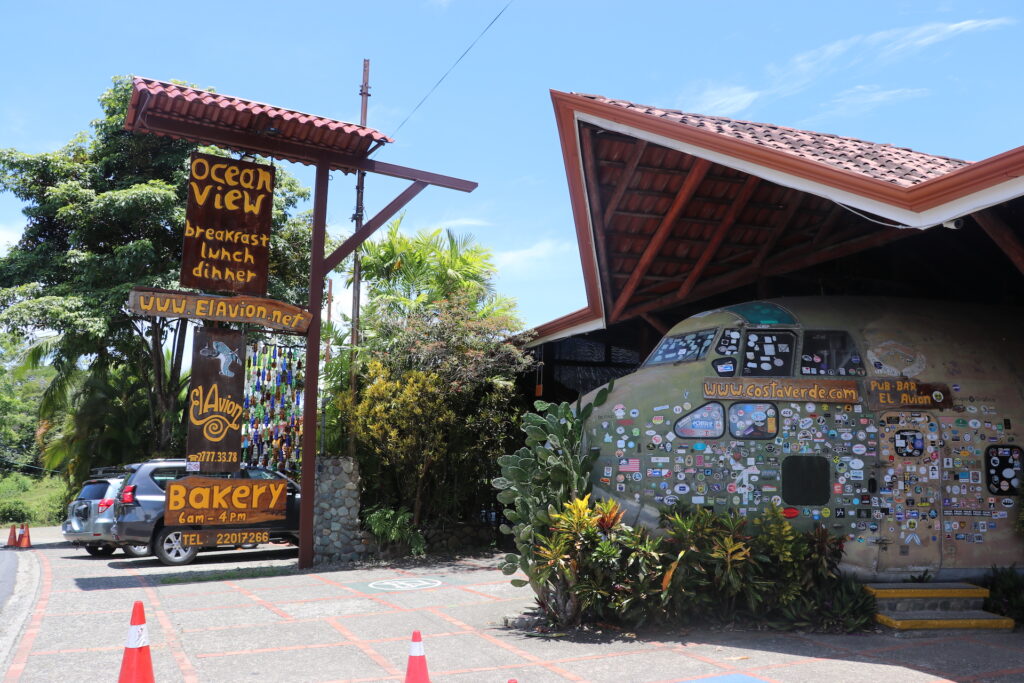 A crowd favorite, people love El Avion. Not only is the food and view spectacular but I even saw a sloth in the tree and whales in the distance at lunch!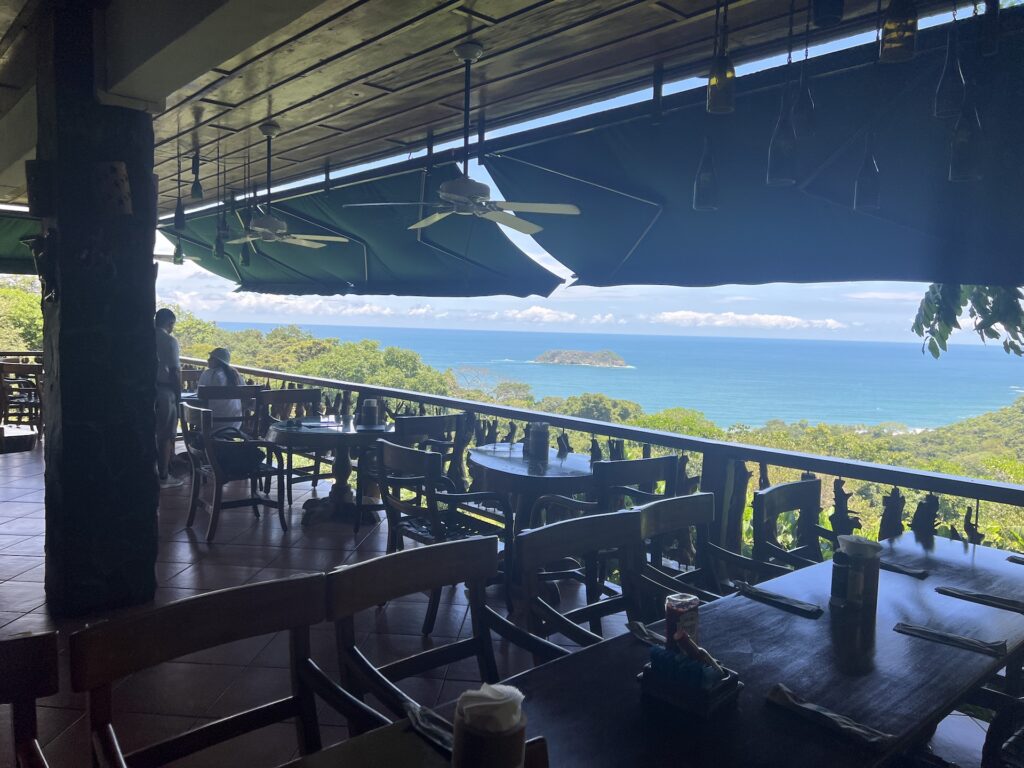 El Avion is also a partially converted C-123 Fairchild cargo plane just adding to the unique setting at this gorgeous restaurant.
Cafe Milagro
Cafe Milagro arguably has the best tasting food, has amazing breakfast, does their own coffee roasting and at night on the weekend there is live music!

Cafe Milagro is very cutely decorated and while it doesn't have a view like many of the others in the area, it makes up for it in food quality. It also has an amazing cocktail list!
I would always make this a weekend first stop if going out for drinks after dinner since it has the live music to get you in a festive mood.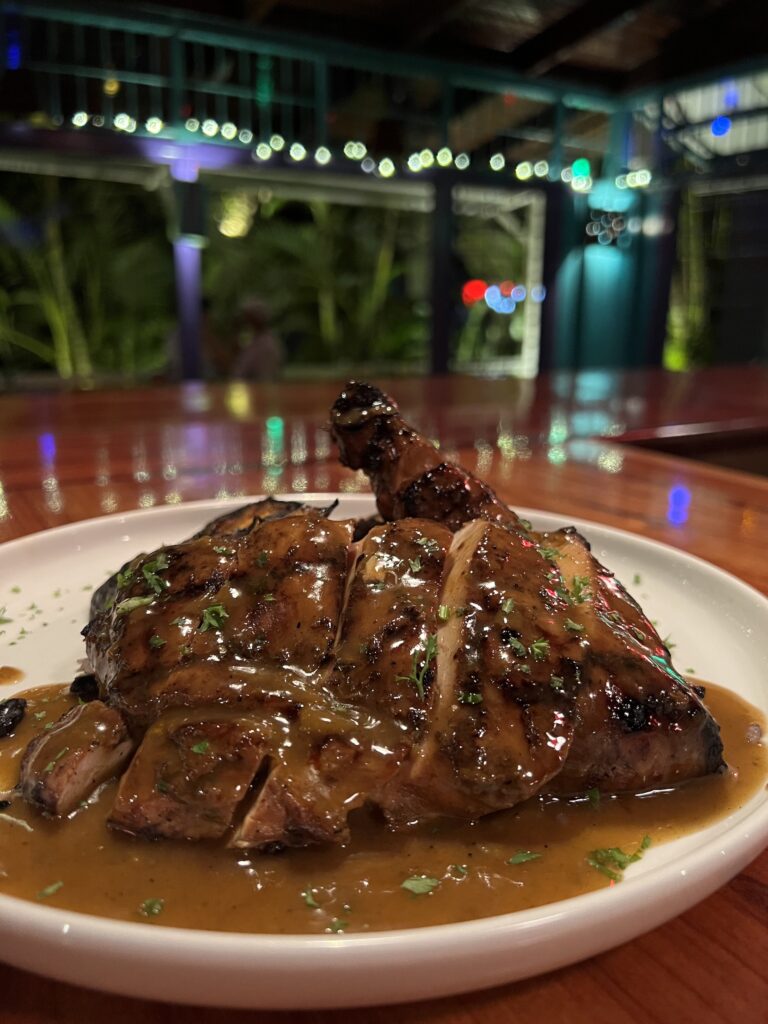 Samui Thai
Samui Thai is a great place if you want to switch things up! The food was actually really good!
If you are a basic Thai food eater, as most of us are, skip the Phad Thai and always try Thai Basil. You will love it… or get both :).

They also have an amazing happy hour with bottomless sangria, so come on in for a dinner with sunset and bottomless sangria to start your night.
If you liked these recommendations please leave a comment below and share on social.