Isla Holbox is the the secret gem of the Yucatan Peninsula. We all know about Cancun, Tulum, Cozumel and Playa Del Carmen but Isla Holbox is the place you need to see!
While Cozumel and Isla Mujeres are swarmed with tourists, Isla Holbox is a quiet getaway you want for a trip to Mexico!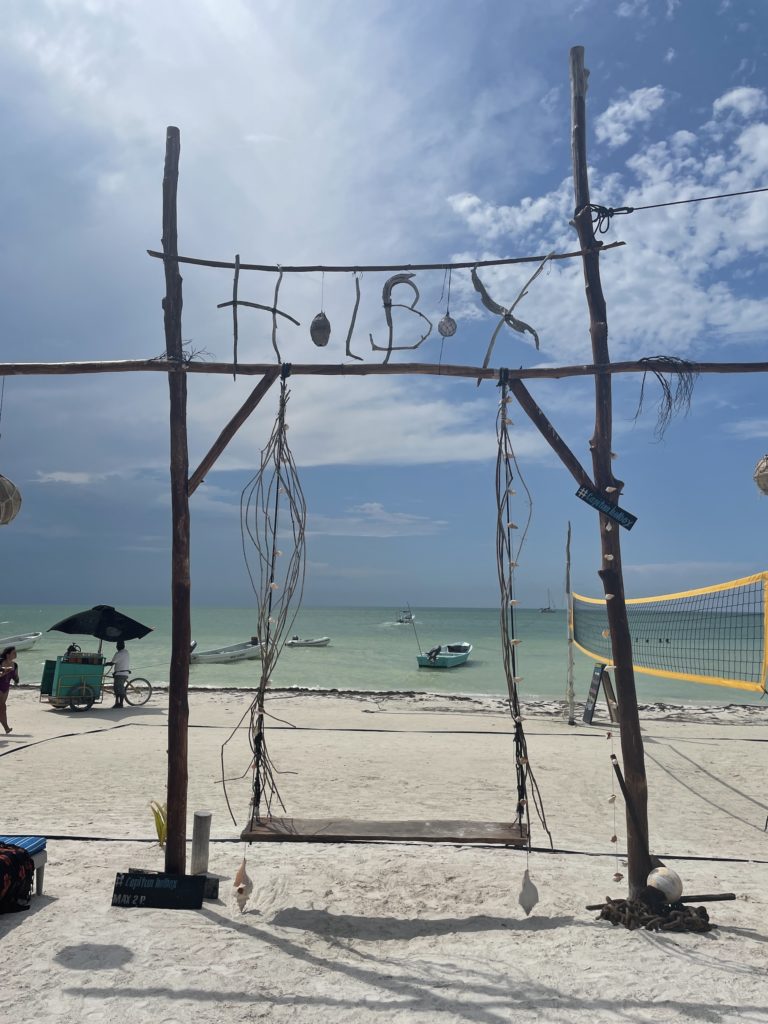 It is Cozumel and Tulum 15 years ago before it was overrun. Stunning water, unoccupied stretches of white sand beach and more is what you will get from this lazy beach town.
If you are looking for a peaceful trip and to experience a far less americanized version of Mexico then this is the place you must go!
While Cancun and Tulum have become Mecca's of nice hotels, 5-star restaurants and nightclubs, Holbox is still quaint, chill and affordable.

It definitely can seem overwhelming to think about how to get there when Cancun or Tulum are just a simple taxi ride down the road.
However, that is why I am here to show you how easy it is to get to Isla Holbox and be on your way to a true Mexico island paradise.
If you are unsure about Isla Holbox here is a rundown of 18 amazing things to do in Isla Holbox!

With that said, here is the basics on everything you need to know for a guide to Isla Holbox.
How to get to Isla Holbox
First you will fly into Cancun and then itis a 1.5-2 hour drive to the small town of Chiquila.
Chiquila is where you take a 30 minute ferry to Holbox, which is only $200 pesos each way. From there you take a golf cart taxi to your lodging for $30-50 pesos.
How to get from Cancun to the Chiquila Ferry
My overall advice is pay for the convenience of your own shuttle or taxi/driver on your own time.
Better to be happy and donate $50 USD to someone who needs it vs. already be stressed out the second you land, which will happen if you worry about it.

The easiest way to keep it simple, a hotel can also set you up with full service for about $4,000 pesos each way for two people and includes ferry ticket. It's the easiest and most stress free but of course an up-charge for the convenience.
Cheapest way is to take the bus, if you're not Spanish and overall very travel savvy, this might not be for you. Even just finding the bus station, correct bus etc isn't easy… all while you've just flown a lot of the day, are really hot and just wanna get there. If you aren't a backpacker, don't do this.
Second cheapest is the $400 pesos Holbox Express shared shuttle that only has a handful of departures daily. It is cheap, good but the lack of times isn't ideal. Would also give at least 1-2 hours of buffer from when you land to the shuttle departure.

Find a private driver. If you know someone locally they can set it up. $80-100 one way is a good price. I had a private driver and here is his number if you want to message him on Whatsapp – +52 998 103 9485 or email

[email protected]

Taxi, and shuttle companies outside the airport. This is hit and miss. Taxi could cost $1,500-3,000 pesos one way.

Shuttles are $4,000+ pesos but sit 6-10, which is good for a group. If you can get it around $2,000 pesos for a taxi or $1,000-1,500 per person for a shuttle then you are fine.
My advice, as mentioned, spend the extra money on convenience. What is $50-100 extra USD for maybe a once in a lifetime trip vs. being stressed out and not enjoying your vacation.
If you lose a little money it is fine, that extra $50+ USD means a lot more to the taxi driver than it will to you.
How to catch the ferry at Chiquila to Isla Holbox
This is very simple and any driver will drop you off right at the ferry ticket stand. It is pretty cool how rudimentary it is to get a ticket.

There is just a little hut with prices, you buy your paper ticket and then walk to the end of the dock and sit in plastic chairs until the ferry comes. You can't miss the ticket hut not to worry.
There are two ferries and while one says the express, I rode both and I'm pretty sure they both take the same amount of time, which is about 30 minutes.
How to get from the Ferry to your hotel in Holbox
This again is extremely easy and there really is only one option. When you arrive there will be a golf cart taxi stand and just get in line, simple as that.

For $30-50 pesos they take you to your hotel and it will take 2-10 minutes depending when you're staying. The ferry docks basically right in the center of town so everywhere from there is quick to get to.
What are the best things to do in Isla Holbox?
Holbox is really a Mexico tourist destination but 20 years ago. It is relaxing, rustic and chill. It's a place to unplug and just drink, eat and may dance your days away.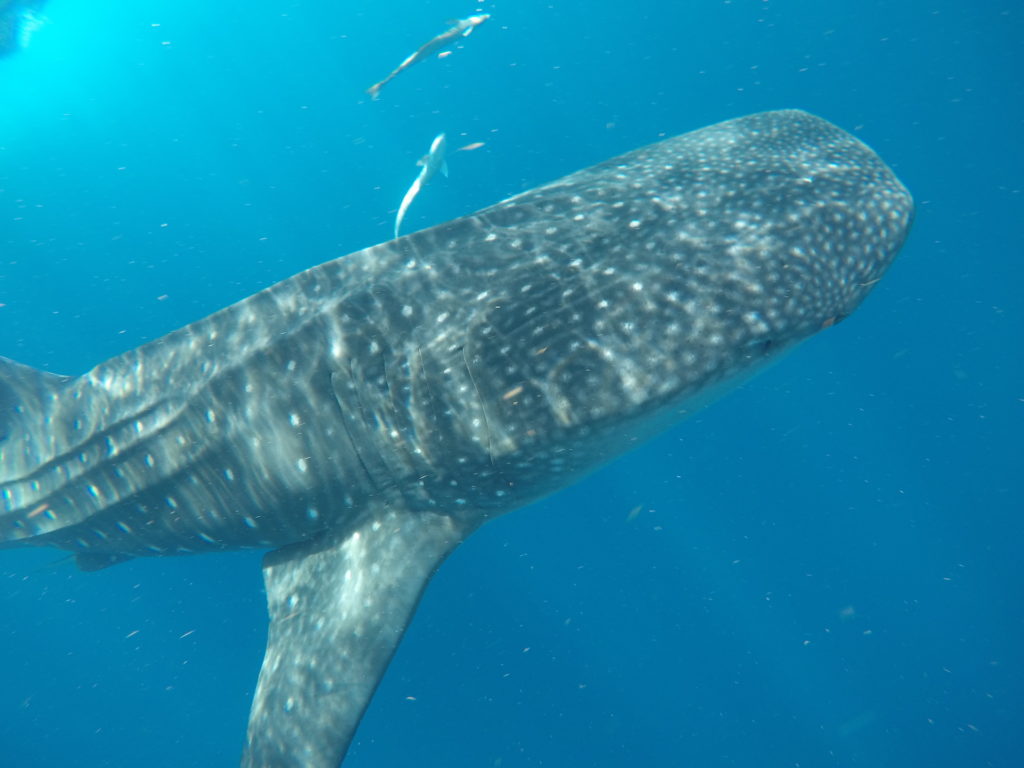 With that said, there isn't a ton to do on land but if that's what you wanted then this is perfect.
If you want to read the best 18 things to do click here for a full list of great ideas of stuff to do in Holbox.
There is are a ton of water tours, as you are on an island. You can do to swim with whale sharks when it is the season, visit islands and even go on a water nature safari.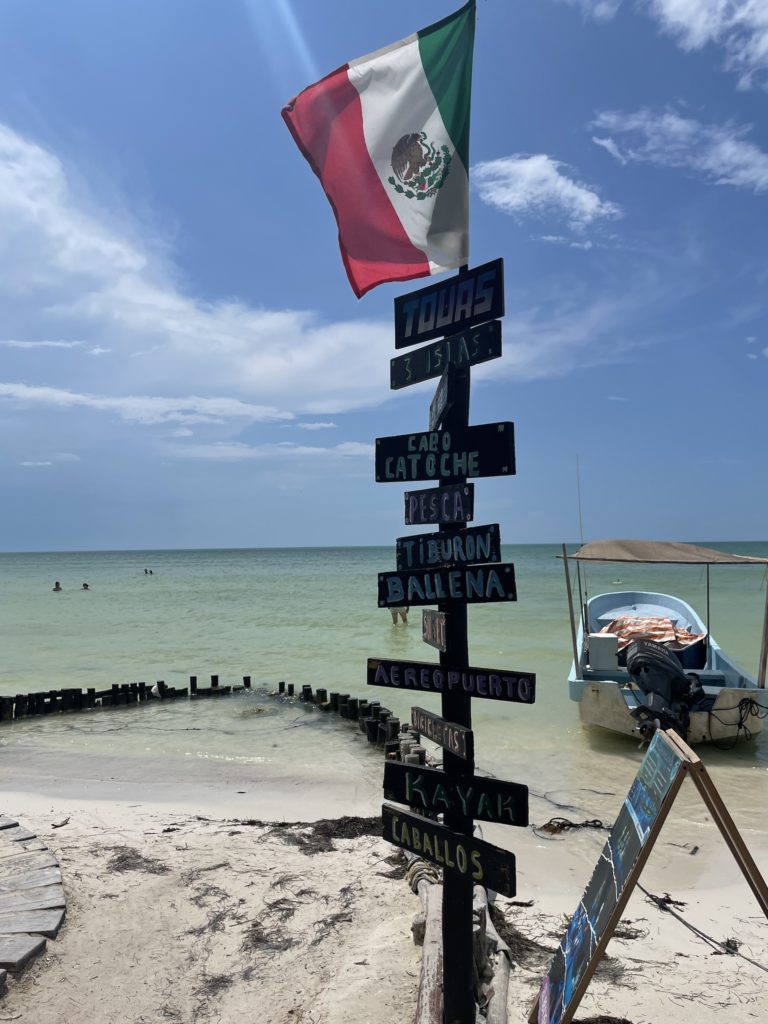 Of course there's also deep sea fishing and snorkeling tours as well. Most tours typically include snorkeling around so no matter what you can get that fix.
There's always some beach volleyball going, lots of live music, eat a ton of food, sand activities but mostly people grab a drink or a book and listen to the waves.
Where to are the best places to eat in Isla Holbox?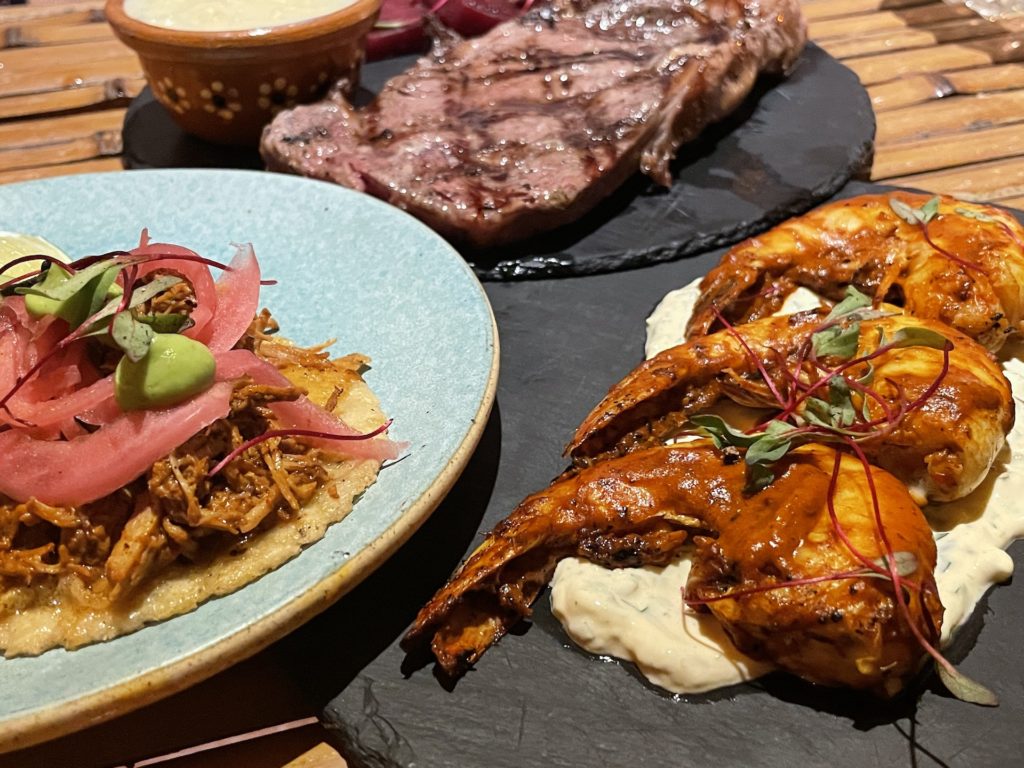 Everywhere! Holbox is a foodie paradise as there is a restaurant on every corner, literally.
I tried to test them all and came up with a list of restaurants on this link that you absolutely must try for the best restaurants in town!

There is food for every taste and price level whether you want street tacos or amazing seafood at a trendy restaurant.
Where are the best bars in Isla Holbox?
The main town has just as many bars as restaurants and the beach has a ton of places that have music playing all night. See here for some great restaurant and bar hybrids.

I suggest a bar hop to see and taste it all. You can do a little walk down the beach and in and around town just sitting down wherever you like the vibe.
The end of the night seems to always end at Hot Corner where there is live music and the street turns into a giant party.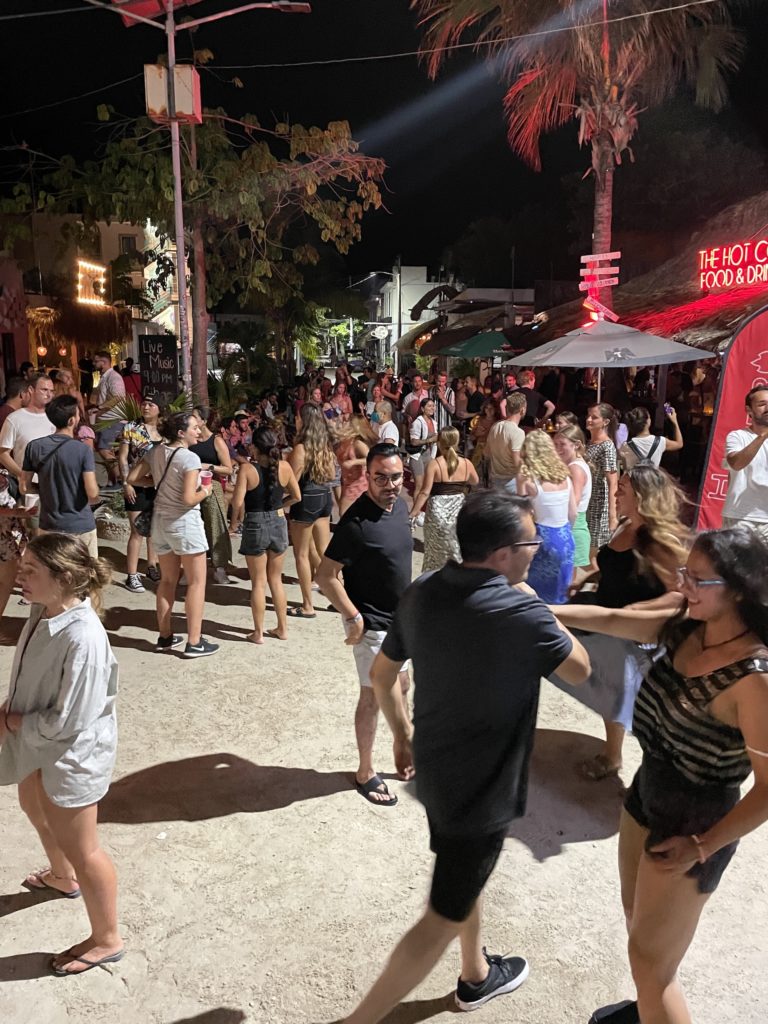 Where is the best place to stay in Holbox?
This largely depends on what you're looking for as you can either be secluded or around the action.
If you just want to escape and not be around anyone then there are a lot of nice hotels 20-30 minutes walking out of town or 5-10 minute golf cart ride.

Being further further from town is nice as well as the beach is a bit sandier vs hard, the beach is larger, less people and less boats in the water in front of you.
However, I think a mixture of beach and in the action is great. Sure while the beach isn't as fluffy and sandy near town, it's still really nice and you're walking distance to everything in town.

If you use any hotel search engine just find hotels in your budget and make sure they have lots of good reviews and a good review score.
I think if you have to pay and extra $1,000-2,000 pesos to stay on the beach, even if it's out of your budget, do it and you won't regret it.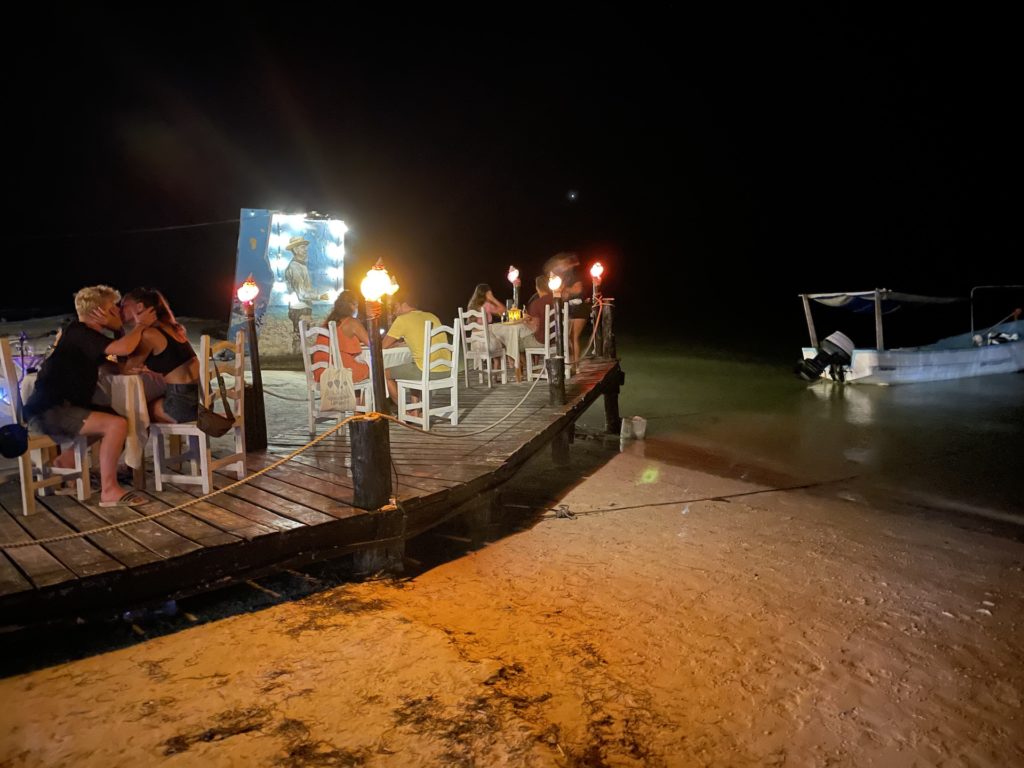 When will you be in paradise again and what's $10 USD a month in credit card interest payments for a few months to make your stay the most memorable ever.
The mood lift alone of waking up steps away from the ocean is why you flew all the way here anyways!
If you want a peaceful laidback Mexico vacation this is the one for you! It is so chill and such an amazing vibe!