How do you hike Machu Picchu and do a multiple day trek? It can be very overwhelming and the simplest solution honestly is to hire a tour company.
I will give a ton of tips on how to do it yourself and what to expect but you will save a ton of headache by hiring a tour company. You are also unable to hike the Inca Trail without a guide so in the end, get a guide if you want to do the two or four-day trek.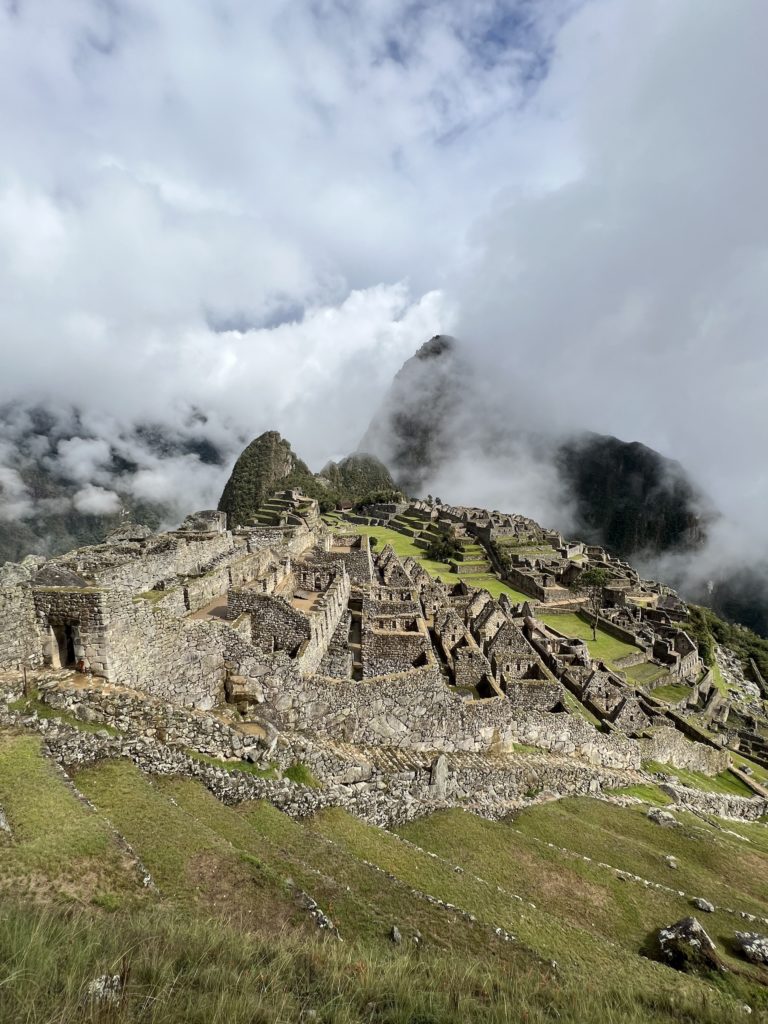 I almost never recommend a tour company but with so many intangibles with getting to, around, where to stay, trains, busses etc, I highly recommend it.
Can You Hike Machu Picchu or go to Machu Picchu Without a Guide?
No you cannot hike the Inca Trail without a guide, there are patrol posts and it is not allowed.
You can bus/train to Machu Picchu on your own but unless you are incapable, you definitely should at least do a two-day trek via the Inca Trail as it is one of the most amazing hikes ever.

If you want to do the Machu Picchu hike treks right you definitely should use Alpaca Expeditions. The entire company is so helpful with tons of communication and incredible customer service.
They also give you good food, very comfortable transit and the hotel they put you up in is very nice. You also have the option to camp of which they provide great camping equipment.
Cusco And Machu Picchu has to be your next vacation!
If you are on the fence about where to go on vacation and you love the outdoors then Cusco and surrounding is a no brainer.

Peru is arguably my favorite country out of the countless I have been to. Cusco is one of my three favorite cities on earth as well. It is honestly out of a storybook and that's just Cusco before you set out on the historic Inca trail.
With that said, to better help you plan your trip, here are some answers to everything you need to know and should do for a trek to Machu Picchu.

Should you do a two-day Machu Picchu trek or four days?
Overall the two-day trip is more enjoyable experience than four-day trip as the first two days of the four day trip you don't see nearly as much great stuff as you see the final two days, which is the same stuff you see via the two-day trek.
If you are also not in the best of health the two-day trek only has one day, the first day, of hiking. The second day is just bussing up from your hotel to Machu Picchu, however there is a lot of walking around Machu Picchu.

Of course if you have a lot of time in Peru and love to camp then the four day experience is still amazing and go for it!
However, if you have limited time and also want to see the Amazon or other great places in Peru, then the two-day trek is perfect.
I would not do the train up and down in one day as you miss so much from the hiking part. Unless you are in poor health or very hard I would definitely do the trek over just a train to and from Machu Picchu.
Getting to hike the historic Inca Trail alone is an amazing experience and your guide will tell you all about the rich history of the Incas.

How long is the Machu Picchu trek?
The hike is 27 miles for four-day trek and the two-day trek is 6 miles. A Porter has the world recorder of 3.5 hours the full trail with no water, in sandals and just cocoa leaves in his mouth!
For the two-day trek the first day takes 7-9 hours depending on your group speed. As mentioned only the first day is hiking and the next is just walking around Machu Picchu.
However that includes 45 mins for lunch, 30+ minutes exploring the Winayama ruins, picture stops for Machu Picchu and countless stops along the way for people to rest etc.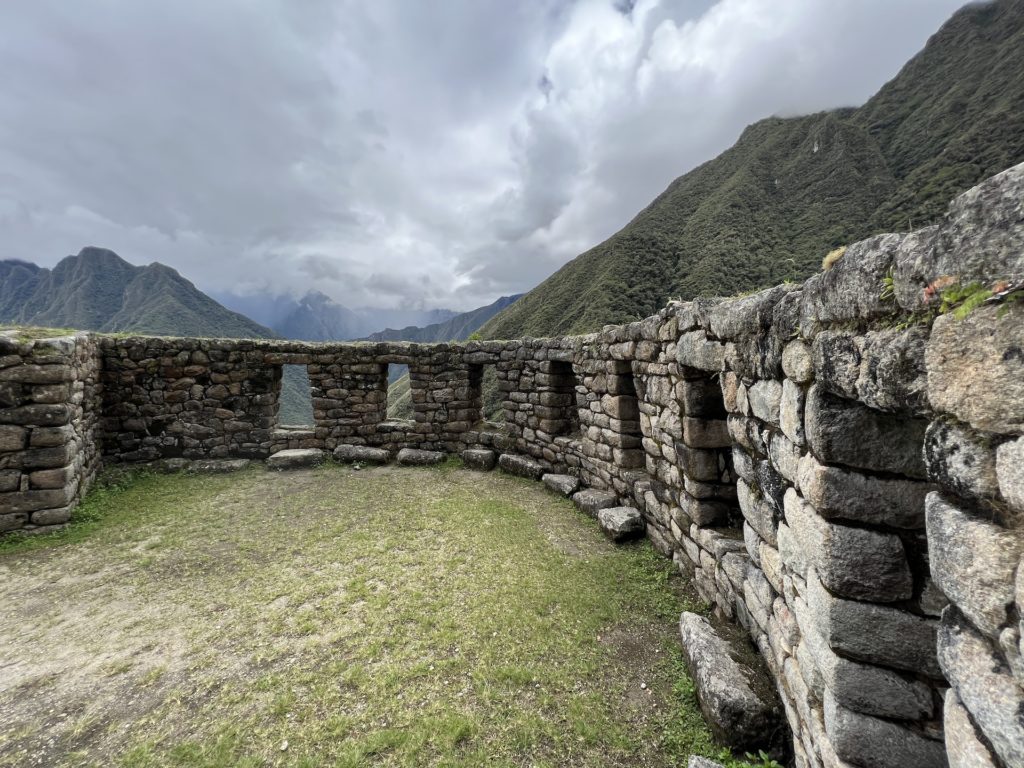 I'd say it could be done in 1.5-2 hours if you went really hard or like 3.5 hours if going casually with minimal stops. The hike is difficult but you stop so much that most people could do it.
There was always historic things to see along the way and lots of flora & fauna, waterfalls and more. Thus, while it is a long day, it didn't seem too rough.
What is the itinerary for a 2 day trek to Machu Picchu
The two day trek starts at 4am where the a shuttle picks you up from your hotel to start your adventure.
You'll go and pick up the rest of the group from hotels around the city. Then it's 1 hour or so to where you stop to breakfast and then get on the train at 6:40am.

You stop at the Alpaca Expeditions little prep place on the side of the road for breakfast and the guides to get all prepared.
Breakfast is good as well. Fresh bread, fruit and eggs. They also have coffee, hot chocolate, fresh juice and tea for everyone.
From there it's 10 minutes to the train at Ollantaytambo. The train is really cool and you feel like you're back in time or on a movie set, which just adds to the experience.

Your trek starts as you get off train and cross this cool suspension bridge over the Urubamba river to start the hike. You will go through a patrol station, where you need your passport, and there are bathrooms etc to get changed for the hike.
First you will stop at the Chachamba ruins, which are a cool first stop to some of the amazing things you will see! Your guide will explain all about the ruins as well.

After that you do some hiking up the mountain and the entire way you are blessed with incredible views. Be sure to look behind you as the 360 views are unreal.
It seems as though every step there is a new view, new flowers, new points of interest and it really is a pretty hike. After 3 or so hours you will come up to the waterfall as well, which is a great place for a little break.

It will take 4-5 hours to get there pending your group but the highlight on the way to Machu Picchu is the Winay Wayna ruins. The Winay Wayna ruins are majestic and it is so cool as you can walk all throughout them!
Winay Wayna mean eternally young and it is built into the hillside overlooking the Urubamba river.
Near Winay Wayna is also where campers for the four-day trek stay. It is about 10 minutes away from the top of the ruins and that is also where two-day trekkers get lunch.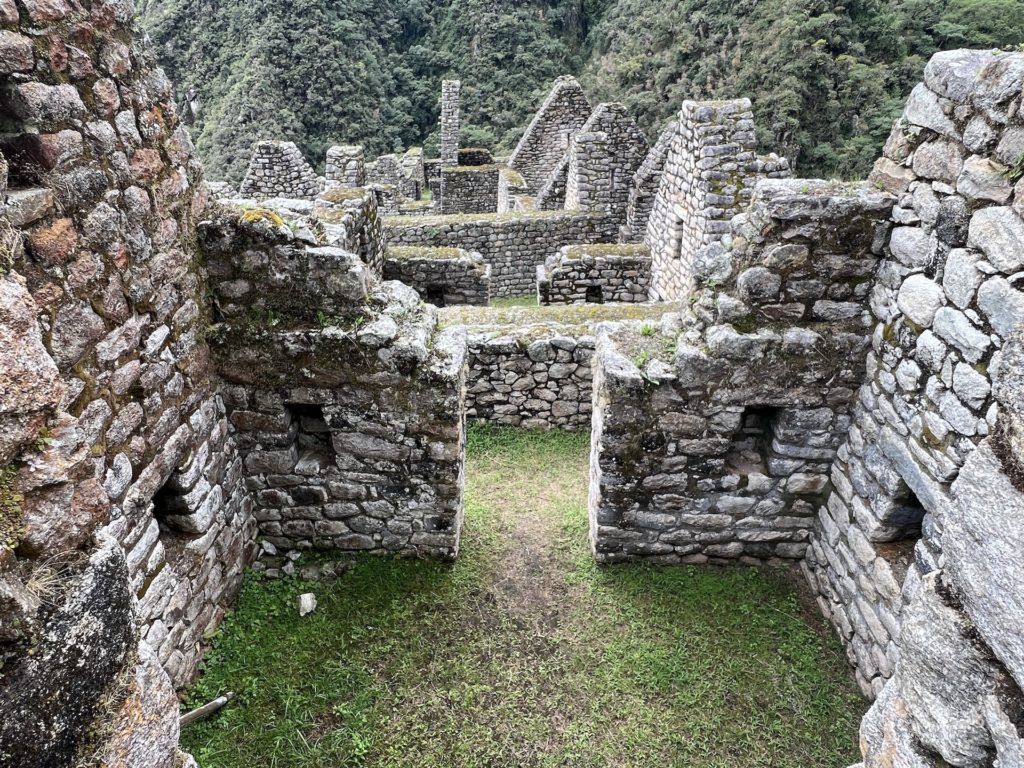 You will spend 45 minutes or so having you lunch break and it is a great time to grab a nap. The food Alpaca Expeditions served was great too, lomo saltado, tons of guacamole, lemonade, vegetables and more.
After lunch it's another hour or so for your first glimpse of Machu Picchu and from there it's bliss.
There are the monkey stairs before you get there though. They're aptly called monkey stairs as some people may use both hands to get up the stairs. However, once you make it up…. Wow!!!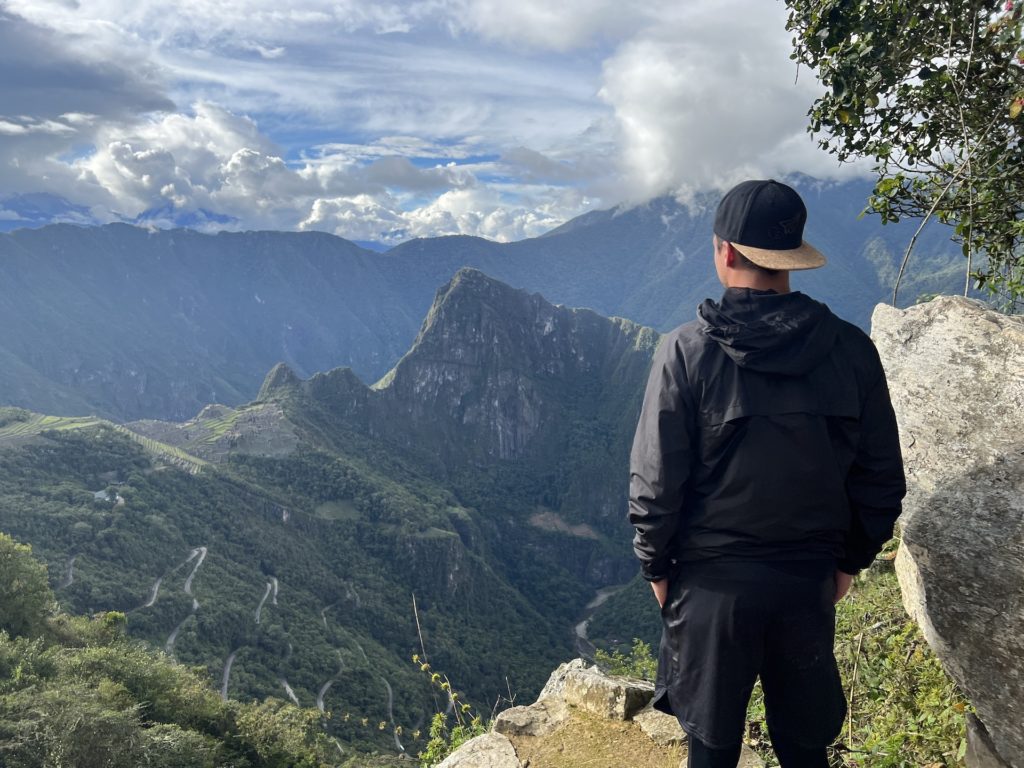 I've seen 5/7 new world wonders of the world and I think this one is the most stunning.
Another hour or so hike to the grounds of Machu Picchu and maybe if you're lucky you can go to a lookout of the Machu Picchu grounds for some quick pictures before getting on the bus into town.
Then you take the bus for 25 Minutes down to the town of Aguas Calientes where you will check into your hotel or camping and have dinner.

Aguas Calientes is such a stunning little town! It is perched on the side of giant beautiful mountains and is truly out of a book! You may have big thoughts on exploring the city but after dinner, a little walking around but a good chance you pass out early…
I am always Mr. Energy and ready to explore but… I hit the pillow at 8:30pm and didn't wake up until my alarm at 5:30am the next day.

If you do have time and energy though they offer 4 for 1 drinks almost everywhere! There is also a great market to go and explore. You should also have a couple hours the next day to check it out as well, it is pretty small so don't need tons of time.
The next day you get to tour Machu Picchu starting with your bus up to it. From there you will get guided around the ruins with all the important stops and it is such a walk through history.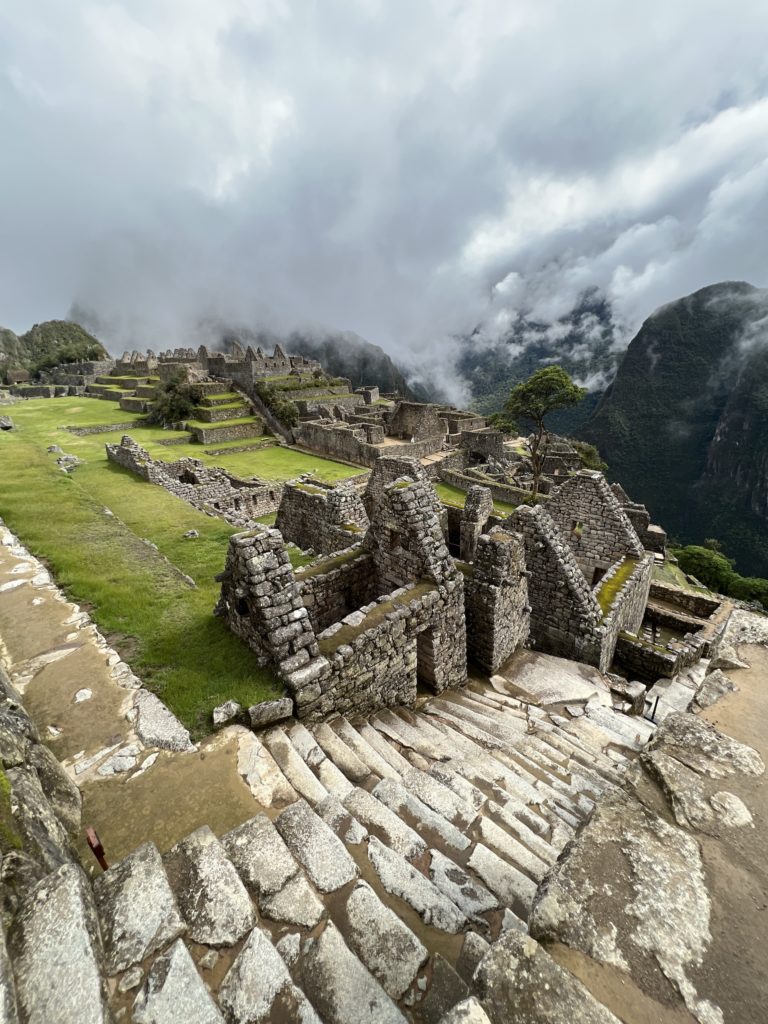 Can You Hike Huayna Picchu, the mountain sitting immediately behind the Machu Picchu?
Yes, you can hike it but you need a permit, of which there are only 200 issued per day so definitely will want to get one in advance.
What is the Machu Picchu elevation compared to Cusco
Many people don't realize that Cusco is significantly higher and colder than Machu Picchu. Cusco is 3,399 meters a live sea level while Machu Picchu is only 2,040 above sea level.

This is good news if you were huffing and puffing walking around Cusco! Coming down to the Machu Picchu level will be much easier.
On the two-day trek you will go as high as Intipunku, which is at 2,750 meters.
What time of day is best to go to Machu Picchu
Definitely go early, not only does Machu Picchu get very busy by 8/9am but the bus lineup to go is also huge.
I am the least morning person in the world but 100% advise going early. Alpaca Expeditions has you as one of the first groups up there and it's worth it.
When is the best time of year to visit Machu Picchu
Inca Trail is closed in February due to heavy raining season. You can still go to Machu Picchu via train but not the Inca Trail hike.
May to late October is best as after that you will hit the rainy season with much more chances to have so much cloud cover that you cannot see Machu Picchu from the lookouts. July & August are typically really busy so may want to avoid those months.
Where to eat in Aguas Calientes
Mapacho is so good! It has a great menu for all types of food from Guinea pig to fried rice to an alpaca burger (or beef) to pizza.

If you're lucky enough you can sit right by the window as the roaring urubamba river goes by. It is open air with giant windows which just adds to a great ambiance.
They are a craft beer stop as well with a selection of over 25 craft beers. They also have multiple varieties of fruit infused piscu for some amazing infused cocktails.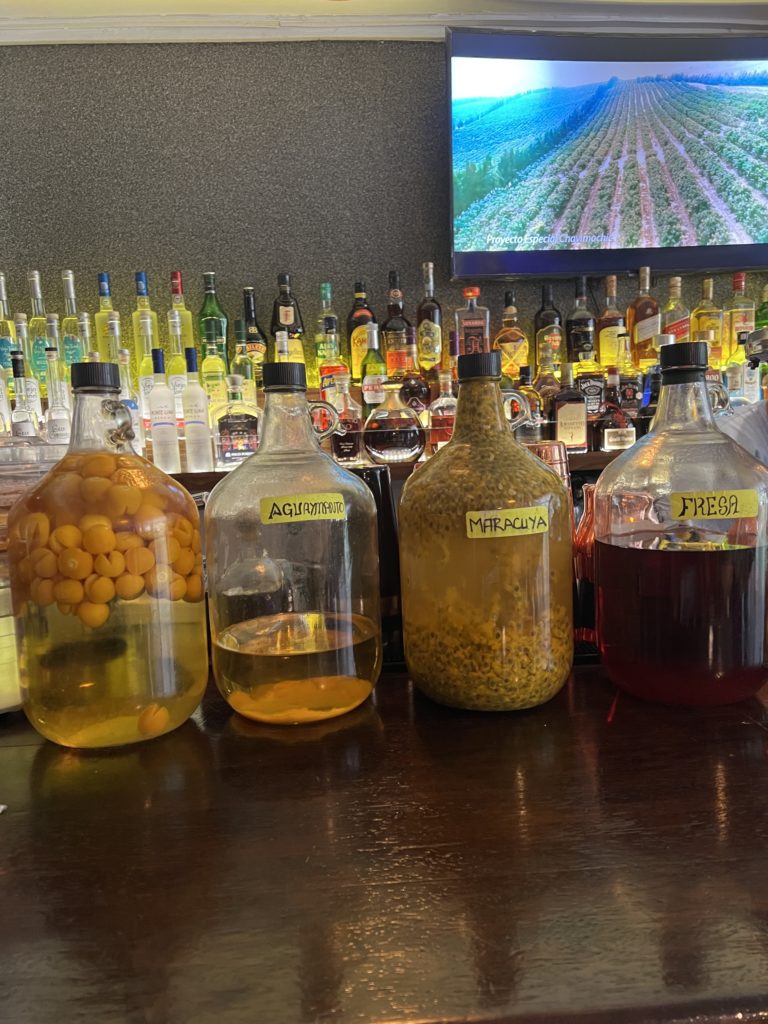 Aside from that there are many restaurants and most bars have 4 for 1 drinks at night!
What to wear and bring when you visit Machu Picchu or do the Inca trail trek
Knowing what to bring for the Inca trail trek is near impossible. As mentioned the Inca trail and Machu Picchu is actually lower than Cusco, warmer and is in the jungle!
You will definitely want to bring layers on your trek. One minute it will be really hot, the next raining and the start and end of the day it could be cold.
You must bring a raincoat and I brought two pairs of shoes so I had some dry comfortable ones at night and on the way home. I had two pairs of running leggings and shorts. Women two pairs of yoga pants or a third for post hike days is great.

Then socks, 1-2 t shirts or long sleeves and potentially a warmer jacket as well but nothing too crazy as it is the jungle. If you're in a hotel then just bring a toothbrush and toothpaste as the hotel as soap etc.
Be sure to bring bug spray! I sprayed the first day and life was good. The next day when I went to Machu Picchu I literally just had my ankles showing and forearms and somehow ended up with 10 bites as I forget to spray…
Don't forget your passport, cash and water as well. The bus, train and entry to Machu Picchu all require to see your physical passport first.

Where do you stay overnight when you visit Machu Picchu?
As mentioned the town you stay in when you visit Machu Picchu is Aguas Calientes. The town is so cute situated on the side of the hill. There are plenty of hotels and people also camp when they visit.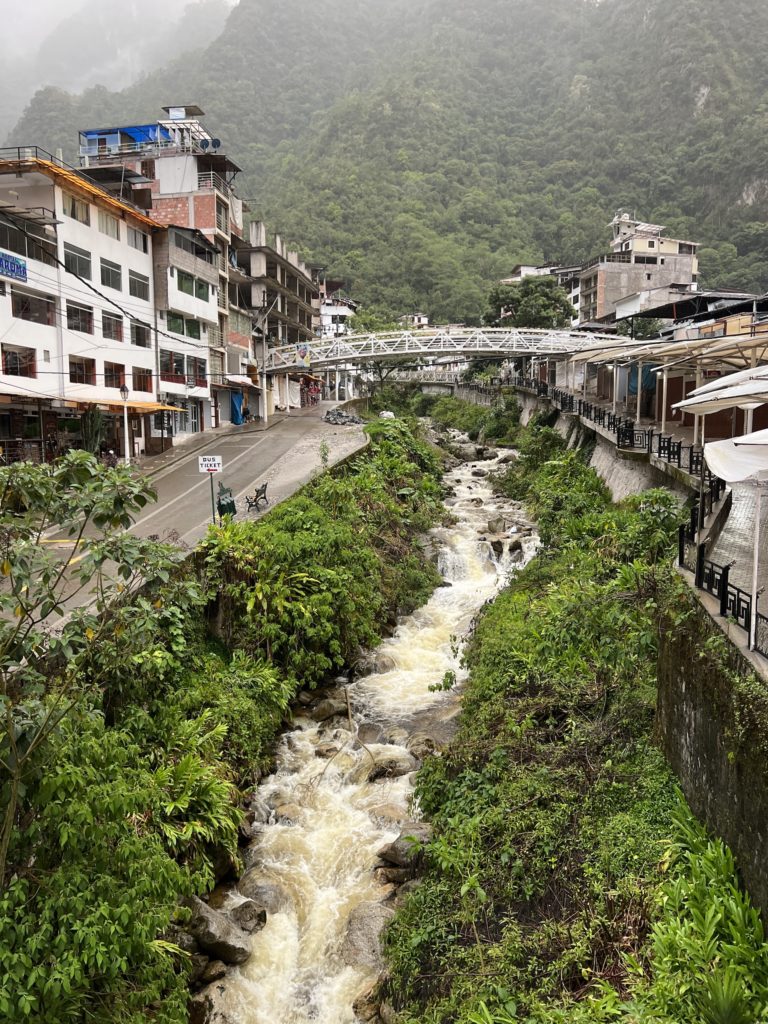 Why should you use Alpaca Expeditions?
Aside from what is mentioned above, Alpaca Expeditions makes everything so simple. Our guide Reuben was great and very informative as well with tons of info & history over the trek.
Alpaca picks you up from your hotel in a nice 20 person shuttle with legroom and good seats. Often you will get the most bus seat and cramped shuttles for yours but alpaca has a nice setup.
The hotel they put you in is 3-stars and has everything you need, including a jacuzzi tub!

Alpaca has small group sizes as well. We had 5 people in ours and they seem to keep them all nice and small which is great and personable.
As someone who has gotten more boujee with age (I've done enough backpacking roughing it trips) Alpacas entire experience is very comfortable and not some cheap setup.

This trek and Cusco in general should jump to the top of your bucket list! Being around the world I think only Siem Reap is comparable to this unreal region!
I would do this over a 5-star hotel on a beach 100x over!
Where Else Should Your Stay In The Cusco Region?
The Sacred Valley's Best Hotel – 5 Star – Sol Y Luna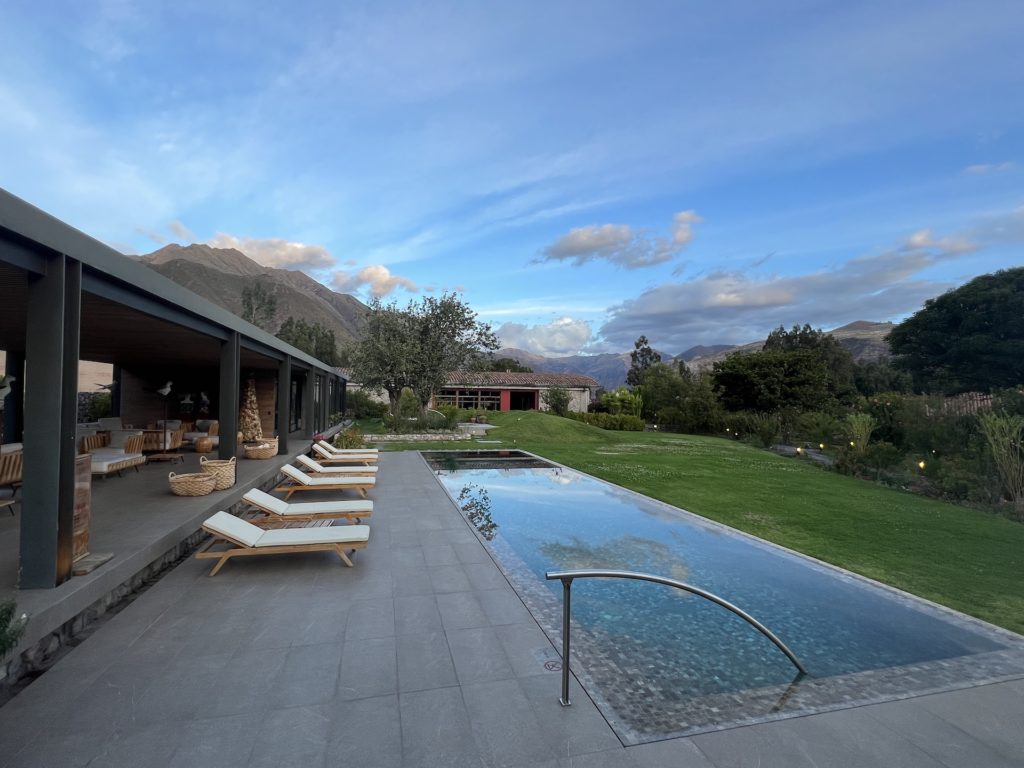 There are a lot of amazing resorts in the sacred valley and Sol Y Luna is on par with them in terms of its grounds & beauty but its philanthropy work is what sets it apart from the rest!
I can go on about the Sol Y Luna hotel itself from the pool area, the restaurant, the stunning grounds, the giant luxurious casitas just for you or the spa.

However, the Sol Y Luna also gives back to the community like no other hotel on earth! They have built a school to help kids in need in the surrounding villages. They also have a foster home taking care of 20 children that needed a safe place to live.

I can go on about Sol Y Luna but see here for full details!
Great Cusco City Hotels
Palacio Manco Capac – 4 Star
If you want something on the higher end then Palacio Manco Capac is an amazing place to stay. Palacio was built on the hill of San Cristóbal which was where the residence of Manco Capac existed.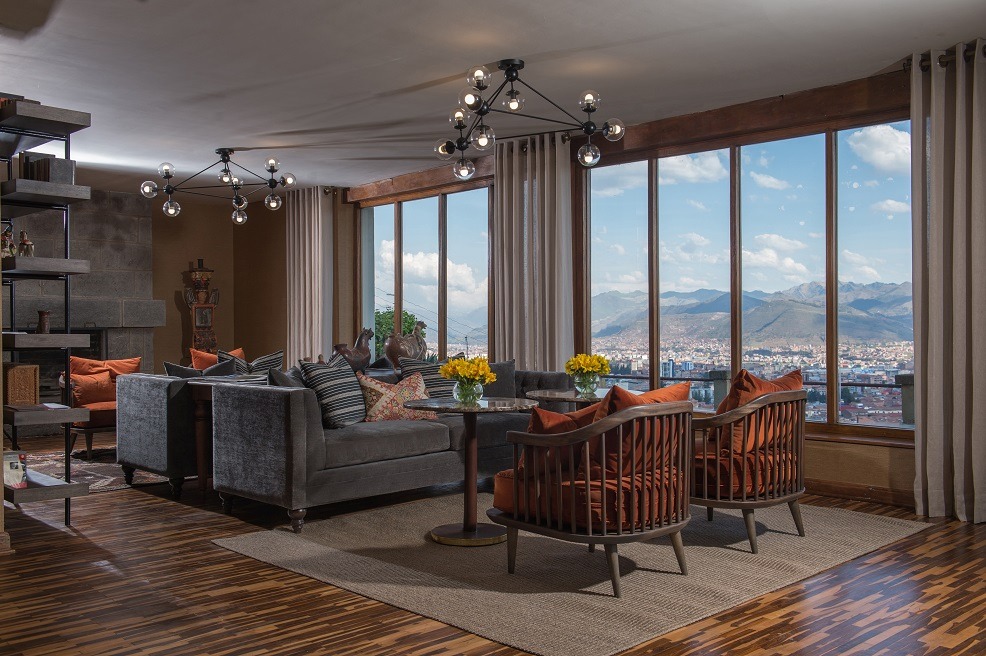 They restored an old republican house from the seventeenth century, preserving the most traditional of its architecture and it is overlooking the city with views for days!
Quinta San Blas – 3 Star
If you are looking for a great value hotel that still has plenty of charm and is in the perfect location, then San Blas is your place!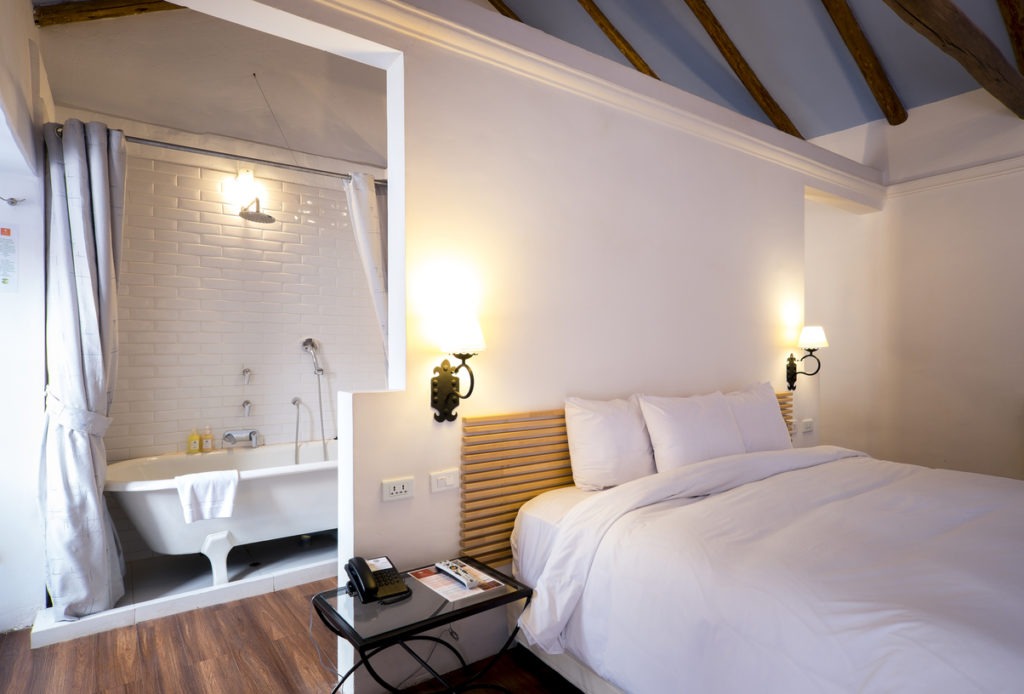 When visiting Cusco you will not want to be in your room much at all so I highly recommend saving a little on your hotel and spending more on experiences!
They also have a massage room, restaurant and clean filtered water to fill your bottles up nonstop to avoid buying plastic bottles over and over.
Quinta San Blas is right in the heart of San Blas just steps to the church, amazing restaurants and more! If you want to feel safe then the upscale San Blas area is where you want to be and this provides a great place to stay at a great price!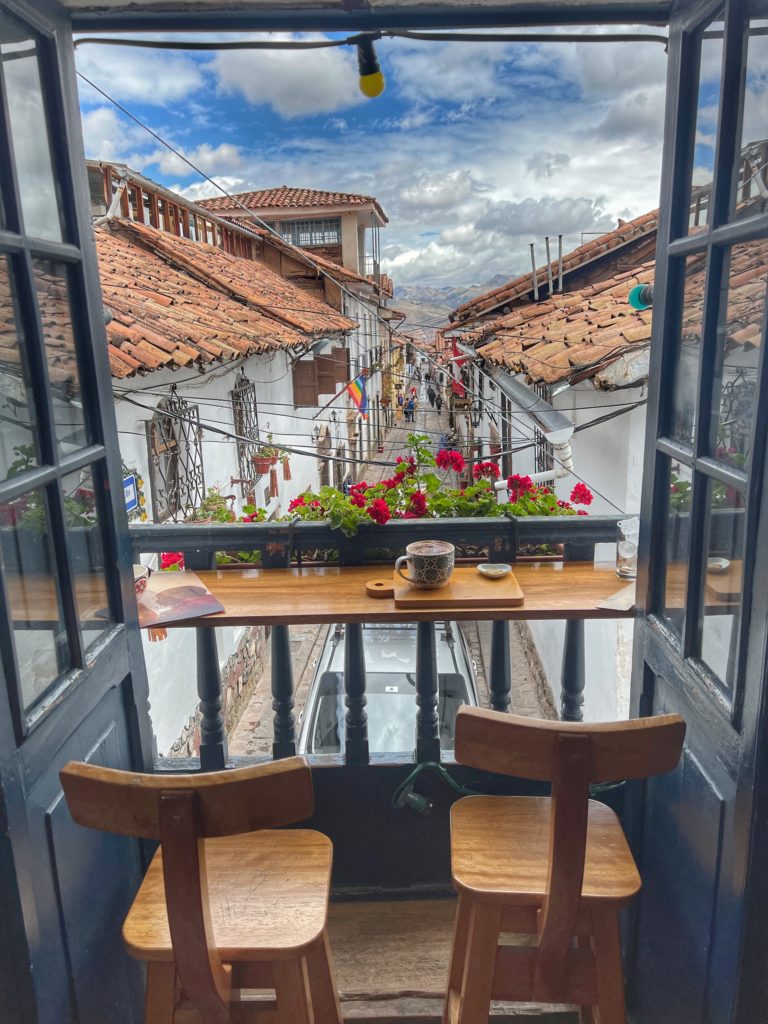 SkyLodge – Stay On The Side of A Mountain!
You have probably seen sky lodges on social media and here is where you can sleep on the side of a mountain in Peru near the train station to Machu Picchu!

If you are visiting Lima then you have to stay at one of the most magnificent hotels I have ever stayed at. Villa Barranco is one in a million and while on the pricier side it is so worth it!

See the full article on Villa Barranco and why you absolutely have to stay here!