How do you make tzatziki dip? Making tzatziki sauce is the easiest recipe on earth! Time to stop buying processed and preservative full store tzatziki dip and make your own homemade & authentic tzatziki dip that tastes so fresh!
You can make healthy tzatziki just as easy by using non-fat greek yogurt! Tzatziki alone is very healthy and all natural ingredients so it is great for that healthy mediterranean diet. It goes great with this easy healthy
chicken gyro recipe as well!
A mediterranean diet is the healthiest diet you can do so make this recipe along with the chicken one of your mediterranean diet staples. You can make both very simply and meal prep it for 3-5 days!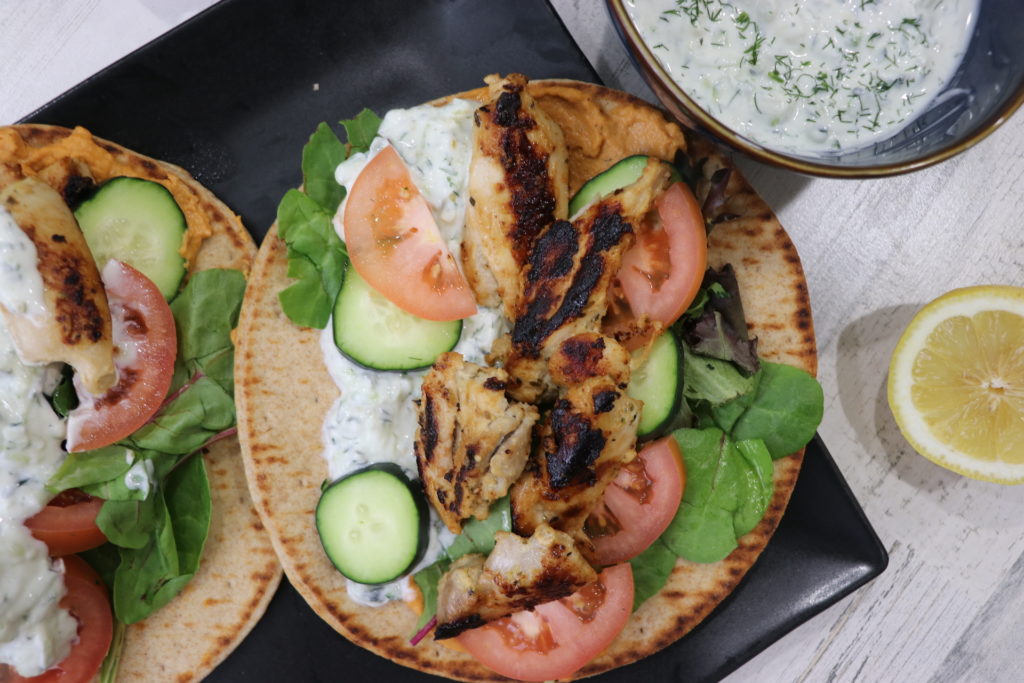 I will make 2-3 batches of this and keep it in my fridge as a healthy snack. It will be the dip I use and eat it with vegetables, pita chips or whole wheat pita bread. You can even toast your pita bread to make the snack even better!
If you want to make it less healthy you can of course brush your pita bread with garlic butter before you toast it or put it in the oven. Naan bread also goes great with this.
What Ingredients do You Need For Tzatziki?
Tzatziki dip is oh so simple and you just need 5 ingredients! You will need a cucumber, low or non-fat plain greek yogurt, garlic, a lemon and fresh dill! You can optionally add red wine vinegar and fresh parsley as well.
That's it… 5 ingredients and you can make it in 3 minutes! There isn't much more of a simple and healthy recipe out there!

Is Tzatziki dip healthy?
Yes, tzatziki sauce is incredibly healthy and fresh. You are using all fresh and healthy ingredients in non-fat yogurt, lemon, garlic, dill and cucumber. All of the ingredients have great health benefits as well with an assortment of nutrients and antioxidants!
What goes best with Tzatziki Dip?
The best meal with tzatziki dip is this amazing easy chicken gyro recipe! It also goes amazing with salmon if you are looking for a meal.
If you want it just as a snack then cucumbers, carrots, celery, peppers, pita chips and pita bread are perfect options. A snack meal in itself is any of the above and then dipping it into your favorite hummus and this tzatziki dip recipe.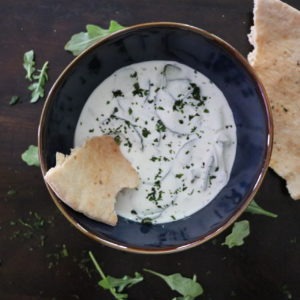 Quick Homemade Tzatziki Dip Recipe
How to make easy homemade tzatziki dip? It is so easy to make tzatziki dip, even easier than trying to spell or type it.
With just a handful of ingredients you can be making this tasty and moderately healthy dip in no time!
Print
Pin
Rate
Ingredients
1/2

regular cucumber with seeds removed

cut lengthwise in half to remove seeds easily

3/4

cup

low-fat plain greek yogurt

3

cloves

garlic

I over garlic

2

tbsp

lemon juice

1

tbsp

fresh dill

I love dill and add a second tbsp after tasting

minimal salt & pepper to taste
Optional
1

tbsp

red wine vinegar

1

tbsp

fresh parsley
Instructions
After taking out the seeds, grate the cucumber. Put cucumber shreds into a paper towel and squeeze the moisture out.

Then place into a bowl.

Add all other ingredients into bowl and mix together.

Ideally let it sit in fridge for at least 30 minutes but this isn't really necessary.
Print Recipe