Where are the best places to eat in Cusco? The options are endless as Peru in general has some of the best restaurants I have been to and everything is so cheap!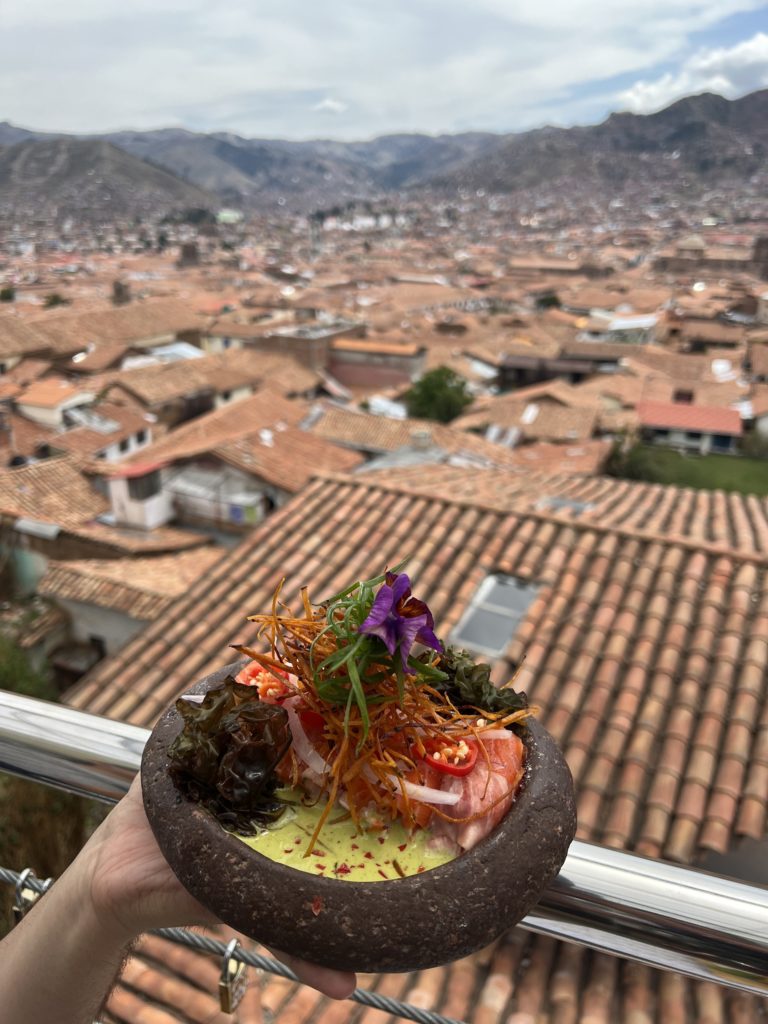 Cusco might be the cheapest place to eat that I have ever visited as well. It could be because of the conversion rate but wow, you can eat and drink like a king for such a reasonable price.
I had a tomahawk steak at one of the best restaurants in town while overlooking all of Cusco for $25USD. This would be have been $125+ in any USA restaurant easily.

There are some of the most wide ranging meals I have ever come across along my travels and some of the most amazing settings and views!
Your tastebuds will be tantalized from eating guinea pig to some of the most fresh food I have ever eaten to cheap exotic fruit juices & smoothies to Chifa, which is their Chinese Peruvian fusion food.

You eat Guinea pig!?! Yes, it is actually used for celebrations from weddings to festivals and more! It is kinda of pork-ish in taste and is definitely a must try when visiting.
You can also eat alpaca, which is another common dish you will find in restaurants. The alpaca burger I had was actually one of the best burgers I have ever eaten.

With all of that said, there is a ton of amazing standard dishes as well so don't be scared off from their more exotic offerings.
Now if you aren't excited enough, let's dive into the best places to eat in Cusco! If you want views, settings or local fare, you will find it all below.

Best Restaurant With A view In Cusco | Limbus
Limbus is maybe my favorite place from just the views and food & cocktail presentation alone.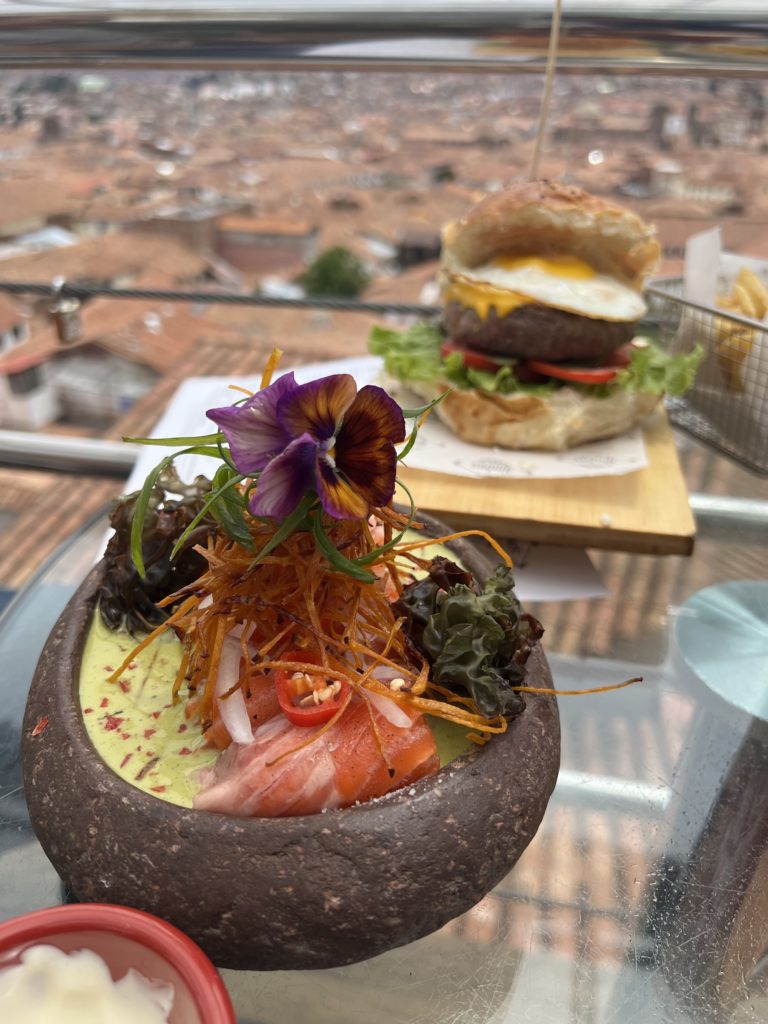 Located in San Blas you should come to Limbus for lunch so you can see the view during the day and then again to see the beautiful city at night.
Arguably the best view in the city with a great atmosphere and the most instagrammable food & drinks in Peru. They have a large menu with options for all price levels and tastes.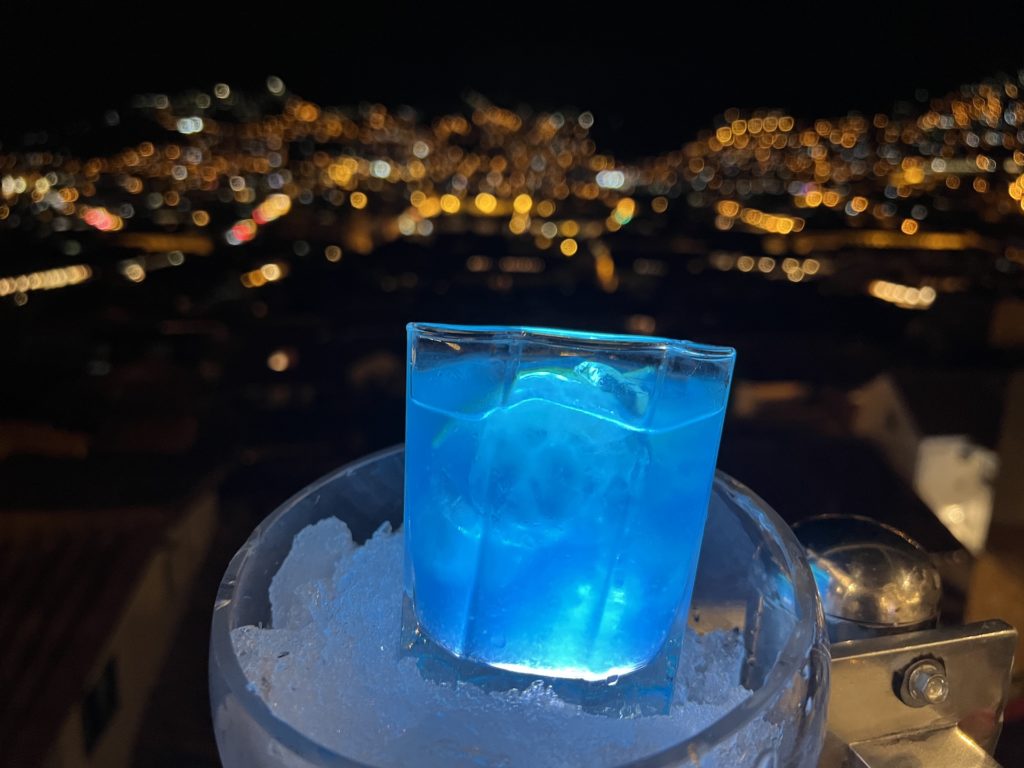 Whether you want a burger and fries or a tomahawk steak, you will find something you love on this menu. The ambiance is also perfect with good music and a trendy vibe.
Their food is great tasting too and you can get that huge tomahawk steak for just $25 USD! Cusco is so cheap so feel free to splurge here and have your dream meal!

Best Organic & Locally Sourced Restaurant in Cusco | Nuna Raymi
I love this place as not only does it have great food but also a huge commitment to the community!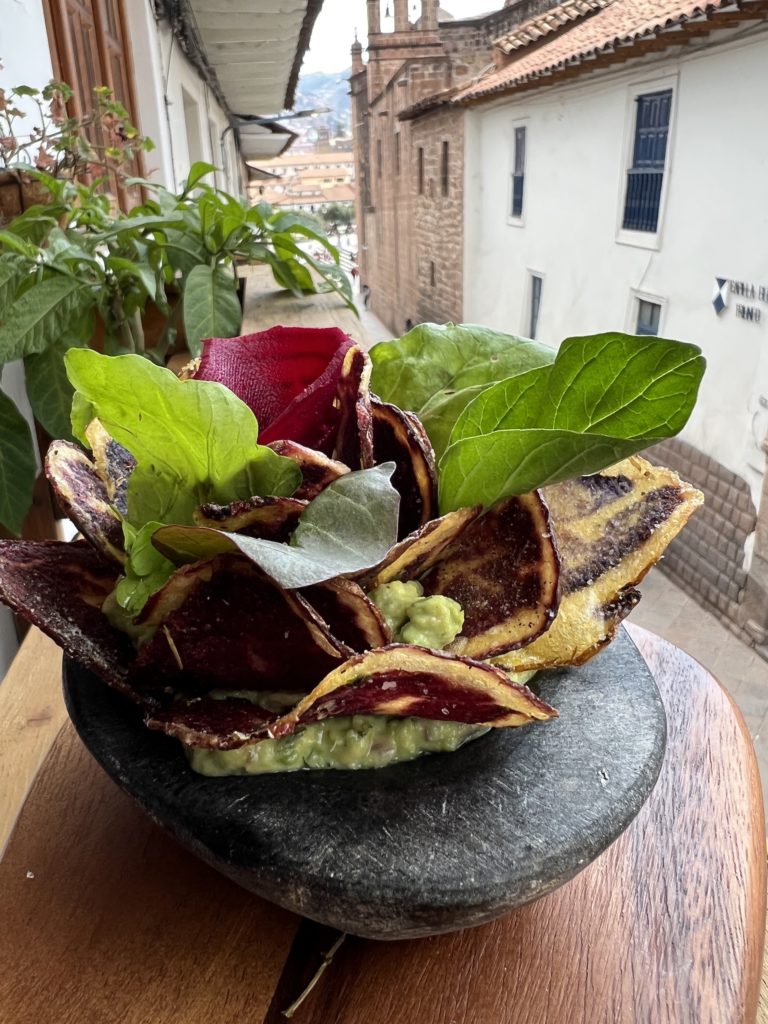 Their commitment to sustainability for local farmers and helping out the farming community is incredible and reason enough to support this great place.
They have a giant menu with incredible unique Peru dishes like guinea pig or alpaca but you can also get a wide variety of food. Their lamb and fish is great and they also have a large vegan menu!

They even have a little garden inside the restaurant where they grow some of their own ingredients. They also have a mini market with lots of local goods for purchase.
Overall the tastes, freshness and commitment to the region cannot be beaten! Eat good and feel good in supporting local producers.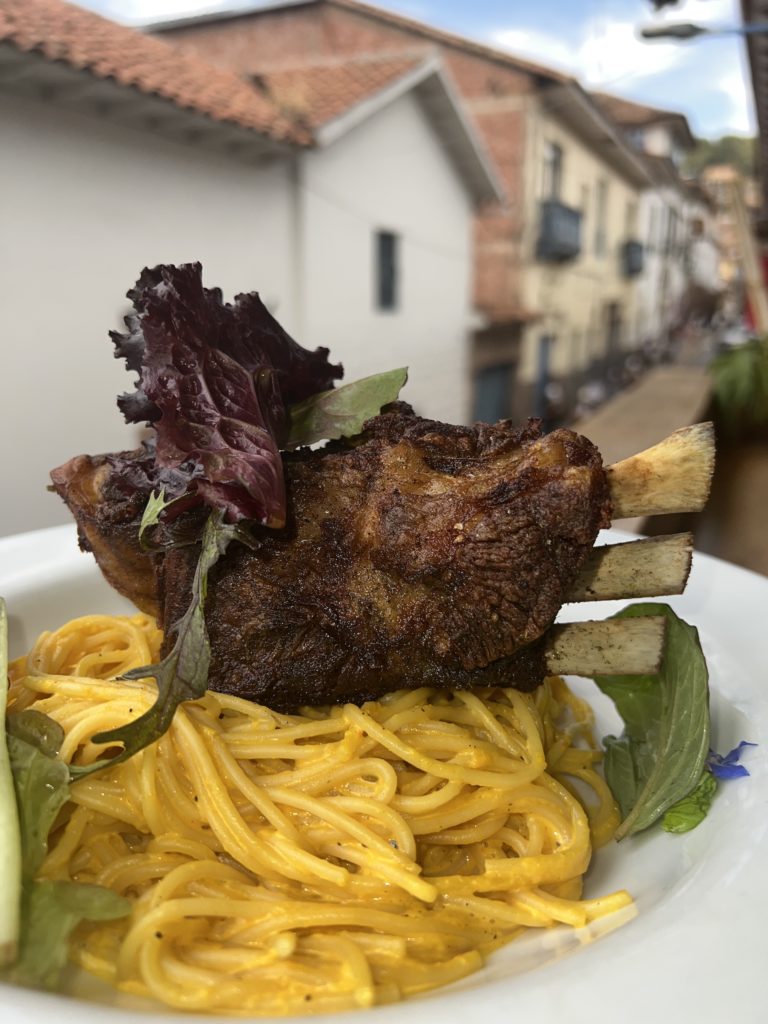 It is located on a street between Plaza De Armes & San Blas. Read more about their amazing work and visit their site here!
Best Place To Eat Like A Local | San Pedro Market
The San Pedro market is a must stop for lunch when shopping in and around the market. If you want to feel immersed in culture then I always suggest stopping by the local market!
It is like a giant authentic food court with tons of dish options from seafood to soups to chicken to smoothies or fresh juice.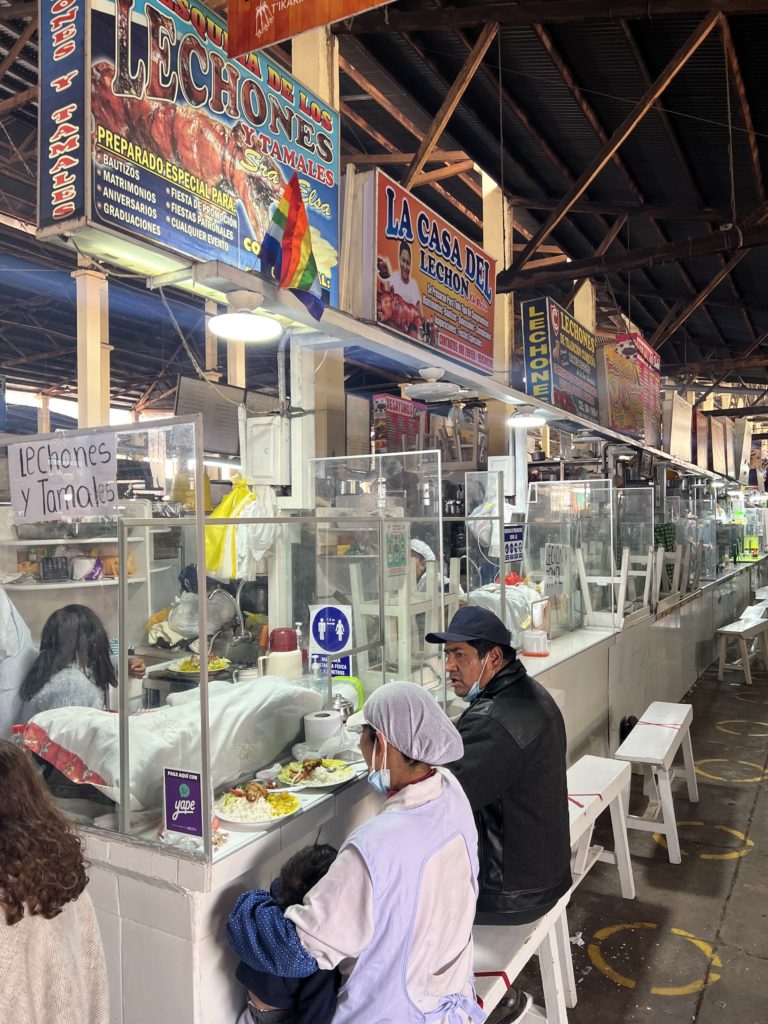 The San Pedro Market has 30+ stalls all with people asking you to try their meals which typically are less than $2 USD.
While the food I had wasn't the best, it can be hit and miss pending the stall… the atmosphere and experience alone is worth it! As with a lot of restaurant reviews I cherish experiences vs. just taste of the food.

With that said, definitely need to go to the other end from the food stalls to take in some fresh squeezed juice and smoothies!
Best Cusco Restaurant in Plaza De Armes | Morena
Morena is the best place to eat in Plaza de Armes with a great atmosphere and gorgeous view overlooking the plaza.

The Peruvian food restaurant serves up a ton of the best local dishes and all taste delightful. While it is a bit more upscale, in Peru that's still incredibly cheap!
Main courses are $10-15 USD, which is incredible considering how nice it is! I had the Peruvian staple of lomo saltado, which is similar to a beef short rib, and it was around $12 USD… it's unreal.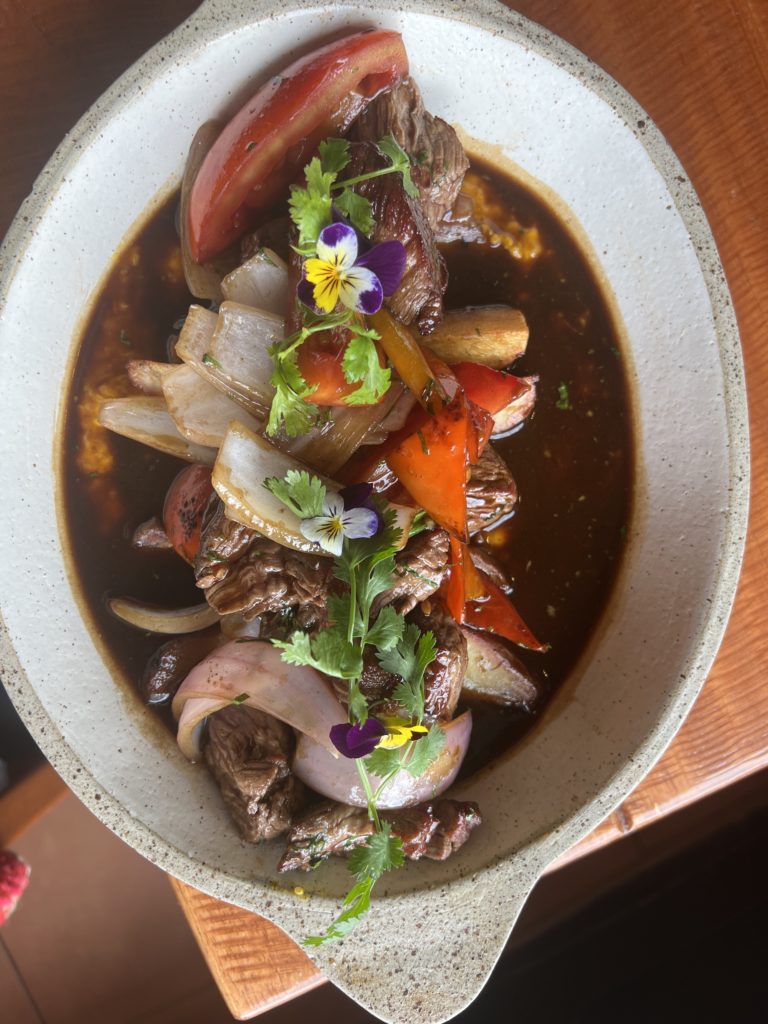 Like most places in Cusco it also has great juice, pretty decor and the most flavorful food. They even have a cocktail cart where the bartender comes to your table and Makes incredible drinks!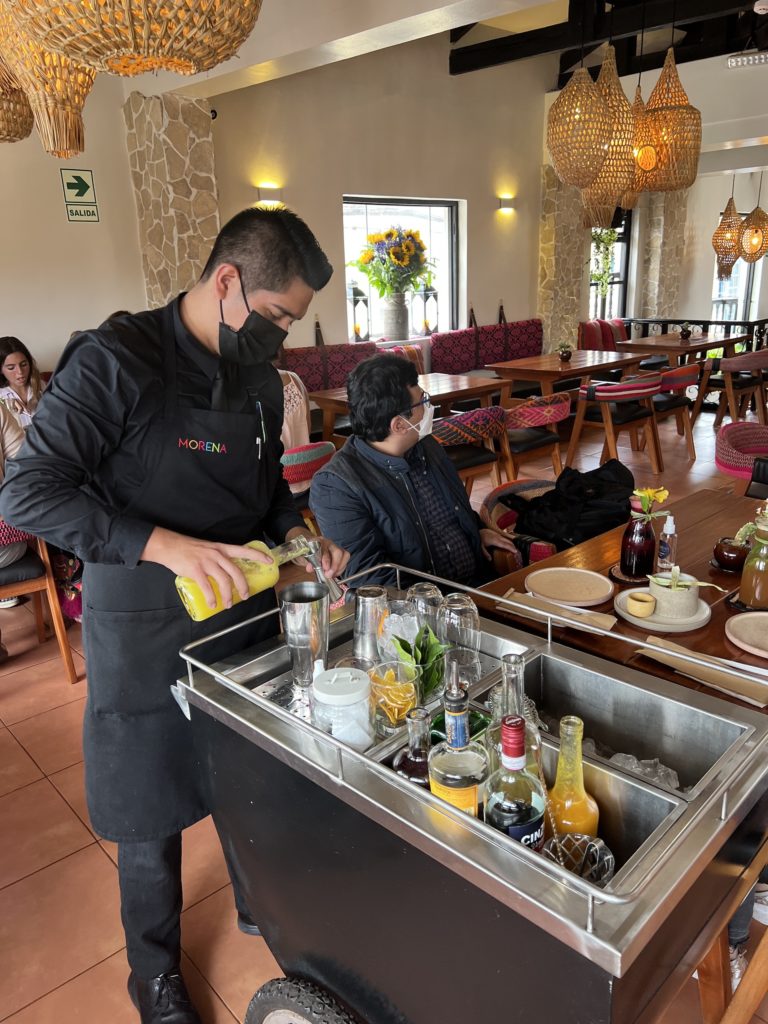 Best Cafe In Cusco | L'aitele
If you are looking for a perfect coffee shops with some sweets then L'aitele is the place for you! This place is so cute and it has a couple of great tables overlooking one of the main narrow streets of San Blas.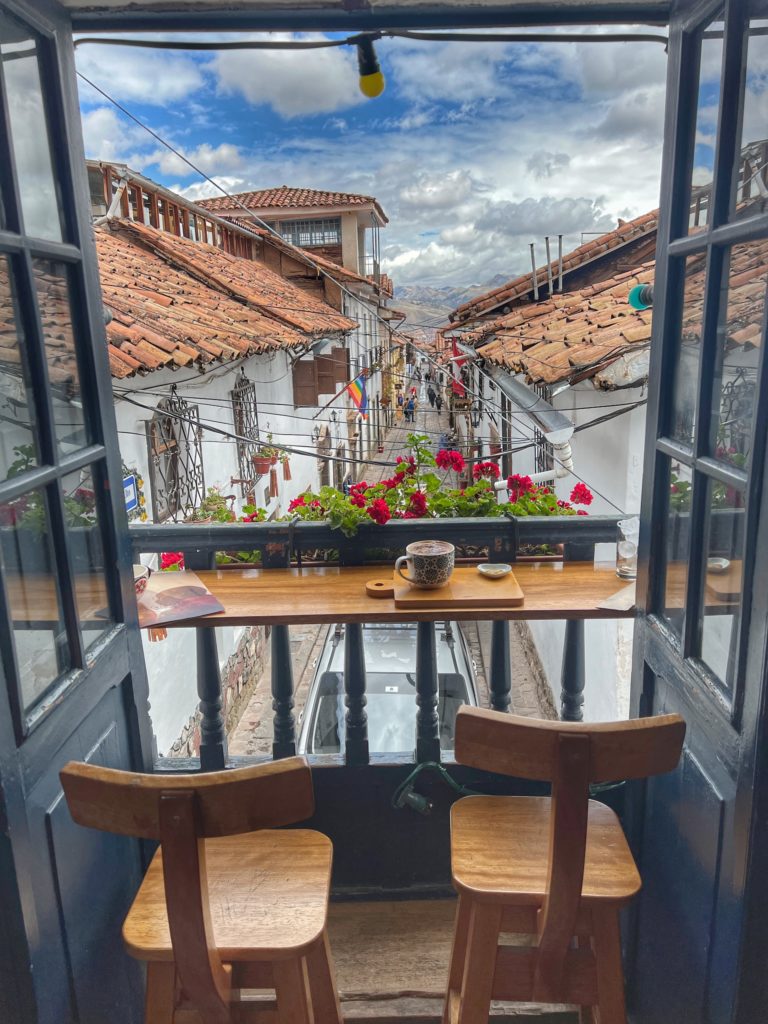 If you are cruising the streets of San Blas and need a little pick-me-up then stop in here and a cup of coffee or tea and stare out the windows like a trip back in time.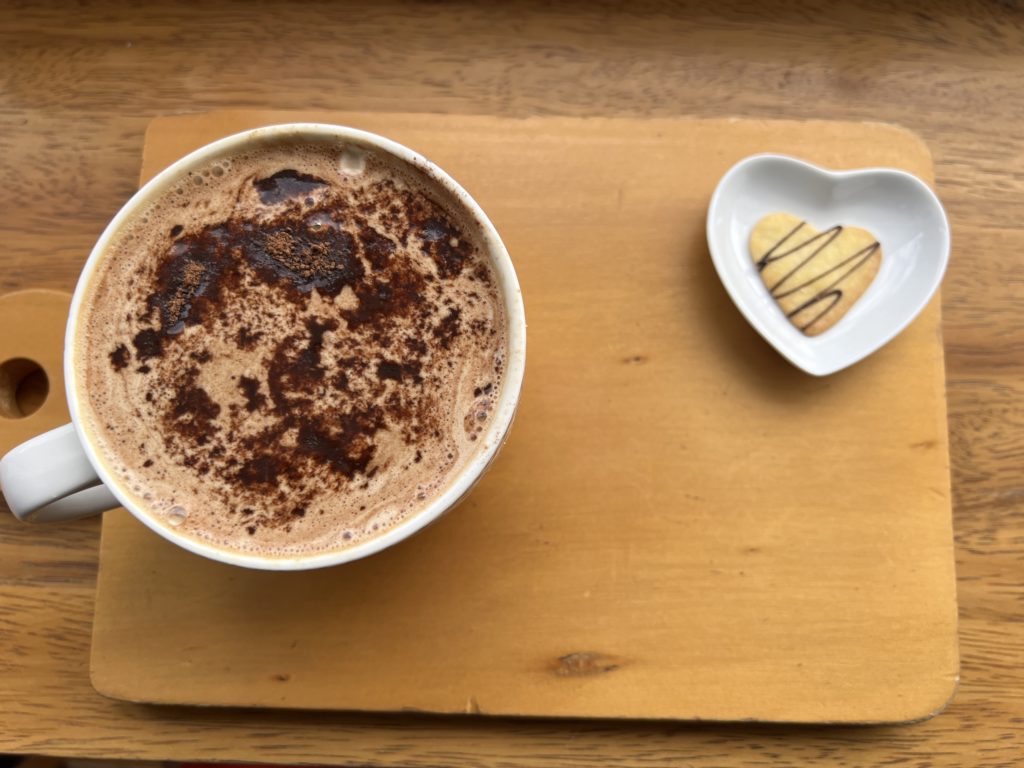 Best Michelin Star Chef's Restaurant in Cusco | Chicha
Looking for a Michelin Star rated restaurant in Cusco? Well, while there are not any in Cusco, you are able to eat at a Michelin Star chef's restaurant!

Renowned Peruvian chef owns several restaurants, hosts Peru TV shows and has written a ton of books! His restaurants have been featured in the World's best restaurants across a ton of major publications.
His Astrid y Gaston restaurant in Lima is Michelin rated and the food at Chicha is just as phenomenal! If you want to eat at arguably the best chef in Cusco's table, then come into Chicha.

The food and mood in the restaurant are terrific and is a must stop when visiting Peru. Not to sound like a broken record but… while it is fine dining, the cost is still peanuts when compared to the USA/Canada/Europe etc.
Best Overall Restaurant & Best Chifa | Yaku
Yaku is arguably my favorite place to eat in Cusco. Yaku is a gorgeous place like Morena but even better design and a larger menu.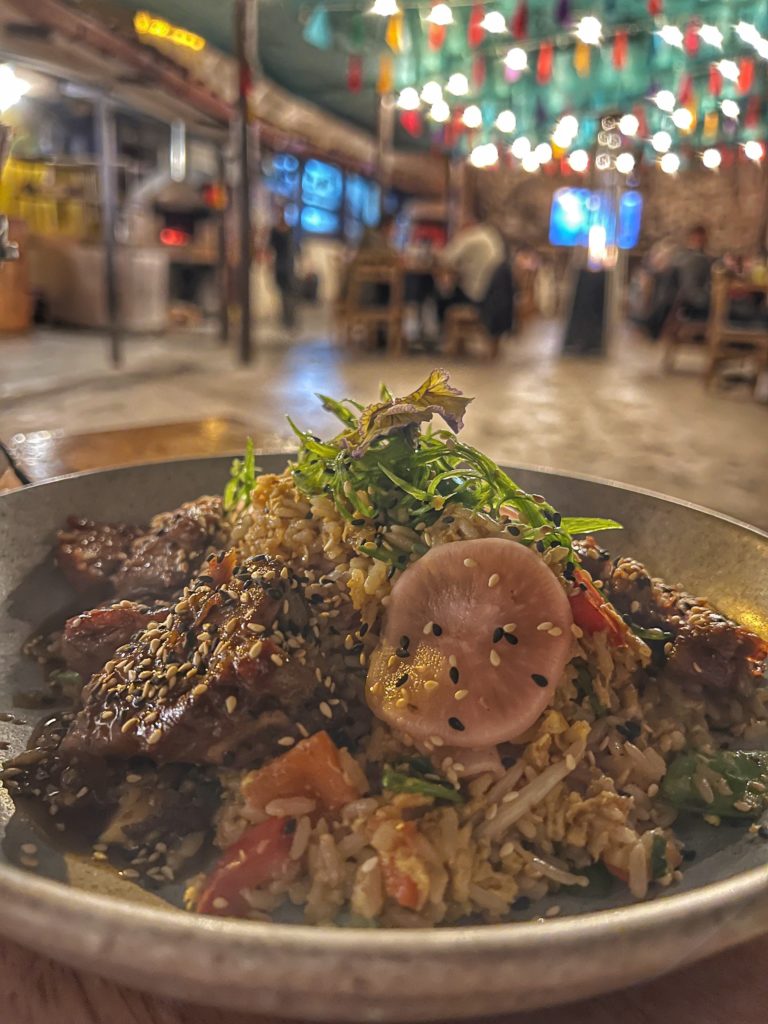 The food quality, the ambiance, the decor and always 2 for 1 cocktails makes this one of the best places to eat in Cusco.
While it doesn't have the same view as Morena, the indoor/outdoor concept and decor makes up for it! They have some of the best food I've ever had and has the best Chifa.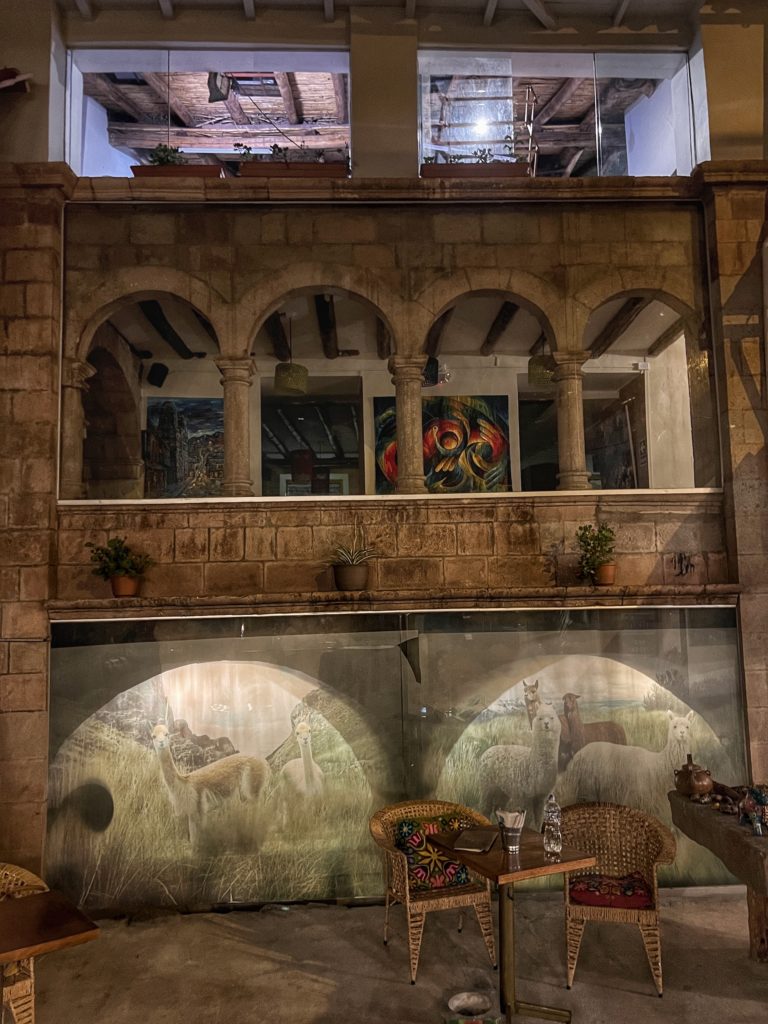 Chifa is a native Peruvian Chinese food and is similar to standard Chinese food but with a tasty Peruvian spin.
I wanted to included a Chifa restaurant as a must eat place but the ones I tried just tasted like a standard Chinese food restaurant while the Chifa at Yaku was incredible.

Best Romantic Date Night Restaurant in Cusco | Aura Restobar
Another stunning place in Cusco with views for days! If you want the best romantic restaurant and bar in Cusco, this is it!

Overlooking beautiful Cusco, Aura serves up incredible food and drinks. Even if you aren't looking for food then just come in at night for a perfect nightcap.
From the view, to interior decor to having a fire outside, it has everything you could want on a romantic outing in Cusco.

Best Bakery In Cusco | Dely's
While Quichitas is a Cusco favorite spot for dessert, Dely's is a little spot off the beaten track that you have to try!
If you have a sweet tooth or want some delicious baking, head down to Dely's. Dely's is always packed with locals and when in doubt, follow the locals!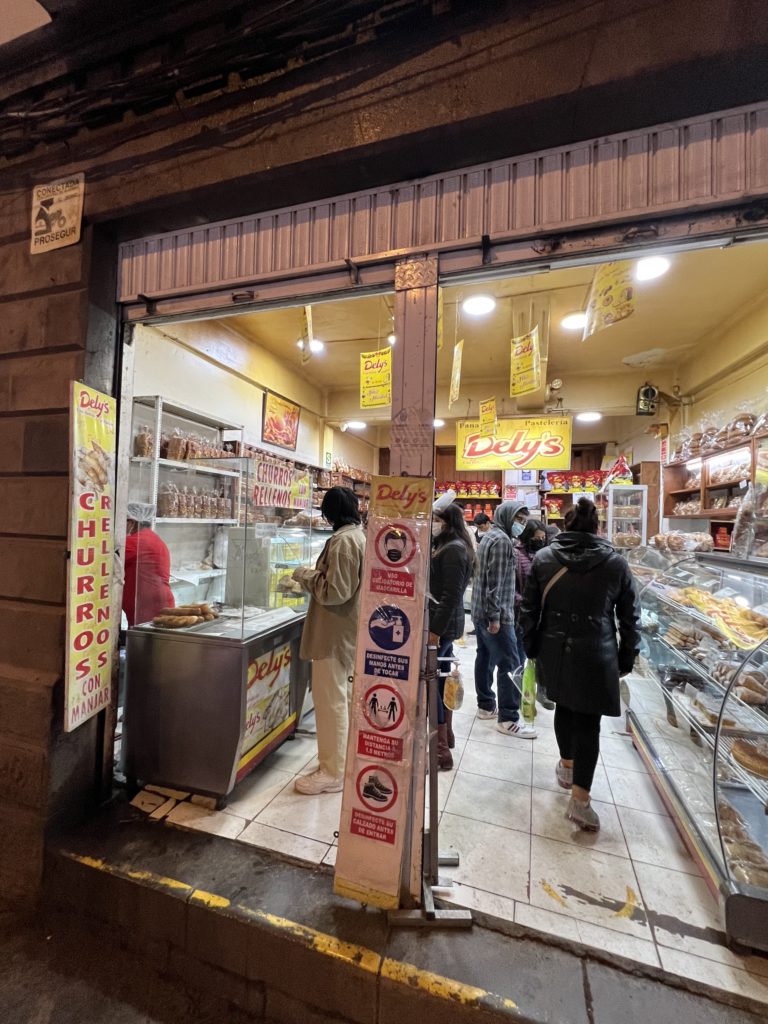 Peru is known for its sweets from churros to cronuts and more! Dely's serves it all up and is a great local gem. Dely's will have a lineup in and out of the little shop and for good reason as their fresh baked good are unreal.
It is just a block away from Plaza San Francisco and sort of halfway between Plaza de Armes & the San Pedro Market,
Best Local Food Experience In Cusco | Street Food
As with almost everywhere I always I suggest trying the street food! Cusco is no different and you typically can find most of the street food on the way to San Pedro market on Calle Nuevo.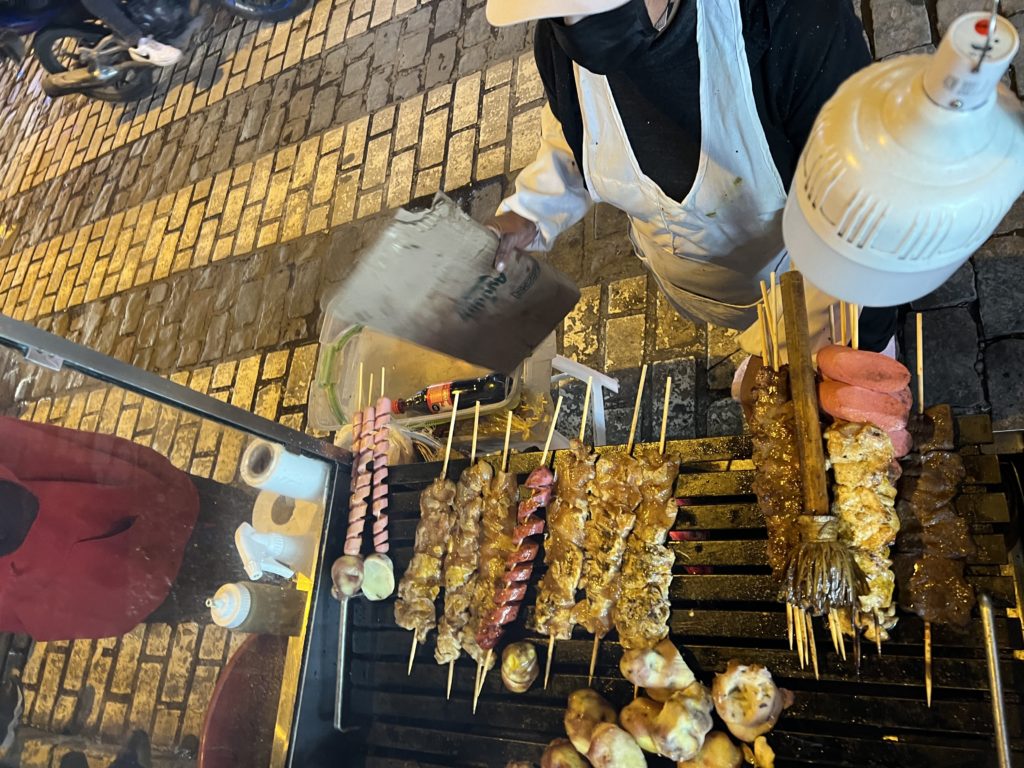 At just $3 soles, which is less than $1 USD, you can try some kebabs, pizza, burgers or a myriad of other fare.
Best After Bar or Hangover Food | Rey Kebab
If you are looking for one of the best meals after you have drank away the night in gringo alley or if you are recovering from the night prior… then you need to stop by Rey Kebab.

Oh my lord does it hit the spot! Kebab's are always my favorite meals and this place is incredible. The only thing that makes it better is that you potentially are tipsy or on death's door when eating it!
Great Breakfast In Cusco | Jack's Cafe Restaurant
Jack's Cafe is a great spot for breakfast, no frills, just great food in a quaint atmosphere. Their breakfast menu is enormous with every option you could ask for.

It is very centrally located and surrounded by all of the San Blas shops. A great spot to dip into for brunch if you plan on site seeing around Plaza de Armes or San Blas.
Best Crepes In Cusco | La Casa De Los Crepes Organicos
If you love crepes, who doesn't, then you absolutely have to go to La Casa De Los Crepes Organicos!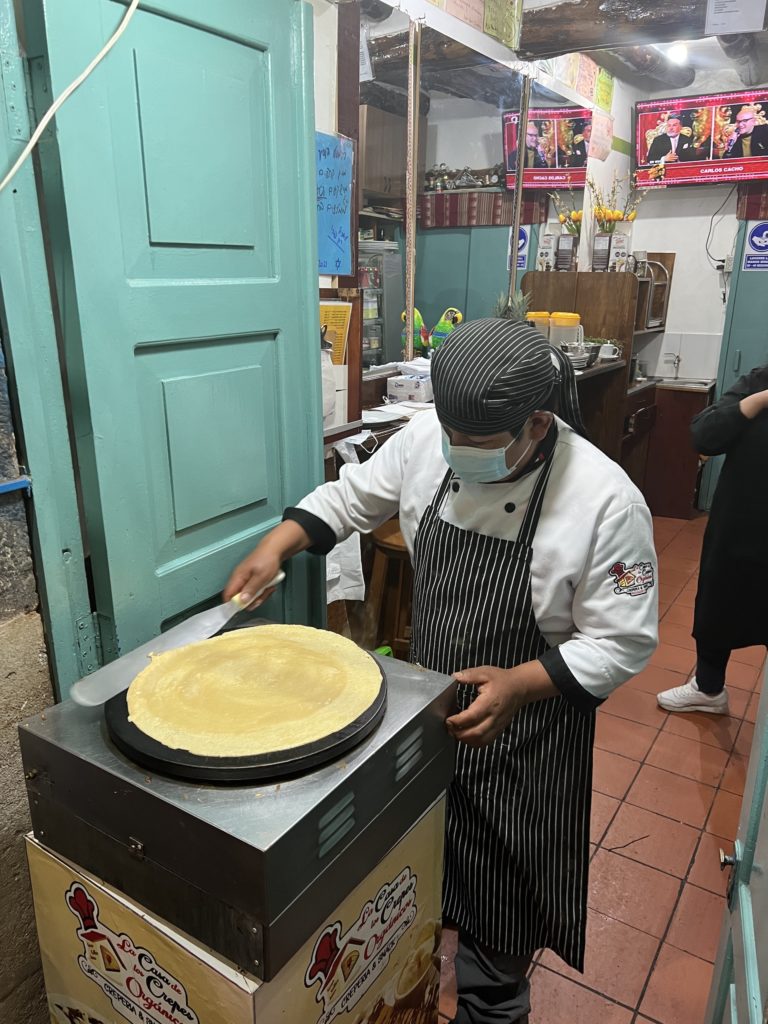 Their crepes are delicious and it is centrally located just down a little street from Plaza de Armes.
Best Place To eat in Agua Calientes | Mapacho
If you are heading to Machu Picchu and have some time in the cutest town of Agua Calientes then you have to head to Mapacho.

It has a great menu for all types of food from Guinea pig to fried rice to an alpaca burger (or beef) to pizza.
If you're lucky enough you can sit right by the window as the roaring urubamba river roars by. It is open air with giant windows which just adds to a great ambiance.

They are a craft beer stop as well with a selection of over 25 craft beers. They also have multiple varieties of fruit infused piscu for some amazing infused cocktails.
Best Restaurants in Urubamba In the Sacred Valley
If you venture to the Sacred Valley you should go to Urubamba due to the abundance of sites within 30-minutes but also some great places to eat.

See the article here for the 5 best restaurants in Urubamba and here for an incredible hike with views of the entire town!
Where to Stay In Cusco
Looking for a great location and safe place to stay in Cusco? Ananay Hotels are some of the best in all of Peru!

Hotel Palacio Manco Capac is absolutely stunning and if you want to stay somewhere nice then this is it!
If you are looking for something more affordable but still safe and in the absolutely best location then you have to stay at Quinta San Blas.

Both hotels are great and Ananay has the prettiest hotel in Lima as well if you end up there!
Read my Lima Guide here if you can't decided on how long to visit and where to go. However, if you are looking for a luxurious place to stay then you have to go to Villa Barranco!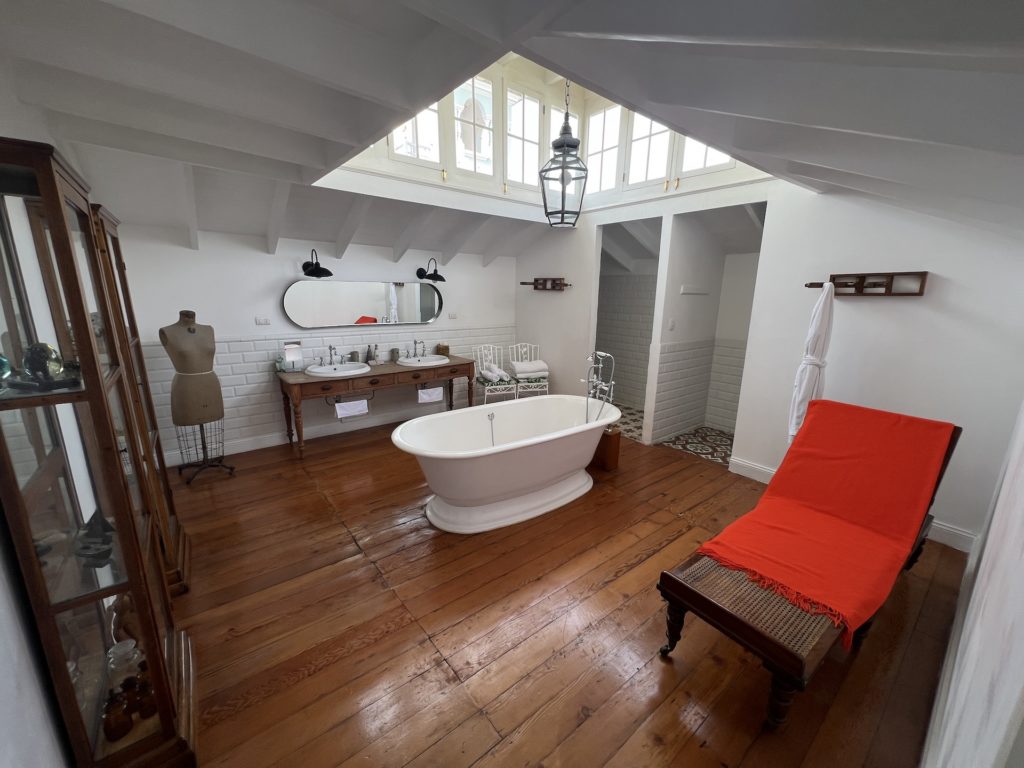 Villa Barranco is the cutest and arguably most luxurious hotel I have ever stayed at! Read more about my stay and Villa Barranco here.

Where to Stay In The Amazon If You Visit?
First of all, you HAVE to go to the Amazon. It was one of the most unbelievable trips I have ever had and made me feel like I was in a movie!

The Amazon will make you think you are in National Geographic and it is pretty easy to get to from Cusco. I actually cut my Lima trip short to be able to make a 3-night / 4-day trip to the Amazon.

With that said, if you are looking for an incredible, all-inclusive Amazon resort then you have to go to Inkaterra Amazonica. You can read my entire review and info about Inkaterra here.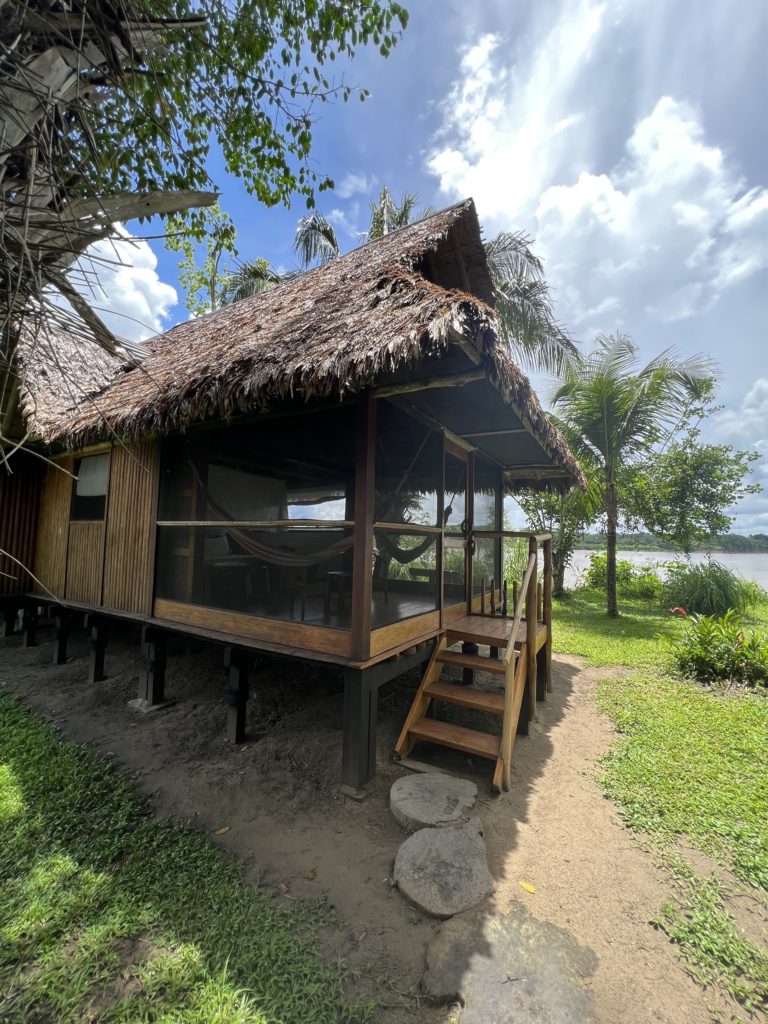 Now all that is left is for you to book this trip as it arguably was my favorite trip ever!