Devil's Bridge is without a doubt one of the main bucket list items in all of Sedona. It is one of the more unique things you will see all with backdrop of the beautiful red rocks of Sedona. The views are immaculate as you gaze down the valley and it truly is a wonderous site.
While a great view, out of the main 5-6 hikes in Sedona I rate this one the lowest. Getting there along the 4×4 path is pretty jarring and if you don't have a 4×4 than walking for an hour+ total on the path is pretty monotonous. Renting an ATV or with a good 4-wheel drive makes this hike significantly better, especially if your time is short in Sedona. With that said, it still is a good hike and something you definitely need to see once! If you have time you should walk under the bridge as well as going over it.
For the best exercise, sites and time efficiency I would do Bear Mountain, Soldier's Pass Caves, Wet Beaver Creek walking up the creek or West Fork Trail before this one. However, if you have seen those and have plenty of time in Sedona than definitely go check this place out. It is definitely pretty and is a good short hike for all hike levels.
There are also a couple of great views and picture taking spots along the way as well. Take your time and checkout all the little hike has to offer. It will take 2-3 hours from standard parking lot or just an hour if you 4×4 to the trailhead itself, after 15 minutes of driving. There are little paths from the trailhead that are more fun than the jeep path but be careful not to get lost or off track.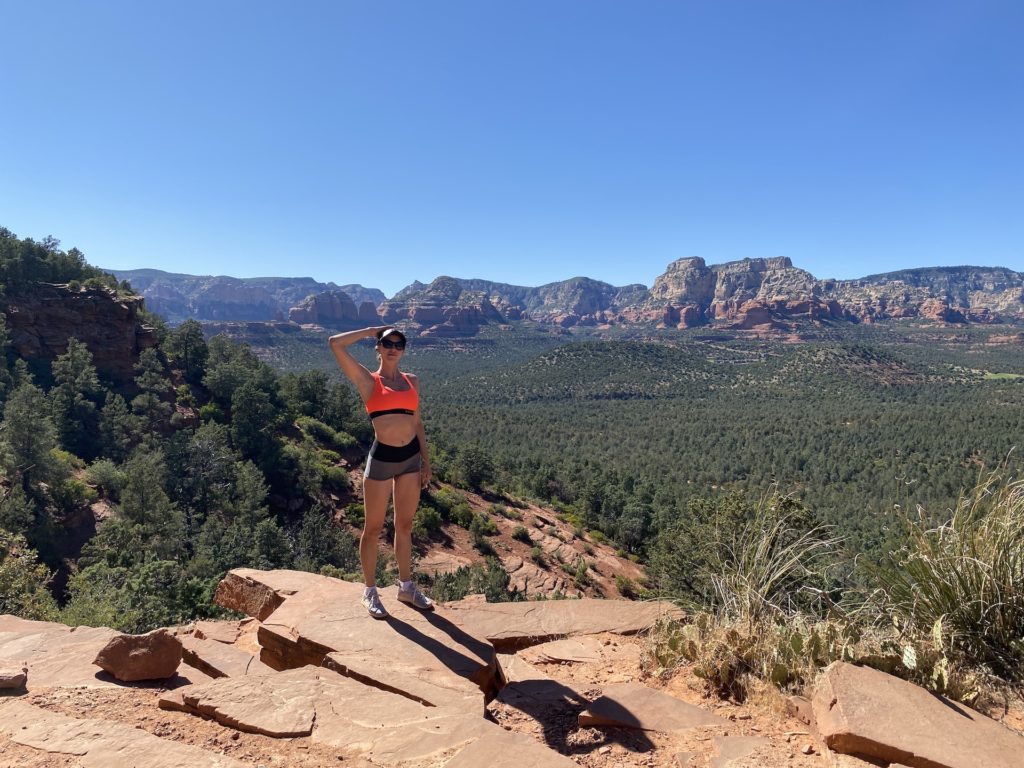 Devil's Bridge Trail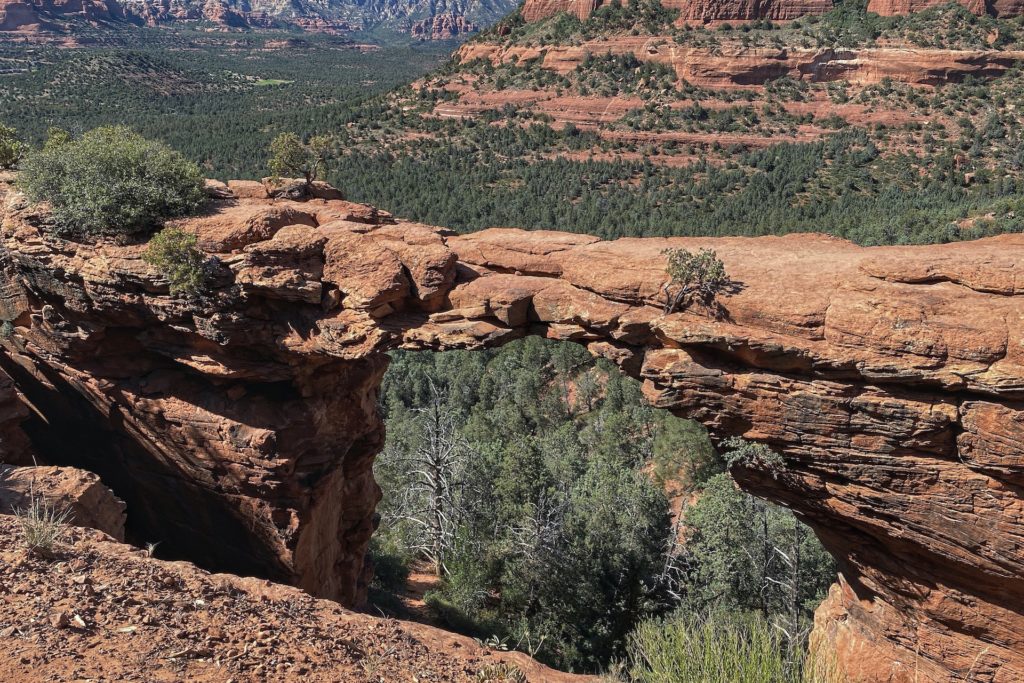 Length:
4.2 Miles Round Trip from Main Parking Lot - 2 Miles RT from Trailhead - 1.5-3 Hours - Out & Back
If you begin from the main parking lot where the bathrooms are you will walk down the jeep path for one mile before getting to the trailhead. As mentioned there are other little paths off the 4×4 path but be careful not to stray off course.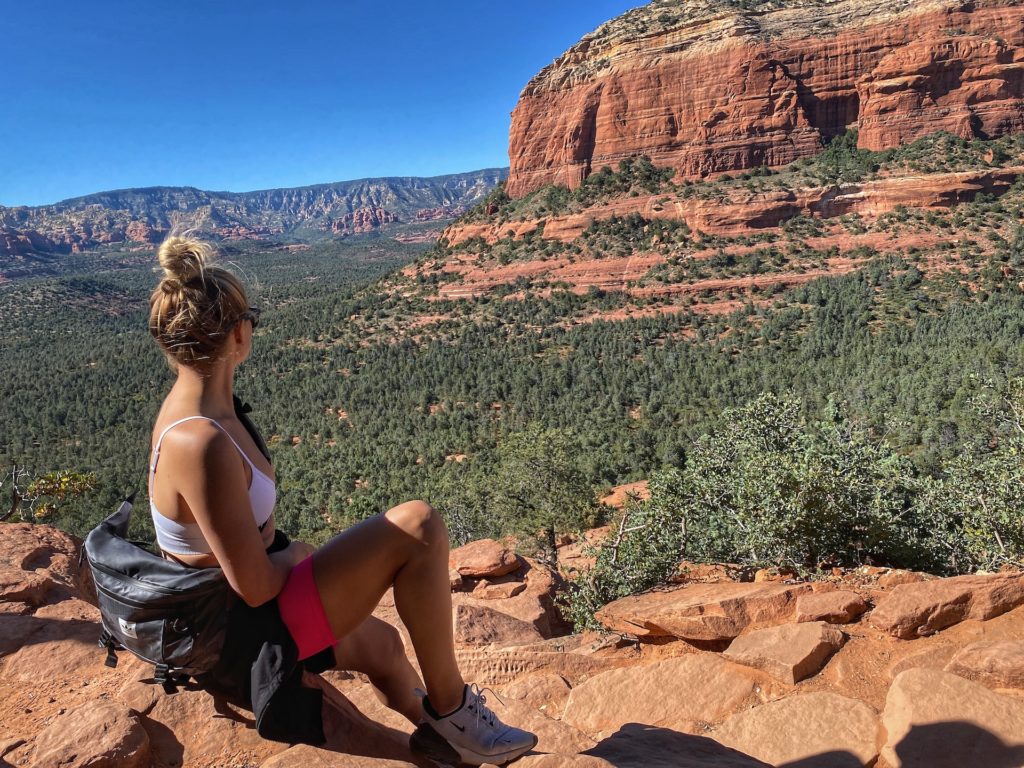 Once you get to the trailhead it is a pretty easy path for .5 miles as you walk through the trees with some great views of the rocks all around.
After .5 miles you will come to the fork in the road with left going under the arch and then right going to the top of Devil's Bridge. I would suggest going under the bridge on the way back if you have time.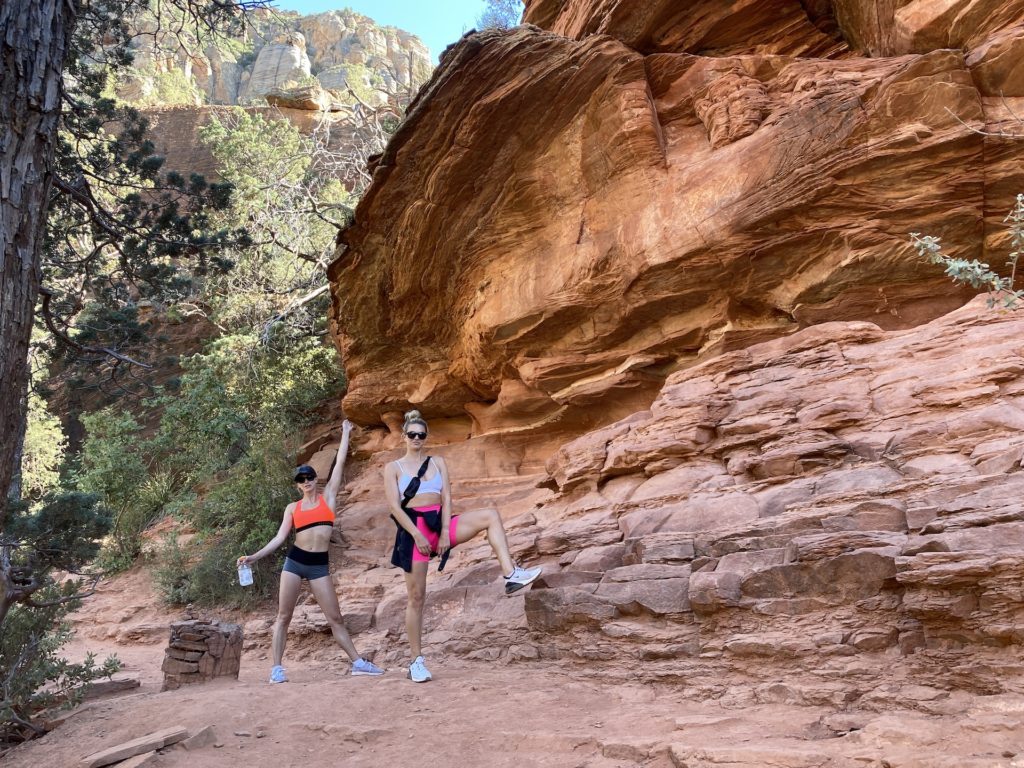 At the fork is where you will start the main ascent and while short, it is steep so take your time. Only a couple natural staircases up and you will be on the plateau close to the bridge!
As you come up to the bridge there will probably be a queue of people waiting to get their picture taken. It truly is a site to behold. The bridge looks a little intimidating but it truly is much wider as you walk around the side to look at crossing it. Swallow your fears and get out there for a once in a lifetime shot!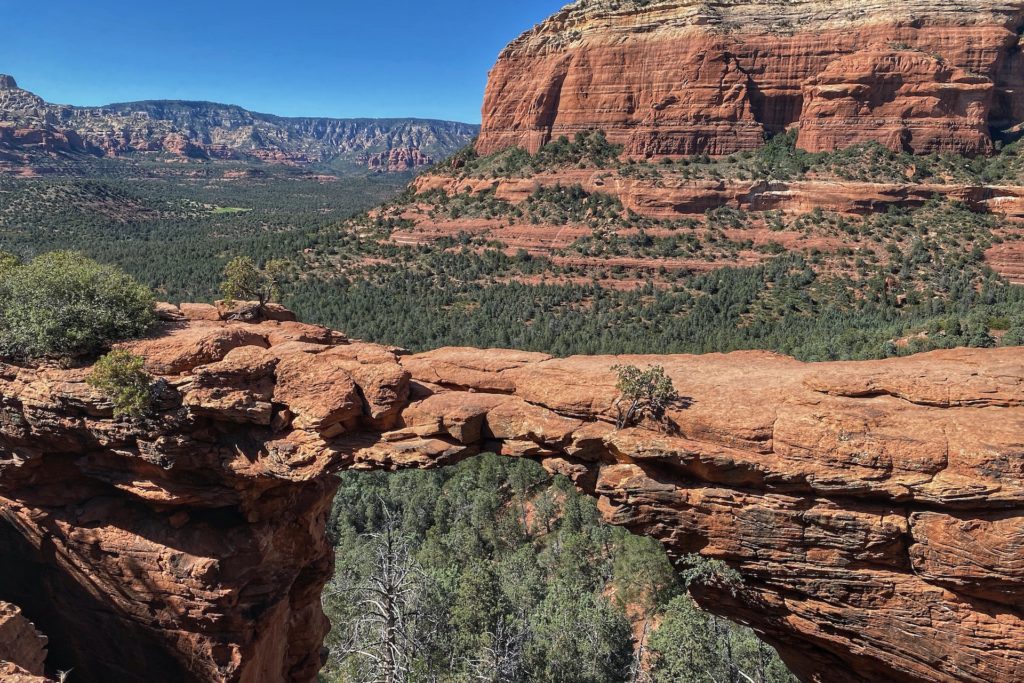 Pros
Dog Friendly (On a leash).
Arguably the best picture in Sedona when you reach the end.
Not too hard of a hike.
Good for kids if you hike from the DB trailhead.
Few good spots for pictures along the way.
I recommend renting an ATV and making this a stop to save time.
Cons
The 4.2 mile hike is 2.2 miles along a dusty jeep path or just off the side and no major changes of scenery until you get to the Devil's Bridge Trailhead. If you are runners then it can be a good run to the trailhead.
Getting to the trailhead takes some slow 4×4 driving to get there so it's a lot of driving and time for not a ton of hiking… the view is worth it to do once though!
Tips
Great if you rent an ATV and have that fun drive to the trailhead.
The bridge is much wider than it looks so don't be scared to walk out there.
Tell someone you will take their picture and then have them take yours.
Don't be a jerk and just sit out there while people wait to take a picture.
---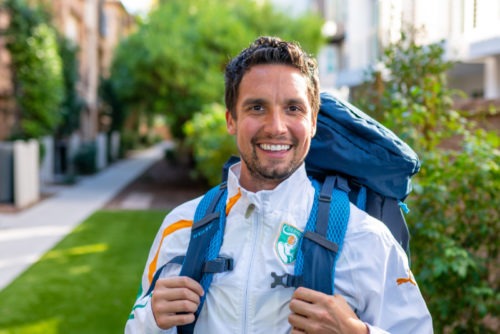 Hey I'm Fraser. My site is dedicated to the 22nd century person with a lust for travel and adventure, need for time efficient recipe ideas as well as anyone in need of self-help or a pick-me up! Thanks for visiting Inspire Travel Eat!