Devil's Bridge is without a doubt one of the main bucket list items in all of Sedona. It is one of the more unique things you will see all with backdrop of the beautiful red rocks of Sedona. The views are immaculate as you gaze down the valley and it truly is a wonderous site.
While a great view, out of the main 5-6 hikes in Sedona I rate this one the lowest. Getting there along the 4×4 path is pretty jarring and if you don't have a 4×4 than walking for an hour+ total on the path is pretty monotonous.
Renting an ATV or with a good 4-wheel drive makes this hike significantly better, especially if your time is short in Sedona. With that said, it still is a good hike and something you definitely need to see once! If you have time you should walk under the bridge as well as going over it.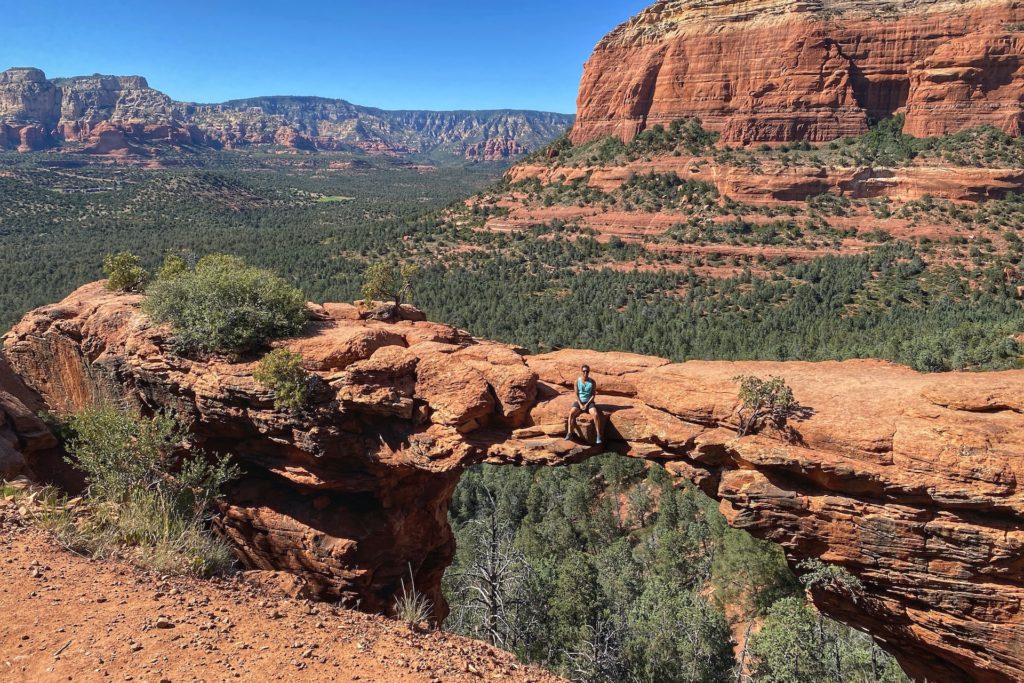 For the best exercise, sites and time efficiency I would do Bear Mountain, Soldier's Pass Caves, Wet Beaver Creek walking up the creek or West Fork Trail before this one. However, if you have seen those and have plenty of time in Sedona than definitely go check this place out. It is definitely pretty and is a good short hike for all hike levels.
There are also a couple of great views and picture taking spots along the way as well. Take your time and checkout all the little hike has to offer. It will take 2-3 hours from standard parking lot or just an hour if you 4×4 to the trailhead itself, after 15 minutes of driving. There are little paths from the trailhead that are more fun than the jeep path but be careful not to get lost or off track.