What are the best easy recipes for football game days? We all need good Super Bowl Sunday recipes and simple food to bring to the tailgate, and just like that this article was created! Football game day recipes are the most important part of your football party so let's get you a few easy ones!
The football recipes below aren't the healthiest of recipes but they definitely will make everyone happy. Below you will find great football breakfast recipes, drink recipes, tailgate recipes, dip recipes and amazing game day brunch recipes!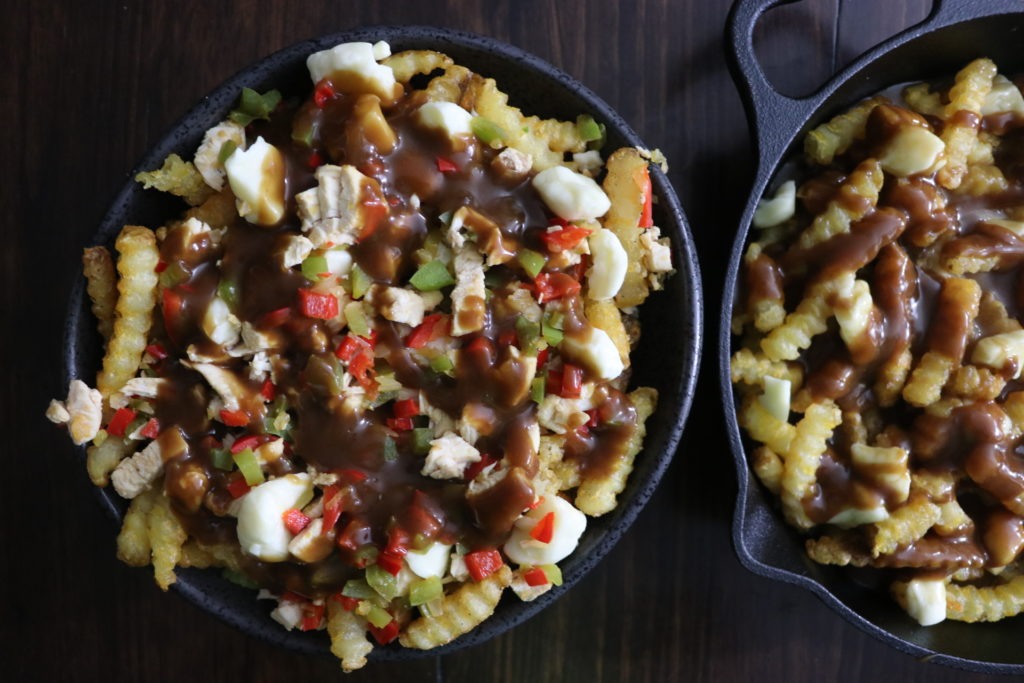 If you are looking for easy football game hosting recipes then this is the place for some of the tastiest and quick things you can make on a football gameday. Below you will find dips, shots appetizers, drinks and all meals so get excited to dominate tastebuds for any football party!

Without further ado, here are the best recipes for football sunday. If you are hungover, like people sometimes are on a weekend morning, then also take a look at our 11 best hangover recipes!

Everyone needs queso dip at their football party… or really every party. If you have no time and just need one little snack for the football tailgate or gameday… this is it!
It truly is two ingredients and you can simply add meat to make it just three ingredients! This cheese dip recipe is maybe the simplest thing to make on earth and you need to have it there for football season.
There is also a simple guacamole recipe on this site if you want to add that alongside the queso! But if you just want queso for now, get the full recipe here and wow everyone at the game day party!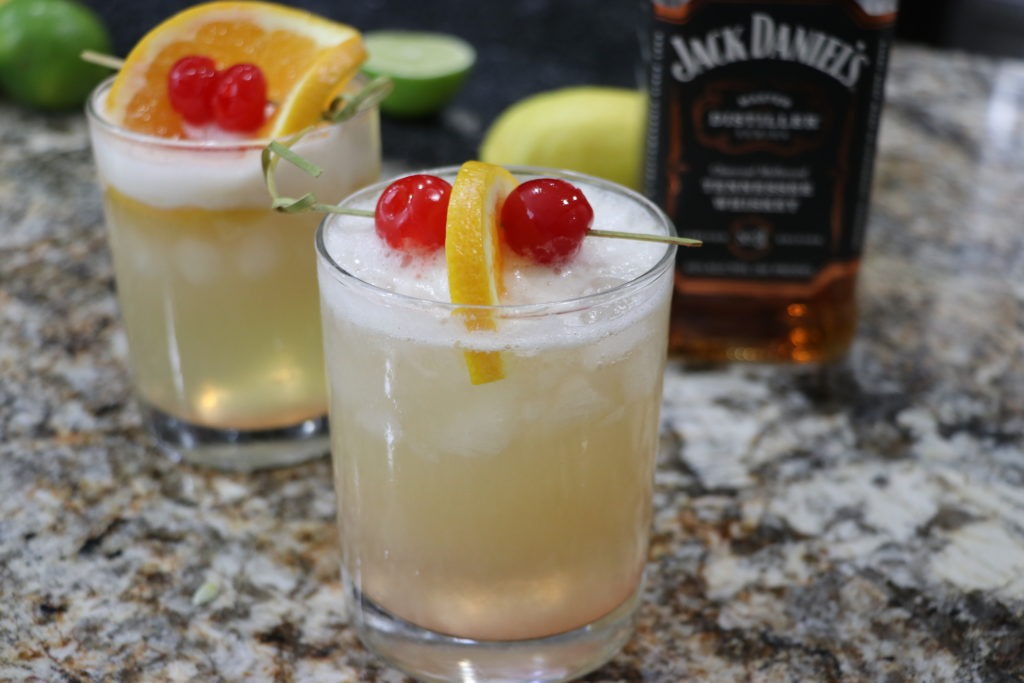 We all need drinks recipes for football gameday and these are the best simple drinks you can make for everyone. They cover all liquor options, whiskey, tequila, vodka, rum and all else!
These drinks are all great tasting but also nothing too sweet. No matter what your taste is, you will find your new favorite drink in this list! See here for all 7 of the easy craft cocktail recipes.

If you have never had poutine, now is the time! Not only is this recipe just for poutine it also has 4 different ways to prepare it and smother it in all kinds of amazing things. Do you want breakfast poutine, loaded Stupid Fries like Lolo's Chicken & Waffles or a couple of the other best ways to prepare it.
It is the best thing to come out of Canada since Shania Twain and that is not arguable, who doesn't love Shania Twain? I could have gone with Drake, Rachel Mcadams, Ryan Reynolds, Jim Carrey, penicillin, basketball… the zipper… lots of things really… but Shania Twain is not-debatable as universally loved.
Poutine is a great football game day meal and it is super easy! If you are worried about cooking french fries without a deep fryer here is how to perfectly cook french fries without a deep fryer on earth!
If you want some comfort food or hangover food then there is nothing better than poutine! It doesn't look all that appetizing but it is the best tasting thing around. There are also a ton of variations so see here for 4 amazing poutine recipes!

This is the best thing to make on earth and it is so simple! The best part about this recipe is that you actually prep it the night before. Wake up in the morning and all you need to do is throw it in the oven!
This is my favorite breakfast dish as it has everything you could ever want in it and can prepare it for the whole group. Whenever I have a boys weekend this is always on the menu for everyone staying over.
It might actually be the best casserole on earth… it is truly so good and simple. This recipe calls for sausage but you can make it with any meat you might prefer. See the entire recipe here for the best breakfast casserole.

This is the best tasting breakfast sandwich in the history of breakfast. I never thought brisket would be that great for breakfast and wow was I wrong. This brisket breakfast sandwich is a game changer and everyone needs to try it!
You can make this with brisket, pulled pork, pulled turkey or really any of your favorite meats but the brisket really takes it to the next level! I had this sandwich at a Big White Ski Resort and it was life changing. See this full recipe her for the best breakfast sandwich ever.

Some people want to party for their game days so I had to include the best football game day shot recipes. These recipes include all types of alcohol and are good for all tastes.
None are too sweet and all are much better than just a straight shot of tequila or whiskey. There are shots on fire, shots with whiskey, hard seltzer shots, drop shots and more!
I promise you will keep some of these recipes forever to breakout all of the time. See the recipe here to begin making the best shots you will ever add to your arsenal.

Nashville hot chicken sandwiches have been taking over the USA like a storm! They are also in my top 5 of favorite foods and I have absolutely created the best recipe on earth next to the best hot chicken sandwich I have ever had, which is in Nashville at this restaurant here.
Nashville hot chicken sandwiches are surprisingly easy to make and you don't need a deep fryer to make them either. The recipe also comes with a coleslaw recipe and while I was never a huge coleslaw person, this homemade version is next level! See here for the full simple Nashville hot chicken sandwich recipe.

What is a bloody mary grilled cheese? Well only the best invention on earth. If you like bloody marys then this has to be on your next menu for football sundays or just any brunch!
Similar to making French toast, you dip your bread in a bloody mary mixture and from there you go right to heaven. If you have never had it, you need to as it is a must have and it is pretty easy to make! See the full recipe here!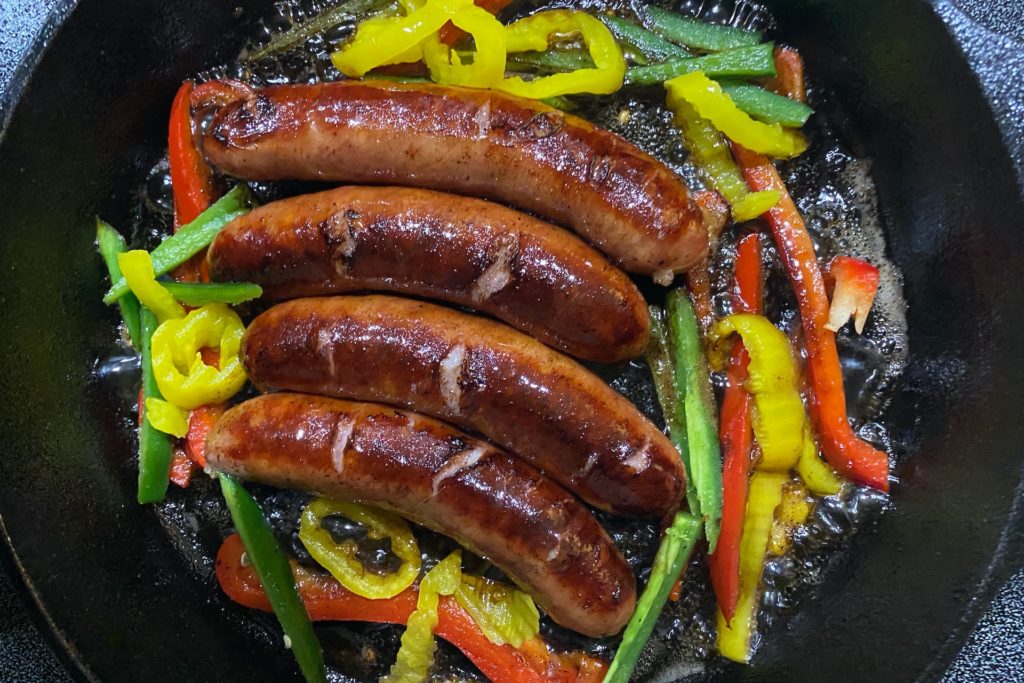 It can be cold as heck during football season and I am sure you would much rather stay inside than go outside to cook your brats! To be honest cooking brats on the stove is way better than grilling them as you can control the temperature and infuse some more tastes into them easier!
Per the picture you can also grille your veggies at the same time just as easily and it will be the best, well cooked and juiciest brats you have ever had! See here for the full brats on the stove recipe.

French toast is the most intimidating but easy recipe ever. It seems like it is hard to make but it truly takes 7 minutes or less. You truly just dunk bread in the mix… then fry it on a pan and you are done!
French toast is soooo good and if you are making brunch for football game day then this is perfect and so easy to make a ton of for everyone. See here for the simple french toast and berry compote recipes.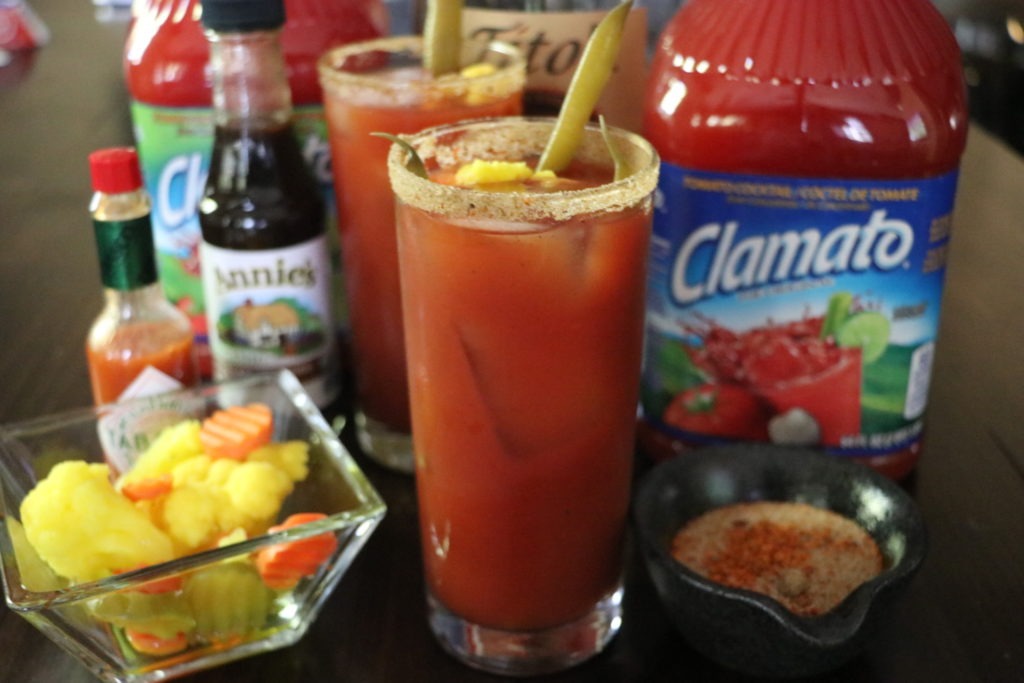 Everyone loves bloody marys on a football game day but this bloody mary is the best bloody mary ever created. No lie, I have converted 136/136 people from bloody marys to caesars.
Bloody marys are so thick and hard to drink where a caesar is much more thin and has an extra salty kick that makes it the best hangover drink on earth. Your body craves salt and electrolytes when hungover so this delivers! It also comes with a little sweat, which will help as well.
Even if you aren't hungover this is still the best morning drink you will ever have and must be added to your weekend morning drink repertoire. You will wow your guests and they will love it! There are a few secrets but one of them is using Clamato juice.
Don't be scared off by Clamato juice though! There is no clam or seafood taste, all you get is a nice extra salt taste and it thins out the thick tomato juice you get with bloody marys. See here for the full recipe and your guests will be so happy you made it.
For another super versatile recipe go check out the Seafood Boil Bag Recipe. It is super easy and delicious!