What are the best places in the USA to go on vacation? It's a tough question as the country is enormous with so many amazing cities to travel to.
Are you yearning for an exceptional vacation experience in the United States?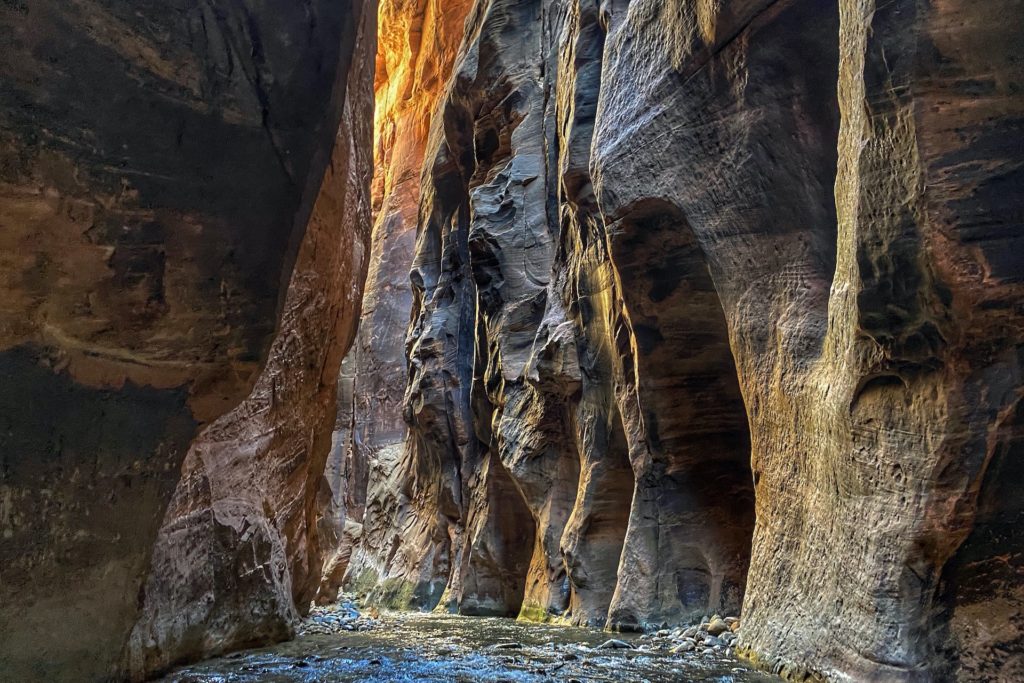 In this comprehensive guide, I'll unveil the top destinations that promise unforgettable adventures, breathtaking landscapes, and cultural marvels.
From the East Coast to the West Coast to the islands, the USA boasts a myriad of diverse and captivating locations, each offering its unique charm.

Let's explore the best places to vacation in the USA, ensuring your getaway is nothing short of extraordinary. Get ready to embark on a journey of discovery, where lifelong memories await at every turn.
There are of course options for all travelers as it depends what kind of vacation you want in order to determine the best place in the USA to travel to for you or your family.

Do you want beaches, adventure, culture, inspiration, relaxation or everything? If you want everything thing you will want to scroll to the bottom to find out the two best places to travel to in the USA.
Below I will cover all of the best places to visit in the USA whether you want the cheapest place to travel in the USA; best places to visit for couples, top place to travel for singles & partying, best place to travel alone in the USA; best family vacation destination and best places to travel in the USA for Summer or Winter as well as a ton in between!

There are 300 major cities in the USA with over 100,000 people and the country is 3.797 million square miles in size… thus… there is a lot to see.
Do you want mountains and best hiking in the country, do you want the ocean, do you want romantic couples travel, a bachelor or bachelorette party city, best architecture or some unique culture?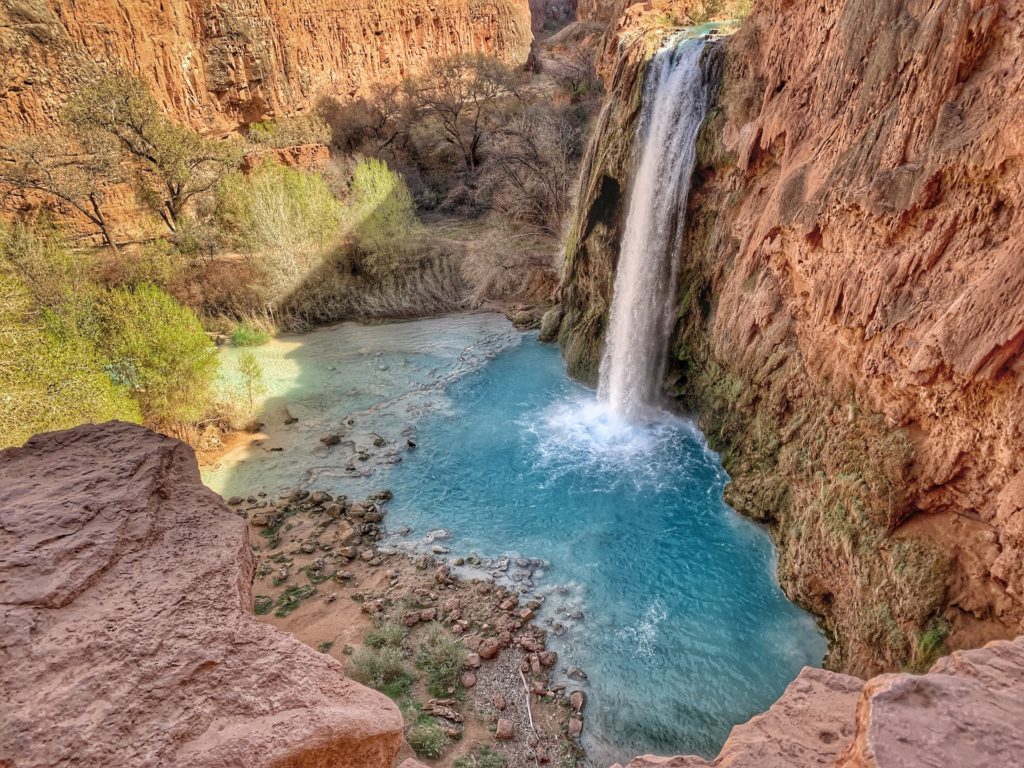 There are a ton of options out there and below we will cover a ton of different categories to pick the best place in the USA to visit for your tastes and vacation wants. If you want to see 5 cheap destinations from the USA for tropical destinations check out this article.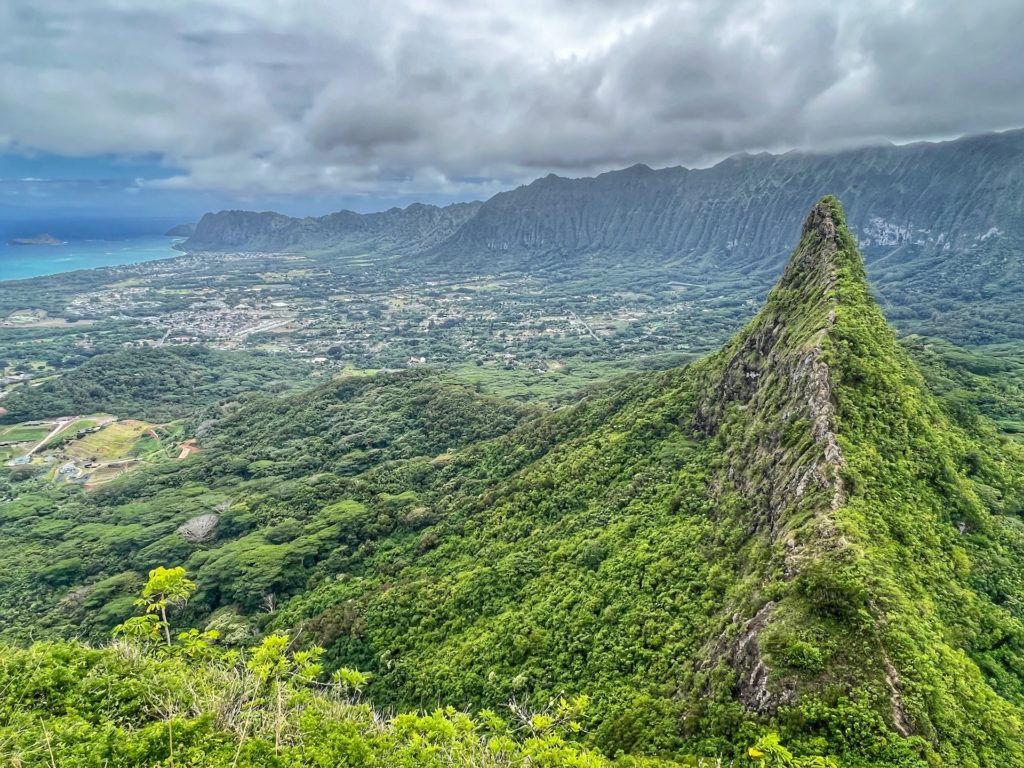 Best Cheap Vacation Location In The USA: Puerto Rico
The best cheap place to visit in the USA is Puerto Rico! Threw a curveball at you! Yes, Puerto Rico is a US territory and you don't need a passport to visit Puerto Rico!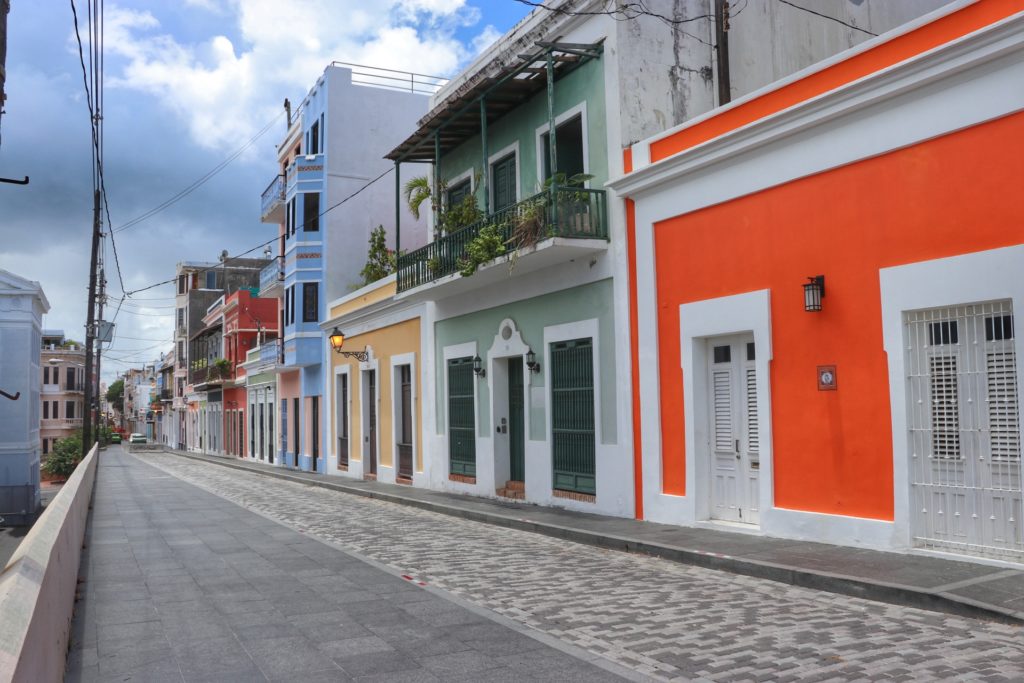 Puerto Rico is absolutely amazing and one of the best places to travel in general let alone in just the USA.
Puerto Rico has it all, stunning beaches, incredible culture, charming Old San Juan, amazing food, friendly locals, lots of cheap rum, jungle travel, bioluminescent glowing water, perfect weather, amazing history and ruins.
If you want to know why to visit Puerto Rico just quickly google either Old San Juan, Culebra, El Yunque National Forest, Isla de Caja de Muertos or Mosquito Bay in Vieques.

The list goes on but those are just a couple highlights of why you need to go to Puerto Rico now!
Another great thing about Puerto Rico is the country is small making it very easy to get around to see all of the main sites you want to see. You can go for a week and easily see all of the amazing sites Puerto Rico has to offer.
With how easy it is to get to Puerto Rico it is a no brainer to go visit there whether you want a cheap vacation or not. It has so much to offer for a perfect vacation and is the best value and most affordable place to visit in the USA.
Do You Need a Passport To Go to Puerto Rico?

As mentioned above, if you are a United States citizen you do not need a passport to go to Puerto Rico. Puerto Rico is a US territory and you just need the same identification as flying anywhere in the country.
Best Place For An Outdoors Vacation In the USA: Zion National Park, UTAH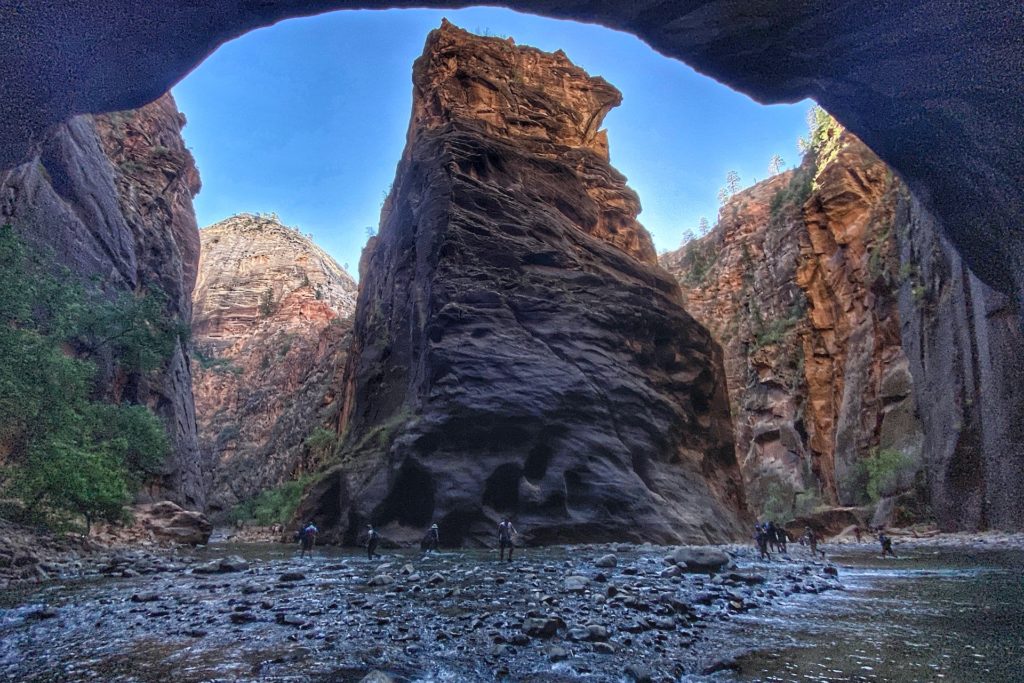 Looking for the best hiking vacation in the USA? Yosemite & Glacier National Park can also arguably take this spot as best place to go for hiking trails but… we are going with Zion National Park as the best hiking trip in the country.
Why is Zion the best hiking vacation? Well, see here for the Zion National Park Bucket List | 27 Things You Must Do!
Not only is it absolutely stunning with giant colorful canyon walls, there are some of the most unique hikes in the country, everything is extremely close to each other and there is so much more to do than just hike.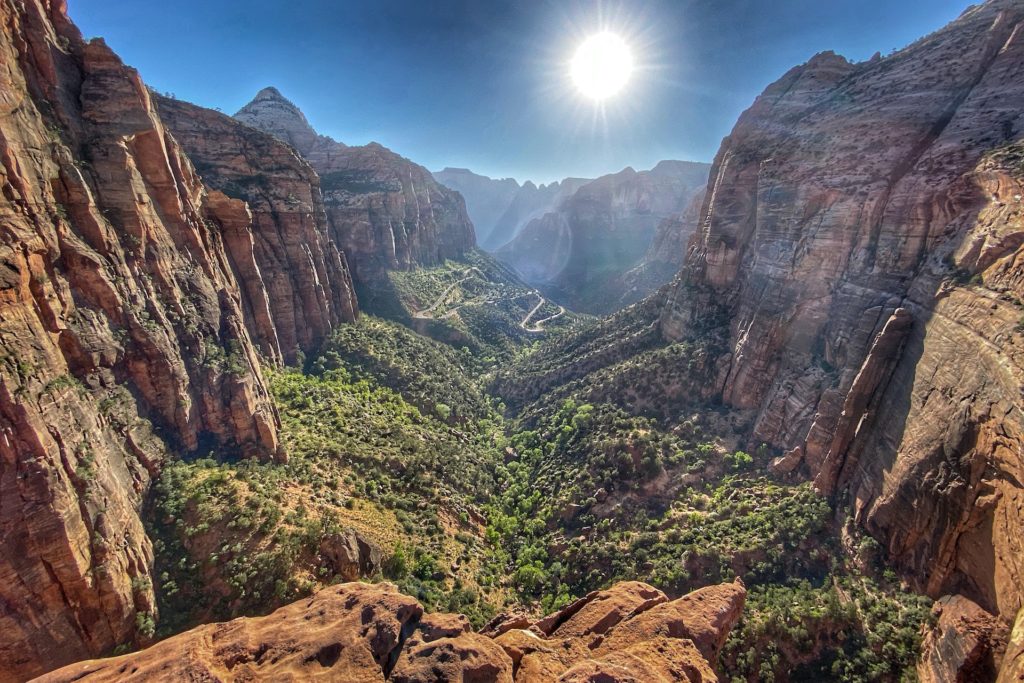 You can spend a week here hiking incredible trails, camping, visiting lakes, biking, rappelling, tubing down the river and so much more. Zion National Park has a couple of the best hiking trails in the USA with famous hikes like The Narrows and Angel's Landing.

There is also the stunning Observation Point Trail and arguably the easiest hike with the best payoff in Canyon Overlook Trail. Canyon Overlook Trail is very easy yet offers some of the most stunning views in the country.
See here for 3 great restaurants to try in Zion National Park if you want some good food as well including the best breakfast I have ever had.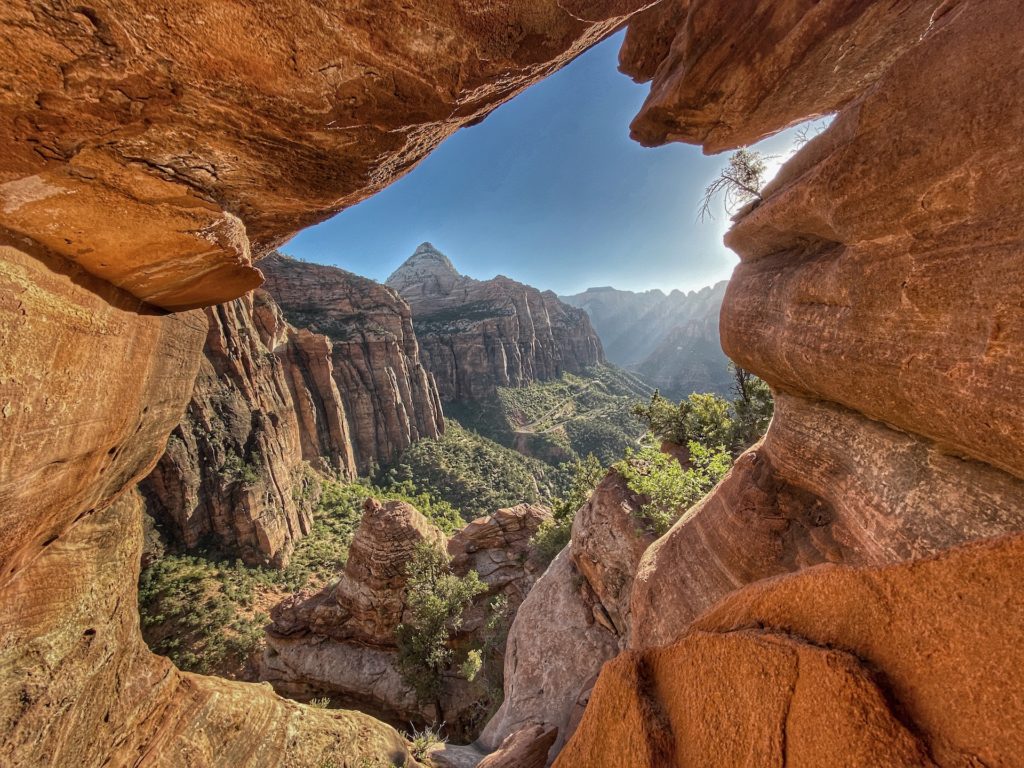 Zion National Park truly is arguably the best hiking city in the USA and one of the best in the world. If you ever make it to Canada, another amazing gem for you to checkout is Banff.
Banff is home to some of most amazing contrasts with snow capped mountains and some of the most beautiful water in North America.
Best Place In the Vacation With A Family In The USA: Los Angeles, CA
Where is the place place to vacation with a family in the country? Well, to be honest I don't have a family BUT… if I was a kid… or if I was someone who wanted my kid to be entertained and stay out of my hair… I have some ideas.
While LA does have so much for kids to do, it is of course extremely expensive and sometimes hard to get around… but it is a children's paradise that's for sure.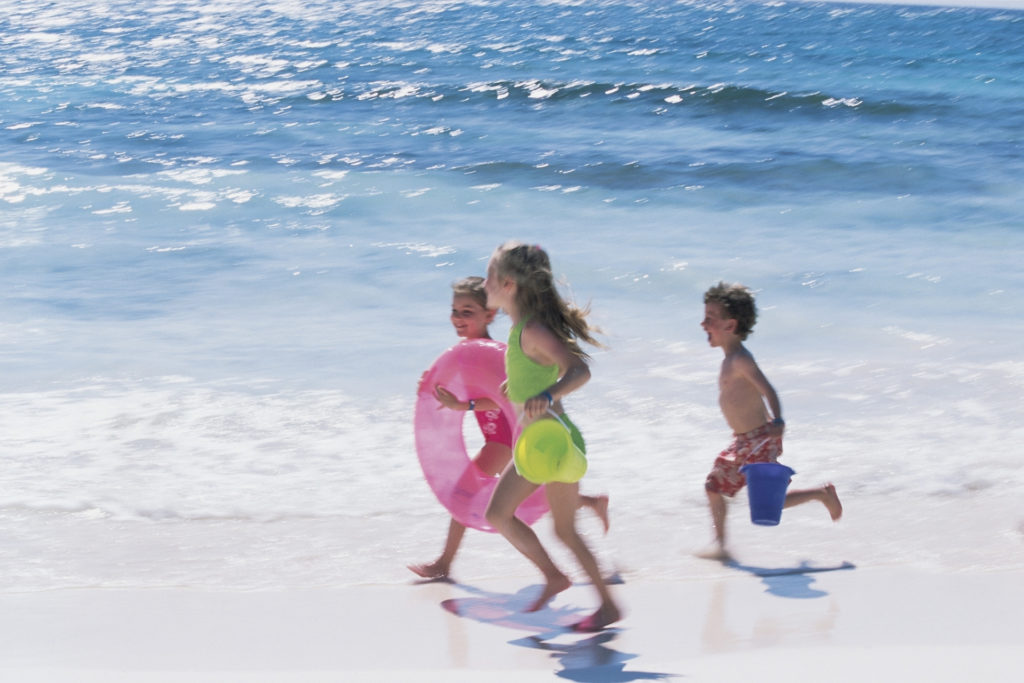 The easy answer for the best place to go with a family is Los Angeles. In greater LA you have Disneyland, tons of theme parks and of course the beach! Really a beach is the holy grail where kids can entertain themselves for hours!
Combining all of the parks and the beach really makes Los Angeles a great place to travel with your kids. Similarly a combo of an Orlando Tampa/Sarasota trip would be great for the exact same reasons.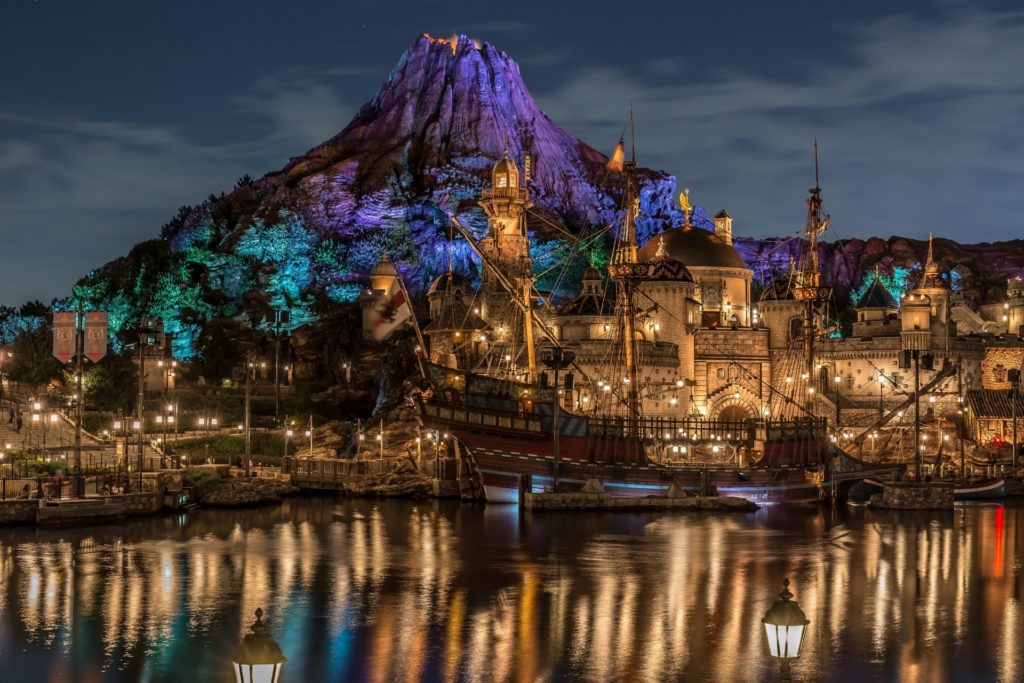 Where is the best Cheap Place To Go On A Family Vacation In The USA: Oregon Coast
I was trying to come up with a cheap best place to go on a family vacation but really most places are expensive where there are beaches and fun stuff to do. If you want a cheap vacation though there is one easy solution… camping trips!

If you want an amazing affordable family vacation the Oregon coast is a great place for it! Not only is it stunning and amazing for parents, the kids will love the water, sea life and there is a ton of fun nature trails to see.
There are also a ton of cute quaint towns scattered throughout the coast and a ton of random gems such as the Sea Lion Caves or Cannon Beach.
If you aren't able to camp you can get affordable hotels all along the Oregon Coast but camping makes it even cheaper.

If you are not driving to Oregon then fly into Portland and rent a car to go out to Brookings as your point of reference. From there you can go north and south to find some of the most beautiful views and nature in the country!
Really camping anywhere is a great cheap family idea whether it is in Idaho, Utah, Colorado, Montana, Arizona or some of the many picturesque states.
Best Places To Vacation In The USA For Couples: Sedona, AZ

The best place to visit for couples in the USA is tough as there is so much to choose from. However, if you have never been then you must check out Sedona. Of course there are a ton of great places but we had to pick one. For the sake of price and it being a no brainer… Hawaii was left out…
Hawaii is always a great place to go for romantic couples trip, family trips or any type of vacation really, but due to cost, travel time and not needing me to tell you to go to Hawaii… it is not making the cut.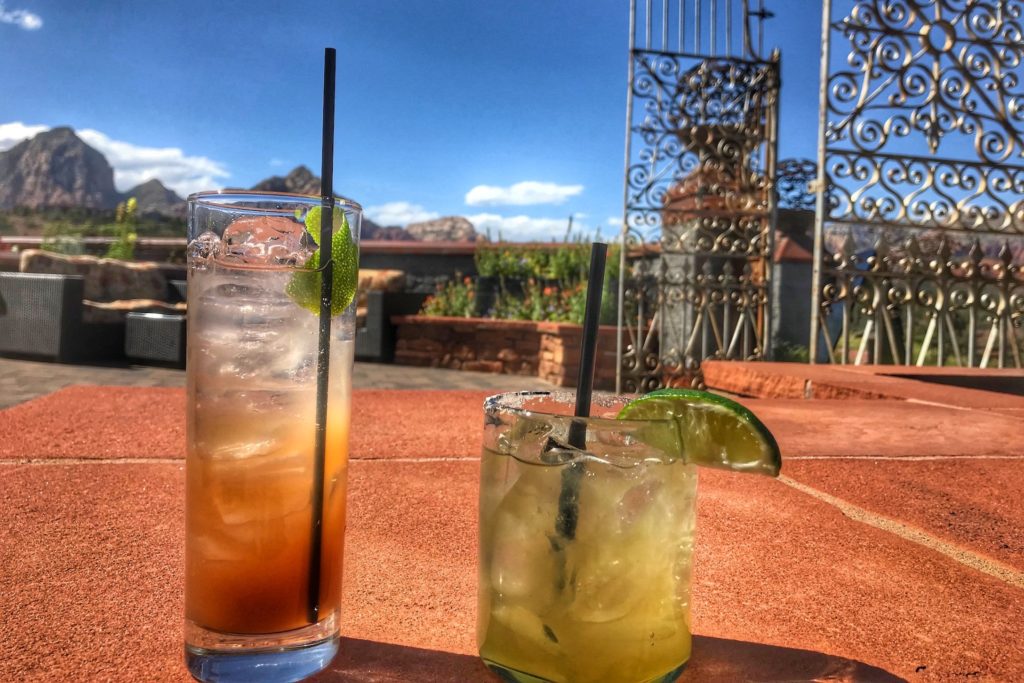 Why is Sedona the best place to go for a couples vacation… just one look into the Sedona Bucket List | 14 best things to do will give you a taste.
Let's also look at some competitors for best USA vacation for couples and why Sedona is equal or better than those places.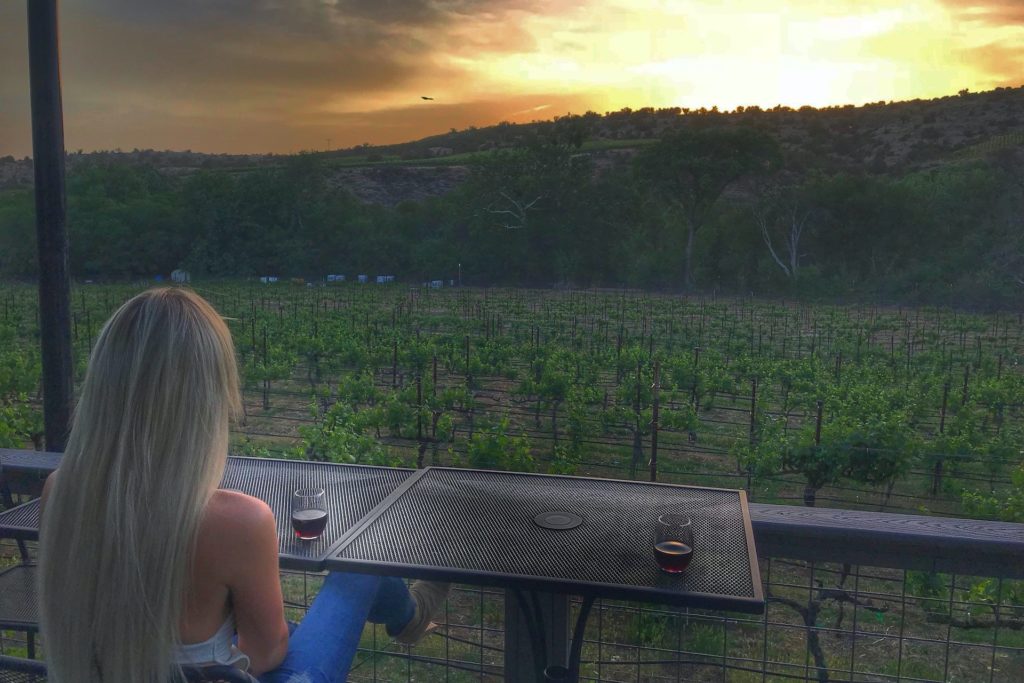 Napa is amazing with its wineries, Zion is nice it has hiking & outdoor activities, San Francisco has great restaurants & views, San Diego has perfect weather, Savannah is cute and quaint…. well Sedona has a lot of that all combined into a quaint small town!
See here for a complete guide for a romantic couples trip to Sedona.
Many people don't even know Sedona has a bunch of wineries that are perfect for a couples vacation.
If you want some of the best restaurant views in the USA, Sedona has it. If you are looking for a quaint town to unplug with your significant other, Sedona is it.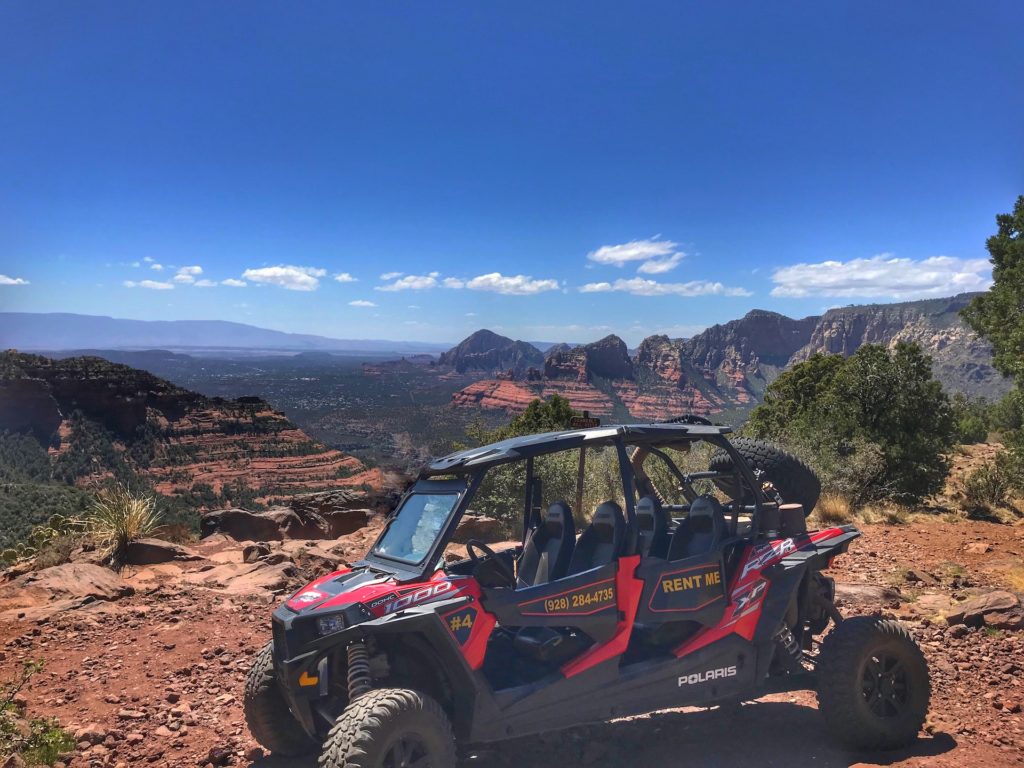 If you want beautiful hotels with relaxing pools and spas then look no further than a couple of the best hotels in the USA in Enchantment Resort and L'Auberge de Sedona.
Both are also home to the best restaurants in Sedona. See here for the 8 best restaurants in Sedona.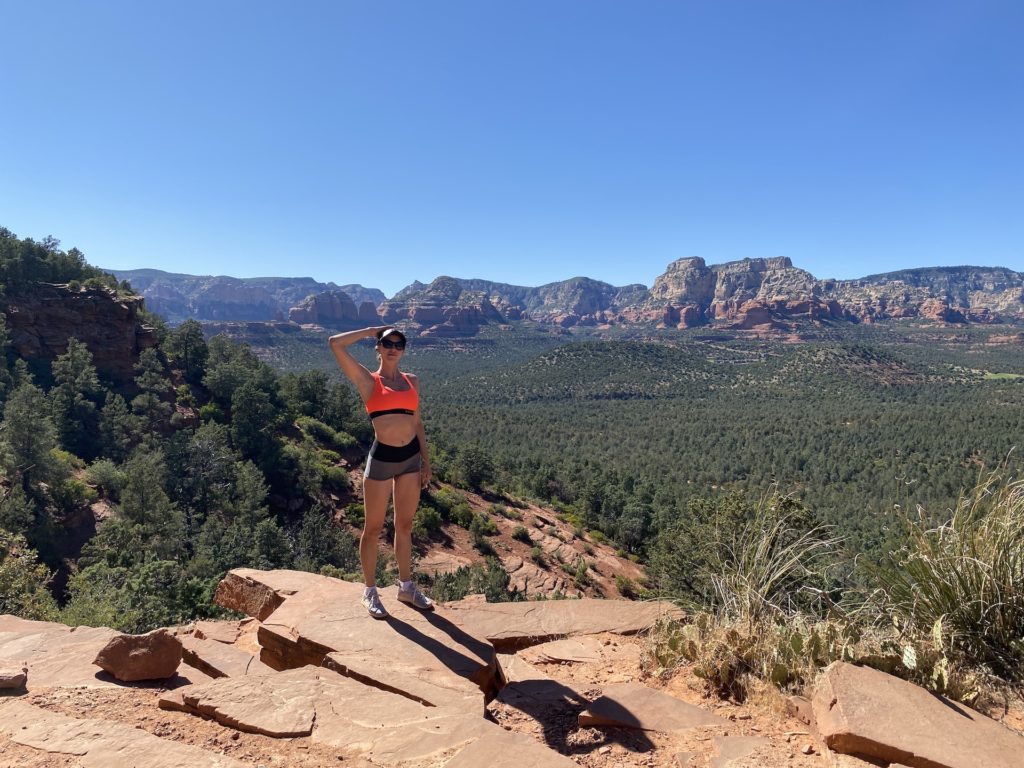 Then there is of course some of the best hiking, views and outdoor sightseeing in the nation! See here for the 6 best hikes in Sedona.
If you want easy beautiful hikes to Devil's Bridge or West Fork Trail, ATVing, Helicopter Tours, hard amazing hikes like Bear Mountain, 2 of the best cave hikes in the country or even a hike to a swimming hole and cliff jumping… Sedona is where to go.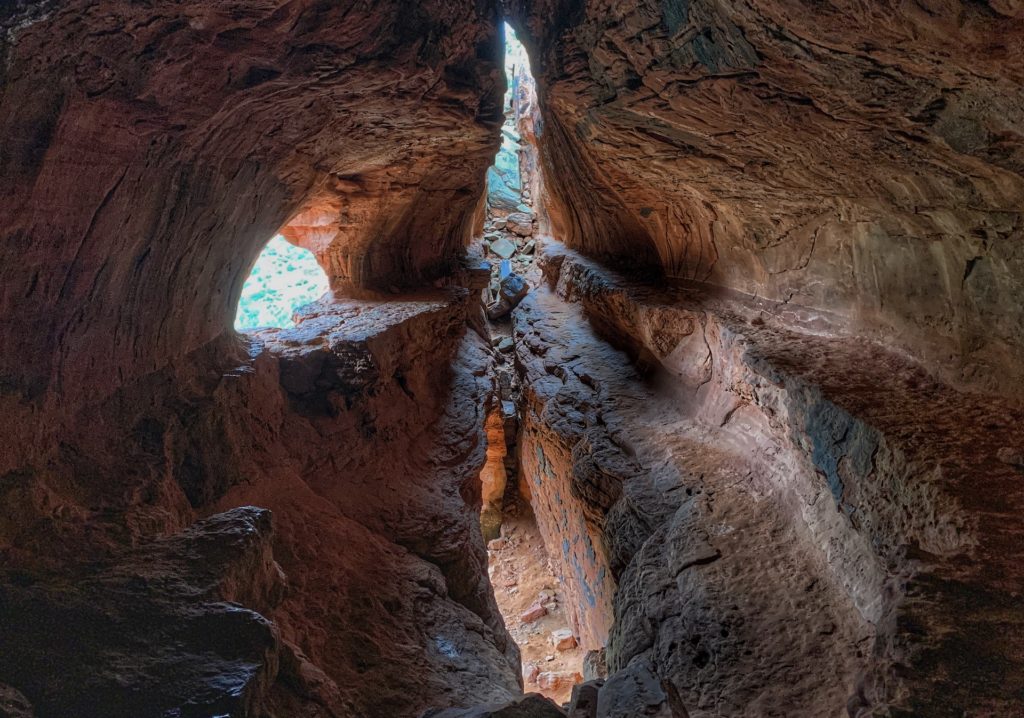 You can even go glamping together at the Sedona Under Canvas location, which will make your trip even more perfect and romantic. If you are looking for the best place to visit in the USA for couples, it is Sedona!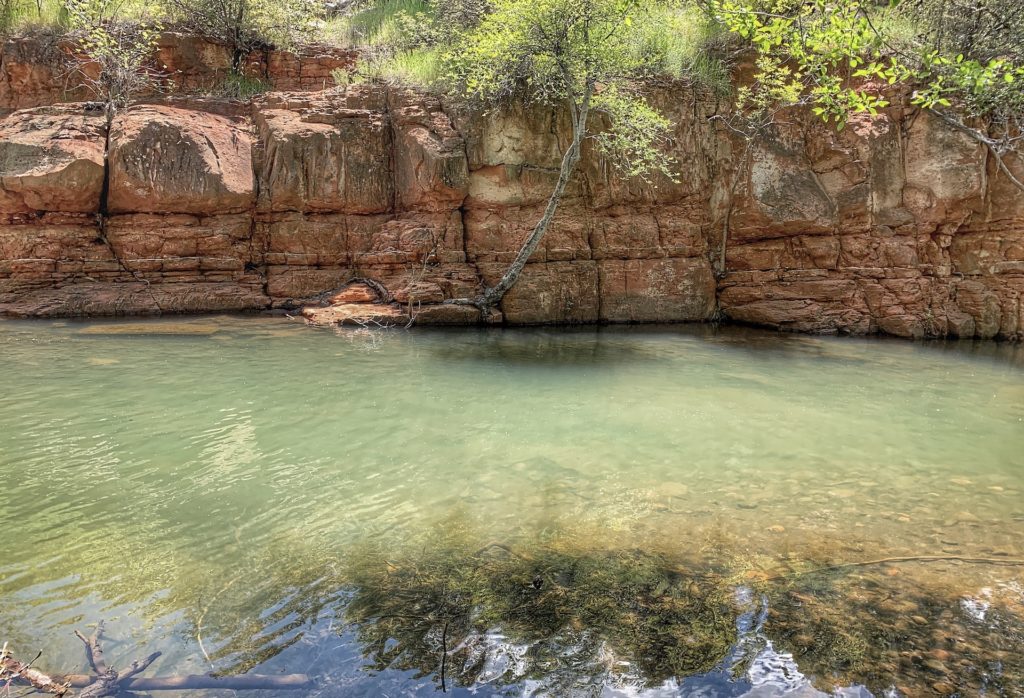 How to Travel to Sedona Cheap & Quick?
How do you fly into Sedona easy? It is normally most time and cost efficient to fly into Phoenix, rent a car and drive from there.
By the time you had a layover in Phoenix and flew to Sedona you could already drive the 1.5 hours from Phoenix to Sedona. Furthermore, the flight to Sedona can be pricey and you will want to rent a car either way whether it is in Sedona or from Phoenix.
Best Place In The US To Vacation For Singles & Partying: Nashville, TN
There are some great places to travel in the US if you are single such as San Diego, Nashville, Austin, Scottsdale and tons more. While it is impossible to pick just one, Nashville is incredible and takes the win.

Nashville is great as it has a small town feel in a big city. Nashville is also unique in that everything is just 15 minutes from everywhere, which means a high concentration of singles in the area.
If you love country music than Nashville is hands down the best place to go.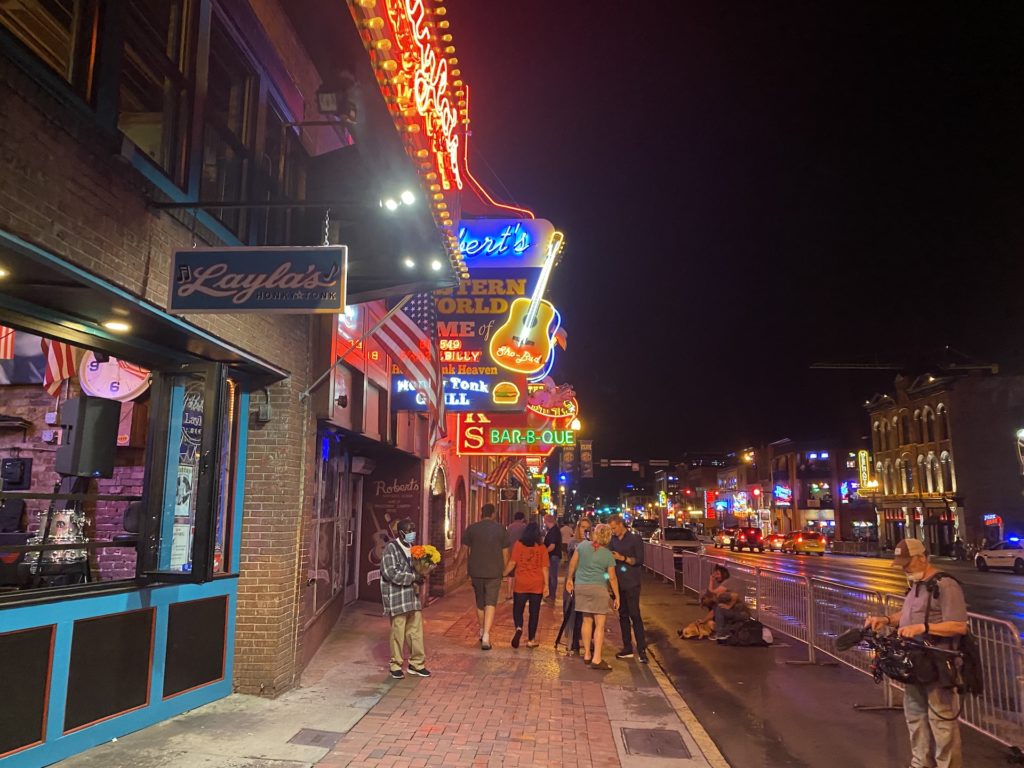 Even if you don't like country music Nashville isn't just honky tonk as you can find nightclubs, trendy martini bars, amazing patios, sports bars, rooftop bars and live music of all types.
Nashville truly has it all and arguably the most beautiful women in the USA.

Of course beautiful women attract men thus creating a melting pot of attractive singles, great bars and overall some of the best nightlife in the country.
Some of the best places to party and meet people in Nashville include Broadway of course, Demonbreun Street, Midtown and 12 South.
Most Exotic & Cultural City To Vacation on The US Mainland: Miami, FL
If you want a an exotic weekend or something a bit more cultural then look no further than the caribbean melting pot of Miami!

Miami is the sexiest city in the USA with something for every type of vacation. If you are looking for a bachelor/ette party, a couple retreat or want to wander through Little Havana then this is the place you have to visit.

Miami is also a foodie paradise due to how culturally diverse and Latin American the city is with some of the best food in the country. See here for some amazing restaurants you have to try in Miami.
If you just want a beach than Miami also has arguably the best white sand beach on the US mainland as well. You have to walk ocean drive, visit Little Havana, eat and overall just soak in this lively city.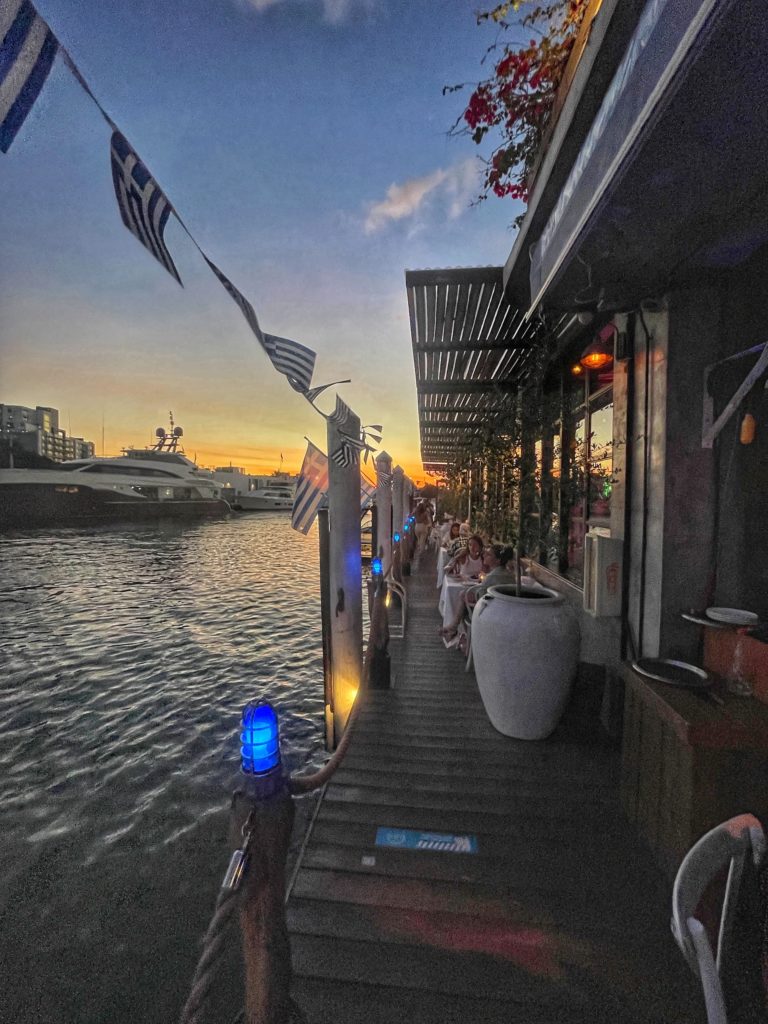 Best Place to Vacation In the USA By Yourself? Austin, TX
What is the best place to vacation in the USA by yourself?
There are a few good options such as Nashville, Charleston, Louisville, Savannah, or other places with that Southern Hospitality but we will go with Austin as the winner for the best place to travel solo.

Austin is a great place, very friendly, it again has a small town feel in a big city along with a very hippy chill vibe.
There is also a ton to do and see in Austin with great hiking, biking, amazing food, great weather, unique culture in the heart of Texas, lakes and a great party scene.

Some ideas of things to do in Austin is your own walking tour downtown to see the Capitol Building and the Austin Bats or swing by 6th Street for drinks and a great party!
There is a ton of great outdoors to see such as Lake Travis, McKinney Falls State Park, Float the Guadalupe, Mount Bonnell, Zilker Metropolitan Park and Barton Springs Pool.
Overall the people in Austin will take care of you so just be friendly and sit down at a bar or go hangout at Barton Springs Pool and you are sure to make some friends!
Most Beautiful Place to Vacation In the USA: Havasupai Falls, AZ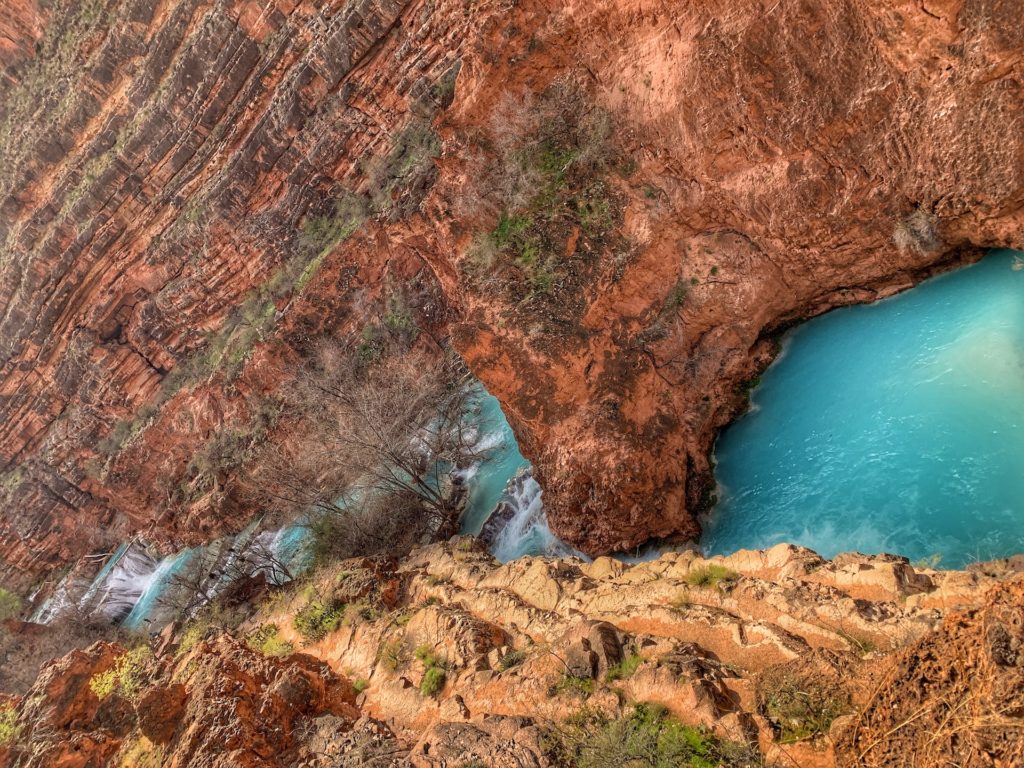 As mentioned the USA has countless amazing places to visit and choosing the most beautiful place in the USA is near impossible… unless you know of the spot. And if you know… you know.
Havasupai Falls is the most beautiful place to travel in the USA and one of the most stunning places to travel in the world. If you have never been make it your #1, 2 and 3 priority to get permits the next time they are available.

Visiting Havasupai Falls is in my top three places I have ever been due to a myriad of reasons. The others in the realm are Siem Reap, Rome, Rio De Janeiro & Luang Prabang. See here for a complete guide to the Havasupai Falls region, how to get passes and everything you need to know about Havasupai Falls.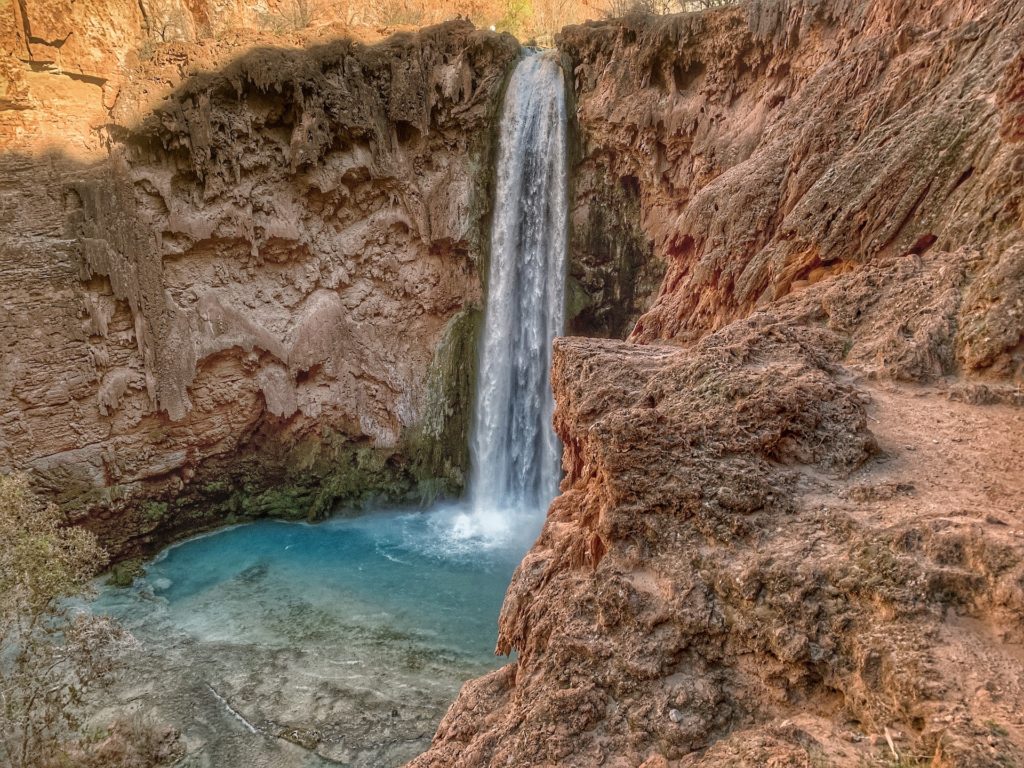 Havasupai Falls is the best place to unplug in the country. It has 5 of the best waterfalls in the USA, it has the prettiest water in the country and you are completely cut off from civilization doing some rudimentary camping.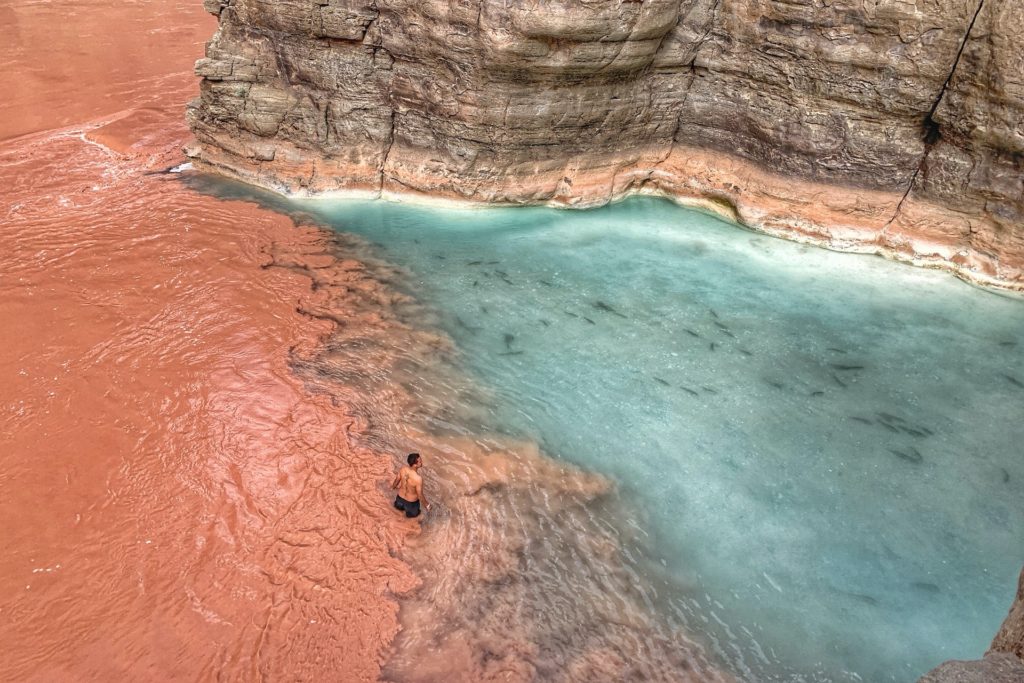 If you love to hike than this also is one of the best hiking vacations in the USA as well.
You can end up hiking over 50 miles in your four days down there and seeing some of the most amazing sites you will ever see from waterfalls to The Confluence where the waters of Havasupai meet the Colorado River.
Best City To To Visit In The USA To Be Inspired & Captivated: New York, NY

New York city is the best city to visit in the USA and the world if you want to be enthralled, feel energy rushing through your body, get inspired and overall just be wowed.
There are a few cities in the world where you don't see them, you feel them. That is the corniest thing I have ever written but it is absolutely true.
Some cities just make the hair stand up on your arms, get your heart racing and eyes bulging out of your head. Mexico City, Rome, Rio De Janeiro, Hong Kong, Dubai, Bangkok are other examples of cities you fly into, step foot into the city and you truly are in awe.

Why should you visit New York City? The list is endless, there is site seeing, monuments, food, Broadway shows, street performers, it is a melting pot of culture, comedy shows, sports, beaches, architecture and overall an energy you feel unlike any other city in the world.
Can you visit New York City Cheap?
You can definitely visit NYC cheap if you do it right and do you research. You can eat cheap in NYC, find cheap NYC accommodations just outside Manhattan and travel everywhere on foot or via public transportation.
There are a ton of cheap hotel and airbnb accommodations on Long Island, New Jersey and sometimes can get lucky in Manhattan. You only will sleep there and spend the rest of the day exploring so location isn't the end of the world.
Most of your entire trip you will be walking around or using the subway, thus it doesn't matter where you stay. Of course staying closer is more convenient but if you want to travel cheap you need to make some sacrifices. Here is a great article on how to Travel Cheap in the USA and around the world.

Most of the things to see in NYC are all free as well meaning you can see a ton in New York City and not spend a dime. You can eat cheap in NYC, get cheap show deals on the street, and walk everywhere or use public transit easily.
In the end it can be cheap to travel to New York City if money is keeping you from going. Flights to NYC are really cheap too so now is the time!
Best City In the US for a Bachelor or Bachelorette Party: Scottsdale, AZ

Where is the best place for a bachelorette party or bachelor party in the USA? Well, again there are many great answers for the best place to have your bach party such as New Orleans, Nashville, Las Vegas, Lake Tahoe and Austin.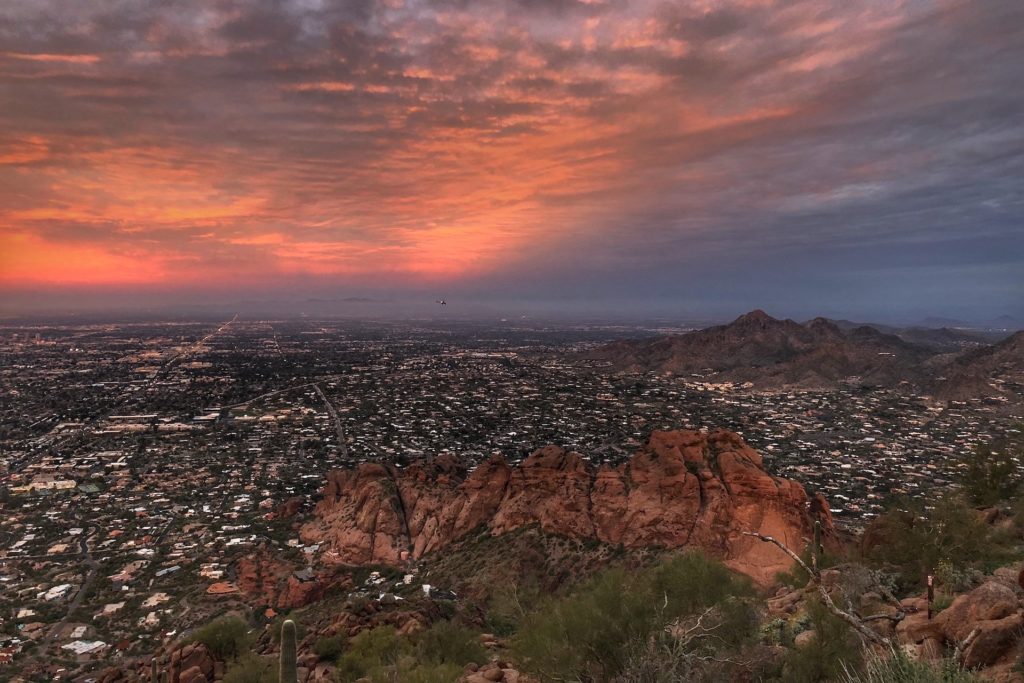 However, one place sticks out above the rest for the best place to have your last party before you tie the knot! Scottsdale, Arizona is arguably the best place in the country for your bach party for multiple reasons. See here for a complete Scottsdale Bachelorette Party Guide.
Scottsdale has pretty much everything you need for a Bach party including an incredible party scene, tons of outdoor activities, golfing, shopping, spas and great restaurants.
What's more is that it is very cheap when compared to Las Vegas, NYC, Los Angeles, Miami and other top destinations for bachelor and bachelorette parties.

Of course everyone wants to party for a Bach party and Scottsdale has some of the best nightlife in the country whether you want pool parties, nightclubs, country music or dive bars. See here for the best bars & clubs in Phoenix & Scottsdale.
However, you can also take a break from the club relaxing by the pool, go for a nice hike, ATV, go white water rafting, visit world class spas and more! See here for the best bachelor party things to do in Scottsdale like making the bachelor ride a live bull!

If you have extra time to spare you can also head up to Sedona for a day and do some hiking and winery hopping. You can also find some waterfalls and swimming holes within two hours of Phoenix if you want a day hiking adventure.

Best Place to Vacation In The USA For A Luxury Vacation: Kauai, HI

Where is a great expensive place to travel in the United States? Well that is easy and honestly arguably the best place to travel in the USA is Hawaii. I love Kauai the most as it is similar to Maui but much less touristy and busy.
Similar to Puerto Rico, Kauai and Maui have it all from beaches to nature to culture. There is a ton to do and it is a great family vacation, couples trip or really any sort of trip.
The caveat to Hawaii is that it is pretty expensive to get to and expensive to eat, stay and everything that matters.

In my opinion Kauai is better than Maui and there is so much to see and do while the landscape is also arguably even more stunning. They filmed Jurassic Park there, need I say more?
What are the best things to do in Kauai? Aside from being in paradise with picture perfect water, amazing food, surfing, snorkeling with turtles, fishing, spas and beaches there is so much to see.

Kauai offers Nā Pali Coast State Wilderness Park is one of the most amazing areas in the entire country; there are countless hikes & waterfalls such as Wailua Falls, Waimea Canyon State Park is Hawaii's version of the Grand Canyon, Hanalei Bay is a great place to stay, Queen's Bath is a bucket list place to see and the list goes on!
The US Virgin Islands are nice but don't offer near what Kaui does from culture, to outdoors to cuisine. The US Virgin Islands feel like an extension of Florida but more rich people while Hawaii is basically its own country overflowing with culture.
Most Picturesque City To Visit In The USA: San Francisco, CA

The prettiest and most picturesque city in the USA is tough. Really there are a ton of amazing beautiful cities and states in the USA including all of Hawaii, San Diego, Utah, Montana, Idaho, South Carolina, Florida and more.
However, to pick one San Francisco is a great option.
San Francisco offers stunning views, charming streets, famous sites, moody weather, the ocean and tons of patios for drinks and dinner. The ever changing weather, sites to see, fog, water, hills and nature give way to a ton of stunning pictures and sites.

There is a ton to do in San Francisco as well while taking lots of pictures. You can bike around everywhere stopping as you wish, see the Golden Gate Bridge, stroll Fisherman's Wharf, check a bucket list by riding a streetcar, tour Alcatraz or visit China Town.

If you want to get out of town the Muir Woods with stunning a redwood forest is less than 2 hours away. You also are just a 1-1.5 hour drive to Napa, and under 4 hours to Lake Tahoe or Yosemite, which are both amazing on their own!
If you end up spending a week in San Francisco then be sure to spend 2-3 days in Tahoe or Yosemite no questions asked. While there are many amazing picturesque places in the USA, San Francisco is near the top!
Best Place To Travel In the USA During Winter: Lake Tahoe

A great place in the USA to visit in the Winter is Lake Tahoe, specifically South Lake Tahoe if you are a tourist. Of course Jackson Hole, Colorado and Salt Lake City are all other amazing places to be in the Winter but Lake Tahoe has it all.

Lake Tahoe is the best winter vacation spot due to some of the best ski hills in the country but also everything else you can do while there. South Lake Tahoe specifically has the perfect quintessential ski village, is completely walkable, has casinos, hiking and the lake itself has a ton of amazing vantage points and views.
If you had to choose one place for a winter vacation in the USA the best place is Lake Tahoe. See here for a perfect weekend itinerary for Lake Tahoe or here for the 10 best bars in South Lake Tahoe.

Best 2 Relaxing Beach Vacations In The USA For The Summer: Siesta Key & Laguna Beach
The Summer in the USA is a great time to travel in the USA and there are so many great places to go.

If you're looking in the USA in the summer depends on what you are looking for but if you want relaxing and chill but still lots to do… Siesta Key on the East Coast and Laguna Beach on the West Coast are my favs.
If you want a beach there is Siesta Key, Miami as well as Newport & Huntington Beach as some favorites across the USA.

Depending what side of the country you are on you can't go wrong with any of those beach cities. All of them are great places to be and just depend if you want a slower pace, smaller area or more of a party and fun area.

If you want a mix of nature, outdoors, fun and a perfect place to go then you might want to look at two of the best places to travel in the country.
What Are The 2 Best Places to Vacation In the USA? San Diego & Denver

This is the toughest call and it is beyond arguable but there are two places that separate themselves as the best places to visit in the entire country. The best vacation cities in the USA are Denver and San Diego.

There is a reason people are moving to Denver at record rates as it is one of the best places to travel in the USA in the Summer and the Winter. Denver truly has the best of both worlds with year-round sunshine, lakes and of course World Class ski hills.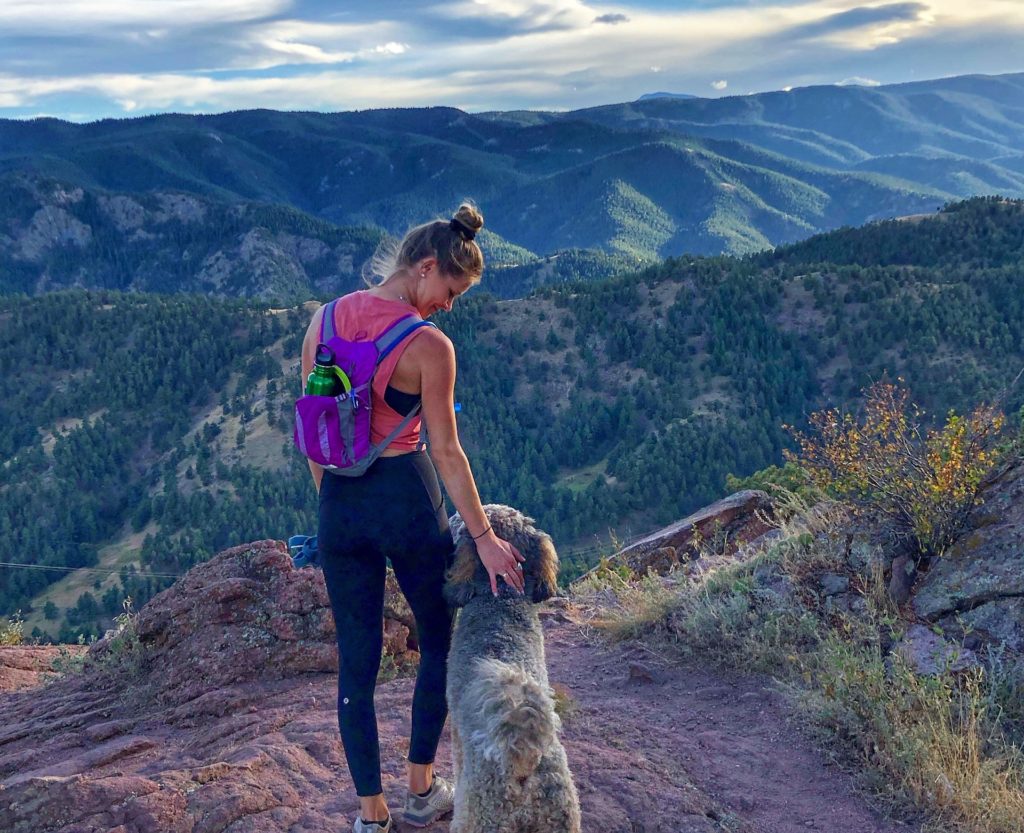 If you want some of the best hiking, camping, lakes and sites in the country then get to Denver.
On top of that it is a great places for live music, outdoor bars and festivals. If you have never been make it your next trip as it is also very affordable and often the cheapest place to fly into.

San Diego is arguably the best city in the country and my favorite place to go.
If it wasn't so expensive it would be hands down the best. You can hike, swim with sharks, fish, go on the beach, party see the best zoo in the world, there are theme parks, you can visit seal beach and there is just so much to do outdoors.
It is also such a chill place where you can go everywhere in shorts and a tank top. Of course there are nightclubs downtown, bars in the Gaslamp District and more.
It truly offers everything you want to do in the Summer and is one of the best cities to visit in the USA by far. See here for the 10 best things to do in San Diego.